From drug discovery to precision medicine, AI is transforming the way scientists use genomic data.
Genomics is enabling more individualized treatment by providing insight into which genes contribute to various medical conditions.
For example, scientists are currently using genomics to understand how Covid-19 spreads and affects the immune system. This information could help with vaccine development.
A single human genome sequence generates between 300GB to 1TB of data. Technological improvements have driven down the costs of sequencing — a historically expensive process — and caused an explosion in genomic data over the past decade. This has created multiple opportunities for artificial intelligence in the space.
Companies are working to commercialize AI-based genomics solutions to develop better pharmaceuticals, power more accurate disease diagnosis, and help physicians identify the most effective treatments. 
Below we analyze 3 major use cases for AI in genomics — drug discovery & screening, diagnostics, and precision medicine — and the tech companies addressing them.
Drug discovery & screening
AI in drug discovery is projected to be a $40B market by 2027, per CB Insights' Industry Analyst Consensus. Discovery is the largest expenditure in drug development, and increasing drug candidate quality improves clinical trial success rates. 
A genomics-driven approach could improve understanding of disease biology, create a significant change in R&D costs and efficiency, and bring more targeted drugs to patients sooner. Some companies, such as AI Therapeutics, already have multiple AI-driven drug candidates in clinical trials.
Pharma companies typically spend a large amount of money in R&D on compounds — many of which will fail in clinical trials — with the hope that one will succeed and generate blockbuster returns (i.e. $1B+ in annual sales).

Source: PCI Synthesis
AI-based drug discovery and screening has the potential to fundamentally change this "blockbuster" business model. Combined with genomics, AI can help companies develop drugs for rare diseases, which represent much smaller markets and have not typically been addressed due to high development costs and low ROI. 
Because biological processes are inherently complex, they generate multi-dimensional data that can be difficult for humans to parse. AI, however, is well-equipped to recognize patterns in this kind of data — and startups are using the tech to improve every step of the drug discovery process, from biological target identification to preclinical testing.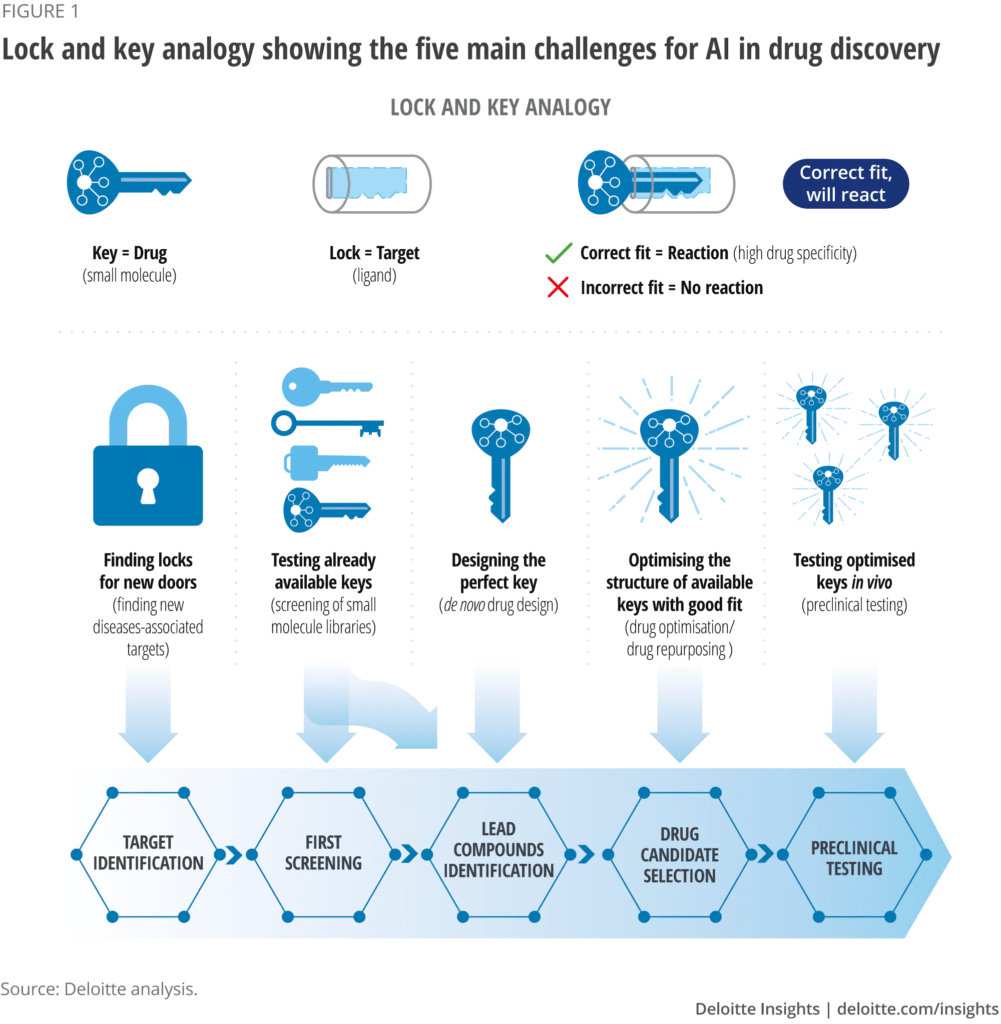 Source: Deloitte
For example, drug discovery company Insitro models disease by combining omic data with machine learning models. Using this approach, the company can identify disease subtypes, potential targets, and drug candidates, as well as predict responses to therapies. Insitro has raised over $240M from investors including Google Ventures and notably entered into a partnership with Gilead in 2019 to develop new drugs for nonalcoholic steatohepatitis (NASH).
Another major use case for AI is drug screening, which happens after a biological target has been identified. This process, which is typically done in vitro, is a costly and time-intensive step that is required to identify lead candidates for animal testing. Companies are now using AI to conduct primary and secondary assays with computer simulations, or in silico. For example, Deep Genomics' Project Saturn has created a library of 1,000 experimentally verified compounds by testing 69B molecules against 1M targets. 
Earlier, better diagnostics
First-generation genomic-based diagnostics relied on previously characterized mutations or genetic abnormalities to identify disease. While this works well for rare diseases and hereditary conditions, it's less effective with diseases like cancers, each of which are genetically unique.