Emerging technologies are giving outdated and vulnerable information security systems a much needed upgrade.
Since 2017, roughly six billion confidential digital records have been stolen from around the world and counting. Just in the last two years there have been at least three separate data breaches in which at least one billion confidential records were stolen or exposed at once.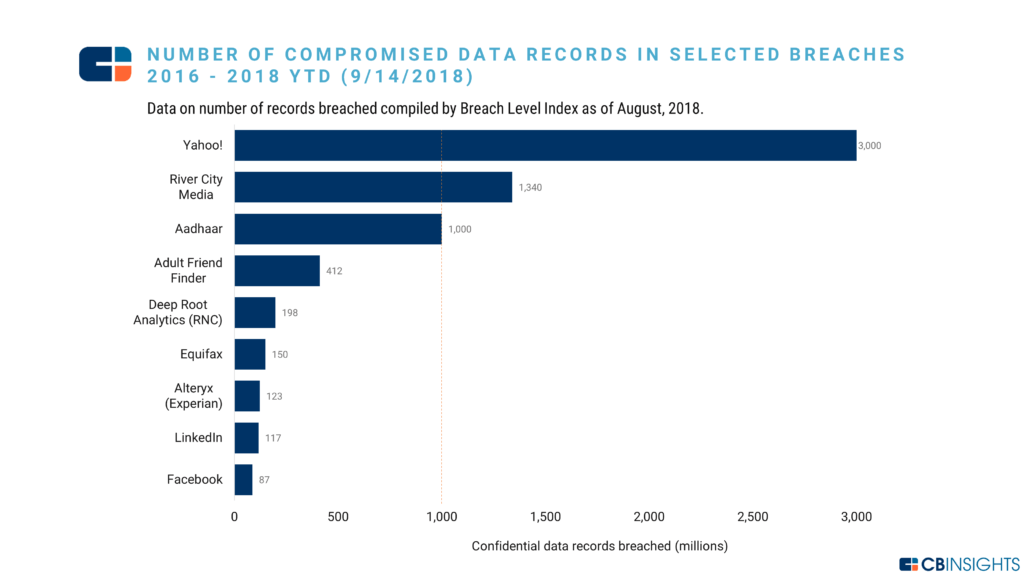 Enterprise data security needs an upgrade.
In the security industry today, it's best to assume hackers are already inside the network's perimeter. Enterprises need to focus on fortifying not only the walls around their network but also on securing the sensitive data itself inside those walls.
To that end, AI, blockchain, and enhanced encryption techniques have huge potential to help secure data from bad actors within an organization.
While this tech may not be a silver bullet, enterprises that adopt them will be able to derive more value from sensitive data while also preserving users' privacy and avoiding costly data breaches.
Using CB Insights, we analyzed the use cases for AI, blockchain, and advanced encryption technologies for protecting enterprise data.
This is the second part in our series on the future of data security. To read about startups helping to prevent massive data breaches like the ones in the chart above, check out our Future of Data Security Market Map.
AI, blockchain, encryption & the CIA triad

Data security strategies can be assessed through a concept known as the CIA triad or AIC (not to be confused with the US Central Intelligence Agency). In this case, the acronym stands for: confidentiality, integrity, and availability.

The triad serves as a model for designing information security systems.
Below we detail each of the triad's elements and highlight ways emerging technologies are facilitating the next generation of data security.