The ag tech space began to attract attention following Monsanto's $1B acquisition of The Climate Corporation in 2013. Interest continues to rise through 2017, with record-breaking funding highs and an uptick in corporate participation.
As software continues to eat the world, it's now reshaping how the world cultivates and procures its food. Using the CB Insights database, we looked at what's spurred momentum for agricultural technology (ag tech) and the trends shaping investment in the space.
Ag tech started gaining significant attention after the acquisition of The Climate Corporation by Monsanto for $1B+ in 2013. The Climate Corporation collects and analyzes field data to help farmers make better decisions, and was one of the major movers to bring data analysis to the space.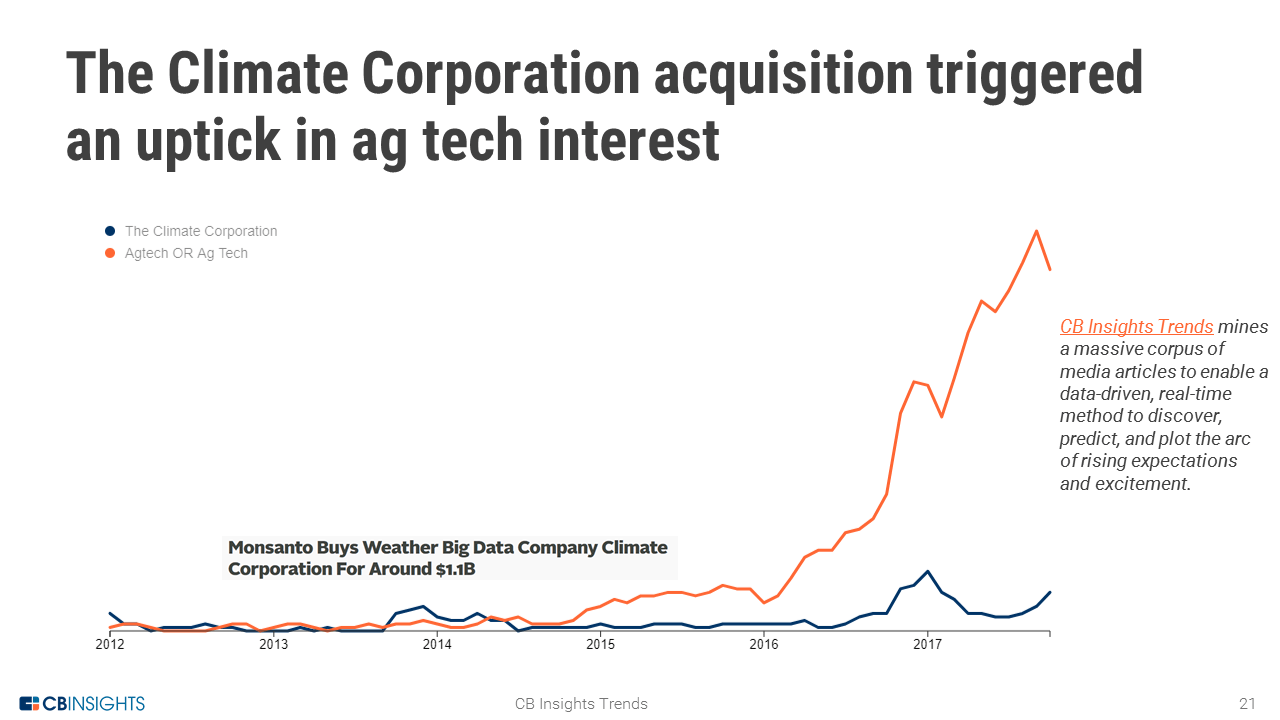 Since then, the ag tech category has risen fast. 2017 has already seeing new funding highs, and media coverage on the topic continues to increase. Unpredictable and extreme weather, produce shortages, and the possibility of reduced immigration (which threatens to drive up the cost of farm labor) have brought ag tech into the spotlight more recently. As a result, new startups are receiving investment to increase efficiency across all different parts of the farm, from farm management software to robotics.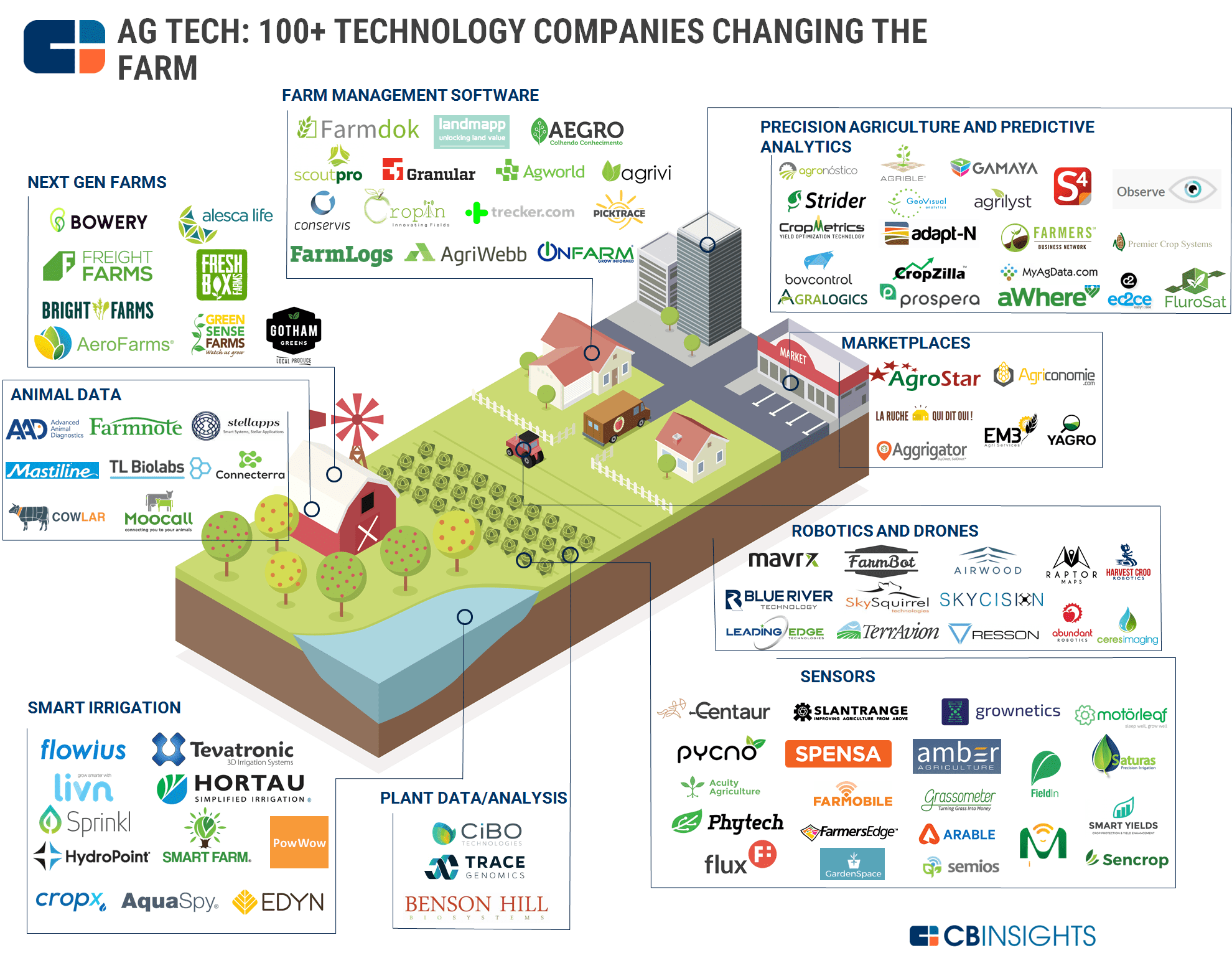 We define ag tech as technology that increases the efficiency of farms, in the form of software, sensors, aerial-based data, internet-based distribution channels (marketplaces), and tools for technology-enabled farming. We only include companies that primarily target the agricultural sector.
Here are the 5 trends shaping the sector:
1. Ag Tech Financing And investor interest Is heating up, Exits are catching up
More than $700M has been invested in the ag tech space in 2017, with funding on track to beat the previous two years combined, and deals expected to rise 65% year-over-year. Activity picked up significantly in 2014 after The Climate Corporation acquisition, with a spike in Q1'14.
Additionally, 2017 has seen more than 200 unique investors make at least one ag tech investment. The biggest increase has been in venture capital interest, which nearly doubled between 2016 and 2017, after years of stagnant interest. There have been 118 unique VCs invested in ag tech in 2017 so far.

Part of this increased interest could be recent acquisitions, with John Deere and DuPont making $300M+ acquisitions in the last few months.
This is still a far cry from the $1B+ price tag of The Climate Corporation, but still suggests that there are businesses that can reach VC-scale returns. However, this has only been through M&A's, with the sole IPO of CropLogic dropping below $10M on the Australian stock exchange. As new, more capital intensive and full-stack solutions that compete with incumbents raise massive rounds (e.g. vertical farms like Plenty), will these companies also be high price acquisitions like The Climate Corporation, go public, or fade?
2. Corporates Play A Bigger Role In Ag Tech
Corporates are becoming more active players in the ag tech ecosystem, with many setting up their own venture arms to invest in startups. Corporates took 3 of the top 10 spots for most active investors, with Monsanto and Syngenta being the most active through their investment arms. As a whole, corporates now participate in nearly a quarter of all deals, up from as few as 5% of deals in 2013.

One way these corporates are getting involved is by partnering with accelerators to get a pulse of early-stage companies. Many of these accelerators are located outside of coastal cities, and some are international like FundoBR.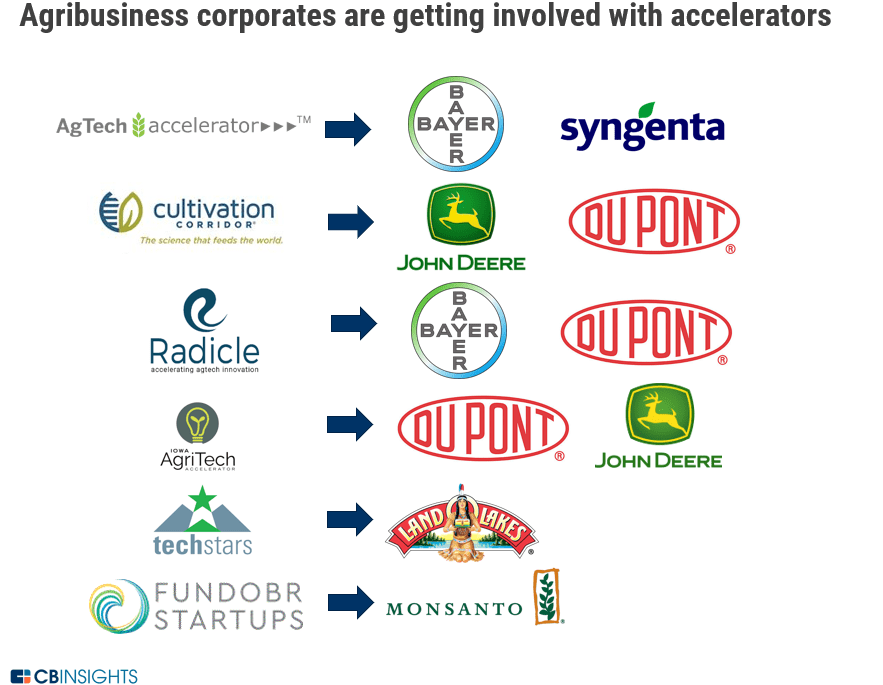 Some of the agribusiness corporates are confronting industry shifts head on, while others are acquiring companies and consolidating. The space as a whole is seeing mega consolidations at the top, including Bayer-Monsanto and Dupont-Dow. Below we mapped the acquisitions and investments made by agribusiness and chemical companies using our business social graph. Full analysis of private market trends among agribusiness corporates can be found here.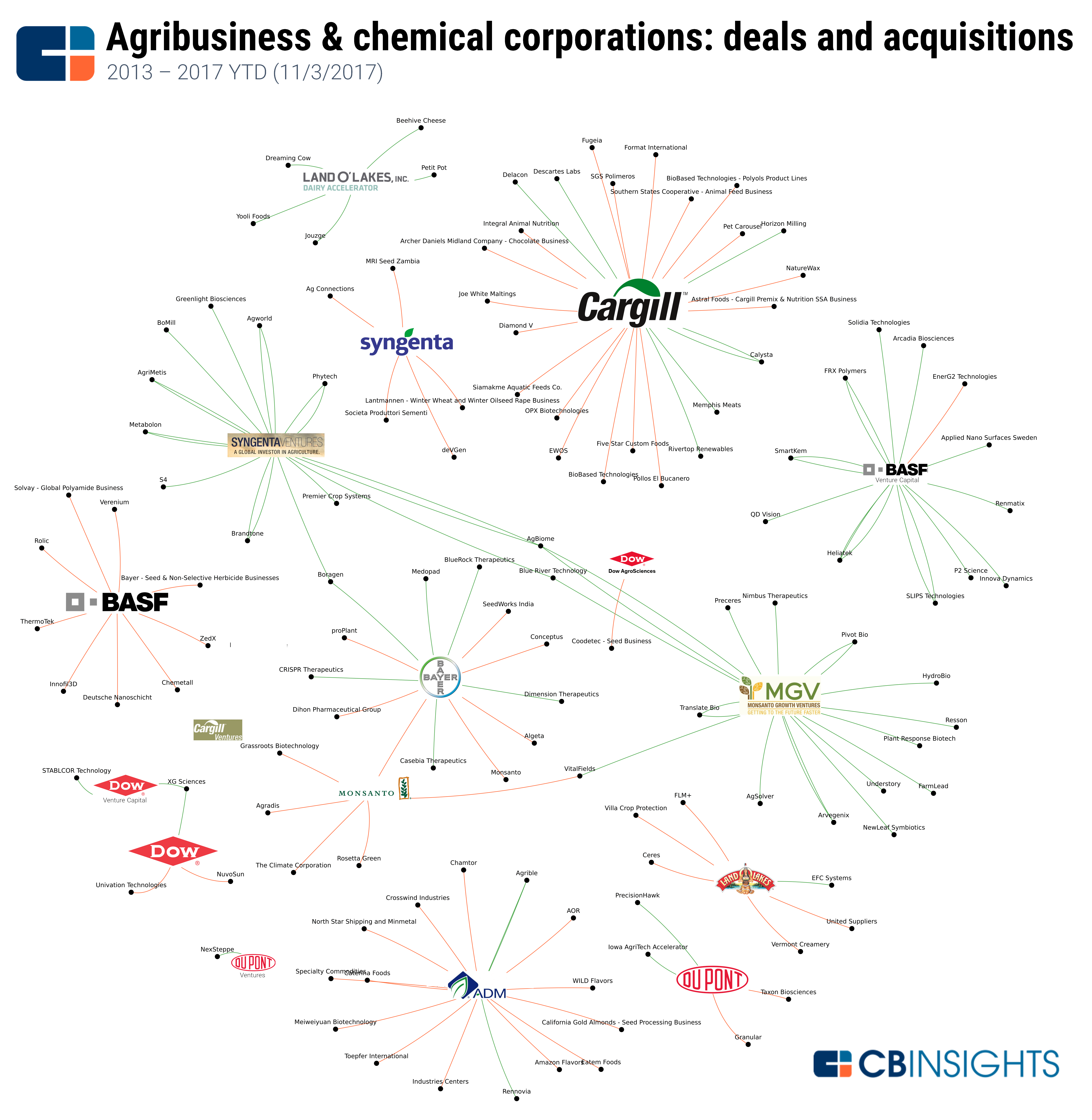 Track all the ag tech startups in this brief and many more on our platform
Startups are working to build tech infrastructure to support the industry. Sign up for a free trial and look for Ag Tech Startups in the Collections tab.
Track Ag Tech startups
3. Frameworks and Business Models
It's useful to think about ag tech companies using a few different frameworks to figure out what they're targeting and what value they're adding.
The first is to look at whether they're targeting the operating costs of a farm or if they're more involved with the overhead costs, which tend to cover the physical assets on a farm.
It's useful to also think about where in the actual supply chain these companies are targeting. Are they trying to help farmers get their materials, connect consumers to farmers, or improve the distribution of goods?
And finally, are these companies replacing processes that already existed in farming, making those processes more efficient, or creating entirely new processes that may not have existed before?