Exposure to indole compounds produced by E coli bacteria helped certain animals stay active and mobile at advanced ages – paving the way for new drugs that could help humans live well into old age.
As medical advances continue to extend average life spans, researchers are exploring new ways to help people stay well into those later years. A number of scientists are even calling on the World Health Organization to formally classify aging as a disease – seeing that as an important step toward treating aging as an affliction that could be prevented (rather than a set of afflictions that can be treated).
A study out of Emory University may have unearthed a new key to extending the "healthspan" of living beings: In a series of experiments, exposure to indole – an organic compound produced by bacteria in the gut – helped a variety of organisms ward off age-related health problems.
Tests have only been conducted on mice, worms, and flies so far, but the study authors see huge potential in their research – calling their promising results a "direct avenue" to development of a drug that could help people live better for longer.
For decades, many scientists (and quite a few eccentric billionaires) have been infatuated with the idea of extending the average human lifespan into the triple digits. We're well on our way there: In the US, life expectancy at birth now averages around ~79 years – which is over 10 years longer than it was 1950.
Yet even as our lives grow longer, we still grow frailer and more prone to illness.
Health-related problems in old age are expensive and painful, and vastly minimize individuals' quality of life. That's partly why shifting some focus of biomedicine away from "life extension" and over to "health extension" is so important: As research continues to push the accepted limits of human life further and further, it's crucial to also ensure life at those limits gets better and better.
"We need a better understanding of health span," says Daniel Kalman, PhD, of Emory University. "With medical advances, people are living longer; but you might not really want to live longer if it means spending those extra years frail and infirm."
That goal was the express purpose of the Emory University research, which examined how exposure to indole compounds affected organisms across three different species.
In their new study (published in the Proceedings of the National Academy of Sciences in August 2017), a team led by first author Robert Sonowal, PhD and senior author Daniel Kalman, PhD posits that indoles "may represent a new class of therapeutics that improve the way we age as opposed to simply extending how long we live."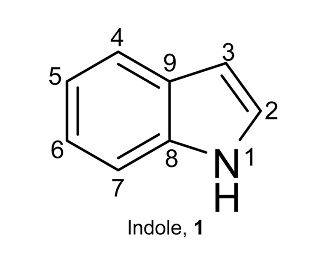 Indole compounds are produced by many different bacteria in the gut through the breakdown of the the amino acid tryptophan. In humans, indoles contribute to the stinky smell of poop; in other organisms, they can smell noxious or flowery depending on concentration.
Aromas aside, indoles have powerful capabilities. Over 17 years of research with mice and the Caenorhabditis elegans species of roundworm, Kalman and colleagues had already uncovered indoles' disease-preventing properties: Indoles are among the chemical compounds released by E. coli bacteria as it passes through the body; in prior studies, Kalman and his team saw that the release of indoles helped worms and mice become more resistant to infection and other stresses.
Findings like those are one reason the relationship between gut bacteria and disease risk has been a growing area of scientific interest: Researchers understand that certain gut microbiota (and the chemicals they release) have protective or preventive effects. Yet since the spectra of bacteria in our bodies changes with age, understanding the effects of certain compounds (like indoles) can help scientists and drug companies prioritize their development for therapeutic use.
For the PNAS study, Kalman and his team used antibiotics to wipe normally occurring gut microbes from C. elegans worms, then fed them E. coli bacteria to ensure they produce indoles. Various aspects of the indole-exposed worms' health and fitness levels were then tested, measured, and compared against those of control animals without indoles in their system. Similar methods were used to assess outcomes of indole exposure in mice and fruit flies, as well.
Like humans, worms, mice and flies have a harder time moving and/or swallowing as they age, and often display physiological signs of age in their appearance, metabolism, or sensitivity to stressors such as heat or cold. In comparisons to their control counterparts, all three animal types displayed more "youthful" abilities and qualities in response to indole exposure:
Worms aged 15 days or older displayed movement (aka "thrashing motility") comparable to that of younger worms, and were able to eat bigger meals than the indole-deprived control worms – likely because the pharyngeal muscles they use for food consumption weren't weakened in the same manner as those of their naturally aging counterparts. Indole-exposed worms of all ages also showed increased swallowing strength and resistance to heat stress.
Mice that were "very old" by research standards (28 weeks) displayed weight, mobility, grip strength, and activity levels typically seen in much younger mice, and displayed a more youthful appearance in their coats. In younger mice tested, indole exposure extended survival times following exposure to lethal radiation.
Fruit flies harboring indole-producing E coli performed better in climbing assays (per the video below) – displayed an ability to climb higher at a faster pace. Indole-exposed fruit flies also survived heat stress of 38 °C better than control flies.
While much further research and human testing is necessary before indole is developed into any youth-sustaining drugs, the Emory research is just the latest study seeking to harness the power of gut bacterias (and their byproducts) for modulating disease risk. (Recent research has also explored the effect of gut microbiota on Type 1 diabetes risk.)
But as researchers explore indoles further, the compound's innate biological qualities could make it a good fit for therapeutic application: Indole compounds are designed to serve as molecular messengers between bacteria and other species, which may have contributed to the powerful outcomes seen in the Emory study.
"It's like the Picture of Dorian Gray, in terms of the genes involved," Kalman says. "Indoles make old animals look more like the young ones."
---
The original study "Indoles from commensal bacteria extend healthspan" was published in Proceedings of the National Academy of Sciences. Full information is available here.
If you aren't already a client, sign up for a free trial to learn more about our platform.