We look at how the fintech lender is taking on credit cards amid surging e-commerce activity — and where it might encounter challenges.
San Francisco-based Affirm, an installment financing platform for online commerce run by PayPal co-founder Max Levchin, filed its S-1 in preparation for going public in November.
Affirm wants to disrupt the credit card business, a notoriously opaque realm of consumer finance. As the millennial and Gen Z demographics look for more consumer-friendly alternatives, companies like Affirm are vying for attention from both shoppers and merchants. 
Amid the acceleration of e-commerce driven by the coronavirus pandemic, the company has seen rapid growth across revenue, user adoption, and merchant partnerships.
Affirm, which was privately valued at $2.9B last year, has raised over $1.75B in disclosed debt and equity and is backed by investors including Lightspeed Venture Partners, Spark Capital, Founders Fund, and Khosla Ventures, among others. Its IPO valuation is projected to be up to $10B.
Below, we look at where Affirm is gaining traction across the consumer credit and payments market and where it might face challenges as it goes public.
Key takeaways
Revenue is growing at a rate of more than 90%

: Affirm's revenue for the fiscal year ending June 30, 2020, was $510M, up from $264M in the previous year. In Q3'20, Affirm generated $174M in revenue — nearly twice as much as the figure from the same period in the previous year. 

Growing demand for "buy now, pay later" (BNPL) options from younger demographics

: BNPL is a payment method popular with millennial and Gen Z cohorts, whose spending power reached more than $2.5T in 2020, according to YPulse.

Several key dependencies pose concentration risks: Affirm generates almost 30% of its revenue from one merchant partner, Peloton. Additionally, Affirm's business model is heavily reliant on a few key partners, namely Cross River Bank, which poses risks of a single point of failure.
Tailwinds: Rapid acceleration of online commerce and meaningful value for merchant partners
MASSIVE MARKET OPPORTUNITY DRIVEN BY E-COMMERCE GROWTH
Affirm offers point-of-sale loans that directly target the consumer credit industry. 
Credit cards dominate the market today, with nearly $1T in outstanding balances in the US. But BNPL is the fastest-growing e-commerce payment method and projected to triple its market share in North America by 2023, according to Worldpay. Increasingly, consumers appear to prefer the flexibility and convenience of digitally oriented, pay-over-time models offered by companies like Affirm. 
Affirm's user growth reflects this shift, active users — customers that have used the platform in the past 12 months — jumped nearly 60% year-over-year, reaching 3.8M active users through Q3'20.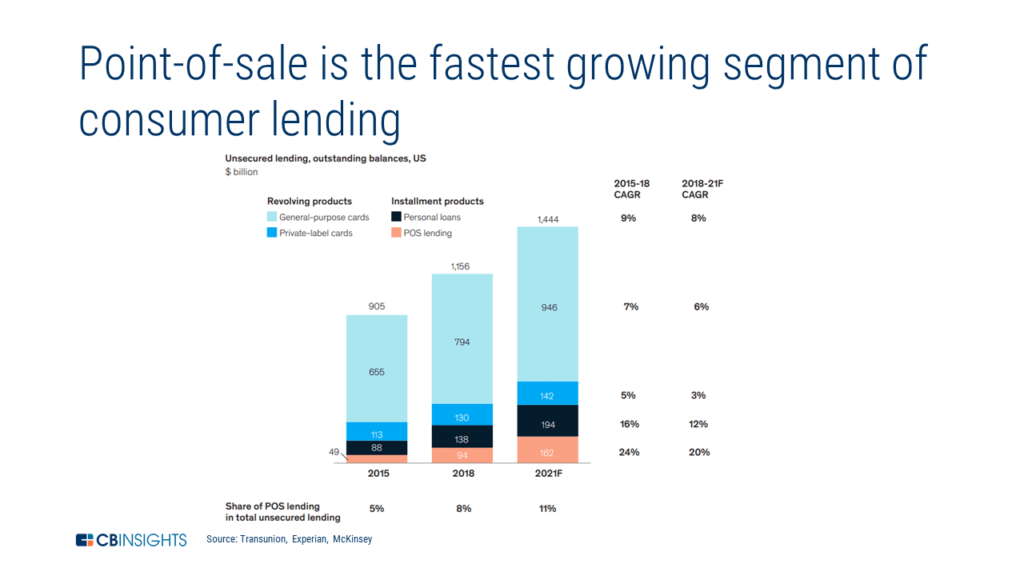 A major contributor to Affirm's momentum has been the rapid acceleration of online commerce. Affirm is in many ways an enabler of e-commerce, partnering with merchants to provide alternative forms of payment over extended time periods. Affirm claims that this collaboration improves merchants' sales conversions by more than 20%, increases average order volume by at least 85%, and drives recurring relationships with customers through repeat purchases. 
The share of e-commerce relative to total retail sales has skyrocketed in 2020, as Covid-19 has driven consumers online amid store closures. E-commerce volumes in the US jumped by 37% in Q3'20 compared to the same period in the previous year, according to the US Department of Commerce.  
With global online sales expected to grow to $6.5T by 2023 (compared to $3.5T in 2019), according to eMarketer, Affirm stands to benefit from a continued shift in consumer purchasing habits.
Much of this change in behavior will be driven by millennial and Gen Z demographics, who are more likely to favor e-commerce and are more open to digital financial services products.