We dug into the private market bets made by large aerospace companies, including the venture arms of Boeing, Lockheed Martin, Airbus, Honeywell, and more.
As technologies advance within autonomy, drones, and IoT, so too do the applications for aerospace. In Asia, for example, autopilot tech has been embraced, and pilots are actually prohibited from flying manually above 3,000 feet. And around the world, traditional aerospace players are eager to build a self-flying plane. It's no surprise then that Boeing, the largest company in the "space," recently established its HorizonX venture arm.
To better understand where aerospace players are placing bets in private markets, we used CB Insights' Business Social Graph, which shows how top investors and target companies are related, in order to analyze where some of the top aerospace corporates are striking deals.
Specifically, we analyzed the investment and acquisition activity of the largest 10 aerospace corporations by revenue and their corporate venture arms:
Boeing & Boeing HorizonX Ventures
Airbus Group & Airbus Ventures
United Technologies (which recently acquired Rockwell Collins' aerospace unit for $30B)
Lockheed Martin & Lockheed Martin Ventures
Honeywell & Honeywell Ventures
General Dynamics
BAE Systems
GE Aviation
Northrop Grumman
Rolls-Royce
(Logged in subscribers can see the search here.)
Please click to enlarge. Orange lines indicate M&A deals, and green lines are investments.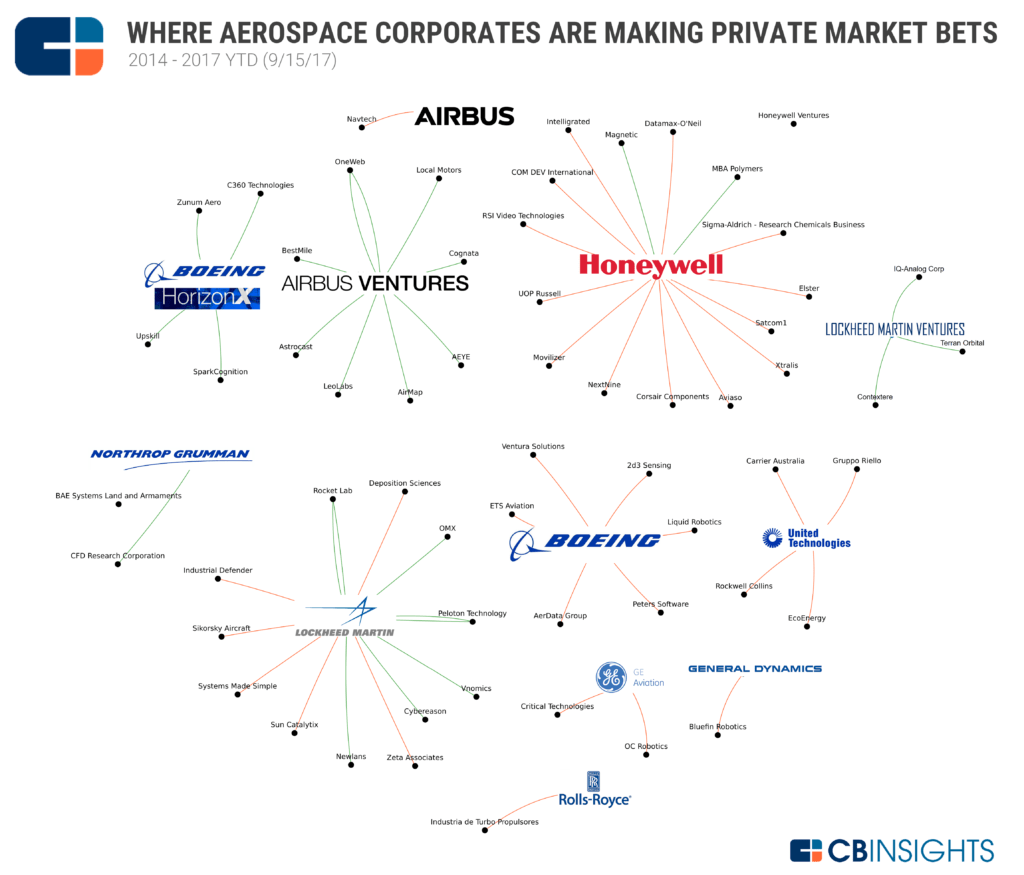 KEY TAKEAWAYS
Lockheed Martin and Honeywell are the most active dealmakers since 2014, with 15 investments or M&A deals each to unique companies. The next most active was Boeing, with a combined 10 deals, followed by Airbus with 9.

Notably, one of the most active areas for investment was in Auto Tech, with a total of 7 deals involving aerospace corporates. These included deals to Peloton Technology and Vnomics (both from Lockheed Martin), as well as deals by Airbus Ventures to BestMile, Cognata, Local Motors, and AEYE. These corporations are interested in bringing fleet visibility, advanced materials, and computer vision to airplanes, and auto tech lends tremendous strategic value to that ambition.

Outside of auto tech investment, the category breakdown is more varied. Collectively, these select corporates have participated in 5 IIoT deals, and surprisingly only 2 deals to drone companies (AirMap, Liquid Robotics).
Aerospace companies generally do their deals separately, and typically alongside institutional venture funds or corporate venture arms from other industries.
In IIoT, the select aerospace companies participated in 4 financings, among which included industrial data platforms Contextere and SparkCognition, industrial smartglasses developer Upskill, and fleet management software Vnomics. A notable IIoT M&A deal also went to ocean surface drone company Liquid Robotics (which raised $82M before getting acquired by Boeing).
If you aren't already a client, sign up for a free trial to learn more about our platform.