After a steep drop-off at the end of 2016, deals appear to be slowly rebounding.
Advanced manufacturing―which encompasses technologies that facilitate more efficient, customizable, automated, or digitized processes for manufacturers and their related supply chain―has matured into a sector that received more than $3B in funding in 2016. While related to the Industrial IoT category, advanced manufacturing also includes robotics, SaaS, and technologies tailored for manufacturing entities.
Demand for technologies is being driven in part by incumbents in asset-heavy industries. Given the immense strategic value of cutting manufacturing costs, it's hardly a surprise that some of the most active players in the space are corporate venture arms for industrial-related corporates such as GE, Saudi Aramco, Autodesk, and Qualcomm.
Annual trends
Deals rose to an all-time high of 126 in 2016, but given the pace of deal making in 2017, that record is unlikely to be broken by the end of the year. At the current rate, deals this year are poised to drop by 29%. A $2.5B private equity round to software unicorn Infor in Q4'16 made 2016 an outlier year in terms of funding, but 2017 is projected to be on par with (or even slightly above) funding levels in 2015 and prior.
The largest deals of 2017 to date include commercial scale 3D printer Desktop Metal, which recently received a $115M Series D round, the China-based AI and cloud computing company CloudMinds, which received a $100M Series A mega-round in Q1'17, along with smart factory wireless provider Actility ($75M Series D in Q2'17, in its largest round to date).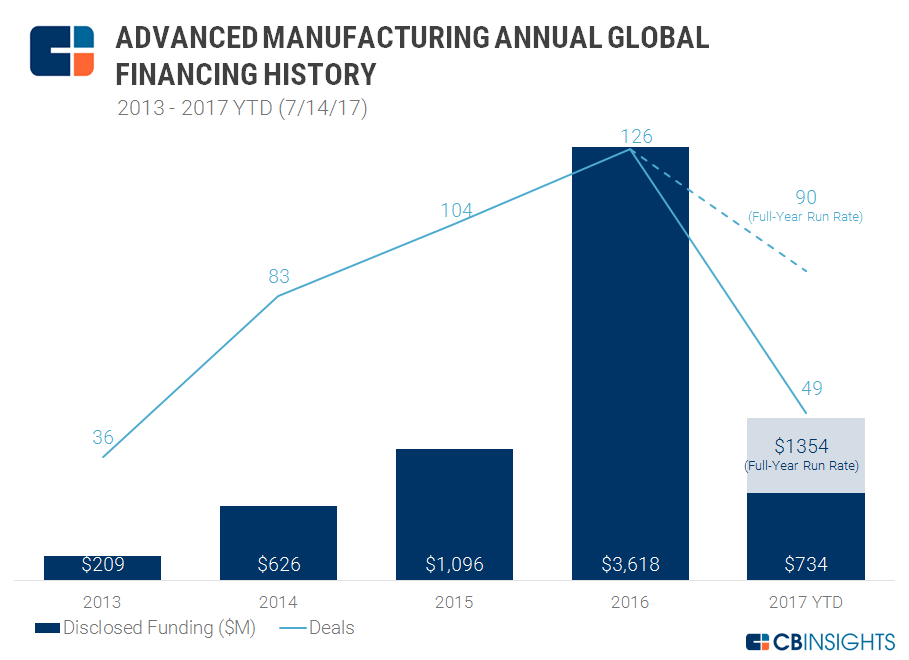 Quarterly trends
The recent slowdown in deals becomes more apparent at a quarterly scale: Despite the substantial spike in funding (largely due to the above-mentioned Infor deal), Q4'16 deals fell by 49% from the previous quarter. Q1'17 deals showed a slight rebound from the prior quarter but still saw lower deal count (23) than nearly every quarter since 2014. In Q2'17, deals inched up again to 25. Funding in Q2'17 also increased, growing from $253M to $366M—a 45% uptick.
Notable deals in Q2'17 included sensor network maker Samsara Networks ($40M Series C), predictive analytics developer SparkCognition ($32.5M Series B), and machine diagnostics company Augury Systems ($17M Series B).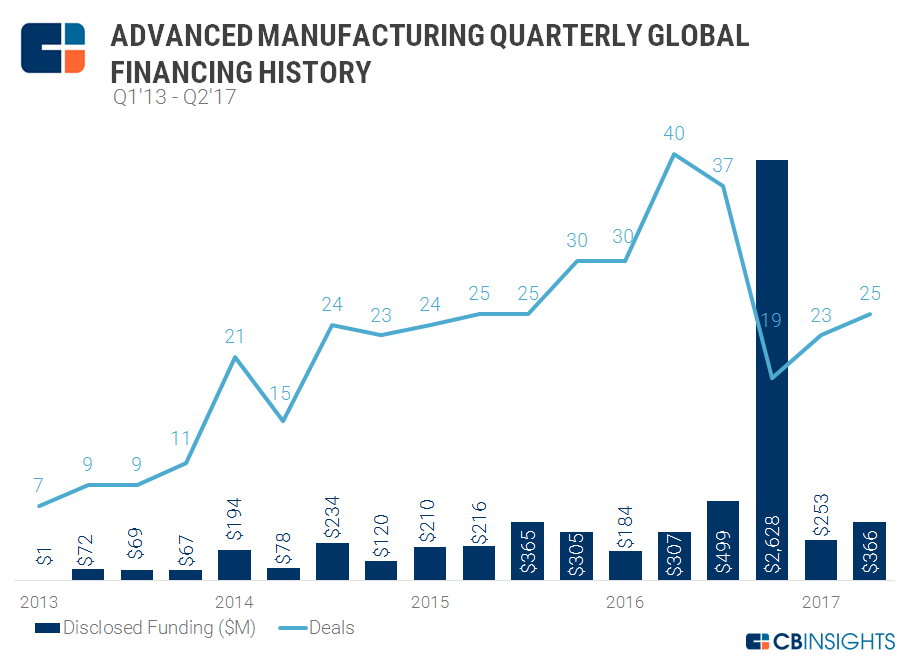 If you aren't already a client, sign up for a free trial to learn more about our platform.