With the acquisition, Adobe aims to streamline the video editing process for users. Here are the top-line bullets you need to know.
Adobe Systems, a digital marketing software developer, acquired Frame.io, a video collaboration platform, for $1.28B in an all-cash deal. The deal is expected to close around the end of November 2021.
WHO ARE THE PARTIES TO THE DEAL?
Frame.io: New York-based Frame.io is a cloud-enabled video collaboration platform that connects teams involved with video production. The technology streamlines the production process by integrating videos and images, implementing real-time camera footage upload, and making it easier to leave comments and feedback. The company currently has 1M users — and its client list includes global media and entertainment brands such as Google, LinkedIn, HBO, TED, and BuzzFeed.
Adobe Systems: California-based Adobe offers a variety of photo and video editing applications. In Q2'21, it witnessed 23% year-over-year revenue growth, posting a revenue of $3.84B. It caters to a variety of media companies, including L'Oréal, Allianz, and Morgan Stanley Wealth Management.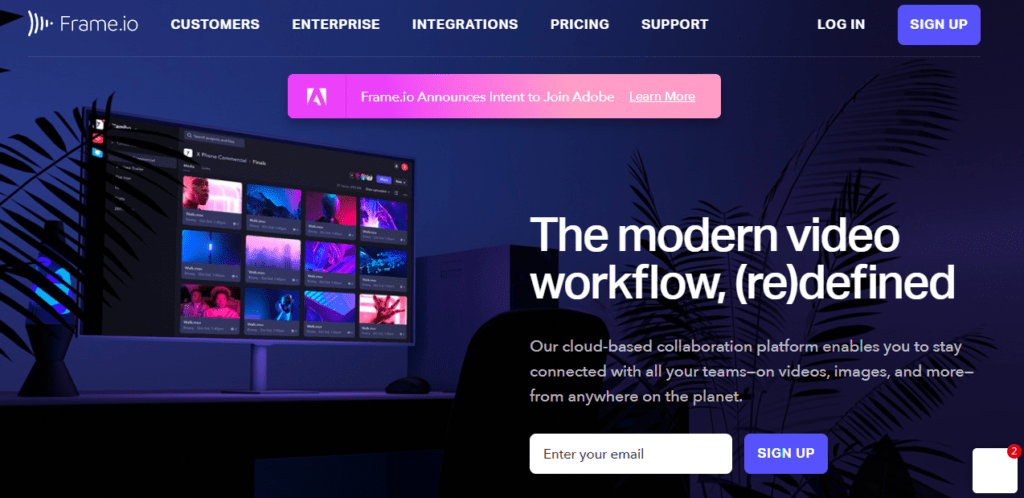 Source: Frame.io
WHY DOES THE MARKET MATTER?
The visual collaboration platforms software market​​ is projected to grow at a CAGR of 13.50% and reach a value of $17.17B by 2027, according to Verified Market Research.
Due to the Covid-19 pandemic, more people started working from home, and the usage of video conferencing and visual collaboration technologies increased. Organizations are moving toward hybrid workplace solutions and looking to utilize visual collaboration platform software, according to a PwC work from the home survey.