Despite economic uncertainty spurred by the pandemic, VCs continued to invest in promising companies. SOSV topped the list of most active investors in the quarter.
In Q2'20, both deals and dollars to VC-backed startups took a hit compared to the same quarter last year as the pandemic continued to impact equity financings.
Even so, venture capital firms continued to place bets.
The most active VC in Q2'20 was SOSV, which participated in 30 deals during the quarter. These included:
A $33M Series B round in April to plant-based food & beverage startup NotCo, which also made it into this year's AI 100 list.
A seed round to biotech startup Gaia Labs in May.
An $8.7M Series A to gut health company Sun Genomics in June.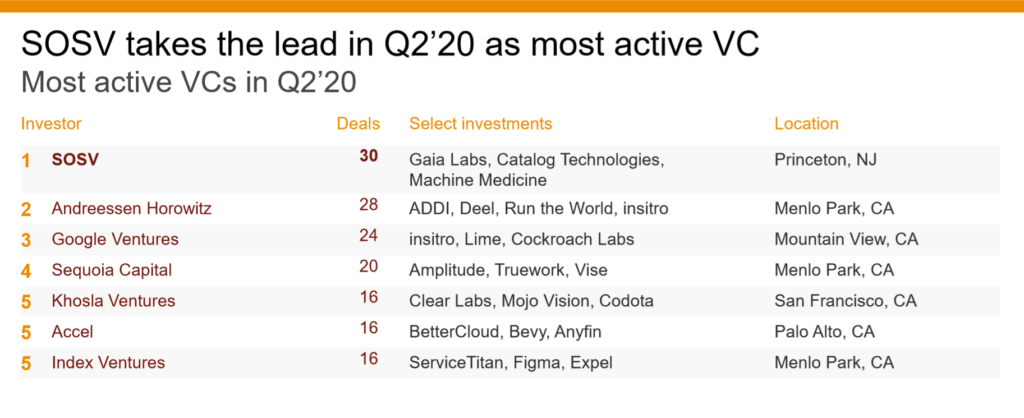 Andreessen Horowitz came in second with 28 deals, trailed by Google Ventures, which participated in 24. Rounding out the top 5 were Sequoia Capital (20), Khosla Ventures, Accel, and Index Ventures (all tied at 16).
All of the most active venture capital firms on this list are based in the US, with the majority based in Silicon Valley.
Take a look at all the underlying data and insights in PwC and CB Insights' Q2 2020 MoneyTree report.
If you aren't already a client, sign up for a free trial to learn more about our platform.