Y Combinator and other tech accelerators top the list of investors making bets on mental health startups.
Startups are increasingly using technology like mobile and telemedicine platforms to increase access and lower costs in mental healthcare. And investors are paying attention: this year, deals to VC-backed startups in the mental health and wellness sector are on track to reach 5-year highs.
The sector is also seeing increased investment from the corporate world. Hospital systems such as Cedars-Sinai, tech giants like Google, and health insurers like Aetna and BlueCross BlueShield have all participated in deals to mental health startups. Further, many of these corporates are now partnering with early-stage startups, such as Aetna with AbleTo.
Below, we used CB Insights data to analyze the most active investors in the mental health sector. We define the mental health and wellness category to include companies applying technology to problems related to emotional, psychological, and social well-being. Examples include companies focusing on treatments options for areas such as substance abuse, eating disorders, stress, depression, PTSD, and anxiety. Companies developing pharmaceutical therapies were not included.
TOP investor TRENDS
As mental health tech is a relatively early-stage sector of digital health, many of the most active investors are tech accelerators such as Y Combinator or 500 Startups. This demonstrates a healthy pace of early-stage innovation in the sector, even as later stage deals begin to pick up.
Click to enlarge.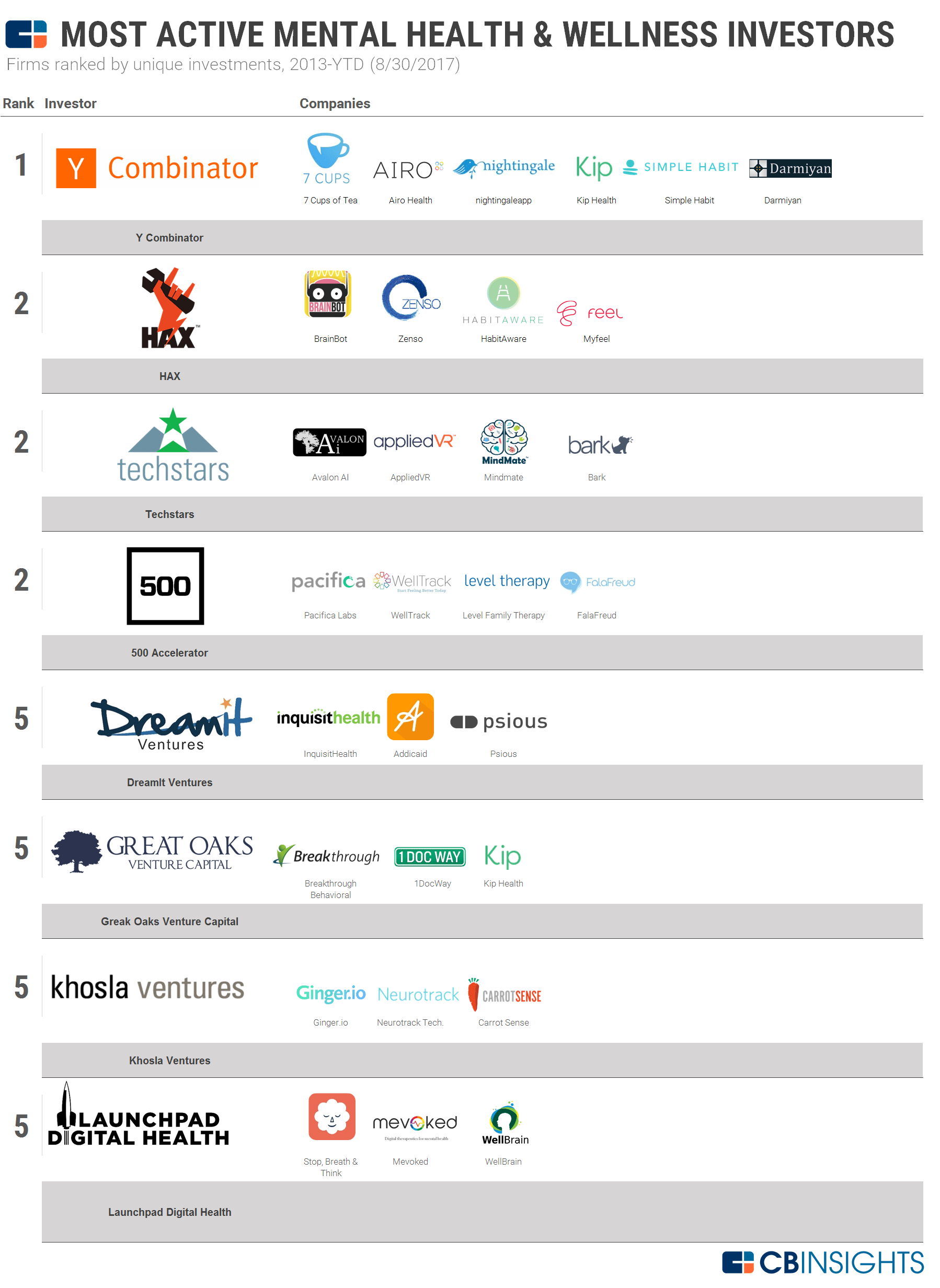 KEY TAKEAWAYS
Y Combinator: The most active investor in mental health and wellness technology startups since 2013 is the Mountain View, California-based startup accelerator Y Combinator, with 6 deals.
Most recently, Y Combinator provided $120K in seed funding to Darmiyan, a graduate of the accelerator's latest cohort that develops software for the early detection of Alzheimer's. While Y Combinator's interest in mental wellness goes back to 2011, with a $20K seed deal to Habit Labs, its pace of investment in the space has picked up recently, with 4 startups receiving funding since 2016.
Great Oaks Venture Capital: NYC-based Great Oaks Venture Capital is the only non-accelerator to crack the top 5 list. Great Oaks' mental health thesis appears to be based on the decentralization of mental healthcare, with multiple deals to telemedicine services.
The firm has participated in deals to mobile therapy startup Kip Health (co-invested with Y Combinator), telepsychiatry service 1DocWay, and online counseling platform Breakthrough Behavioral (acquired by MDLIVE in 2014).
MENTAL HEALTH & WELLNESS
Startups are developing innovative tools for the diagnosis, treatment, and maintenance of mental health. Look for Mental Health & Wellness in the Collections tab.
Track The Mental Health & Wellness Space
HAX: Shenzhen and San Francisco-based HAX Accelerator is a hardware-focused subsidiary of the venture capital fund SOSV. As such, all of their investments in mental health and wellness technology have been to sensor and wearables startups.
HAX has made 5 deals in the space since 2016, most recently to MyFeel. MyFeel develops wristbands that analyze physiological signals — such as skin conductance and heart rate — in order to recognize emotional patterns and provide real-time cognitive behavioral therapy.
Techstars: Boulder, Colorado-based Techstars is a global tech accelerator with over 1,000 portfolio companies and a sector-agnostic approach. This is apparent in their mental health and wellness tech investments, which range widely to include deals to AI-enabled image analysis startup Avalon AI, VR platform AppliedVR, and telemedicine platform Ginger.io, among others.
Most recently, Techstars backed the seed round of Bark, which monitors children's social media platforms for signs of suicidal thoughts, depression, sexting, and bullying.
500 Startups: Mountain View, California-based 500 Accelerator is the 4-month seed accelerator program of 500 Startups. The accelerator currently invests $150K in exchange for 6% equity.
Similar to Great Oaks, 500 Startups has recently taken an interest in decentralized platforms for mental healthcare. In 2017 YTD, 500 Accelerator has made deals to FalaFreud, a Brazil-based FalaFreud is a tele-therapy service, and WellTrack, a mobile self-help program designed to address stress, anxiety, and depression in their early stages.
If you aren't already a client, sign up for a free trial to learn more about our platform.