As it accelerates its activity in non-beer categories, Belgium-based AB InBev is broadening its focus and increasing its global presence in the beverage space.
AB InBev is by far the largest brewer in the world, as well as the most active in acquiring new brands. With nearly 30% of the global beer market, the giant has made 43 private market acquisitions and investments since 2013, including the ones made by its corporate venture arm ZX Ventures.
Since it was formed in 2008, AB InBev set its initial sights on the craft beer segment, with 21 deals in the space year-to-date. More recently, the company has entered into adjacent beverage categories, with acquisitions of startups focused on ciders, pre-mixed alcohol brands, and soft drinks.
Using CB Insights data, we put together a timeline of AB InBev's beverage acquisitions since 2013, highlighting the company's global expansion and shifting priorities over time.
Please click to enlarge. For SABMiller's acquisition, we have used the date at which the transaction was officially announced. Acquisitions related to distribution such as of Western Beverage Co., Morgan Distributing, and Goose Island Brewpub are not represented on the timeline below.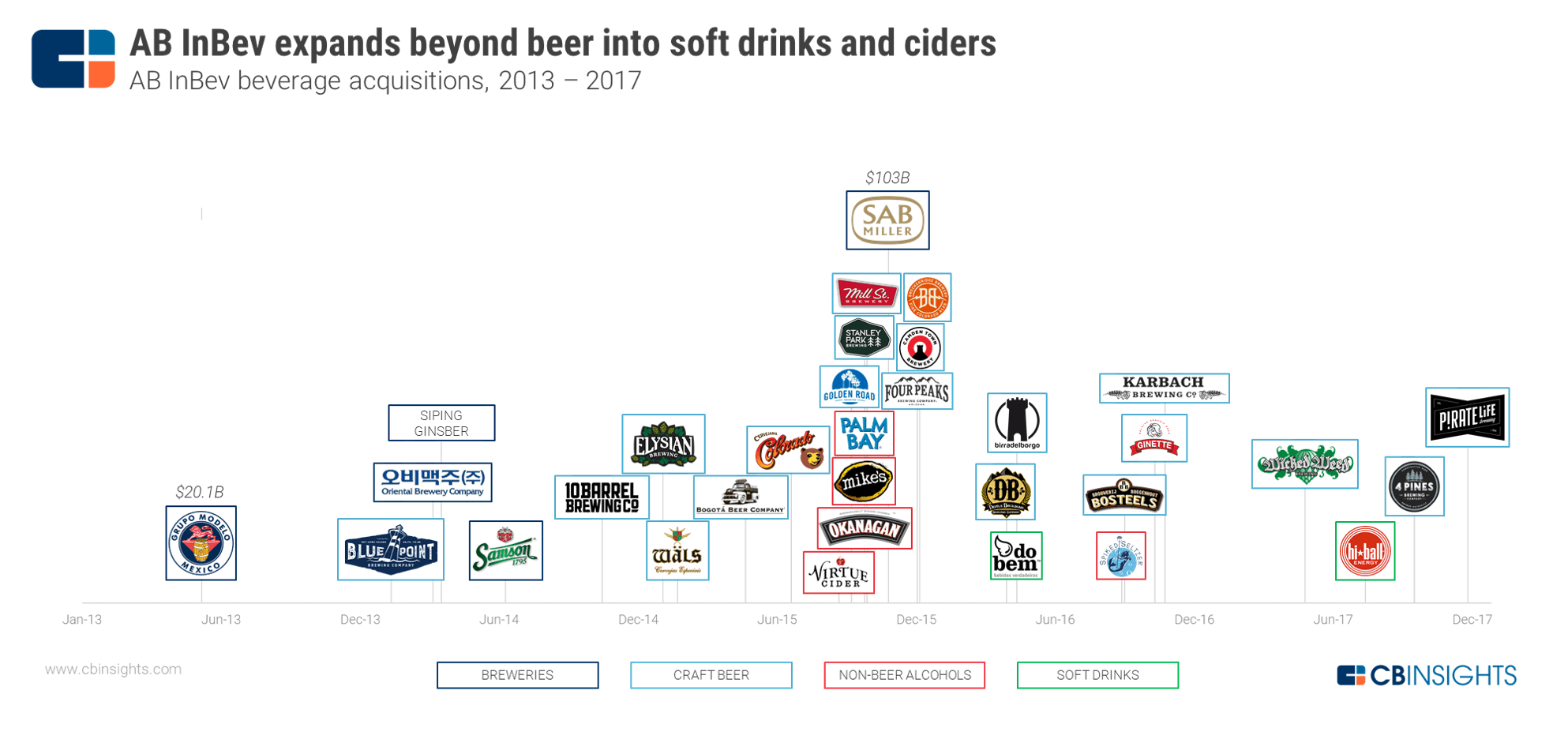 GLOBAL consolidation and geographic expansion
AB InBev became the global brewer we know today through mega-deals, starting with the merger between Interbrew and Ambev to form InBev in 2004. It acquired its current name after InBev acquired US-based Anheuser-Busch in 2008, a deal worth $52B. The company continued to expand its global footprint with mega-acquisitions, including that of Mexico-based Grupo Modelo (acq. 2013, $20.1B).
AB InBev also expanded into specific geographies such as the Caribbean with the $2.4B acquisition of Cervecería Nacional Dominicana in 2012. The company moved into South Korea with Oriental Brewery Company (acq. 2014, $5.8B) and China with Siping Ginsber (acq. 2014, $630M).
This wave of consolidation through multi-billion dollars deals topped out in 2015, when AB InBev announced it would acquire its global rival SABMiller for $103B. With this move, AB InBev gained access to a large portfolio of beer brands as well as a strong position in Africa.
It also led to new challenges such as anti-trust issues: when it acquired SABMiller, AB InBev was forced to sell several beer brands worth billions of dollars, especially in Europe and the US. Further consolidation through large deals also appears unlikely in the short term due to AB InBev's high level of indebtedness related to SABMiller's acquisitions.