Rumors about AB InBev acquiring Coca-Cola or PepsiCo have floated around for years. While speculative, such a deal could make sense, especially given the recent consolidation trend in the beverage sector and AB InBev's increasing focus beyond alcohol.
People are drinking less beer, pushing major brewers to look for new opportunities.
AB InBev, the world's largest beer company, has been expanding beyond beer over the past year, making minority investments and small acquisitions in cider and soft drinks.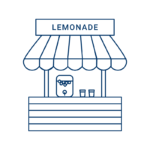 But earlier rumors suggest an even bigger move into the non-alcoholic category could be possible, with PepsiCo and Coca-Cola at the top of the potential acquisitions list.
An acquisition of either wouldn't come cheap.
Coca-Cola's market cap is currently hovering around $195B, while PepsiCo's equity is valued at $158B, as of 9/26/2018.
Is such a mega-acquisition possible?
We used the CB Insights platform to examine what a combination between AB InBev and one of the soft drink giants would look like, whether it could make sense, and how it would reshape the beverage industry.
A mega-acquisition to create the largest beverage company in the world
AB InBev has big ambition in soft drinks.
The company appointed a Chief Non-Alcohol Beverage Officer in July this year, and hopes to generate 20% of its sales by volume from low-alcohol and non-alcoholic drinks by 2025, up from 8% today.
An acquisition of either Coca-Cola or PepsiCo would give AB InBev instant access to hundreds of leading soft drink brands — Coca-Cola owns over 500 brands.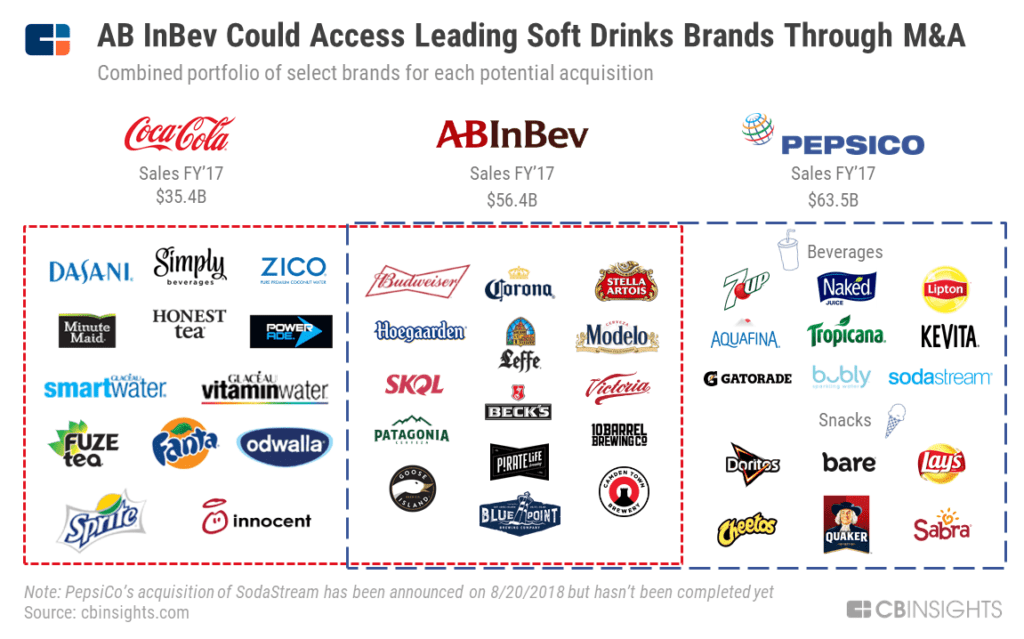 The resulting brand portfolio would cover most beverage categories, spanning from beer to energy drinks to sparkling water, and more.
It would certainly boost sales from non-beer categories.
And it could even push AB InBev close to its goal of generating $100B in revenue by 2020.
While not an official revenue guidance, the $100B target is part of AB InBev's performance-based incentive plan called the "2020 Dream Incentive Plan."
When looking at combined FY 2017 revenues, AB InBev would be either very close to hitting this goal if it bought Coca-Cola, or well above the target if it acquired PepsiCo.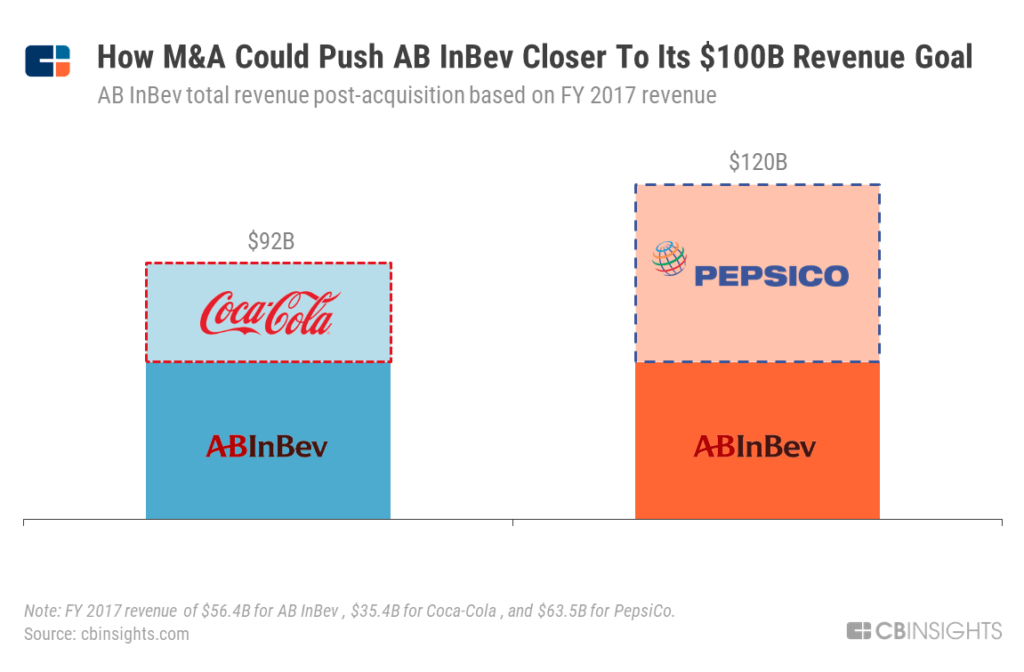 A merger with either Coca-Cola or PepsiCo would also create the world's largest CPG company by revenue, ahead of Nestlé's $93B in sales in 2017. This excludes potential divestment as part of the considered acquisitions.
A large acquisition that would fit into AB inbev's strategy
AB InBev hasn't officially expressed interest in acquiring one of the big soft drinks giants.
But there are a number of reasons to think a massive merger would make sense from AB InBev's point of view.
Massive acquisitions are part of AB InBev's DNA
AB InBev became the global brewer we know today through mega-deals, starting with the merger between Interbrew and AmBev to form InBev in 2004.
It acquired its current name after InBev acquired US-based Anheuser-Busch in 2008, a deal worth $52B. The company continued to expand its global footprint with mega-acquisitions, including that of Mexico-based Grupo Modelo (acquisition completed in 2013 worth $20.1B).
This wave of consolidation through multi-billion dollar deals topped out in 2015, when AB InBev announced it would acquire its global rival SABMiller for $103B.
Given this activity, another $100B+ acquisition cannot be ruled out.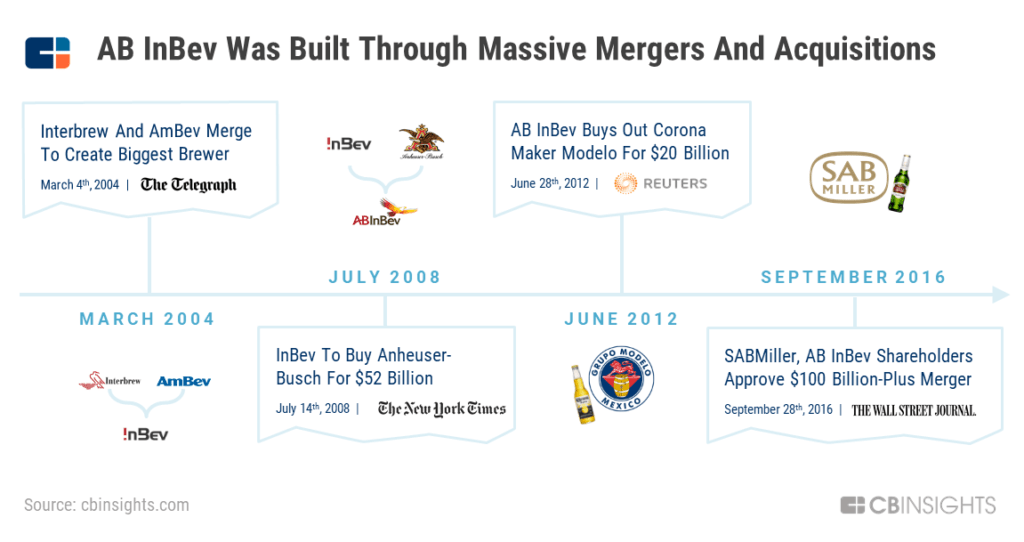 Limited acquisition opportunities in beer
AB InBev is already operating in most countries, and captures nearly 30% of the global beer market, according to Euromonitor. Growing through large acquisitions in similar product categories is becoming more and more challenging due to anti-trust rules.
The company had already faced challenges when it acquired SABMiller, and was forced to sell several beer brands worth billions of dollars, especially in Europe and the US.
Anti-trust issues could push AB InBev to look beyond beer for growth.
Tapping into fast-growing beverage categories
While the US beer market is facing headwinds, sales of non-alcoholic beverages grew by $2B last year, according to Coca-Cola.
And certain soft drinks categories are growing even faster.
Coconut water, for one, is expected to grow by 15% each year over the next 6 years, according to Market Research Engine. Sparkling water has also been making headlines, with PepsiCo spending $3.2B to acquire Sodastream.
Both Coca-Cola and PepsiCo have recently acquired or launched brands targeting fast-growing soft drinks categories, such as Zico (coconut water) and Bubly (sparkling water).
Even coffee has been added to this extensive list, as Coca-Cola announced recently it would acquire British coffee chain Costa for over $5B.
With the purchase of a US-based drink giant, AB InBev could get instant access to multiple fast-growing beverage categories outside of beer.
Not a stranger to the soft drinks market
AB InBev isn't totally new to the non-alcoholic market.
The company has been producing, bottling, and distributing certain PepsiCo brands in South America for well over a decade, and started a partnership with Starbucks to distribute ready-to-drink tea under the brand Teavana last year.
At the same time, the rise of non-alcoholic drinks has pushed the company to start acquiring, investing in, and even launching several non-alcoholic beverages, mostly through its venture arm ZX Ventures.
This includes Brazilian juice brand Do Bem, energy drink label Hiball, and plant-based beverage company Canvas, among others.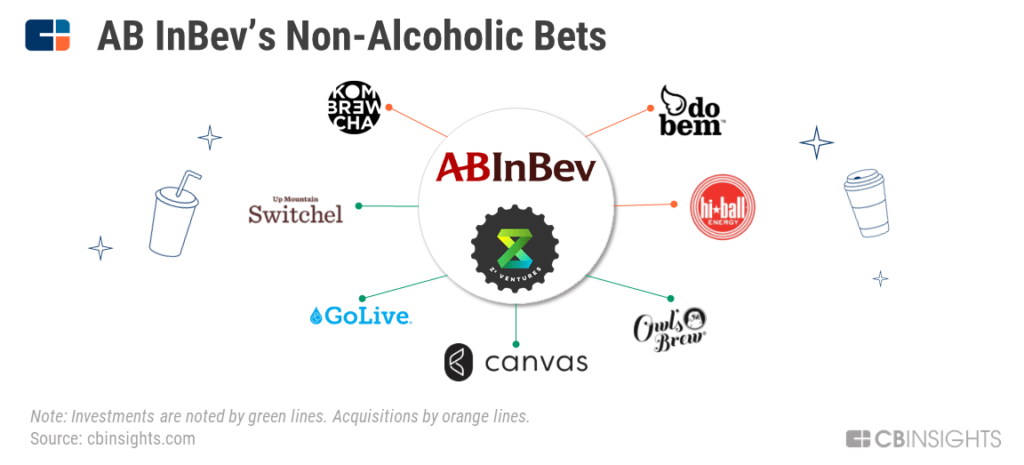 Hitting internal revenue target of $100B by 2020
We've already mentioned AB InBev's ambitious internal target of $100B in revenue by 2020.
That's almost double the $56.4B in revenue that AB InBev generated last year. And with less than 3 years to go, the company will need a sizable acquisition to meet its goal.
An acquisition of Coca-Cola would put the company's top line at $92B based on combined 2017 revenue. That's still short of $100B, but close enough: the company would need to grow sales by 3% each year until 2020.
Acquiring PepsiCo would allow AB InBev to instantly achieve its goal, with combined revenue of $120B.
Billions of dollars in cost savings?
AB InBev has a good track record when it comes to cost savings.
During its Q2'18 earnings calls, the company's CFO said AB InBev had already achieved nearly 80% of the planned synergies — which have focused on cutting cost through more efficient processes — from the acquisition of SABMiller.
"In [Q2'18], we delivered $199 million of synergies, bringing the total synergies captured to-date to almost $2.5 billion. Our total synergy guidance remains at $3.2 billion to be delivered within the four-year period following the close of the combination." Felipe Dutra — CFO of AB InBev
We list a few areas where an acquisition of Coke or Pepsi could help cut costs.
Procurement — Since beer and soft drinks share similar packaging — cans & glass bottles — a much bigger AB InBev could save money by negotiating better prices with its suppliers.
Production — AB InBev could bottle more brands within certain production facilities, and shut down others. It is already bottling certain PepsiCo brands in South America.
Distribution — Beer and soft drinks share very similar distribution channels, including grocery stores, bars, restaurants, hotels, and more. This means that AB InBev could save on warehouses and transportation costs, for instance.
Well-connected owners could facilitate a deal
AB InBev's sprawling empire started with 3 businessmen: Jorge Paulo Lemann, Carlos Alberto Sicupira, and Marcel Herrmann Telles.
The 3 Brazilians created AmBev in 1999 by purchasing two smaller beer companies, and are the architects behind AB InBev's expansion. Despite the many mega-acquisitions, they still control close to 20% of the company.
They're also the founders of 3G Capital, a private equity firm that owns a significant stake in food giant Kraft Heinz along with Warren Buffet's Berkshire Hathaway, which also happens to own 9.4% of Coca-Cola shares.
Both 3G Capital and Berkshire Hathaway have showed they are hungry for deals, with a failed attempt by Kraft Heinz to acquire Unilever in 2017.
There have already been rumors of a potential acquisition of PepsiCo's snack business by Kraft Heinz.
The support of Berkshire Hathaway could be key if AB InBev decided to acquire either Coca-Cola or PepsiCo.
But a high price, mounting debt, and control issues are likely to get in the way of a deal
Despite all the potential benefits listed above, an acquisition of either Coca-Cola or PepsiCo by AB InBev certainly faces obstacles.
A (very) high price tag
An acquisition of one of the soft drinks giants wouldn't come cheap.
As mentioned earlier, PepsiCo is valued at $158B, while Coca-Cola is currently worth $195B, based on market cap as of 9/26/2018. That compares to $152B for AB InBev.
And that valuation does not include the premium AB InBev would have to pay to convince shareholders to sell their shares.
Despite a drop at the beginning of the year, both Coca-Cola and PepsiCo shares have rallied over the summer, pushing them closer to their all-time high and thus more expensive acquisition targets.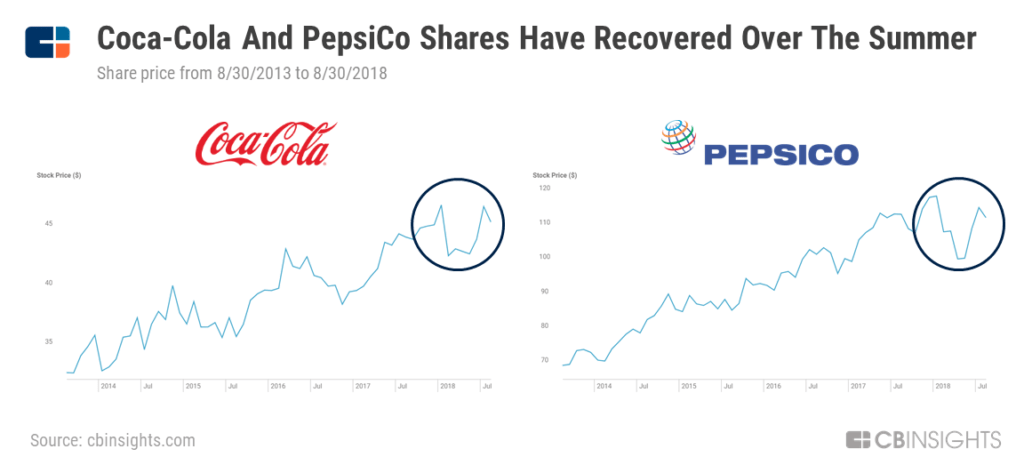 To make an acquisition less expensive, AB InBev could consider breaking PepsiCo into 2 companies, acquiring the beverage business — 47% of sales in 2017 — and selling the snack brands to another company.
This scenario may not be so far-fetched.
As we've mentioned earlier, there have been rumors about Kraft Heinz acquiring PepsiCo's snack business. Given AB InBev and Kraft Heinz's common shareholders, the two could easily partner to acquire PepsiCo.
However, an acquisition would still need to create enough value to make the price worth paying.
AB InBev's massive debt
The beer giant's massive debt is another limitation to a potential acquisition of Coca-Cola or PepsiCo.
AB InBev reported a net debt of $108.8B as of Q2'18, mainly related to the $103B acquisition of SABMiller. That corresponds to a net debt to EBITDA ratio of close to 5x, compared to a long term target of 2x set by the company.
For reference, the vast majority — around 70% — of S&P 500 companies have a net debt to EBITDA ratio of 3x or below, according to Jefferies.
The company also borrowed that money when debt was cheap. But central banks, including the Fed, have started to raise interest rates, making it more expensive to take on debt.
AB InBev's current debt level along with the prospect of rising interest rates will significantly limit the company's ability to borrow money for another acquisition.
Key shareholders may refuse to give up control
AB InBev is partially controlled by 3G Capital's founders, along with former owners of Interbrew, the Belgian beer company that merged with AmBev to create InBev in 2004.
Altogether, they controled close to 44% of AB InBev as of 12/31/2017.
To keep control over their sprawling empire, these key shareholders have used a well-known private equity technique: leveraged buyouts.
They essentially pay for acquisitions by borrowing massive amounts of debt, against the level of EBITDA generated by the target company. This reduces the need to raise equity from other investors, meaning current shareholders aren't diluted.
But given its relatively high debt levels, AB InBev might not be able to use the same trick anytime soon.
This means that to finance a massive deal, key shareholders would probably have to reduce their stake by paying with equity instead of cash.
The 3G founders and their Belgian counterpart have managed to keep control over AB InBev's destiny, so they may not be ready to let go of any equity.
The beverage industry is poised for consolidation
By investing into soft drinks, alcohol companies are blurring the lines between beverage categories, namely between alcoholic and non-alcoholic drinks producers.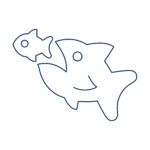 And while still very speculative, an acquisition of either Coca-Cola or PepsiCo by AB InBev would play into that trend.
Its scale would certainly reshape the beverage industry, as other alcohol producers such as Diageo and Pernod Ricard could have to move faster into non-alcoholic beverages to keep up.
Anti-trust challenges could also force AB InBev to divest certain brands, which in turn could be acquired by other beverage companies.
Regardless of what the future holds for AB InBev, we are already seeing a trend toward consolidation driving massive beverage deals such as Coca-Cola's takeover of Costa Coffee ($5.1B) and PepsiCo's acquisitions of Sodastream ($3.2B).
If you aren't already a client, sign up for a free trial to learn more about our platform.