We identify a16z's top priorities in fintech across payments, blockchain, banking, and more.
The fintech industry took a hard hit in 2022 as investors scaled back their investments amid market turmoil. 
However, some top investors like Andreessen Horowitz (a16z) remained active in the space across various deal stages, valuations, geographies, and sub-industries. 
Fintech is central to a16z's investment strategy. In recent years, the firm has not only shored up its presence in more familiar sectors like banking, but also reached deeper into newer territory like blockchain. 
Of the 206 deals a16z participated in last year, almost a quarter went to fintech companies — more than any other industry. Sixty percent of these fintech investments closed in H1'22, and the remaining 40% closed in H2'22.
Using CB Insights data, we mapped how a16z spread these fintech investments across categories like payments, blockchain, digital lending, and more.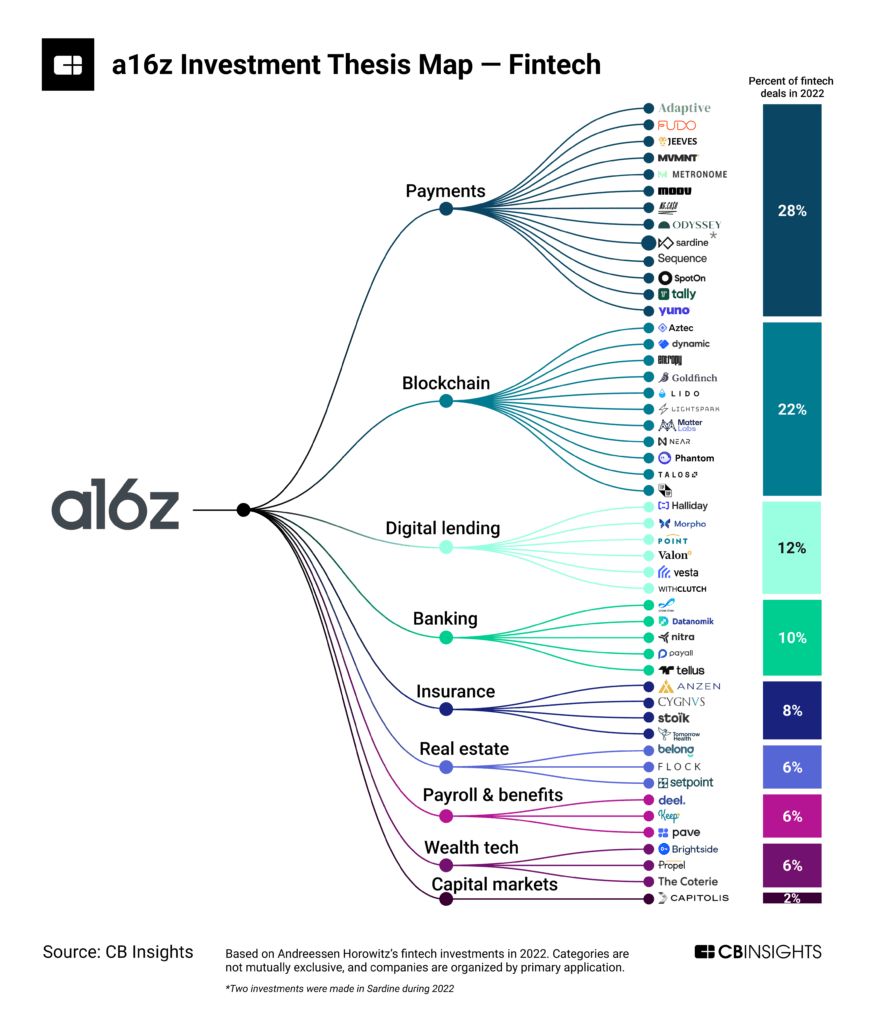 Below, we dig into a16z's top 3 fintech targets in 2022, including key deals in each category.
Payments
More than a quarter (28%) of a16z's fintech investments in 2022 went to the payments category. Notable investments include:
SpotOn

($300M Series F): SpotOn offers a cloud-based platform that provides payment solutions for restaurants and small retailers

. 

Jeeves

($180M Series C):

Jeeves offers corporate cards and other expense management tools for businesses, with a focus on credit and payments rails across countries and currencies.

Tally Technologies

($80M Series C): Tally's app helps consumers pay off credit card debt more quickly by automating payments.
Blockchain
a16z has actively invested in companies developing blockchain platforms for years. In 2022, 22% of its fintech deal volume went to blockchain companies — although most of these deals closed between January and June, before the year-end turmoil that rocked the cryptocurrency markets. Notable investments include: 
Matter Labs

($200M Series C): Matter Labs is an Ethereum development company building a rollup layer 2 network designed to lower fees and speed up transactions. 

Lightspark

($175M Series A): Lightspark, launched in May 2022, is building a Bitcoin payments tool.

NEAR Protocol

($150M Series B): NEAR Protocol is developing a platform for blockchain-based decentralized applications, with a heavy focus on Web3.



Digital lending
a16z's third-most popular fintech category in 2022 was digital lending, accounting for 12% of the firm's fintech deal flow. Notable investments include: 
Point Digital Finance

($115M Series C): Point provides a lending marketplace that allows homeowners to borrow against a percentage of the future value of their property

.

Valon

($60M Series B): Valon offers

residential mortgage loan servicing technology through a cloud-native platform. 

Vesta

($30M Series A): Vesta provides

a platform for mortgage origination and underwriting that is designed to streamline processes, reduce risk, and help lenders improve their book of business. 
If you aren't already a client, sign up for a free trial to learn more about our platform.