In the past few years, venture capital firm Andreessen Horowitz (a16z) has made several investments in blockchain and crypto companies. Even with the ongoing turbulence in the crypto market, the venture capital firm announced a $4.5B crypto fund in May 2022. We dig into its crypto and blockchain investments.
a16z invests in seed, venture, and late-stage technology companies across sectors including biotechnology, healthcare, consumer goods, crypto, enterprise, fintech, and games. The firm made its debut in the world of blockchain and crypto in 2013 by investing in Coinbase. With an understanding that blockchain would empower a new era of crypto and web3, it launched a dedicated venture capital fund, a16z crypto, in 2018 — the year that was known as "crypto winter."
Although the fast-evolving crypto industry has been under increased scrutiny from regulators and lawmakers due to hacks and thefts, a16z has continued to expand its presence in the industry. Crypto has become central to a16z's business, and the firm plans to own large portions of the digital world.
Falling crypto prices and the collapse of the TerraUSD stablecoin in May 2022 did not stop a16z from further expanding into the crypto industry. The firm announced the launch of its fourth crypto fund — worth $4.5B — in May 2022. $1.5B of that is intended to be spent on seed investments, and $3B on venture investments. This latest fundraise brings a16z's crypto/web3 funding to over $7.6B.
a16z plans to use the money to back web3 startups at every stage. It is also keen on pursuing developments in blockchain gaming, decentralized finance (DeFi), decentralized autonomous organization (DAO), layer 1 and layer 2 infrastructure, privacy, decentralized social media, and non-fungible tokens (NFTs).
What are a16z's most notable investments?
a16z has participated in over 113 funding deals since 2013 (as of June 28, 2022) and has backed 75 crypto/blockchain companies to date.
Since July 2021, a16z has been a part of 56 crypto/blockchain funding deals. Twenty-seven of those were closed in H2'21, and the remaining were closed in H1'22.
Fifty of these deals were new investments by a16z, while the remaining were follow-on investments in its existing portfolio of companies – Alchemy, Irreverent labs, Phantom, and Sky Mavis.
Deals by geography (July 2021 – June 2022)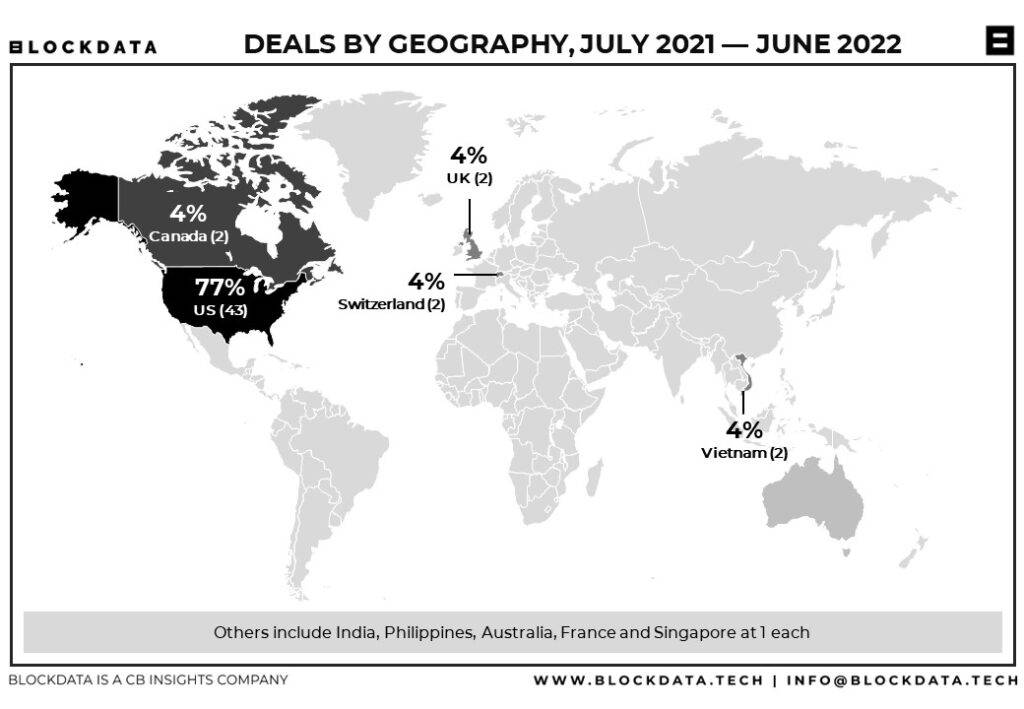 The venture capital firm directed most of its money towards Series A (38%) and VC investments (29%), followed by Series B (20%), Series C (7%), Series D (5%), and Series F (2%). The average deal size by a16z in the last 12 months was $58M in VC rounds, $42M in Series A, $181M in Series B, $203M in Series C, and $220M in Series D.
a16z remained active in all of its existing portfolios in the last 12 months. It financed 52 crypto/blockchain companies alongside several co-investors, including Coinbase Ventures, Paradigm, Animoca Brands, Dragonfly Capital, Sound Ventures, Tiger Global Management, Coatue Management, Variant Fund, and CoinFund. Below, we look at the notable investments made by a16z from July 2021 – June 2022 and the relevant use cases.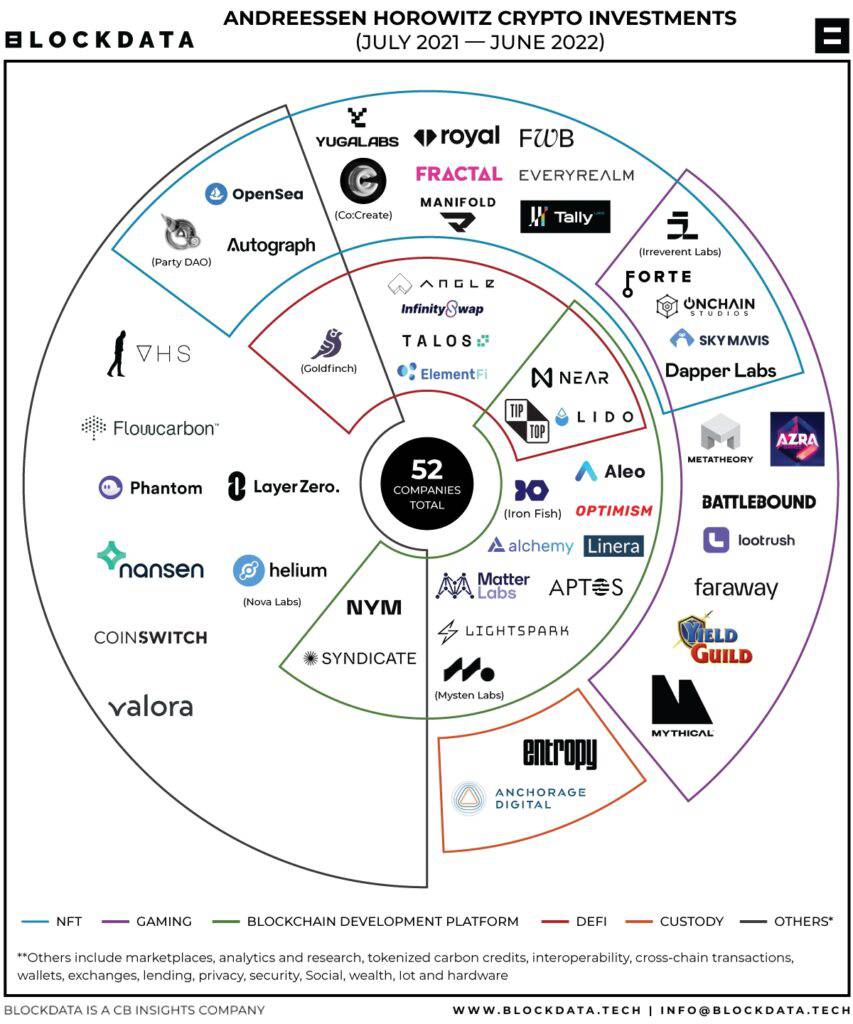 Blockchain development platforms
a16z has been actively backing companies that develop blockchain platforms, provide scaling solutions and develop infrastructure tools.