With the acquisition, Flipkart aims to expand into healthcare and launch e-pharmacy, e-diagnostic, and e-consultation services. Here are the top-line bullets you need to know.
Flipkart, an Indian e-commerce firm owned by Walmart, has acquired SastaSundar, an Indian digital pharmacy, for an undisclosed amount.
WHO ARE THE PARTIES TO THE DEAL?
SastaSundar: India-based SastaSundar is a digital pharmacy that provides patients with prescription medication and free home delivery services. The startup is supported by a network of 490+ pharmacies across India. It uses AI and data analytics to provide personal counseling through its portal. The company reported net sales of $212K in Q2'FY22, up 12.3% year-over-year.
Flipkart: Bangalore-based Flipkart is an e-commerce portal owned by Walmart. Flipkart's platform offers miscellaneous products, including cellphones, electronics, home furnishings, and books. The startup is supported by a team of over 16,000 full-time employees. The company generated an estimated $4.62B in FY20.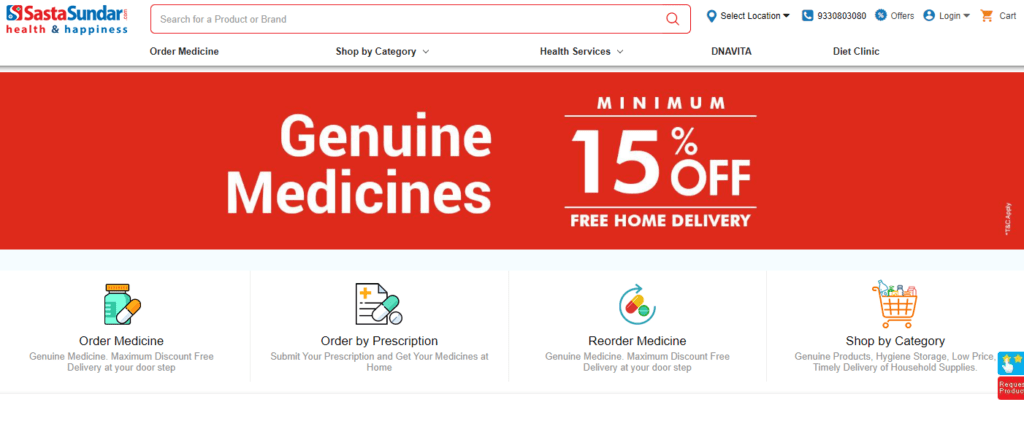 Source: SastaSundar
WHY DOES THE MARKET MATTER?
The global e-pharmacy market is projected to reach a value of $38B by 2027, growing at a CAGR of 16%, according to FutureWise Research.
The increased use of digital devices and technological advancement have led to the adoption of online doctor consultations and digital prescriptions, both of which have contributed to market growth.
Covid-19-induced travel restrictions and social distancing regulations have increased consumer dependency on digital transactions, which has boosted demand for e-pharmacy solutions.