Apple's $430B commitment to 5G is the latest move in a flurry of recent 5G-focused activity in the US, as the tech gains investment and regulatory approval. Here are the top-line bullets you need to know.
On April 26, Apple committed $430B for a 5-year investment plan focused on 5G adoption and innovation.
The news comes after Apple beat expectations with its 5G-enabled iPhone 12. It also comes on the heels of a steady increases in total funding to 5G companies since 2016, which hit all-time highs in 2020.
With studies suggesting a majority of companies plan to adopt 5G within the next 3 years, the technology is increasingly relevant to company plans across industries, and earnings calls mentions of the tech are ticking up.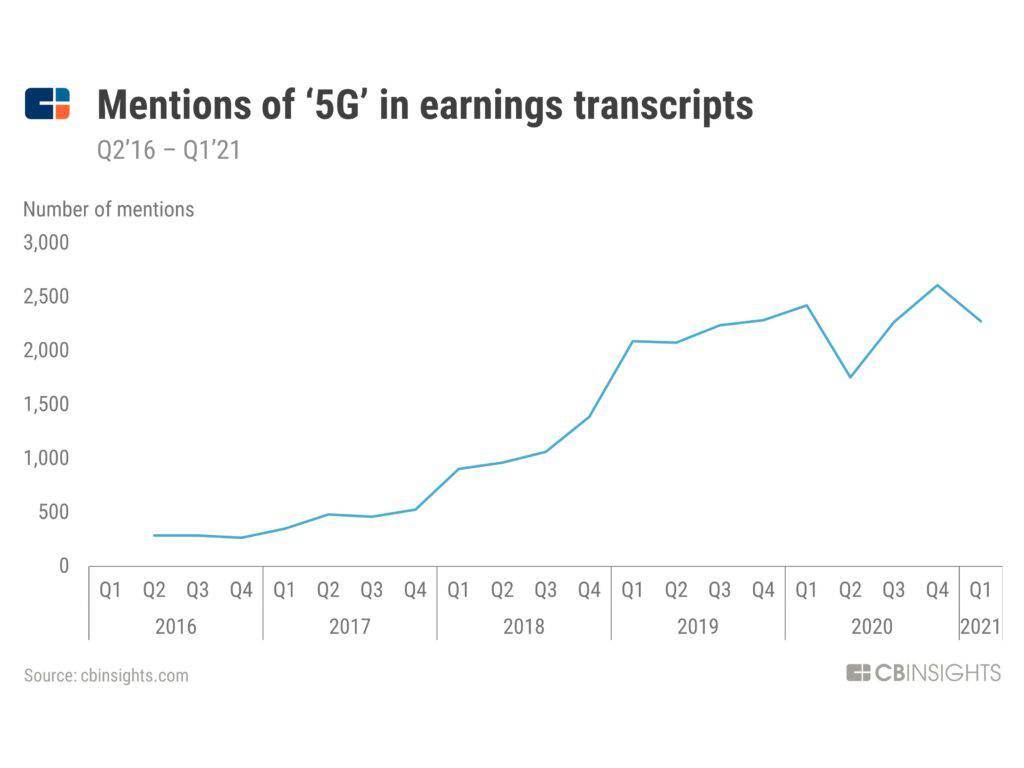 Get the entire What is 5g? report
Download the free report to understand what 5G is, the industries it's disrupting, and the drivers paving the way for its implementation.
But while global 5G network adoption is expected to triple in 2021, the US is trailing behind in consumer and business adoption of the wireless tech. Both American and European rollout of the technology has lagged compared to dominant Asia-based players such as Huawei.
Amid supply chains disrupted by the Covid-19 pandemic and a global semiconductor shortage, US companies are now looking to make large bets to shore up manufacturing and better compete in the 5G space. 
WHAT YOU NEED TO KNOW
The US has domestically produced 5G options, but lags international competitors. Sweden-based

Ericsson

, which supplies 5G equipment to companies like Verizon and Sprint,

delivered its first 5G base

stations from its

new Texas factory in July 2020.

 In contrast,

Nokia started production of 5G equipment

in Southern India after heavily investing in the factory's industry 4.0 capabilities since 2008.

With market shares of 14% and 18% respectively

, Ericsson and Nokia markedly lead the biggest US-based player, Qualcomm. 
Companies investing in 5G infrastructure are already reaping dividends

. Verizon reported that its

5G rollout is ahead of schedule

, citing the boom of remote work as a driver. Meanwhile,

Nokia beat expectations for 5G equipment shipping

, especially as rival Huawei faced regulatory challenges.

Qualcomm announced its own 5G base stations

in Q4'20 before

beating expectations in Q1'21

.

US-based semiconductor companies are looking to capitalize on the 5G boom

. For example,

Intel invested $475M in its Vietnamese assembly

and test facility, bringing total investment in the facility to $1.5B. The site is focused on Intel's 5G product line and processors.

5G is receiving regulatory support

, including the FCC

removing some hurdles to deploying 5G base stations

within cities. Separately, the Department of Commerce has

allowed US firms to work with Huawei

on setting standards, and the US has committed

$2.5B to a partnership with Japan

for the deployment of 5G. 

Deploying the 5G network has been treated as an issue of national security

, with the

White House urging the Department of Defense to boost spending

for such networks. Overseas, the EU has set goals for 5G access across the region,

citing a desire to boost "digital sovereignty."