The next generation of wireless technology could affect a wide range of industries, from healthcare to financial services to retail.
5G is transforming connectivity.
The technology enables faster data transfer speeds — up to 10x faster than the speeds achievable with older standards — lower latency, and greater network capacity. As a result, 5G creates a tremendous opportunity for numerous industries, but also sets the stage for large-scale disruption.
Get the entire What is 5g? report
Download the free report to understand what 5G is, the industries it's disrupting, and the drivers paving the way for its implementation.
As of June 2021, commercial 5G services have already been deployed across more than 1,500 cities in 60+ countries worldwide, according to Viavi Solutions.
5G will be especially important as the number of IoT devices rises. The number of IoT devices — which will rely on 5G to transmit vast amounts of data in real time — is projected to grow from 12B in 2020 to 30B+ in 2025, per IoT Analytics, more than 4 devices for every person on Earth.
Executives across industries are already jostling to take advantage of 5G tech — and avoid being disrupted by it. Earnings call mentions of 5G have soared in recent years.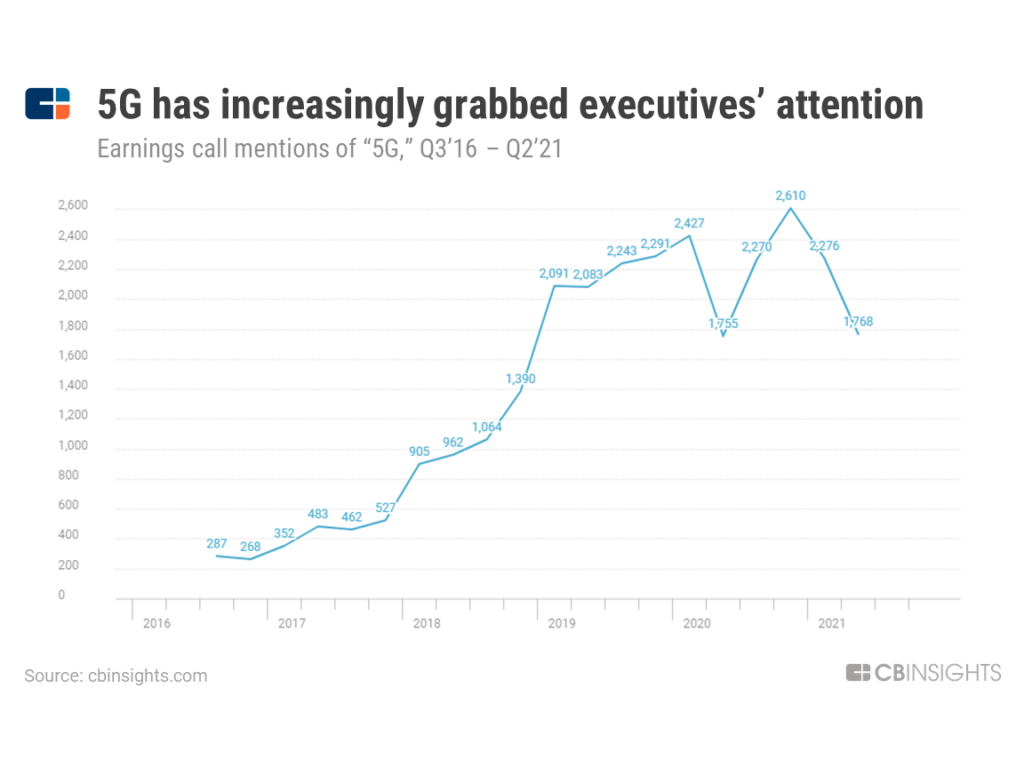 From enabling remote robotic surgery and autonomous cars to improving crop management, 5G is poised to transform many of the world's biggest industries. We dig in below.
---
1. Manufacturing

Key drivers:
5G will fuel next-gen, bandwidth-heavy technologies such as automation, IoT, and AI on the factory floor.
It will improve efficiency by powering AR overlays in workflows, as well as ensure safer practices through virtual reality (VR)-based training.
It can reduce the number of defects through predictive analytics and real-time detection of damage.
The impact of 5G on manufacturing could be huge. It's estimated that improved connectivity through 5G will create $13T in global economic value across industries by 2035, according to IHS Markit. A third of that total is projected to come from the manufacturing sector alone.
5G technology could help production operations in the manufacturing industry become more flexible and efficient while enhancing safety. This would enable manufacturers to build "smart factories" that rely on automation, augmented reality, and IoT. And with 5G powering large amounts of IoT devices and sensors around the factory, artificial intelligence can be integrated more deeply with operations. (For more, check out our research on how AI can be used to improve processes from maintenance and security to production and assembly to product design.)
On fast-paced assembly lines, even microseconds of latency can cause costly disruptions for the manufacturer. With the introduction of 5G technologies, industrial robotics would be set up to communicate more reliably and with much less delay than was possible previously. Tethered and untethered robots could also be controlled, monitored, and reconfigured remotely over the 5G mobile network.
This next-gen wireless technology will also result in increased adoption of augmented reality (AR), as 5G networks offer the high bandwidth and low latency required for sustained augmented image quality. In a factory setting, this means AR could support training, maintenance, construction, and repair.
Ericsson began testing augmented reality troubleshooting in its Tallinn, Estonia factory in January 2018. With an AR app, technicians can observe a part that needs maintenance and pull up the relevant schematics and instructions within their field of vision, drastically shortening the time it takes to complete the repair. Ericsson has also partnered with MTU Aero Engines, an airplane engine manufacturer, and Germany's Fraunhofer Institute for Production Technology to test 5G tech. Ericsson says that this initiative could lead to savings of around $30M for a single factory.
Auto OEMs are also testing out how 5G will transform manufacturing. For example, Daimler-owned Mercedes Benz partnered with Telefónica Germany and Ericsson to open a 5G-powered automobile plant in Germany in late 2020. The plant's 5G network helped to support the construction of the site through AR/VR applications, is being used to trace goods in and out of the factory, and supports 400+ automated guided vehicles used throughout the plant.
As networks continue to expand 5G access, expect manufacturing use cases to proliferate. Given the potential economic value that could be generated, 5G is set to become an integral part of factories across the globe.
---
2. Energy & Utilities

Key drivers:
5G-powered sensors can provide real-time insights into power outages and energy usage.
Through 5G-connected smart meters, homeowners will have more information to better manage their energy usage.
5G could be up to 90% more energy efficient per traffic unit than 4G networks — although other factors like enabling heavier network traffic could blunt the potential for overall energy savings.
Using 5G-enabled drones for monitoring, maintenance, and inspections of energy infrastructure will boost efficiency and reduce environmental impact.
5G could lead to innovative solutions in energy production, transmission, distribution, and usage. It is also expected to unleash the next wave of smart grid features and efficiency.
With more connected smart grids, energy management will become more efficient, reducing electricity peaks and energy costs overall.
Faster connection speeds could result in energy grids being more efficiently managed, which, in turn, could lead to less downtime. For example, in the event of a power outage, 5G-equipped smart power grids could quickly provide insights into the problem using data and sensors.
The tech could also lead to a more stable supply of energy, as suppliers would be equipped to make better-informed decisions about the distribution of power based on vast amounts of data from 5G-enabled smart sensors. An example of a 5G-powered smart grid can be seen in Hawaii, where a system built in collaboration with Verizon analyzes outages and monitors meters. (For more, take a look at our market map of 40+ companies digitizing and streamlining energy management.)
Better connectivity could also have upsides on the consumption end. Streetlights connected with 5G technology and equipped with sensors could dim if there aren't any people or vehicles on the road, thus saving energy. This approach could lead to savings of up to $1B annually in the US, according to a report from Accenture.
With 5G allowing better connectivity between devices, more homes will likely become equipped with smart meters. These meters provide insight into the energy consumption of different home appliances and devices, giving homeowners more information to manage their energy use.
Verizon believes that the energy industry will be a key demonstration of 5G's potential, with the company stating that the sector will be one of the "most significant test cases" for 5G technology.
5G is also more energy-efficient to use than previous generations of wireless cellular tech. Research conducted by Nokia and Telefónica suggests that 5G technologies are up to 90% more energy efficient per traffic unit than 4G networks — though 5G networks are expected to handle much more traffic and will need lots of new equipment, which may blunt the potential for overall energy savings.
However, 5G's energy efficiency could dramatically increase the lifespan of battery-dependent devices, potentially by up to 10 years. This further helps to make the mass deployment of IoT sensors a more practical solution for the energy industry.
5G will also support the use of drones to monitor and maintain elements of the grid, such as powerlines, leading to improved grid uptime, decreased inspection costs, and more sustainable operations. For example, in early 2021, Spanish energy company Naturgy launched a program in partnership with Vodafone and long-range drone developer FuVeX to inspect its power lines using remote-controlled drones that operated beyond the line of sight.
Naturgy aims to bring these capabilities to all of the thousands of kilometers of powerlines in its grid. FuVex says that the initiative could save 6M+ metric tons of carbon from being emitted through more efficient operations.
---
3. Agriculture

Key drivers:
5G will give farmers greater insight into their crops, leading to higher crop yields and better-quality output.
Connected sensors providing real-time updates on machinery, infrastructure, and more can ensure more efficient operations and improved maintenance.
Through 5G, the time it takes to sync precision farming processes is cut from about a minute to less than one second.
5G could have a major impact on the agricultural sector, especially on improving crop yield — an essential task, given that the world will need 70% more food in 2050 than it did in 2009 due to population growth, per the UN Food And Agriculture Organization.
5G could provide real-time data for farmers to monitor, track, and automate their agricultural systems, resulting in increased profitability, efficiency, and safety. In a high-risk industry such as agriculture, these increases in production and precision are vital, especially as climate change poses new threats to farmers around the globe.
Many farms already use 4G-connected sensors, but 5G will offer farmers the opportunity to get faster, more accurate information in the field — which could help to increase outputs like crop yield and make it easier to prevent common crop and wildlife illnesses. Companies such as SlantRange are already providing drone services for farmers to gain insight into their crops. With 5G connectivity, such services could operate with much more accuracy. Autonomous tractors, for example, may eventually use 5G to pair with drones to guide their work, like identifying which parts of a field need fertilizer.
Similarly, machinery manufacturer Blue River Technology uses chip maker NVIDIA's 5G-enabled edge platform to power its AI-based "See & Spray" technique. This method equips tractors with cameras that can discern a weed from a crop and can then spray the appropriate solution to kill or nurture the plant. (Learn about how 50+ other companies are transforming agriculture with AI here.)
Precision farming is expected to see major improvements with 5G technology. For resource-intensive crops, factors such as soil health need to be monitored to help increase yield. Syncing a precision farming process using 4G networks, the precursor to 5G, can take about a minute. With 5G, this process can be brought down to less than one second, according to John Deere Technology Innovation Center.
5G could also drive the adoption of IoT devices for farming, which will improve agricultural processes such as water management, fertigation, livestock safety & maturity monitoring, crop communication, and aerial crop monitoring.
Across the board, IHS Markit predicts 5G could boost output in agriculture, fishing, and forestry by $510B annually by 2035. However, the agriculture industry may have to wait longer than some industries to reap the benefits of 5G, as 5G networks will largely be deployed in urban areas first.
---
4. Retail

Key drivers:
Store and shipping operations can become more efficient and measurable with 5G, reducing costs.
5G will fuel the creation of new consumer experiences, such as photo-realistic virtual try-ons.
5G will support technologies that help customers shop more efficiently and check out faster while also collecting more data on the customer experience.
Over the past decade, mobile shopping has become incredibly popular among consumers worldwide. Global mobile commerce sales will approach $3.5T this year, according to projections by eMarketer, with its share of all e-commerce sales forecast to reach more than 70%.
This migration to mobile shopping largely occurred thanks to 4G. Imagine how the mobile shopping experience could be affected if mobile connections were 10x faster.
Beyond speed, 5G opens the doors to new types of data-heavy consumer experiences, such as VR dressing rooms or AR experiences in stores and at home.
Today, companies like Sephora use virtual try-on technology to help in-store customers see what a particular makeup would look like before they buy, but the product is constricted by data streaming limits. 5G effectively eliminates these data limits — it could soon become a common experience to try on clothes using AR with photo-realistic accuracy.
5G's low latency could also enable mobile AR/VR applications that don't trigger the motion sickness some experience when using the technology today. This means that it will be possible to try on an array of outfits virtually from the comfort of your home, resulting in a better, more personalized customer experience — which translates into more spending. In fact, 71% of shoppers reported that they would shop more if using an AR app, according to a Deloitte survey.
Over the last several years, retailers have invested millions in smart technologies to help customers shop more efficiently and check out faster while also collecting more data on the customer experience. From in-store analytics to visual recognition-driven shelf monitoring, many of the technologies in the store of the future will depend on or benefit from the ability to transmit large amounts of data and access high-throughput connections. This is why 5G stands to have such a large impact on the way retailers operate. Improvements in connectivity — as a result of 5G technology — could increase retail revenue by $12B annually by the end of 2021, according to Adobe Digital Insights.
Telecoms are sensing an opportunity to shake up how retailers operate. In February 2021, Verizon Business announced a new 5G-enabled mobile edge computing (MEC) platform developed in partnership with Deloitte and SAP. The platform promises to offer retailers real-time analytics on in-store consumer behavior via sophisticated sensor networks combined with augmented reality and artificial intelligence. Verizon's platform could also be applied to some common retail challenges, such as real-time inventory management.
---
5. Financial Services

Key drivers:
5G's faster data transfer speeds mean more efficient, real-time financial services, from processing payments to credit checks to placing trades.
5G will drive a better user experience on mobile devices and increased adoption of applications like contactless payments and mobile wallets.
It will allow improved privacy and security through rapid biometric communications and more efficient fraud detection.
5G technology is poised to accelerate financial institutions' digitization efforts and moves to double down on mobile.
For example, the increased speed made possible by 5G could allow users to make transactions much faster and more reliably. In July 2021, Verizon Business and Mastercard announced a partnership to develop a range of 5G-enabled services, including Mastercard's Tap on Phone mobile point of sale (PoS) product, autonomous checkout technologies for retail stores, and a mobile-first bill paying service, among other initiatives.
5G connectivity could also allow wearable devices to share biometric data with financial services to authenticate user identity instantly and accurately. This will cut down the time it takes to onboard new customers, approve loans, and more. On the back end, fraud detection tools will have access to more data and will be able to work more quickly. (We identified 95+ companies automating banking processes like these here.)
Faster data transfer in financial services means more seamless transactions and processing, whether that be conducting a credit check, processing a payment, placing a trade, or transferring funds. This could fuel the development and adoption of open banking, which relies on APIs to transfer data from financial institutions to third-party service providers. As mobile-based financial services become more seamless, 5G will drive greater adoption of applications in this area like using phones as wallets or wirelessly paying for things using devices like smartwatches.
Additionally, financial institutions increasingly rely on data collection to create personalized experiences for customers. 5G will make it easier to collect data quickly, leading to more unique and bespoke services.
Some players are betting on 5G to bring better banking to areas where physical branches aren't present. AT&T, for example, is reportedly developing 5G-connected mobile branches for banks in the US. These wireless branches are envisioned as serving scenarios like music festivals, pop-up shops, and remote areas with unmet banking needs.
---
6. Media & Entertainment

Key drivers:
Faster data transfer speeds and lower latency will support varied entertainment experiences from streaming to mobile viewing to VR.
Sports will become more personalized and dynamic, both inside and outside the stadium.
Changes brought by 5G could create a $1.3T revenue opportunity for media companies.
5G is set to disrupt media and entertainment on many levels, including mobile media, mobile advertising, home broadband, and TV. It will also be crucial for improving experiences across emerging interactive technologies such as AR/VR.
Already, videos account for 66% of all mobile data traffic, per Ericsson, and this is expected to grow to 77% by 2026. Thanks to 5G's low latency, streamed videos are less likely to stall or stop. On a 5G network, movie downloads will decrease from an average of 7 minutes to just 6 seconds. 5G will save people an estimated average of 23 hours of loading time per month while browsing social media, gaming, streaming music, and downloading movies and shows.
For media & entertainment companies, this amounts to a $1.3T revenue opportunity by 2028, per an Intel and Ovum study.
5G will power new types of entertainment experiences that are more immersive, personalized, and can be accessed anywhere — not just in a home with good Wi-Fi. This could even extend to emerging synthetic media forms, such as holograms, avatars, and synthetic voices.
VR also opens up the possibility for better shared viewing experiences with others even when not in the same physical space, as well as more interactive types of viewing like immersive 3D experiences.
Sports events will become richer. At home, the additional data bandwidth offered by 5G could give viewers more control over the presentation of the game, such as the option to select different cameras to view the action from multiple angles. Viewers may even be able to use 5G-enabled VR/AR to experience an event more like how it would feel in person.
Meanwhile, in the stadium, fans could benefit from more immersive experiences, such as using AR to overlay player stats or analysis on top of the game or by calling up instant replays even while the game continues in front of them.
5G could even bring big changes to how sports are played. For instance, the NBA's Phoenix Suns are working with Verizon on a 5G-fitted practice facility that features a system of HD cameras and sensors that pick up on everything from shot arc and direction to players' limb lengths and movements. Trainers can then use these insights to fuel strategy, player development, and more.
Get the entire What is 5g? report
Download the free report to understand what 5G is, the industries it's disrupting, and the drivers paving the way for its implementation.
---
7. Healthcare

Key drivers:
5G will enable the widespread use of AI in healthcare and more automated workflows, while the adoption of 5G-supported AR/VR in care settings could improve training and procedures.
Better telemedicine services could contribute to more affordable and accessible care.
Wearables and remote patient monitoring (RPM) drive a more proactive approach to diagnostics and treatment, leading to improved care outcomes and decreased costs.
With lives on the line, healthcare practitioners have to make countless quickfire calls. Having more data — and being able to access it in real time — allows for more informed decisions.
The high throughput and low latency of 5G networks could mean potentially life-saving decisions can happen more quickly in care settings, whether inside of a hospital or remotely. It can also translate to revenue growth: Boston Consulting Group estimates that, by 2030, 5G will drive a boost of $104B in the US healthcare sector.
A broad range of steps on the care journey can benefit from improved data transfer speeds, from high-definition telehealth video streaming to imaging diagnostics to sharing results with care teams.
The healthcare industry also produces a constant torrent of data. 5G's low latency could allow this massive amount of data to be transmitted without creating issues for the rest of the network.
In February 2021, AT&T and the US Department of Veteran Affairs (VA) partnered to install 5G network capabilities at the VA's Puget Sound, WA health system. The program plans to pilot multiple 5G-enabled care delivery services, including tracking people and assets across facilities, AR and VR for medical training and for pain management, and surgical assistance using AR to overlay visual guides while operating.
VA also partnered with Verizon, Medivis, and Microsoft in 2020 to bring 5G capabilities to its facility in Palo Alto, CA, specifically focusing on surgical techniques using Microsoft's augmented reality headset.
Other companies, like Osso VR, are using VR technology to provide hyper-realistic training modules. Surgeons can practice sophisticated techniques and keep up with the latest technology in robotics, rather than training with outdated or older devices.
Remote robotic surgery could improve as well. Because these procedures require high-definition image streaming, low latency and high throughput communication are essential. 5G networks could facilitate remote surgery procedures as they enable lag-free and ultra-fast connections.
In 2019, a surgical team in China remotely inserted a stimulation device into a patient's brain nearly 1,900 miles away. In the US, Corindus, which was acquired by Siemens Healthineers for $1.1B in October 2019, has been testing cardiovascular procedures with its CorPath GRX robotics system, which uses multiple network types including 5G.
Ultimately, being able to access care remotely — whether through wearables, remote surgery, or telehealth — can make health services more accessible, particularly for patients in rural areas. 5G-enabled technologies could also help drive more proactive care delivery, such as through better and earlier detection of disease, enabling improved healthcare outcomes and cost-savings.
(We dig deeper into how emerging tech like 5G and the internet of medical things could transform healthcare here.)
---
8. Transportation

Key drivers:
5G will be critical to enabling autonomous vehicle operations, including handling the massive data requirements of cellular vehicle-to-everything (C-V2X) communications.
Public transit systems could become more efficient and flexible through real-time route planning and high-speed communications.
Smart city functions such as smart traffic management, powered by 5G connectivity, could save time for drivers and cut down on fuel emissions.
Connecting public and private vehicles with 5G could change the way people and goods travel around the world.
5G technology could provide increased visibility and control over transportation systems, from public buses to private logistics fleets.
As 5G networks become more prevalent, cities will have more options for gaining real-time, end-to-end visibility into their transportation systems. For instance, using 5G, cities could implement real-time route planning based on traffic or weather conditions. Public transportation workers could also make use of IoT-connected sensors to monitor the health of trains and other vehicles.
Meanwhile, smarter traffic management will save time for drivers while reducing unnecessary fuel consumption when vehicles are stopped at lights. Per a Carnegie Mellon University study, traffic lights that integrate real-time data on traffic patterns were found to reduce traffic stops by 40%, emissions by 21%, and commute time by 26%.
5G will also play a crucial role in cellular vehicle-to-everything (C-V2X) communications. Rather than cars determining how to act solely by themselves, in a C-V2X system, driverless vehicles communicate with one another and with parts of the physical environment like traffic lights and construction signs to coordinate movements safely and efficiently. C-V2X communications will be critical to improving road safety, traffic flow, and more in the emerging world of autonomous vehicles.
For vehicles, it is essential that these communications take place in real time as a matter of milliseconds could be the difference between a close call and a fatal collision. Achieving this high speed of interconnectivity requires vehicles to transmit large amounts of data between each other without any lag. 5G networks could make this possible with their low latency.
To this end, researchers believe 5G could help enable truly autonomous driving in the future. The number of automotive 5G connections is expected to reach 96M by 2027, according to telecoms consultancy Analysys Mason. 5G availability would mean a greater density of sensors in the environment and faster data transmission from centralized servers to those sensors and vehicles — equipping AI tools with the real-time data needed to keep things running smoothly. The average autonomous car of the future could produce as much as 2M gigabytes of data per week, and moving all of that data to the cloud or a regional server isn't feasible today with Wi-Fi or 4G.
(We map out 80+ startups advancing the autonomous vehicle here, as well as what 40+ corporations are doing in autonomous driving here.)
---
9. AR/VR

Key drivers:
5G will make AR and VR technologies more convenient, useful, and efficient by enabling seamless and on-the-go experiences.
In turn, greater AR/VR adoption will accelerate change in industries from manufacturing to healthcare to gaming.
The future of AR and VR hinges on 5G networks.
Right now, augmented reality (AR) and virtual reality (VR) technologies are held back by numerous constraints. Headsets can be heavy and uncomfortable, making them difficult to wear for long periods of time. And data transfer speeds and latency are not at a level yet where users can enjoy seamless, fully immersive experiences.
VR and AR applications have a higher field of view, resolution, and frame rate than conventional media, and as such require significantly more bandwidth and a lower level of latency in order to transmit a consistent experience to the viewer. Your typical 4G connection has about 60 ms of latency, far too slow for a good VR experience, which can become disorienting and jarring even at 15 ms.
A 5G connection could also free VR experiences from relying on wired, specialized indoor environments, meaning these devices could be used for more real-world scenarios.
With a 10x decrease in latency, 100x improvement in traffic capacity, and 100x improvement in network efficiency, 5G could address many of the issues that currently surround the technologies. This will be critical for the mass adoption of AR and VR.
With greater convenience and the adoption of AR/VR technologies, new digital experiences will become feasible.
For example, Niantic, developer of Pokémon Go and other augmented reality games, announced its Planet-Scale AR Alliance in September 2020, which brings together mobile operators like Deutsche Telekom, Orange, SK Telecom, TELUS, and Verizon to create AR experiences that rely solely on 5G connectivity. In March 2021, the group launched Codename: Urban Legends, a real-time shared AR game, which it claims has 10x lower latency and can accommodate 10x more players at once because of 5G.
(Check out more of our research on how AR/VR could bring major changes to a number of industries, from manufacturing to healthcare to education.)
---
10. Insurance

Key drivers:
Insurers will gain granular insight into risks and losses through 5G-enabled sensors and devices across settings, including in remote locations and marine shipments.
With 5G, wearables will instantly share health information with health insurers to inform policy decisions and create new products.
The proliferation of 5G-connected IoT devices in vehicles will fuel a more personalized and responsive approach to auto insurance.
5G could help insurers across the board make decisions more effectively and efficiently.
With more efficient data-sharing, health and life insurers could make more informed and accurate decisions when it comes to providing quotes. As wearable 5G-connected healthcare devices gain popularity, health insurers could offer "positive reinforcement" policies, where premiums would be reduced if a certain level of activity or fitness is maintained. While remote monitoring exists today, the technology is limited by the capacity of the network to handle massive amounts of data.
As 5G ushers in a new era of autonomous vehicles, real-time data and reports could also be instantly sent to car insurance companies following an accident. Similarly, sensors that detect how safe someone is driving could play into an insurer's pricing decisions and allow behavior-based policies like "pay-how-you-drive." With greater connectivity and improved data granularity, insurers can offer more to customers while making operations more efficient.
5G-enabled sensors and devices are also entering homes and buildings. Simple smart home devices can help prevent claim-worthy incidents like pipe leaks from happening by issuing alerts for preventative maintenance. AM Best estimates smart leak detectors and water shutoff devices can reduce non-weather water losses by 93%.
(Room by room, check out what the future of the smart home looks like here.)
Meanwhile, being able to access data from remote locations, provided by 5G-enabled devices like drones, will lead to more granular risk pricing and predictive analytics. The damage from a natural disaster could be more accurately and quickly assessed by mapping areas in advance using autonomous drones and then rescanning them soon after an incident.
Within supply chains, the ability to use 5G to better track individual packages could streamline insurance claims for damaged shipments. With 5G-enabled sensors attached to packages, it would be easier to monitor their status — including variables like temperature, moisture, and location — information that would help stakeholders identify where things went wrong and claim insurance accordingly.
---
11. Education

Key drivers:
Education will become more immersive through 5G-powered technologies like AR/VR.
5G can facilitate real-time video learning and online collaboration, making education delivery more convenient and efficient.
Learning can be done on the go with high-speed connected mobile devices.
5G has the potential to transform how children and adults are educated.
With the explosion of remote learning amid the pandemic, a lot of education now takes place online, from streaming live classes to collaborating on group projects. In real-time applications like these, 5G promises to make learning more seamless, efficient, and engaging. It can also help bring immersive educational experiences to mobile devices, increasing flexibility in how teachers and students approach learning.
The remote learning boom has already accelerated the use of technologies like AI for everything from personalized curriculum planning to preventing cheating at home. These technologies will be able to operate more efficiently and effectively through 5G's bandwidth and latency improvements.
(Check out 5 ways the education sector is adopting AI here.)
As 5G paves the way to better AR/VR experiences, teachers could use these technologies for futuristic education approaches. For example, 5G could facilitate the enormous amount of data needed for students to go on immersive virtual "field trips" — think using VR headsets to explore pyramids in Egypt or the Great Wall of China. This approach could also be used for interactive lessons on microscopic ecosystems like the human anatomy or to help visualize gigantic cosmic structures like galaxies.
For instance, Verizon's 5G Labs recently teamed up with the Smithsonian to create a virtual exhibit using the museum's various assets, allowing students to interact with 3D visualizations of objects including Charlie Parker's saxophone and the bones of extinct animals.
Universities are already looking to adopt 5G to boost their education offerings. For example, the University of Miami joined forces with AT&T in 2019 to install 5G on campus in order to create more experiential forms of learning, particularly through using AR developer Magic Leap's mixed-reality platform and headsets. These kinds of immersive learning experiences require the ultra-low latency afforded by 5G.
In the right context, AR/VR educational platforms may provide a number of benefits over conventional educational methods, including cost-effectiveness, lower risks, and increased retention. A study conducted by Next Galaxy Corp and Nicklaus Children's Hospital found that medical personnel retained as much as 80% of the course material after being trained with VR, compared to retaining only 20% of information from a traditional training session.
For students in high-stakes fields such as medicine and aviation, these VR learning experiences could prove to be especially useful, as students can simulate intense situations without real danger to themselves or others.
(We dig into the benefits of using VR in education — for employers and educators alike — in this analysis.)
---
12. Cloud & Edge Computing

Key drivers:
With 5G, cloud computing's latency and throughput could be on par with local area networks (LAN).
5G in combination with edge computing will enable near-real-time communications and data processing in critical circumstances like autonomous driving.
5G's ultra-low latency and high throughput would allow the cloud computing experience on mobile devices to rival corporate LAN connectivity for desktops. Cloud-based smartphone apps, for instance, will function more consistently across settings.
This will catalyze further cloud computing adoption, which can be a boon for businesses, serving to lower infrastructure costs, accelerate software deployment, and increase operational flexibility. The cloud computing market is expected to grow at a 13% CAGR to reach $938B by 2027, according to CB Insights' Industry Analyst Consensus. (We identified 100+ companies advancing enterprise cloud adoption here.)
However, 5G networks will face an unprecedented number of connected devices and data in motion.
To reduce latency even further in select environments, 5G operators are also building edge computing capabilities that involve placing computing resources closer to where data originates (e.g., motors, pumps, generators) — or at the "edge" of the network. By selectively choosing what data is sent back to a data center (aka the cloud), edge networks can enable near-real-time communications between local devices. (Learn more about edge computing in this deep dive report.)
This is critical in scenarios like autonomous driving, where real-time decision-making is essential. For example, when a self-driving car detects a pedestrian in its path, the decision to brake needs to happen almost instantaneously. By the time the vehicle sends this information to the cloud, analyzes it, and receives instructions, it may be too late. Because edge computing processes data locally, it can eliminate the time spent on distributing data to a server and enable vehicles to respond more quickly to unexpected scenarios.
One tech provider here is Saguna Networks, acquired by telecom operator COMSovereign in May 2021, which builds multi-access edge computing (MEC) technology. Saguna's MEC product offers a 5G-ready cloud network for IoT devices.
One advantage edge technology has over purely cloud-based systems is its ability to decentralize how data is processed, creating a more secure environment for sensitive data. For instance, Saguna is working with hospitals and other stakeholders in the medical industry to develop edge computing platforms that secure information like patient data between hardware, mobile networks, and IoT devices.
Expect operators to 5G, cloud, and edge technologies hand-in-hand to ensure high-speed connectivity and reliability.
---
13. Gaming

Key drivers:
5G will increase online gameplay's bandwidth and cut down on latency, reducing delay by up to 5x and making large-scale multiplayer experiences — from MMOs to e-sports — more feasible.
VR gaming will gain mainstream appeal as 5G makes VR use more accessible, enjoyable, and realistic.
In gaming, milliseconds of delay matter. By cutting down on latency, 5G can reduce the effects of nuisances like lag — the time taken for a player's command to be reflected in the game itself — making games more engaging. Gaming will benefit from flawless streaming quality and low latency, as well as ever-more immersive experiences including more responsive simulations, life-like audio, advanced haptic feedback, and more.
5G could also help solve the latency problems that currently face cloud-based gaming services. Feedback would feel instantaneous, as latency would be reduced from 4G's 10 milliseconds to 1-2 milliseconds. For example, this technology would benefit those playing complex multiplayer games like Fortnite on their phones or 5G-connected laptops.
Big tech companies are already jumping on the gaming-as-a-service bandwagon. Microsoft's Project xCloud will stream Xbox games to PCs, consoles, and mobile devices. Meanwhile, Google's Stadia allows users to stream video games from their Chrome browser.
5G will also make VR gaming more broadly appealing. Critics of VR observe that today's systems are bulky and cumbersome, due to needing wired connections and significant computing power. With better connectivity, 5G will support freer VR play that can be streamed to places outside of the home.
E-sports, where fans tune in to watch players participate in competitive video games, will also benefit from 5G technology, as ever-increasing numbers of viewers stream the action live. The same applies to MMO games like Fortnite, where large numbers of users play with each other at the same time. Telecom operators are already getting involved here: in 2019, for instance, Comcast and SK Telecom created a $93M joint e-sports venture called CS T1 E-sports to use their networks to help grow the e-sports market.
Meanwhile, in early 2021, Fortnite owner Epic Games created a virtual version of the Superbowl, including a full stadium in Fortnite where players could walk around and play games, that relied on a 5G network supplied by Verizon.
Get the entire What is 5g? report
Download the free report to understand what 5G is, the industries it's disrupting, and the drivers paving the way for its implementation.
---
14. Real Estate

Key drivers:
Driven by 5G, the adoption of AR/VR in the real estate industry means agents can provide better virtual tours remotely and allow customers to visualize properties with more flexibility.
Building owners could monetize elements of 5G infrastructure, such as small cell deployment, while charging tenants more for smart building features.
5G will be a boon for the remote work movement, enabling people to reliably work from more places.
The real estate industry will be impacted as 5G paves the way for emerging technologies like AR and VR.
Real estate agents could begin offering more virtual home tours — already a growing trend due to the Covid-19 pandemic. Prospective buyers could use virtual reality to view several homes without ever having to step outside of their homes.
For those looking to purchase or rent property in a different state or country, accessing VR tours via a mobile application is especially useful. 5G technology would allow for these applications to run more efficiently and reliably than any existing process today.
Additionally, using AR in home tours could allow customers to visualize what spaces would look like with different sets of furniture in them. (We map out how tech is taking over the real estate industry here.)
5G small cells could also provide an additional income stream for many properties, as millions of new "small cells" needed to power 5G will be installed and leased on buildings all over the world. Building owners could tap into a new revenue stream by hosting the infrastructure.
Additionally, buildings could increase their value — and charge more from tenants — by installing smart building features, like real-time monitoring and predictive maintenance, that rely on 5G to work well.
Finally, as remote work continues to gain popularity as a long-term arrangement, some workers will be able to use 5G to do their jobs on the go — from cars to hotels to cafes, and so on — while maintaining a strong connection for data-heavy, cloud-based software and reliable video calls.
---
15. Public Safety

Key drivers:
5G will improve situational awareness in threat and emergency situations, powering threat detection technology, real-time alerts, and more.
Connected devices like wearables and home sensors could use 5G to send immediate notifications to first responders in the event of an emergency.
5G could enhance public safety capabilities, thereby improving emergency response times.
Through 5G networks, applications such as real-time video, security communications, and media sharing could be used to assist first responders in emergency situations. Firefighters, for example, could use augmented reality to help them navigate through a home when they can't see.
5G-connected devices and sensors in buildings could alert first responders to emergencies in real time. The same could happen in connected automobiles during collisions: not only could a car's sensors alert police of an emergency, but also emergency vehicles could tap into 5G-enabled vehicle communication networks in the area to receive real-time updates on the fastest route there.
Further, companies like Medical Guardian develop medical alert solutions like watches and other wearables that can automatically detect falls and other emergencies and send alerts to first responders. 5G would enable a reliable and immediate line of communication so that assistance is sent as quickly as possible.
5G networks could also improve information-sharing within the public safety community, with secure and reliable video-sharing from bodycams, drones, group chats, file-sharing, and location-sharing.
An enhanced network of sensors, cameras, and other automated devices would help create a fuller picture of public safety situations. 5G could power the high bandwidth required from continuous, high-res streaming from security cameras, as well as any automated applications that review this material in real time, such as computer vision systems.
For instance, ZeroEyes claims that its AI-powered video analytics tool can detect threats such as active shooters before they become violent. Its vision tech can be implemented in existing security cameras in settings like schools, stadiums, and so on. ZeroEyes has been backed by Verizon's 5G First Responder Lab, which gives its portfolio companies 5G access and helps them deploy their solutions with first responders.
Meanwhile, in post-disaster situations, 5G-connected drones could help deliver relief materials and assist in locating missing individuals.
---
16. Supply Chain Management

Key drivers:
Starting with the warehouse, 5G would improve operational efficiency and quality assurance.
Connected sensors will enable continuous and granular tracking of shipments from door to door.
5G will enable more autonomous vehicles to deliver goods simultaneously in dense urban areas.
By making digital communication more ubiquitous, 5G tech has the potential to transform nearly every part of the supply chain. In a warehouse, for example, 5G-connected devices coupled with sensors would allow quicker communication, collection of a larger amount of data, and faster responses to breakdowns.
One application of 5G tech in supply chains is tracking and tracing packaging or parts in real time. Faster internet speeds, connected sensors, and more bandwidth could make it possible for companies to continuously monitor the condition of individual packages being shipped.
Installing 5G-enabled IoT sensors on products could easily make a large amount of data available to stakeholders in the supply chain in real time.
The data may include location, temperature, moisture, pressure, and other information that can be crucial to properly managing products in a supply chain, especially when tracking sensitive materials like vaccines along a cold chain.
Introducing 5G IoT sensors into supply chains could mean fewer losses due to manual inefficiency or misplaced containers. As 5G technologies introduce more intelligent supply chain management, there could be potential for increases in production, streamlined logistical processes, and reduced costs.
Logistics firm Ice Mobility has been testing 5G technologies to improve the efficiency of its packing operations since October 2020. Specifically, Ice Mobility has been using computer vision technologies as part of a partnership with Microsoft and Verizon to improve its quality assurance processes. 5G and multi-access edge computing (MEC) technologies allow Ice Mobility to analyze packing operations in real time and identify potential faults with packing at the time of processing. The company estimates the time savings offered by these technologies could improve processing times by up to 30%.
Autonomous delivery, which is already being tested by companies like DHL, is another area that could receive a boost from 5G connectivity. As a larger number of devices will be able to latch on to the same network, it will allow companies to deploy more connected autonomous vehicles in dense areas.
---
17. Restaurants

Key drivers:
5G will enable greater traceability and transparency in ingredient sourcing and in tracking outbreaks of illnesses like E. Coli.
The restaurant kitchen will benefit from new technologies like robot helpers and connected sensors on a 5G network, bringing greater speed and efficiency to food prep.
5G-powered food delivery could rely on drones as a more flexible and cost-effective option.
The restaurant industry has already started to embrace more technology, especially in response to the Covid-19 pandemic. Restaurants are tapping into online ordering and reservation systems, contactless payments, third-party delivery, QR codes for menu access, and much more.
5G could help bring the restaurant industry to the next level of innovation, improving everything from order preparation to delivery to customer service and convenience.
5G-enabled IoT devices, for instance, could benefit food tracking. Monitoring ingredients throughout the journey from farm to table can improve food safety, helping isolate outbreaks of illnesses like E. Coli, while also helping restaurants bring greater transparency to ingredient sourcing. As an example here, HerdX focuses on protein supply chain traceability and helps retail customers like restaurants to provide insight to customers on the origins of their meat. According to the company, 94% of shoppers are more likely to be loyal to a brand that offers high levels of transparency.
Ordering platforms, from menus to drive-throughs, could evolve into more immersive and interactive experiences for customers, as 5G allows enhanced performance with better speeds and lower latency.
5G-connected drones could allow restaurants to send out more food deliveries that can reach more destinations, as they're not limited by roadways — for instance, a drone could bring food to a customer having a picnic in a park.
5G-powered robots, meanwhile, could roll around the streets delivering food. Already, telecom operators are partnering with restaurants to test this. In April 2021, Sweden-based telecom company Tele2 partnered with restaurant delivery company Foodora to test autonomous home food delivery with robots in Stockholm. The 5G-powered robot is able to monitor and adapt to its surroundings using a camera and then provide continuous feedback on operations to Foodora.
Kitchen employees could be trained using 5G-connected AR/VR experiences to simulate real-life experiences, including with data-laden haptic feedback that imitates the sensation of touch. This means inventory that might have been used for training can be saved for real customers.
In the kitchen itself, a 5G network could host everything from smart thermostats to sensors that monitor the amount of food remaining or the function of appliances. Meanwhile, robot helpers — data-hungry applications that would depend on 5G's low latency to operate smoothly — could handle repetitive tasks like flipping burgers, helping fill labor shortages and freeing up chefs to focus on more difficult tasks.
Nevertheless, for 5G to have a big impact across the restaurant industry, it will require adoption and investment from the restaurants themselves — a potentially tough sell for businesses that already run on slim margins.
(For more on how restaurants can embrace tech, check out this market map.)
---
18. Tourism

Key drivers:
5G-powered AR/VR experiences will make tourism more immersive and engaging, driving business growth.
5G could extend the range of connected tourism experiences to remote regions.
Placing robots and other connected tech throughout airports and hotels will help improve sanitation and safety, as well as the customer experience.
5G is providing the wireless infrastructure for the concept of technology-driven "smart tourism" to emerge. It could bring in more tourists to destinations and provide them with more immersive experiences.
A number of tourism organizations are already researching and developing 5G-connected technologies to improve their tourist destinations.
For example, the West of England Combined Authority has awarded a £5M grant to trial AR/VR experiences in major tourist attractions in Bath and Bristol. The BBC, Aardman, and the University of Bristol will work on content and tech developments for the project.
"Imagine a virtual Roman soldier showing you around the Roman Baths, now imagine this moving 360 degrees on your mobile phone at a resolution you have never experienced before — that's what 5G technology can offer." — former West of England mayor Tim Bowles.
Major historical events could even be recreated at their historical sites using AR technology.
Museums can also offer more engaging exhibits. Ericsson has partnered with leading Russian telecommunications operator Rostelecom to deploy a 5G trial network at the State Hermitage Museum in St. Petersburg, one of the largest art museums in the world. Ericsson's 5G technology is currently being used to enhance museum tours and even restore art with remote-controlled robotics.
5G could also enable tech-forward experiences in rural areas outside of major cities. Many tourist spots rely on organic growth from visitors posting about the destination on social media. Eventually, even remote locations will be able to benefit from the increased exposure of data-heavy videos posted instantly online through 5G connectivity. However, rural areas will likely be the last to see the impact of 5G, as the roll-out is initially focused on major cities.
Meanwhile, robots are already being deployed in transit hubs like airports, and the technology stands to benefit from 5G's network capacity. These robots are able to handle tasks like sanitizing and cleaning, scanning visitors to make sure they're wearing masks, and taking their temperatures. With 5G, robots will become an ever-more present part of tourism as a way to make routine tasks like cleaning more efficient.
Using 5G to power AR applications in airports can also help with showing tourists the way to their gates and other locations. London's Gatwick Airport, for instance, has partnered with Pointr to create a system of beacons throughout the terminals to help people find their way. Users can use their phone's camera app to see real-time directions.
Get the entire What is 5g? report
Download the free report to understand what 5G is, the industries it's disrupting, and the drivers paving the way for its implementation.
---
19. Military

Key drivers:
5G promises to improve command-and-control communications by accelerating signal transmission.
The use of AR/VR could bolster training in the field by creating life-like simulations without the danger of real-life situations.
Eventually, 5G could power futuristic military use cases like virtual representations of battlefields, autonomous military vehicles, connected weapons, and more.
Communication is key when it comes to military strategies. Real-time data collection and transmission to devices within communication networks are crucial, and 5G technology could greatly increase the speed of data transmission.
5G could offer improvements over today's command-and-control systems, which rely on satellite networks for long-range communications. These can carry significant latency due to the distance the signals must travel. Enhanced connectivity could minimize confusion and delay while relaying information in a life-threatening situation in the field. This could help prevent injuries and deaths in war zones.
Military defense organizations are already looking to 5G providers to take advantage of the technology. For example, in March 2021, aerospace and defense company Lockheed Martin entered into a strategic agreement with Omnispace, a connectivity provider, to jointly develop a hybrid 5G solution that combines terrestrial and satellite networks.
On its Q1'21 earnings call, Lockheed Martin CEO & president James Taiclet said of the partnership, "Tying together space and terrestrial systems into a seamless 5G network has the potential to greatly enhance military applications and help manage complex information-centric warfare and all the operational domains."
Meanwhile, training will be augmented by AR and VR, which can simulate military engagements such as battles. To achieve life-like immersion — and therefore better prepare soldiers' situational awareness — these systems will need to use 5G to cut down on latency and reduce the overall weight of the machines by offloading processing to external devices.
In late 2020, the Department of Defense announced $600M in contracts to test 5G across 5 military bases. In one project, bases are deploying VR/AR equipment from GBL Systems using 5G networks provided by Samsung to simulate obstacles in battlefields, among other uses.
The military will likely make frequent use of private 5G networks that can be deployed on the go, even in remote regions that otherwise lack connectivity infrastructure. Investors are already backing startups working in this space. Communications provider GenXComm, for one, raised a $20M Series B round in August 2021 for its private networking solution. In 2020, the company placed as a finalist in a security competition at the Marine Corps Air Station in Miramar by demonstrating a portable, private network that could reportedly operate across 100 miles without any existing infrastructure present.
The military could also extend the range and efficacy of drones for surveillance and reconnaissance using 5G.
Down the line, 5G could potentially help militaries to construct detailed virtual representations of battlefields, deploy autonomous military vehicles in uneven or unknown settings, and more. Some experts have even imagined an "internet of battlefield things" (IoBT), in which soldiers rely on a vast, connected network of sensors and devices including weapons, vehicles, and more to carry out warfare, reducing the reliance on front-line human fighters.
---
20. Marketing & Advertising

Key drivers:
5G will drive greater and more seamless online content creation and consumption, providing new opportunities for advertisers.
Ad formats will become more immersive thanks to 5G, moving from static display ads toward interactive placements, high-quality videos, and even AR/VR experiences.
Faster data transfer speeds mean web pages and other forms of content will load much more rapidly, translating to more opportunities for consumers to experience ads. And as more of the world spends time online — whether browsing the web, streaming movies, or playing games — there will be many new ways for advertisers to engage with these users.
Mobile display advertising is expected to become a $178B global market by 2028, according to Intel research. 5G could help businesses overcome the scale, delivery, and measurement issues they currently face when dealing with mobile ad campaigns.
5G could help marketing and advertising transition from banner-based ads to moving images and video. It could even give rise to new ad formats in VR and AR, where users could, for instance, explore a vacation destination virtually, rather than simply looking at it in 2D.
The same holds true for products in areas like beauty and fashion. In 2019, for instance, Google announced a new AR-based virtual try-on technology embedded in YouTube. This allows viewers to visualize how products look on themselves while they watch beauty influencers' video reviews for those products. They can then buy the products directly in the same frame. Instagram launched a similar feature that allows users to visualize themselves wearing products that they find in Instagram posts.
5G could also make it possible to measure ad effectiveness and adjust ads in real time through eye-tracking and biometrics. The network could help simultaneously process large amounts of data and display personalized ads — all in enough time to be relevant for a browsing shopper.
Tech companies are already innovating in this area. Cooler Screens, for instance, offers a high-tech digital refrigerator and freezer doors that collect anonymized data on eye movement, age, gender, and emotional response. Using this data, the screens display targeted advertisements in real time. By working with Cooler Screens, Walgreens has seen sales of featured products grow 2-10x faster than those not displayed on the refrigerators.
Meanwhile, Advertima offers a solution that uses computer vision to gather information on shoppers. Dutch retailer SPAR has used the tech to personalize in-store marketing based on where customers stand, their attention span, body language, age, and gender. This targeted approach boosted sales anywhere from 14% to 42% across SPAR's product categories.
If you aren't already a client, sign up for a free trial to learn more about our platform.