Printer startups raised a record 26 deals in 2017, including mega-rounds to unicorns Carbon and Desktop Metal.
Amid a wider downturn in the additive manufacturing industry, deals and overall funding in the industrial 3D printing space are increasing. Deal count has climbed every year since 2013, largely driven by corporate investors.
The market for 3D printing products can be segmented into four groups: providers of printers, services, materials, and software. We used CB Insights data to analyze industrial 3D printing deal trends across these segments since 2013.
DEALS DISTRIBUTION
Printer makers are driving deal count and total funding dollars in the industrial 3D printing space.
In 2015, printer makers began to gain traction, raising 18 deals — up from just 5 a year prior. Half of these were early-stage companies raising seed or Series A deals, several of which maintained momentum to exit through M&A or raise much larger rounds.
This group of companies includes Desktop Metal, which first raised funds in a $14M Series A round in Q4'15. The company went on to raise $160M in 2017 over Series C and Series D rounds, and is now valued at $1B. With multiple corporate partnerships and OEM customers in automotive and aerospace markets, Desktop Metal represents the increasing maturity of the industry.
Additionally, NVBOTS, which produces metal and plastic printers that offer automated part removal, raised a $2M seed round in 2015. The company went on to raise a $5M Series A round in 2016, and was acquired by Cincinnati Incorporated in December 2017.
In 2017, activity continued to rise as printer startups raised a record 26 deals. The largest of these was raised by unicorn Carbon, a provider of metals 3D printing systems, in a $143M Series D round in Q4'17.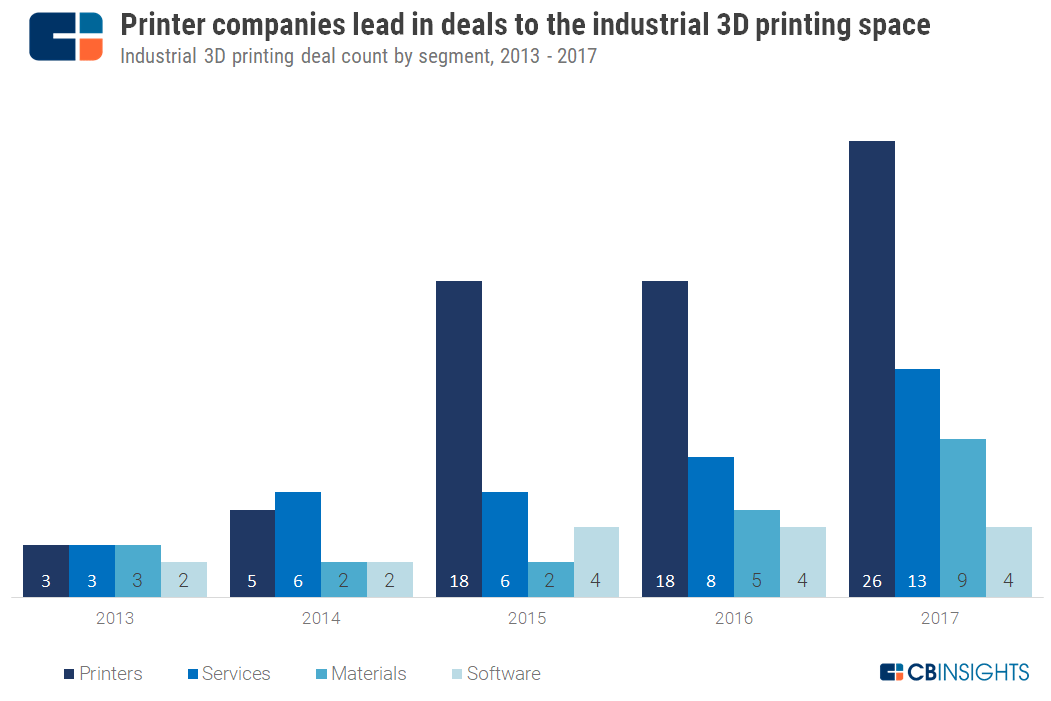 Other segments have modestly increased financings in recent years. 3D printing services companies raised 13 deals in 2017, compared to 8 in 2016. Xometry, which provides on-demand 3D printed production, raised a $15M Series A round in Q2'17 — the largest in the segment in recent years — from investors including GE Ventures and BMW i Ventures.
Software provider Onshape has also raised considerable funds. Onshape offers CAD design software that utilizes mobile and cloud technology. The company has raised $169M from investors including Andreessen Horowitz and New Enterprise Associates, making it the most well-funded private company offering 3D printing software.
If you aren't already a client, sign up for a free trial to learn more about our platform.