Our retail tech analysts uncover 3 key trends emerging from our retail industry data.
Retail tech funding declined again in Q3'22, dropping 33% QoQ to $8.5B.  
Amid this slump, the deals that investors did make are focused on new sources of growth: levers that retailers and brands can pull to boost conversion and grow revenues in an uncertain environment.
Using CB Insights data, we surface 3 retail trends to watch this quarter, and highlight what's next across:
E-commerce efficiencies

Small business digitization

Monetizing retail real estate
E-COMMERCE EFFICIENCIES
Tech to watch: E-commerce analytics and shopper marketing
Why we're paying attention: Funding to e-commerce analytics and shopper marketing companies nearly tripled last quarter, hitting $672M.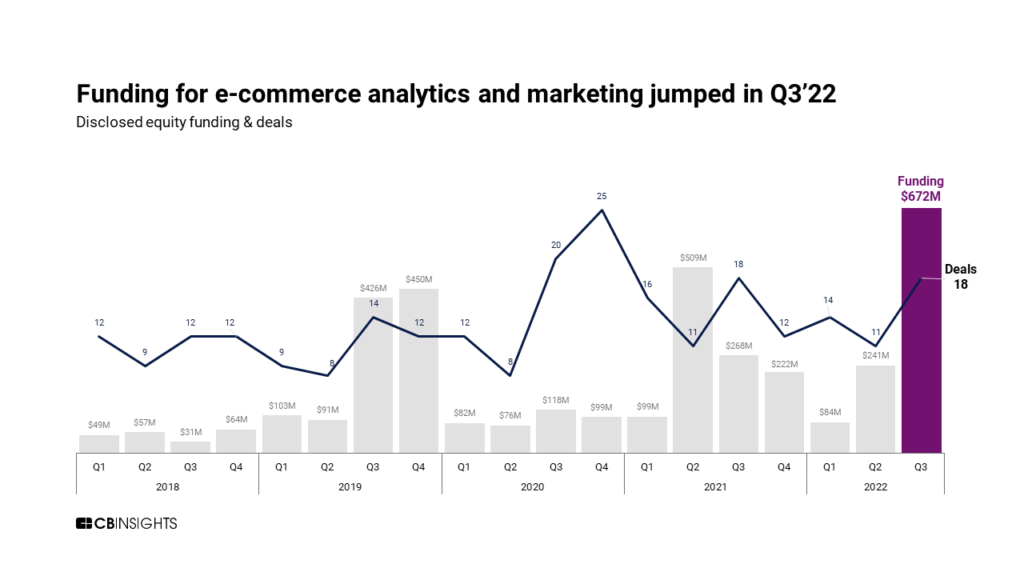 Deals for companies that use consumer data to automate and enhance content on e-commerce sites drove quarterly growth.
Germany-based Conversion Maker AI, which raised a seed round of $4M in July, uses customer data to automate and optimize online text, including product descriptions. Turkey-based Artifica also raised a seed round in Q3'22. The company uses AI to improve e-commerce data, which can enhance product listings and improve site navigation. Meanwhile Vizit, which uses AI to track how shoppers respond to images, allowing lets brands and retailers to choose the best visuals to drive conversion, raised an incubator round in September 2022.     
Tech solutions to track consumers' behavior online also drew attention in Q3'22. ContentSquare's $400M Series F in July was the third-biggest retail tech round of the quarter. The company's technology tracks clicks and mouse movements to analyze shoppers' journeys. Fermat, a social commerce platform that gives influencers and brands more data to track which products and partnerships perform best, raised a seed round in September 2022.
Why it matters: Retailers and brands are continually looking to lower e-commerce costs and boost conversion. Tech that automates e-commerce operations and enhances the experience will remain in their crosshairs.
What's next: Sophisticated shopper data analytics tools are becoming essential as data collection regulations continue to shift and the cost of customer acquisition grows. 
Retailers and brands will next turn to synthetic media — content that has been generated, edited, or enabled by artificial intelligence — to quickly enhance and personalize experiences at scale. 
SMALL BUSINESS DIGITIZATION
Tech to watch: Omnichannel management platforms
Why we're paying attention: Early-stage deals have made up a higher share of retail tech deals so far in 2022 than they did in 2021, when 60% of deals were early-stage. Median funding for early-stage companies was also up by 9% YTD (to $2.5M).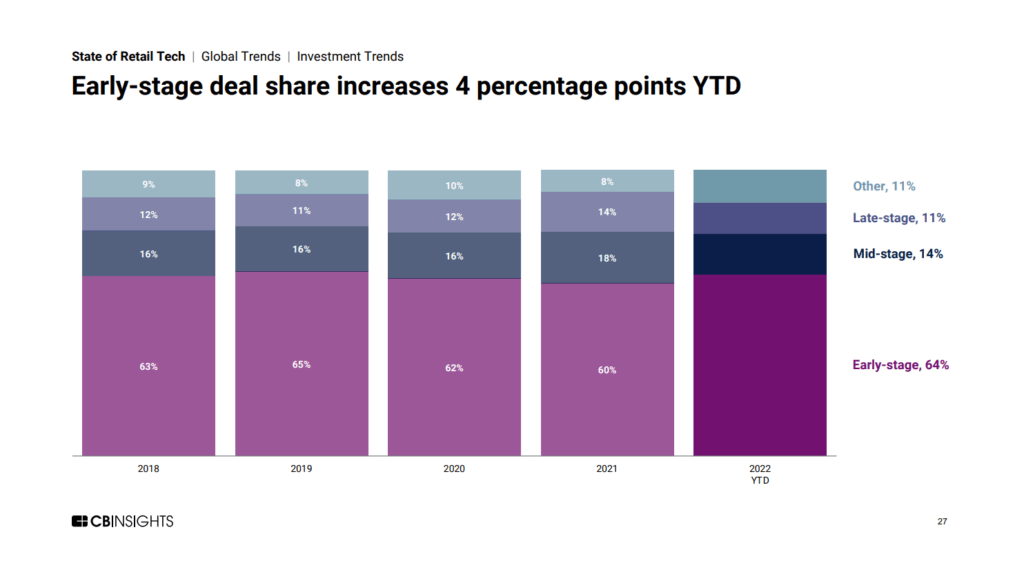 Notable among those early-stage deals were a range of companies whose tech solutions digitize operations for small merchants and businesses, particularly in markets where informal, analog retail operations are still the norm.
For example, Indonesia-based Majoo raised a $10M Series A round in August 2022. Its platform gives small businesses access to a payments platform, advertising, an online procurement marketplace, and even capital. India-based WINDO, which helps small retailers launch online stores quickly, raised a second seed VC round worth $1.5M in July 2022. In the UAE, Dukkantek offers small merchants a cloud platform for POS, inventory management, and e-commerce, all accessible through its app. The company raised a second seed VC round in August, for $10M. Nigeria-based Kippa enables payments systems for "micro businesses" in Africa, along with digitizing bookkeeping. and raised an $8.4M seed VC round in September 2022. 
Why it matters: Global brands will benefit from more standardized retail operations in emerging markets. Distribution and performance data collection will become easier and more reliable. Overall, improving digital access for small merchants could open more new markets for retail tech investment and help brands connect with new groups of shoppers.
(Read more here on how this shift is taking place in India.)
What's next: As more mature markets face economic uncertainty, emerging markets offer opportunities for growth. In addition, the adoption of new modes of shopping in these markets — for instance, mobile-only payments — may also provide signals for evolution in consumers' behavior elsewhere. 
MONETIZING RETAIL REAL ESTATE
Tech to watch: Retail media networks (RMNs)
Why we're paying attention: Amazon effectively introduced a new revenue stream across retail with its successful ads business, which made $30B+ in 2021. In the last few years, a steady parade of major players, including Walmart, Target, Dollar General, and others, have established or expanded their own media networks in an attempt to capitalize on their store and digital footprints. 
Over the last few months, the flood of retailers joining the fray continued. For instance, Ahold Delhaize's US business brought its media operation in-house, reporting that it planned to triple its internal retail media team over the next year. 7-Eleven launched its own platform, called Gulp Media Network. RMNs also drew less traditional bedfellows, as DoorDash rolled out self-serve advertising solutions and Uber introduced its own advertising division.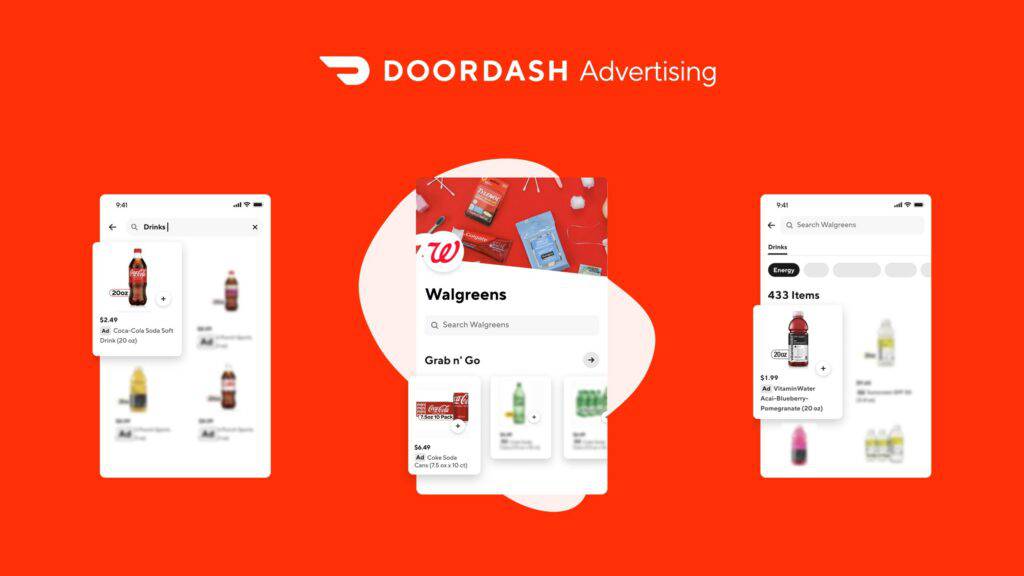 Source: DoorDash
Retailers also continue to beef up their media network tech stacks and reach. Best Buy, which launched Best Buy Ads in January 2022, announced that it will work with software platform DoubleVerify to track data on its brand partners' ads as well as its own campaigns. Kroger expanded its ad network's reach into connected (streaming) television as well as video. And Lowe's One Roof Media Network is partnering with Yahoo to reach more consumers outside of Lowe's own platforms.
Why it matters: In an inflationary and uncertain economic environment, retailers are on the hunt for new revenue and profit sources. RMNs offer high-margin revenue that leverages existing assets. Retail media ad spend in the US is expected to increase by $10B this year, representing 17.2% of total digital ad spending (up from 14.9% in 2021), according to eMarketer. 
Our RMN Tech Market Map and MVP Framework reports outline the tech that retailers are using to build their own media platforms. 
What's next: Right now, the better question might be which retailers haven't launched media networks. The landscape is crowded and will get even more competitive, particularly as other consumer-facing digital platforms get in the game. While it makes sense for retailers to take advantage of their rich first-party data, they and their brand partners run the risk of overloading consumers. 
Watch for the retailers that make strong connections with loyalty programs. More targeted campaigns that reach retailers' most valuable customers can drive better returns.
If you aren't already a client, sign up for a free trial to learn more about our platform.