Increased activity at the intersection of climate tech and insurance continues as insurers look for new ways to understand changing climate and weather related risks. 
While insurtech funding has remained relatively flat quarter-over-quarter in 2022, insurers are still actively engaging with startups to improve their businesses — including addressing climate-related risks. 
Climate change is causing more frequent and more intense catastrophic weather events. Last month's Hurricane Ian could be the largest insured loss event in history. With climate-related losses expected to continue climbing, insurers will need more granular, real-time climate data and enhanced analytics capabilities to accurately price policies and manage claims.
Recent developments in climate tech can help the insurance industry understand and plan for changing climate and weather-related risks. Insurers are already leveraging these solutions to improve their current operations and spark new innovation, including developing climate-focused parametric insurance products.
Using CB Insights data, we surface 3 insurtech trends to watch this quarter, and highlight what's next across:
Long term risk evaluation

Geospatial analytics goes mainstream

New solutions emerge using weather analytics
Long-term risk evaluation
Tech to watch: Catastrophe modeling 
Why we're paying attention: With catastrophe losses rising due to the increased severity and frequency of events, insurers are turning to tech to improve how they understand future risks. Insurtechs and incumbent catastrophe modeling companies have made strides to improve their products through partnerships and new product features specifically with climate change in mind. 
For example, EigenRisk recently launched an updated catastrophe risk platform that combines traditional short-term (<1 year) catastrophe models with climate change model scenarios that span 10-30 year time frames.
Meanwhile, Reask focuses on wind and atmospheric risk modeling. The startup raised its initial seed round in January. Reask also partnered with Fathom, a flood risk modeling company. The companies plan to sell each other's products initially and bring new, combined wind and flood catastrophe models and risk maps to market in the future.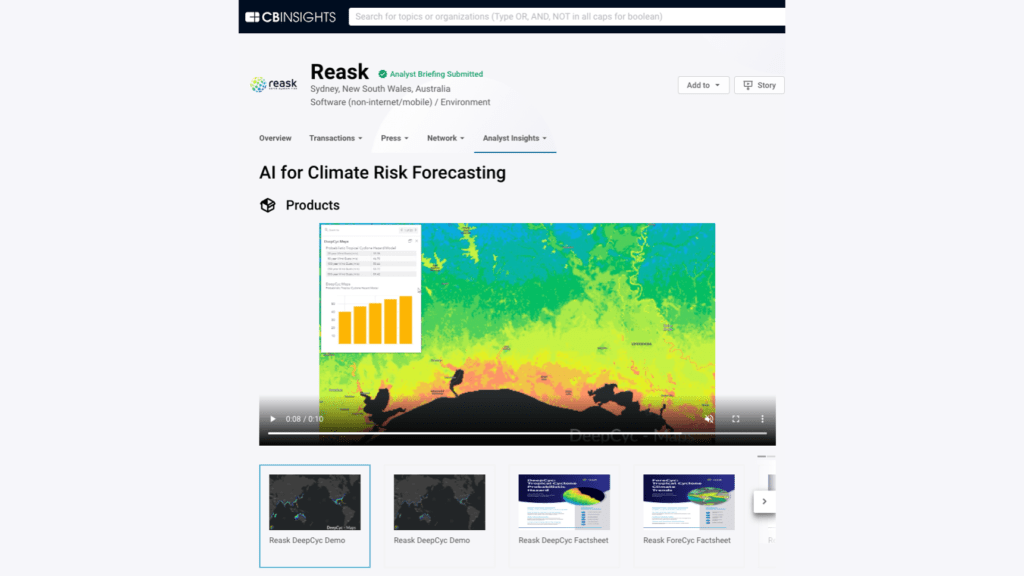 Long-standing catastrophe modeling incumbent companies are also working hard to improve their products to meet climate change risks. For example, RMS recently announced that Axa will use its Hwind product — which provides real-time cyclone data — as a key trigger metric for its US parametric insurance policies.
Axa's parametric insurance product will automatically pay out claims when a defined metric (e.g., wind speed) is met, simplifying the claims process.
Why it matters: Climate change is already causing more severe and frequent catastrophes — and this trend will continue. Estimates already show Hurricane Ian is the largest insured loss event of all time at $75B, and some insurers are expected to go into insolvency as a result. 
Without advanced catastrophe modeling capabilities to price policies and balance portfolio risks, insurers are at risk of heavy losses and even insolvency as climate change worsens. 
What's next: Insurers and insurtech companies will continue to update their catastrophe modeling capabilities, focusing on access to real-time granular data and longer-term forecasting capabilities using AI technology. Further, expect to see increased product innovation, such as parametric insurance, as the industry looks for creative ways to insure catastrophic events in a profitable manner. 
Underwriting and claims automation
Tech to watch: Geospatial analytics
Why we're paying attention: Overall funding for geospatial analytics companies in 2022 is lagging 2021 levels; however, there have still been a handful of notable fundraisings, including Zesty.ai's $33M Series B in July and ICEYE's $136M Series D in February.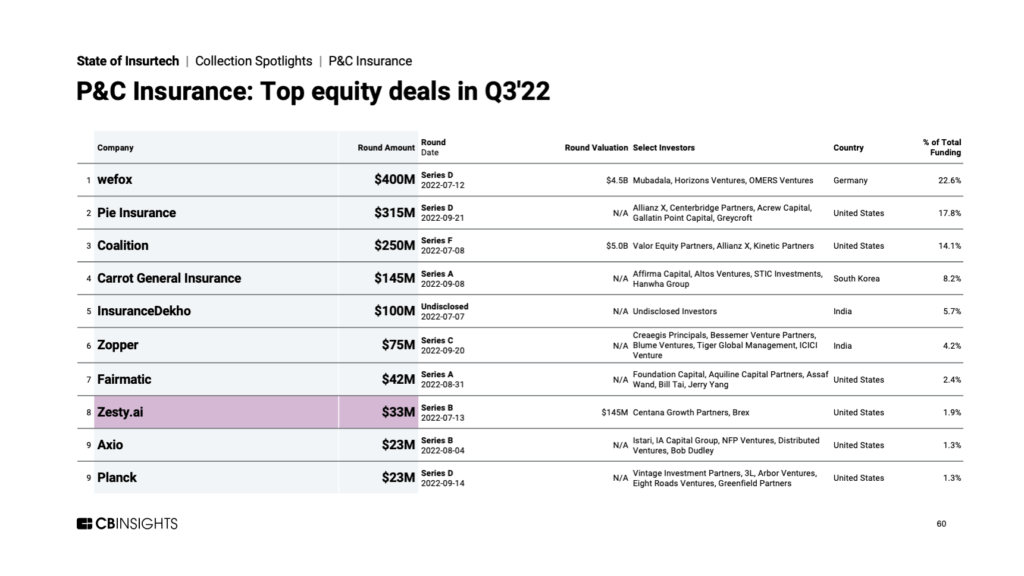 Meanwhile, other startups in this space are targeting partnerships to improve their offerings. For example Arturo, partnered with aerial imagery data company Vexcel Imaging to provide clients with better geospatial imaging, including ortho imagery, oblique imagery, digital surface models (DSMs), and "Gray Sky" imagery (imagery taken after catastrophic events).
Insurers are also increasingly buying these solutions as the tech matures. In Q3 alone, Betterview signed Guideone Insurance and Southern Trust as new clients for its geospatial analytics platform for property intelligence and risk management.  
Why it matters: Insurers can use geospatial analytics to quickly and accurately underwrite policies and virtually assess claims for property insurance without needing in-person inspections. As weather events become more frequent and severe, insurers will need to be able to efficiently scale their property inspection operations. 
What's next: Underwriting and claims teams have prioritized geospatial analytics in recent years. Expect to see more insurers adopt this technology in the near future.
Further, as the tech matures — through data partnerships as well as new product developments — expect insurers to scale geospatial analytics to more of their portfolio. 
Insurance product innovation
Tech to watch: Hyperlocal weather analytics
Why we're paying attention: Though funding to hyperlocal weather analytics companies in 2022 has lagged behind 2021 levels, a few early-stage companies raised funding in Q3'22, highlighting new innovation occurring in the space.  
For example, Puerto Rico-based Raincoat is building out parametric insurance solutions that will use weather data as claims triggers. The company has active projects in Puerto Rico, Jamaica, Mexico, and Colombia. It raised a $4.5M Seed VC round led by Anthemis in August.
Similarly, Australia-based Hillridge Technology, which raised a $1.57M Seed VC round in September, offers parametric insurance policies based on weather triggers for farmers. 
While weather-associated risks are top of mind for underwriters and claims teams, they are also a concern for insurers' investment teams. To address this, Aon partnered with Jupiter Intelligence to use its weather analytics platform and data to offer more comprehensive risk management services to Aon's clients. The services target their climate-based insurance and investment needs.
Why it matters: As climate change progresses, new insurance solutions will be needed. Weather data has always been crucial to how the insurance industry underwrites and handles claims, but emerging technologies and climate risk concerns are driving innovation in products and risk management practices. 
To price accurately, respond to claims efficiently, and maintain a safe investment portfolio, insurers will need to tap into new weather data and to be creative in their risk management practices and product development.
What's next: Expect to see more parametric insurance offerings from both startups and incumbents. While initial pilots will likely remain in specific geographies or product types, as these pilots mature and succeed, expect to see parametric insurance offerings become more mainstream.
If you aren't already a client, sign up for a free trial to learn more about our platform.