One of the pioneers of consumer genomics, 23andMe is going public via a merger with Richard Branson's special purpose acquisition corporation (SPAC). 
23andMe was one of the first companies to demonstrate the value of genomic data for drug development with its $300M deal with GlaxoSmithKline in 2018.
Now, fresh off an $82.5M Series G in December 2020, the genomics company is going public via SPAC. The deal, with Richard Branson's VG Acquisition, will value 23andMe at $3.5B and infuse the company with $980M in available cash.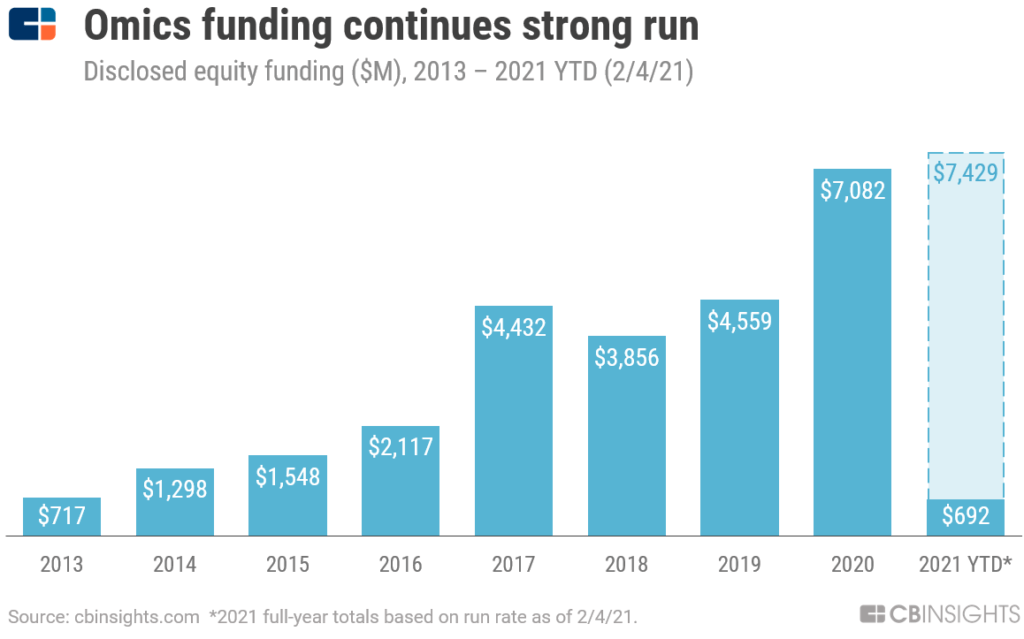 WHAT YOU NEED TO KNOW:
Genomic data is the new oil, and we're just scratching the surface:

23andMe's value lies in its trove of genomic data and the potential to mine it for drug candidates. The company has

sold 12M sequencing kits to date

. That represents less than 0.2% of the world's population, and it's a relatively homogenous dataset consisting mostly of individuals with European ancestry. 

It's all about drugs:

The pharmaceutical business model is moving towards precision medicine, and it's catalyzed by data. GlaxoSmithKline,

Genentech

,

Pfizer

, and

Almirall

have all partnered with 23andMe

to develop or license drug candidates.

The United States is losing ground:

2020 saw omics deal share for the US drop below 50% for the first time, while China's share of deals jumped significantly from 17% in 2019 to 25% last year

. Expect this trend to continue, as funding flows to companies like

 

54gene

 that are collecting diverse genomic datasets outside the US.

Omics exits abound:

The last quarter of 2020 saw a flurry of omics exits, with 6 IPOs and 4 acquisitions.

Incumbents are active

, with

Illumina

,

Invitae

,

OncoCyte

,

Exact Sciences

having acquired multiple omics companies within the past 2 years.
WHAT'S NEXT?
As the market for direct-to-consumer genomics wanes, in part due to increased FDA regulation, we'll see more companies, like

Helix

and

Color Genomics

,

shift their business model

towards partnering with healthcare providers in order to

provide sequencing services

to patients. 

Less than 1% of variants in the human genome have been characterized

. Given that 23andMe is valued at $3.5B with 12M genomes, increasing genomic coverage and diversity represents a massive opportunity. As such,

companies outside the US

will continue to garner investment.

Beyond genomics, other omics data is potentially even more valuable. Environmental variables create epigenetic changes that are expressed in RNA (transcriptomics), metabolism (metabolomics), and proteins (proteomics). Companies, such as Tempus, that are collecting, organizing, and analyzing multi-omics data are well-positioned to enable the future of drug development.
If you aren't already a client, sign up for a free trial to learn more about our platform.