In March 2020, CB Insights announced our fourth annual AI 100 — a list of the 100 most promising AI startups across the globe. We take a look at where these companies are now. 
In 2020, AI companies from 13 countries and 15 industries made it to the CB Insights AI 100. They were selected from nearly 5K startups based on several factors, such as patent activity, business relations, investor profile, news sentiment analysis, proprietary Mosaic scores, market potential, competitive landscape, team strength, and tech novelty.
Since announcing our list, 1 startup has been snapped up by a tech giant, 3 have gone public, and 2 have become unicorns. Many of the 100 startups have entered strategic partnerships with major corporations and government agencies, while others responded to the Covid-19 pandemic with new products and features.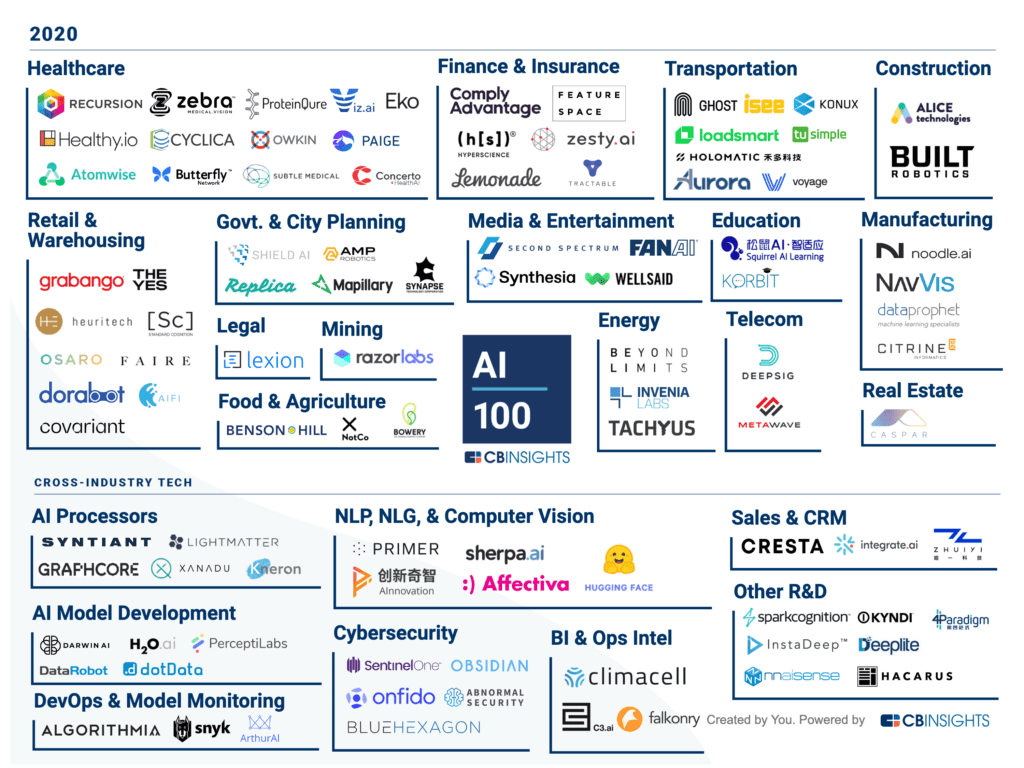 EXITS: 1 FACEBOOK ACQUISITION AND 3 PUBLIC LISTINGS
Since the release of our AI 100 2020, one startup has been acquired, while 3 others will list on the New York Stock Exchange (NYSE).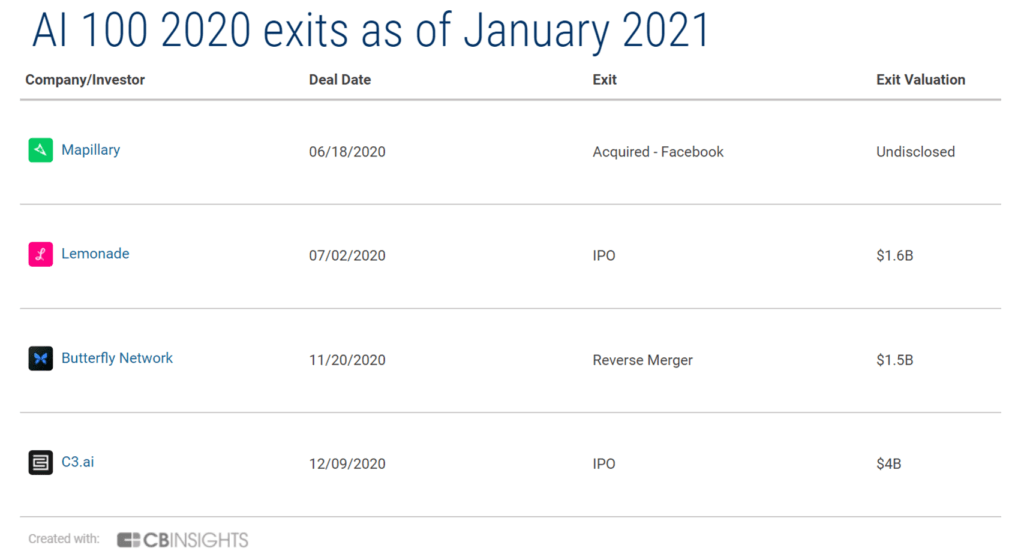 Computer vision startup Mapillary, which crowdsources street-level images from smartphones and dashcams to generate 3D maps, was acquired by Facebook in June 2020. The startup will likely help Facebook develop apps for its AR and VR products, as well as augment its Marketplace offering.
As for public listings, two companies have gone public via IPOs, while another intends to debut through a SPAC reverse merger. 
Lemonade, a home and renters insurance company that leverages conversational AI and anti-fraud algorithms to instantly approve claims, debuted on the NYSE in July 2020 at a valuation of $1.6B. Since then, the company's market cap has grown more than 5x to over $9B. 
In December 2020, C3.ai followed suit. The Houston-based company — which uses machine learning to develop operational software, such as predictive analytics in manufacturing — was expected to IPO at a $4B valuation. However, C3.ai's stock price jumped as much as 174% on its first day of trading, and it now boasts a market cap of over $13B. 
Butterfly Network, which develops AI-enhanced handheld ultrasound devices, is set to merge with Longview Acquisition Corp. in a $1.5B SPAC deal. The combined entity is expected to list on the NYSE by the end of Q1'21. 
UNICORNS: 2 STARTUPS EARNED $1B+ VALUATIONS
Two AI 100 2020 startups have achieved $1B+ valuations since March 2020. Seven startups were unicorns prior to joining the list. 

DataRobot, a Boston-based startup developing a platform for enterprises to build and deploy AI models, was propelled to a $2B valuation after its $320M Series F. The round was led by Altimeter Capital, with participation from Tiger Global Management, Silver Lake, and BlackRock, among others. 
In December 2020, AInnovation, a startup developing custom machine learning and natural language processing (NLP) solutions for clients across finance, manufacturing, and retail, achieved a $1B valuation after its Series C. The round included investors China Renaissance, CICC ALPHA, Shanghai Guohe Capital, and Riverhead Capital.
FUNDING: STARTUPS RAISE $4.6B MORE
Since March, 43 startups from the AI 100 2020 have raised a combined $4.6B in equity funding from investors. 
Fourteen startups raised $100M+ equity rounds. These mega-rounds span industries from transportation to healthcare and include cross-industry applications, such as AI model development and cybersecurity.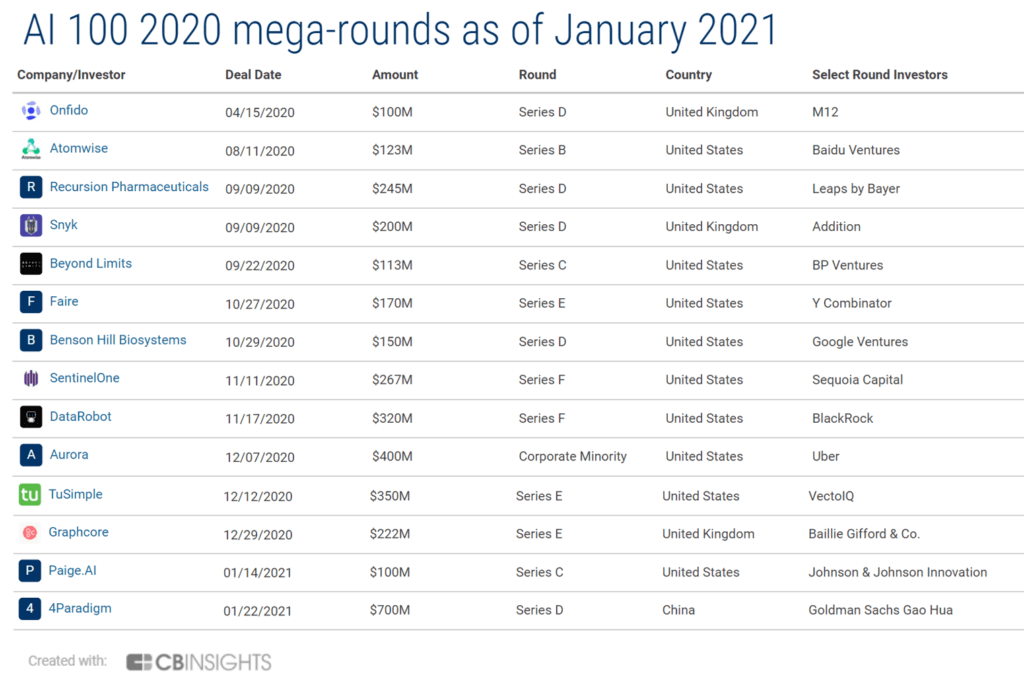 NOTABLE PARTNERSHIPS
Since March 2020, the AI 100 startups have actively facilitated new partnerships to expand services and scale operations. 
In August 2020, AstraZeneca partnered with Eko to improve heart diagnostics. The pharma incumbent will use Eko's machine learning technology, while Eko will gain access to AstraZeneca's resources and heart data, enabling the development of new AI-powered heart care products. 
AstraZeneca also partnered with ProteinQure, a startup using machine learning and quantum computing to predict how proteins will fold, to accelerate R&D in peptide therapeutics.
In September 2020, Atomwise announced a collaboration with GC Pharma in hemophilia-related drug discovery. That month, Bayer also entered into a partnership with Recursion Pharmaceuticals, which gives Recursion the potential to receive awards up to $1B, depending on the success of joint research. 
Outside of healthcare, the defense sector has also been popular for new AI alliances. 
In April 2020, DeepSig, a startup using deep learning and neural networks to create a new type of modem for radio communication, partnered with aerospace and defense software developer Abaco Systems to classify RF signals in electronic warfare.
In January 2021, Metawave was contracted by the US Air Force (USAF) to integrate neural network-powered antennas into sensing solutions for electric Vertical Take-Off and Landing (eVTOL) aircrafts. 
The USAF has also forged strategic partnerships with 2 business operations startups in the AI 100. These included a partnership with C3.ai on predictive maintenance in aircraft systems and a partnership with Falkonry, a startup using AI to provide operational insights in manufacturing and defense. 
NOTABLE PRODUCT LAUNCHES: RESPONDING TO COVID-19
AI 100 startups across industries launched new products and features — a number of which were in direct response to the Covid-19 pandemic. 
For example, Zebra Medical Vision released a new computer vision diagnostics tool to detect early signs of Covid-19 in CT lung screening. The startup's Covid-19 screening system was adopted by India-based healthcare provider Apollo Hospitals.
Similarly, AI research startup DarwinAI launched COVID-Net, a suite of neural networks for Covid-19 detection and risk assessment in chest radiography. DarwinAI partnered with Red Hat to open-source its neural networks, enabling more rapid development and deployment of the AI solution. 
Other product rollouts catered to the shift toward remote work. 
Cybersecurity company Obsidian Security, which uses machine learning to detect anomalies in account behavior, released protection services for video conferencing company Zoom. 
Lexion also announced a new feature to enhance the work-from-home experience. The AI-powered legal company launched a Slack-based chatbot that uses AI and NLP to automatically surface relevant legal documents.
---
This report was created with data from CB Insights' emerging technology insights platform, which offers clarity into emerging tech and new business strategies through tools like:
If you aren't already a client, sign up for a free trial to learn more about our platform.