In February 2019, CB Insights announced our third annual AI 100 — a list of the 100 most promising AI startups across the globe. We take a look at where these companies are now.
In 2019, AI companies from 3 continents and 18 industries made it to the CB Insights AI 100. They were selected from a pool of 3K+ companies based on a range of criteria, including patent activity, investor profile, news sentiment analysis, market potential, partnerships, competitive landscape, team strength, tech novelty, and more.
Since announcing our list, 9 of these startups have been snapped up by major corporations, 4 went on to become unicorns, and several have entered into partnerships with corporations like Microsoft, Oracle, HSBC, and General Electric.
Click to enlarge.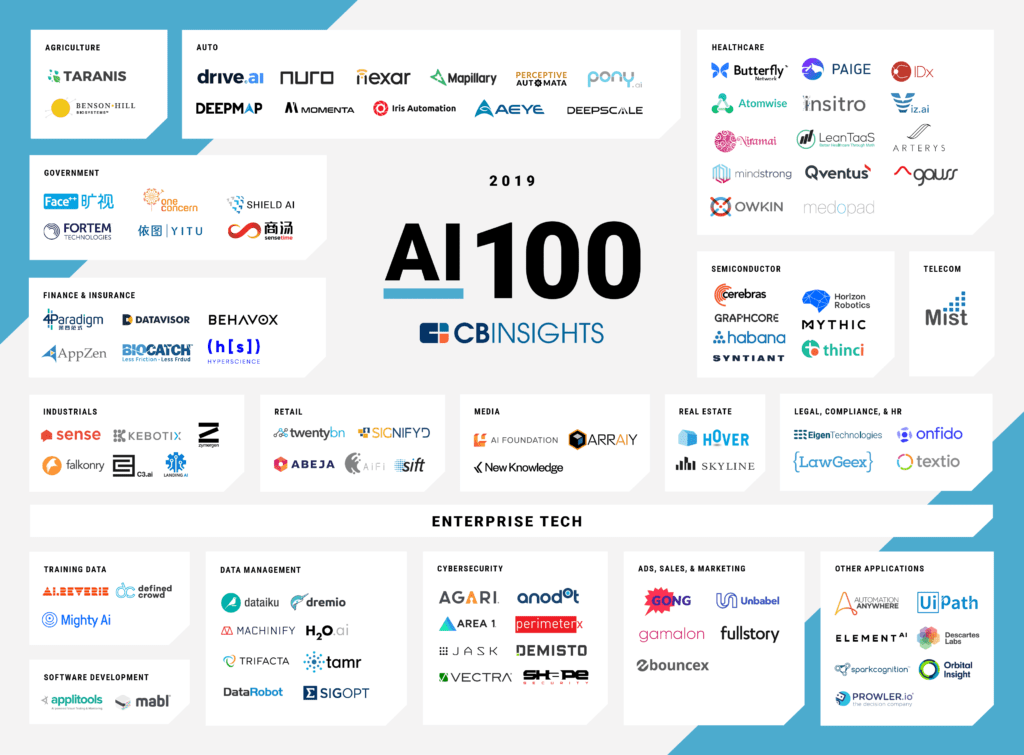 Below, we take a closer look at how these companies have grown in the last year. 
GET the enterprise AI TRENDS report
Download the free report to learn about the biggest emerging trends in AI and strategies to watch for 2021.
Acquisitions: Tesla, Uber, Apple, & Others acquire AI 100 startups
Nine startups named to the AI 100 2019 have been acquired. Acquired companies have focused on AI-driven solutions across hardware, cybersecurity, telecom, transportation, and computer vision. 
Autonomous driving has been a prominent theme here. Apple acquired the talent of Drive.ai, an autonomous driving shuttle provider. In the same week, Uber acquired computer vision startup Mighty AI, which works with autonomous vehicle developers to help train vehicles in object recognition. The startup was integrated into Uber's Advanced Technologies Group.
Tesla later acquired DeepScale, a Mountain View-based startup developing computer vision software for autonomous vehicle systems.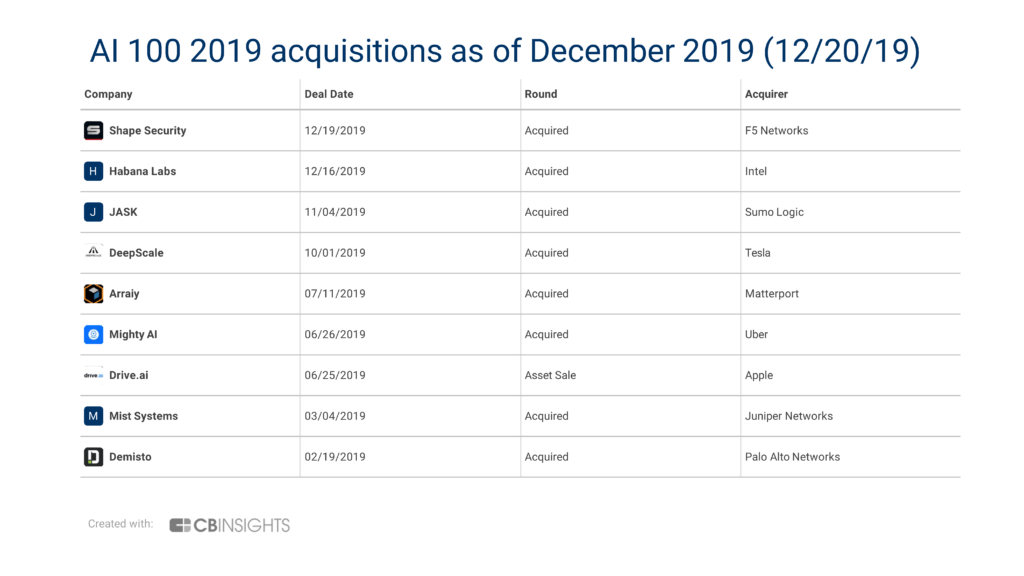 Unicorns: 3 startups Earned $1B+ valuations
Four AI 100 2019 startups have achieved $1B+ valuations since February 2019. Eleven startups were unicorns prior to joining the list. 
Horizon Robotics is a China-based startup developing edge AI chips for autonomous driving, smart city traffic surveillance, and in-store cameras for retail analytics. The company raised a $600M Series B funding led by SK China in February 2019, valuing the company at $3B.
Nuro, a Mountain View, California-based startup developing autonomous vehicles for last-mile delivery, raised a $940M Series B from SoftBank Group (also in February 2019). The deal valued the company at $2.7B.
Shape Security's $51M Series F in September 2019 valued the company at $1B. The California-based startup uses artificial intelligence to differentiate between ordinary customers and imitation hackers on mobile and web apps. 

Funding: startups raise nearly $5B more
Since February, 48 AI 100 2019 startups have raised $4.9B from investors.
High-profile investors and corporations, including Google Ventures, Kleiner Perkins, Goldman Sachs and NVIDIA backed AI 100 2019 startups, such as medical imaging startup Viz.ai and business intelligence startup H2O.ai. 
Ten startups have raised $100M+ equity rounds. These deals span across industries such as autonomous driving and semiconductors, as well as cross-industry applications, such as computer vision, process automation, data management, and cybersecurity.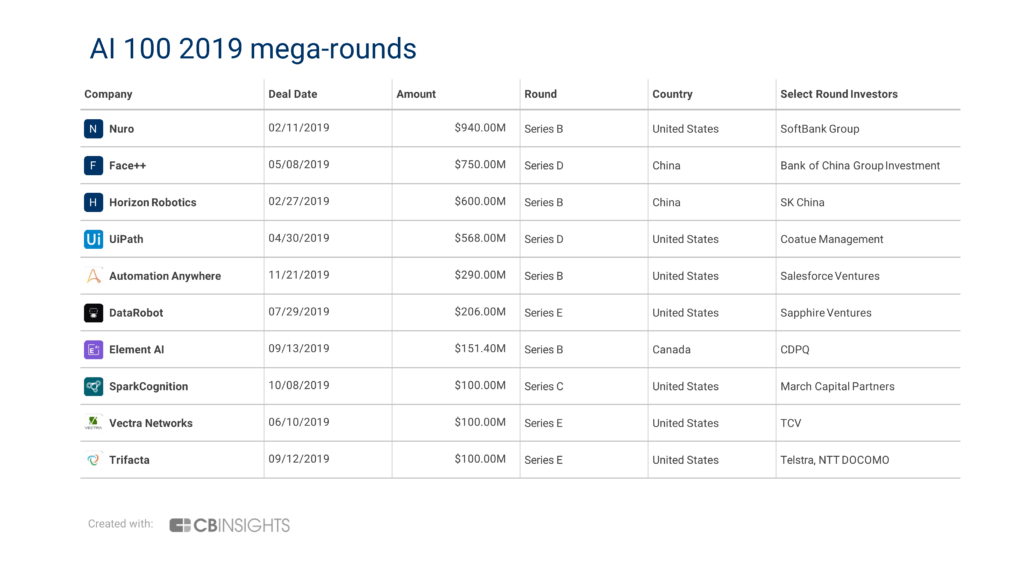 Notable Partnerships
Several startups have formed strategic partnerships to scale operations. 
In November, semiconductor startup Graphcore partnered with Microsoft to deploy AI processors in Azure, Microsoft's cloud computing platform. The partnership will increase adoption of Graphcore's AI chips and potentially broaden its customer base.
UiPath partnered with Deloitte to develop legal automation solutions in April 2019. The RPA startup formed more than 20 partnerships across the United States, Europe, Africa, and the Middle East since featuring on the AI 100 2019. 
Similarly, RPA startup Automation Anywhere formed over 20 partnerships since appearing on the list; the company partnered with Microsoft and Oracle to offer RPA solutions on Microsoft Azure and Oracle Cloud. 
In addition to cloud computing, healthcare was a popular sector for partnerships. 
Viz.ai, a San Francisco-based startup using deep learning to analyze images of CT scans, partnered with medical devices giant Medtronic. The partnership helped Medtronic pivot toward selling data and insights and helped Viz.ai expand distribution of its AI software.
Insitro partnered with Gilead Sciences on AI-driven drug discovery. 
Finally, Atomwise and Eli Lilly also formed a drug discovery partnership. 
Notable product launches
In some industries, startups launched new products or introduced new AI capabilities in their existing products.
Cerebras Systems, debuted a roughly 9-inch-by-9-inch AI chip (which the company claims is the world's largest) in August. In November, the company also launched  Cerebras CS-1 — a deep learning processor for data centers. 
Falkonry, a California-based AI-IoT startup, launched a "portable, self-contained engine" that can be deployed on edge devices for predictive analysis.

Element AI also debuted its AI Enablement Tools and Insight Libraries, its suite of AI-based tools to expedite document reading, cyber threat detection, and other processes.
DataRobot debuted an investment workflow tool alongside financial data software provider FactSet. DataRobot's integration into FactSet will enable financial analysts to build ML-based predictive models using financial and economic data points.
Our call for submissions is now open for the 4th annual CB Insights AI 100. You can apply on behalf of your company, one of your portfolio companies, or partners here.
If you aren't already a client, sign up for a free trial to learn more about our platform.