As genomics unicorn 10x Genomics makes its IPO, we analyze the company's top stakeholders and how much their shares are worth.
Life sciences unicorn 10x Genomics has gone public. The company debuted on NASDAQ at a price of $39 — a dollar over the company's proposed price range of $36-$38 per share, which was already an increase from an earlier proposed price range of $31-$35. (In the first hours of trading, prices went as high as $50+ per share.)
Since its founding in 2012, the California-based single-cell sequencing firm has raised over $275M in total disclosed funding from investors including VCs (Venrock, Foresite Capital), banks (Morgan Stanely, Wells Fargo Strategic Capital), and even SoftBank.
The company hit unicorn status in January 2019, reaching a $1B valuation after a $35M Series D round backed by Fidelity, Meritech, and Wells Fargo.
Now, 10x Genomics' IPO represents a major milestone for its suite of 10+ investors. As the company makes its public debut, we look at which of its investors have the most at stake.
Breakdown of top stakeholders
Using 10x Genomics' S-1 filing, we calculated the value of its top stakeholders' shares at the time of IPO, based on a $39 share price. Here's the breakdown.
Please click to enlarge.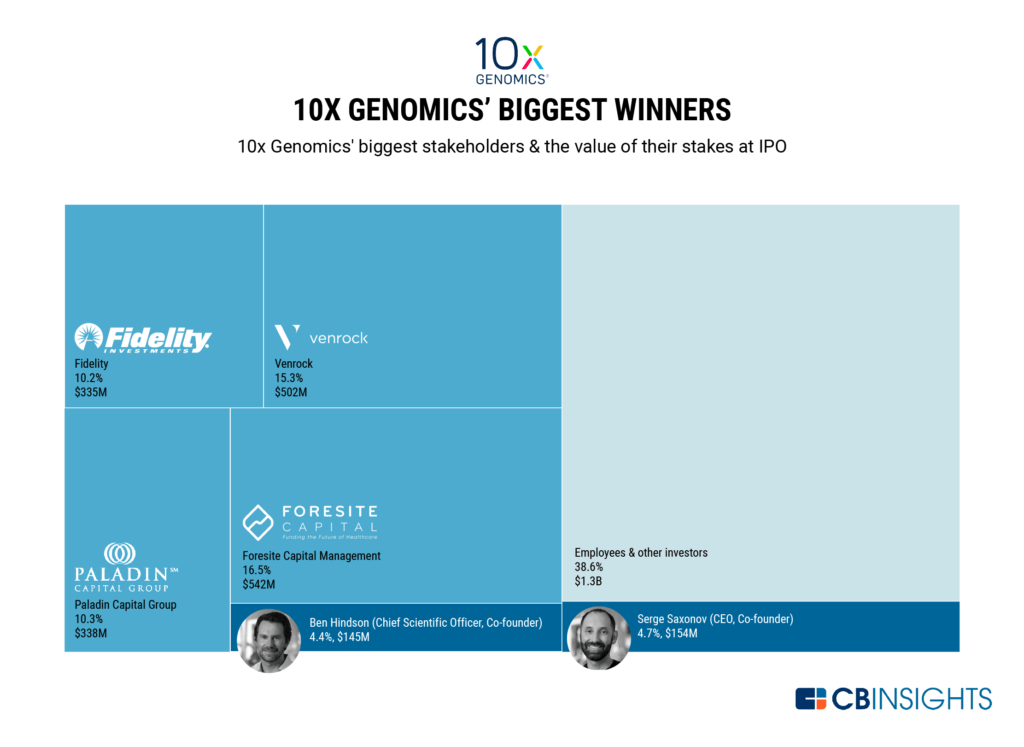 Two VCs lead 10x Genomics' top stakeholders, with shares topping half a million: Foresite Capital, with a 16.5% stake worth $542M at IPO, and Venrock, with a 15.3% stake worth $502M. Private equity firm Paladin Capital comes in third place, with a 10.3% stake ($338M), while financial services provider Fidelity Investments clocks in at 10.2% ($335M).
10x Genomics founders Ben Hindson and Serge Saxonov are the only two individual stakeholders with a share in the company greater than 4%. CEO Saxonov leads slightly, at 4.7%, while Chief Scientific Officer Hindson has a 4.4% stake, worth $154M and $145M, respectively.
Top Institutional Investor Timeline
10x Genomics' biggest institutional investors have all taken fairly straightforward approaches to investing in the startup, each backing 2-3 equity rounds. Notably, all four top investors backed the company's $55M Series C in March 2016, co-investing in the round alongside JS Capital Management and SoftBank.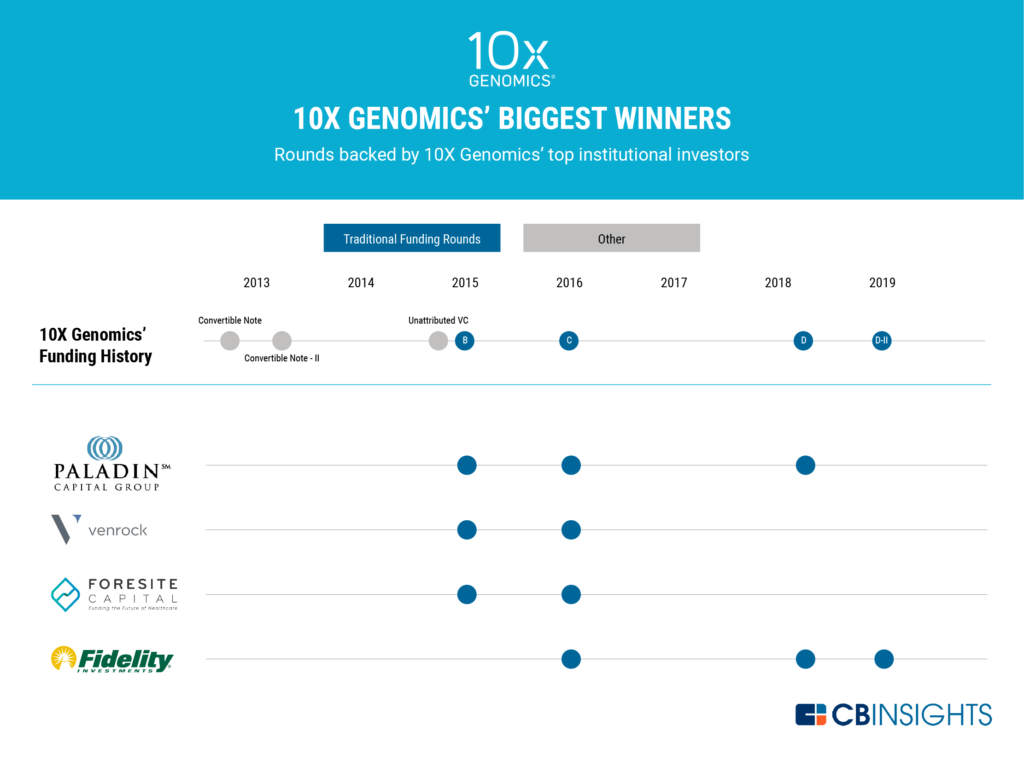 Despite having fewer shares than their VC counterparts, Paladin and Fidelity participated in more rounds to the company: Paladin backed 10x Genomics' Series B, Series C, and the first tranche of Series D funding, while Fidelity backed its Series C and both tranches of its Series D. Both have also invested in 10x Genomics more recently than Venrock or Foresite. Of the investors pictured above, only Fidelity participated in 10x Genomics' unicorn-minting Series D tranche in January 2019.
Foresite Capital and Venrock backed the same 2 rounds to gain their 16.5% and 15.3% stakes, respectively: a $55.5M Series B in 2015, and a $55M Series C a year later. Neither has invested in 10x Genomics more recently than March 2016.
If you aren't already a client, sign up for a free trial to learn more about our platform.