A strategy map is a visual representation of an organization's strategic objectives that illustrates cause-and-effect relationships between them.
How does a strategy map work?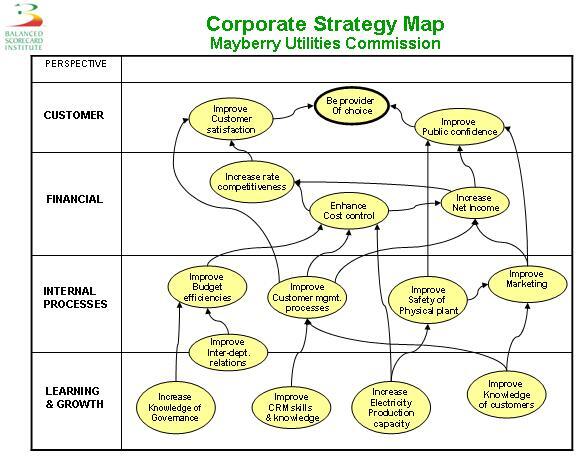 Source: Parveson, Public domain, via Wikimedia Commons
Strategy maps use these 4 perspectives, too. The perspectives are:
Outcome (external) perspectives
Input (internal) perspectives
Internal Business Perspective: This perspective is focused on the 'how.' It's the answer to the question, "How should the goals in the previous two perspectives be achieved?".

Innovation and Learning Perspective: Think of this perspective as the foundation of a company's strategy. It considers

employee competence

and the

organizational culture

required to improve a company's internal processes, offer value to customers, and achieve financial objectives.
The map has several arrows that represent a cause-and-effect relationship among the objectives. As you'll notice, the objectives in the lower perspectives (input perspectives) help to achieve the objectives in the higher perspectives (outcome perspectives).
For instance, let's say a company has an innovation and learning perspective objective to improve technology. The company also aims to maximize manufacturing efficiency, which is an internal business perspective objective. When it improves its technology, it will automatically increase its manufacturing efficiency.
Imagine that the company also has a customer perspective objective to make faster deliveries. In this case, the benefits of improved technology will carry through to the customer perspective as well, since increased efficiency from improved technology will help to deliver orders faster.
The financial perspective is typically placed at the top because a business's primary goal is to make money, and all efforts ultimately have a financial impact. For instance, faster deliveries could improve customer retention and aid revenue growth.
However, this may not be the case for nonprofit and government organizations due to their differing priorities. It's common for these types of organizations to put the customer or internal business perspective on top because to them, money is simply a tool to achieve their goals, as their priority is their cause or mission.
Process of developing a strategy map
Developing a strategy map is a 6-step process, as highlighted below:
Step 1: The first step involves senior leaders calling a strategic meeting to identify long-term goals and objectives.
At this point, the focus should be on the overriding objective. While product differentiation and customer satisfaction are valid objectives, they should not be the ultimate goals. A company's ultimate goal should be to generate strong financial returns. Therefore, its overriding objective should contain a financial objective and a time frame within which it should be achieved.
Step 2: Next, a value proposition should be selected that will position the company as a strong player in the market. Treacy and Wiersema suggest three value disciplines that companies can choose from. It's not viable to weigh all three equally, though. The idea is to strive for excellence in any one value discipline and to compete reasonably well in the other two. The 3 value disciplines to choose from are:
Operational excellence

Product leadership

Customer intimacy
Step 3: Now that the value proposition has been established, the company can begin to brainstorm financial strategies for revenue growth and cost reduction. Financial strategies may relate to any of the following areas:
Revenue growth

Cost reduction or productivity

Asset utilization
Step 4: Once the financial strategies have been established, customer strategies can be formalized. Customer strategies may relate to any of the following areas:
Customer acquisition and retention

Improving revenue per customer

Minimizing cost per customer
Step 5: In this step, the company must choose internal business processes that will help to achieve their customer and financial strategies, and ultimately, their overriding objectives. Following this, the company should identify ways to improve these internal processes. It's important for the company to mindfully choose internal business processes that will directly impact the customer and financial objectives identified in the previous steps.
Step 6: The final step is focused on developing strategies for learning and growth. The company must identify and bridge any gaps that could hinder its ability to execute the processes identified in the internal business process perspective. It should make sure to consider such things as its human capital, informational infrastructure, and organizational capital.
A strategy map tells a company's 'strategic story' to key stakeholders and employees. It offers a company clarity about how it creates value, as well as the key business activities that can help it work towards its strategic objectives.
A strategy map also helps to compel a company to focus on creating a strategy before moving onto the implementation phase. It facilitates vital discussions regarding its future and the changes that are necessary to achieve both its objectives and sustainable growth.
Leaders can use strategy maps to make a range of critical decisions on a range of matters, including resource allocation and the deployment of key employees.