Blockchain technology and digital currencies are changing the Fintech landscape and beyond. What could the future hold?
Below is a transcript of our webinar, "The State of Blockchain," led by CB Insights Senior Research Analyst, Matt Wong.
We're going to take a data-driven view into the investment landscape in the blockchain and bitcoin universe. We probably won't be going into a lot into a lot of the deep regulatory complexities or underlying technologies here. But we will try to give a broader, high-level view of what's going on in the blockchain landscape, where startups are emerging, where startup formation is happening, and where investments are going in the space.
Get the recording and slides sent to your inbox.
The Hot and Crowded FinTech Space
Financing and Exit Trends in FinTech
We'll start with the fintech landscape. No surprises, fintech been a hot and crowded space for a while. In 2015, we saw a new high-water mark for funding and deal activity in the space. Specifically, 13.8 billion dollars were invested across 650 deals, so obviously capital is pouring into this space. When we look at the quarterly view, it's a bit more nuanced.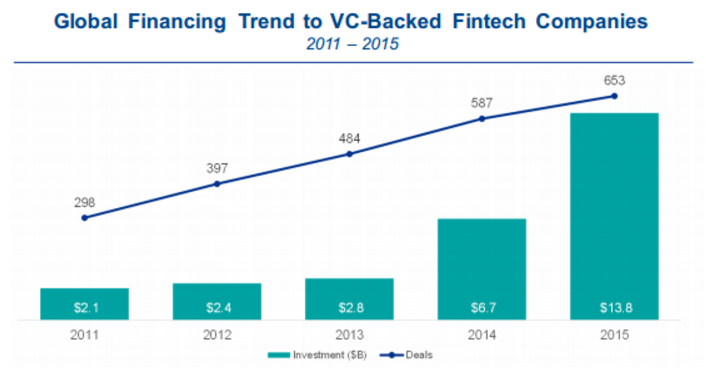 There was a downturn in Q4, dropping to $1.7 billion in funding across a drop in deals there. So that was in line with the broader fall we saw sort in the VC ecosystem in terms of deals and dollars dropping in Q4. fintech was no exception there, and we saw, despite the state of mega rounds in Q2 and Q3 including, for example, SoFi in Q3 raising over a billion dollars, we didn't see deals of that bear out in Q4.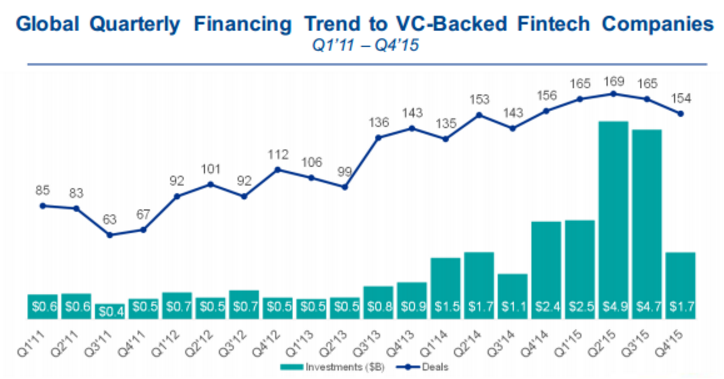 Next let's look at the exit side of things: fintech exits have been accelerating on the M&A side, but mostly smaller, strategic M&As. We haven't seen an increase of large exits despite the influx of capital. Square is probably the most notable fintech exit at the end of 2015, Lending Club and On-Deck, the marketplace vendors who went public back in 2014. One reason fintech hasn't borne out on the exit landscape is the public performance of some of these earlier fintech darlings.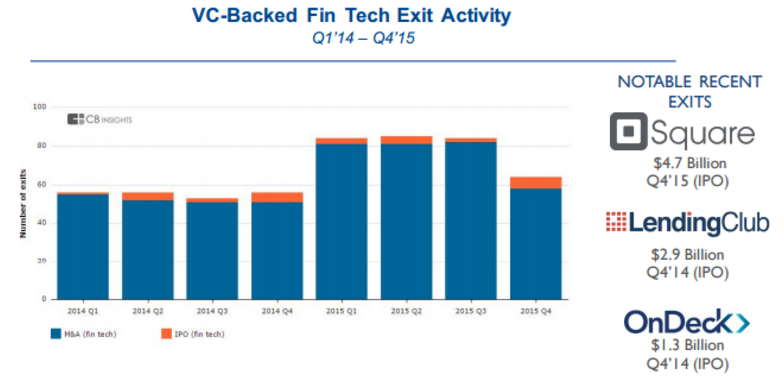 Above you see Lending Club, On-Deck, and Square compared to the S&P 500's since their IPOs, all of which have been underperforming since they've gone public.
Next we'll look at a lot of different companies' partnerships as well as investment trends in this webinar. One of the tools we'll use to do that is the Business Social Graph, which lets you visualize the investment and acquisition competitors and partners in fintech and blockchain.
One thing you can see right away is the increase of fintech investors over time. The green dots represent investment relationships. There were over 200 investors in fintech in 2010. Now flash forward to 2016, you see over 900. So clearly there are more investors now, from angels to venture firms to a lot of the strategics, who got involved in these last 5 years.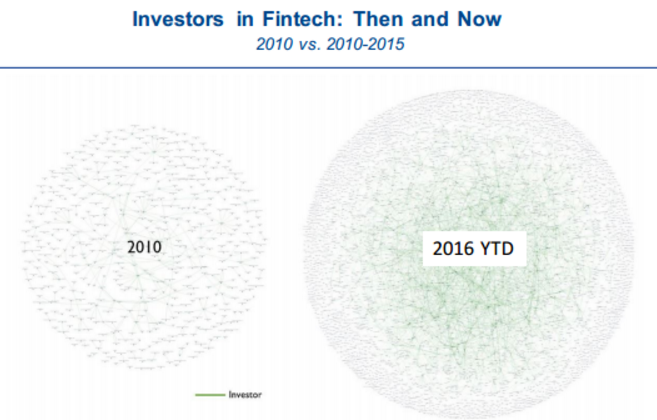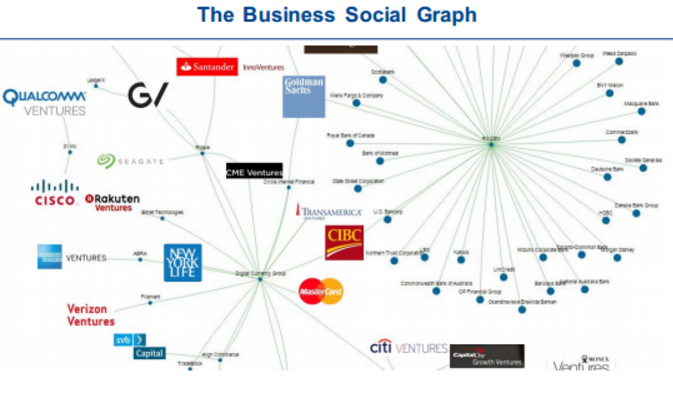 Non-financial services corporations are also investing: Google (through its venture arm GV) has been one of the most active investors in fintech overall, investing in companies like On-Deck, Robin Hood, Digit, and others. SalesForce just recently made an investment in an insurance tech startup, Finance Fox, in Germany, so this isn't just limited to U.S.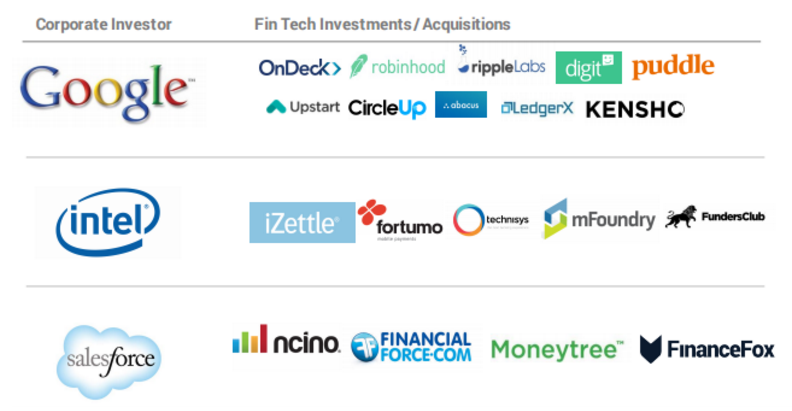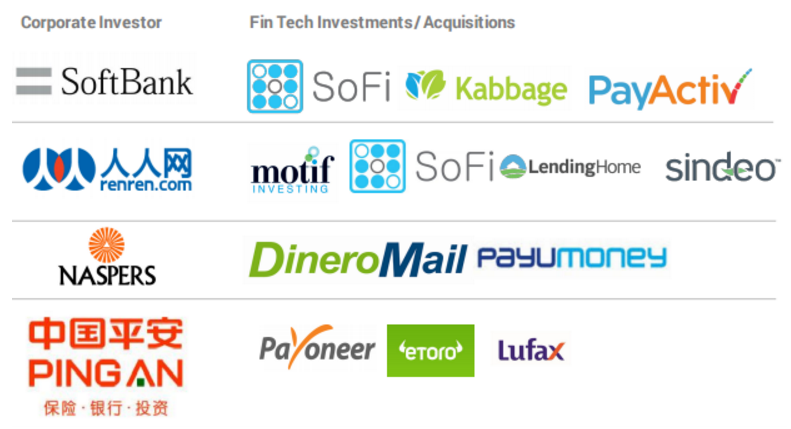 We also see a lot of corporates in Asia investing in fintech startups stateside. Renren, for example, the Chinese social network, has been very active in investing in U.S. fintech startups like SoFi, Motif, Simbio. One name that's not represented here, Rakuten, just started a fintech fund to invest in fintech startups. You see here, and that's Softbank doing the bulk of that large SoFi round back in 2003. So it's not limited just to U.S. unusual suspects; it's also happening globally.
Banks are also actively investing in the fintech landscape. Citigroup, through its venture arm, Citi Ventures, has been very active. Goldman Sachs and JP Morgan, which we'll dive into a little later, have been busy as well. Here you see some of the names and the increase of investments over time into fintech startups globally. Through the influx of funding that we've seen into fintech, we've seen some very valuable companies emerge at least in the private markets.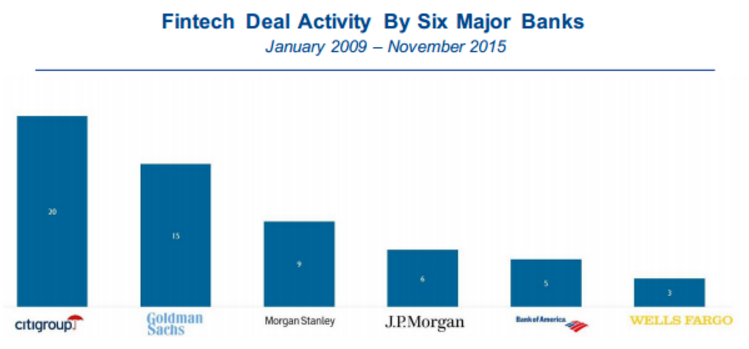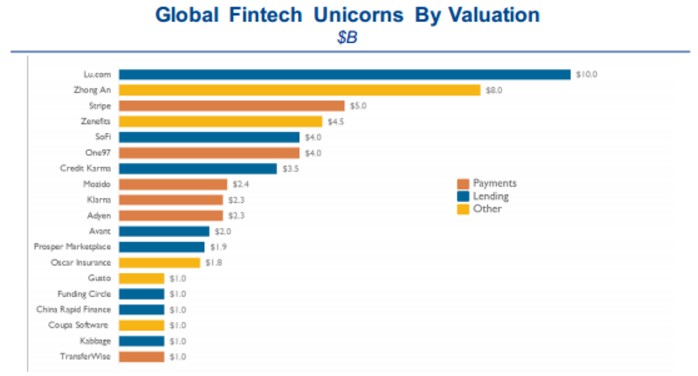 This chart shows companies valued at a billion dollars or more in fintech, and the breakdown of where they fall within market categories. By and large, most of the unicorns in fintech have fallen. Insurance is one area where we're seeing some fintech companies becoming valued at a billion dollars or more. We're also seeing other areas emerge outside of payments and lending in terms of where of the value has accrued among most valuable venture backed companies in fintech.
By and large, digital banking has been one of the biggest areas for fintech investments. Just think of all the different aspects of your personal digital banking that have been overtaken or where fintech startups are trying to take just a portion of that relationship away banks. That's been a big focus for VCs and as well as startup formation in the space and where we're seeing a bunch of startups innovate. Here you see a map of the growing crop of fintech startups for millennials: savings, personal investing, wealth management, payments, as well as lending.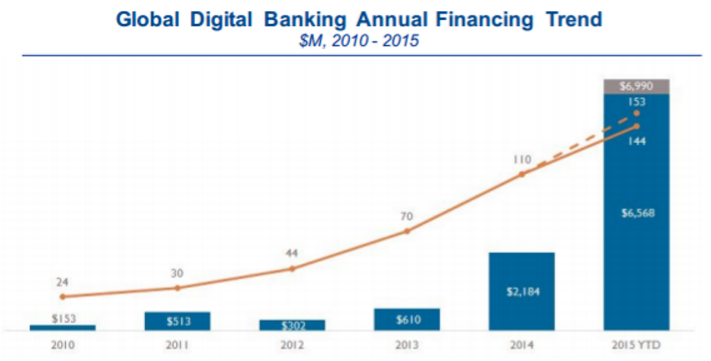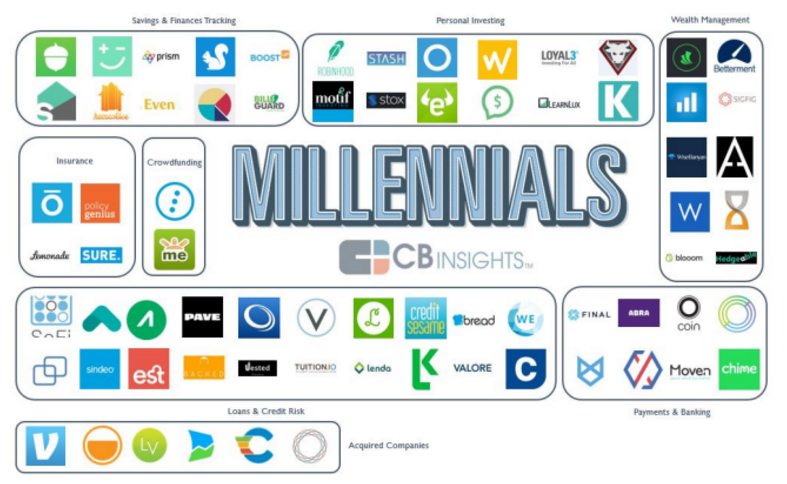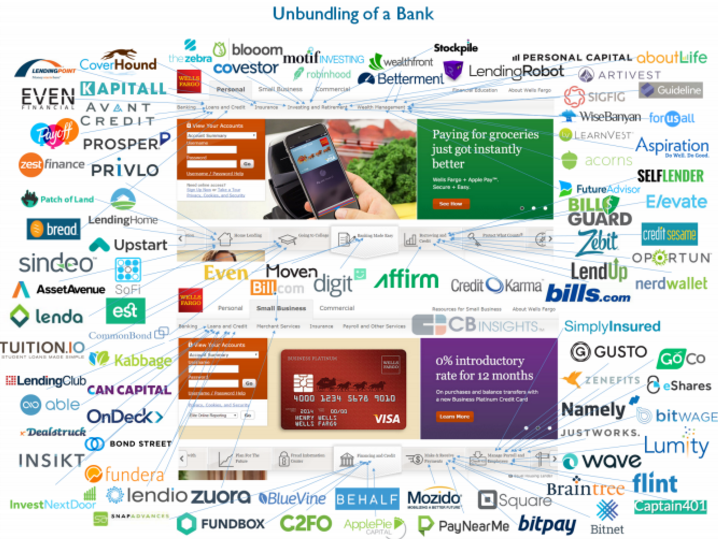 A big focus has been UI- and data-driven ways that fintech startups can attract these newer audiences and it's a big opportunity for startups. You'll see that borne out in this visualization here. This is an unbundling graphic we did a while ago around all the startups that are taking away individual small pieces of a bank relationship. Interestingly, a lot of these companies are now also partnering with financial services incumbents. But here, you just see that broken down visually. And that's not just in the U.S., but also internationally in Europe as well: a mix of startups across savings, banking, wealth management, and lending.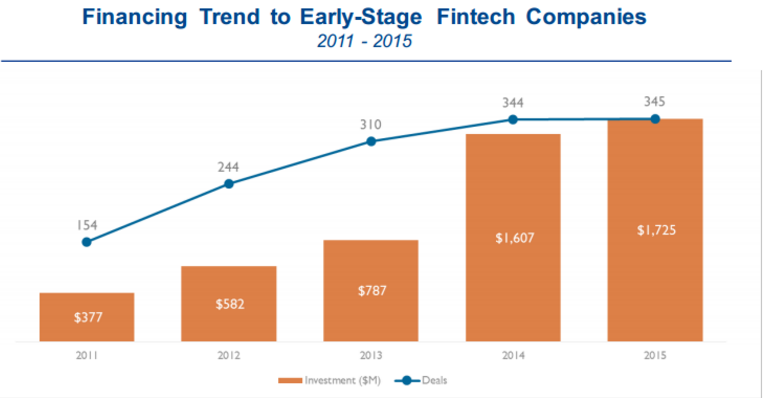 Just a last look at fintech here before we head into the blockchain trends: early stage investing has continued to increase, although we are starting to see it peeter out. It'll be interesting to monitor where the early stage of activity going to happen within fintech as we head into 2016. We'll take a quick look at some of the blockchain start-ups that are receiving early stage funding a little later.
Bitcoin and Blockchain Trends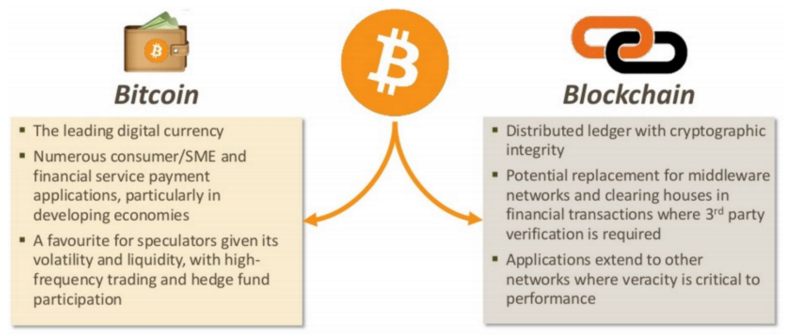 Part of this data came from Capital One and shows that one of the trends that's emerged, at least in terms of investor interest and general sentiment, has been the divergence of bitcoin as a leading digital currency and blockchain in terms of the digital ledger.
One thing we're seeing, and this is going both ways, is a lot of different investors and pundits weighing in. For example, we saw Digital Currency Group, which is a big investor in the blockchain universe, get a little flack for saying that bitcoin startups should pivot, at least, change their name to blockchain. You see Fred Wilson from Union Square Ventures weighing in here that you can't have blockchain without the bitcoin, etc.
But this divergence, at least in terms of investor sentiment is interesting, and it's borne out in the data that we see here. Here you see bitcoin and blockchain funding numbers over time. Between 2009 and 2013, under a 100 million dollars of funding went into blockchain and bitcoin startups. Fast forward to 2014, 2015, and the first few months of 2016, and it goes up over 900 million dollars. Over a billion dollars invested into blockchain startups since 2009. And 60% of which of all that funding has come since the start of 2015.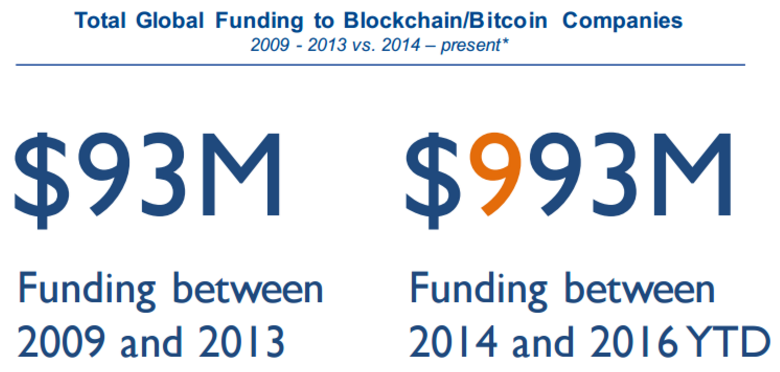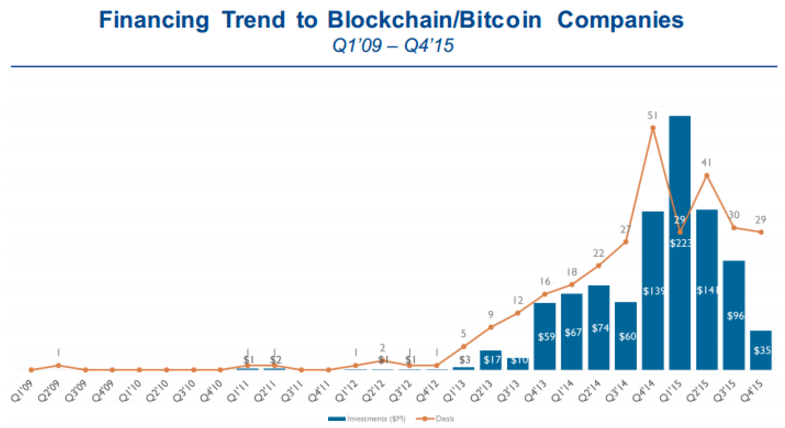 When we look at the quarterly trend, though, it's not exactly optimistic. We've seen the funding high happen in Q1 '15 in terms of when the most funding to bitcoin, blockchain startups happen. And since then we've seen declining amounts of funding. You also see deals drop from that Q4 '14 high when we saw a lot of the wallets, a lot of the mining companies of raise early-
stage funding. Since then we've seen this ecosystem evolving where the deals have really fallen off.
When we look at the breakdown by stage we see that 2015 saw a notable decrease in series A funding. 23 startups raised Series A in 2014 and we saw that drop. In 2015, we saw that some of the companies who were seeded in the earlier years now start to head towards series C funding and beyond. Then there are companies like Coinbase who are now emerging as leading their categories. We're seeing this maturity spectrum evolve.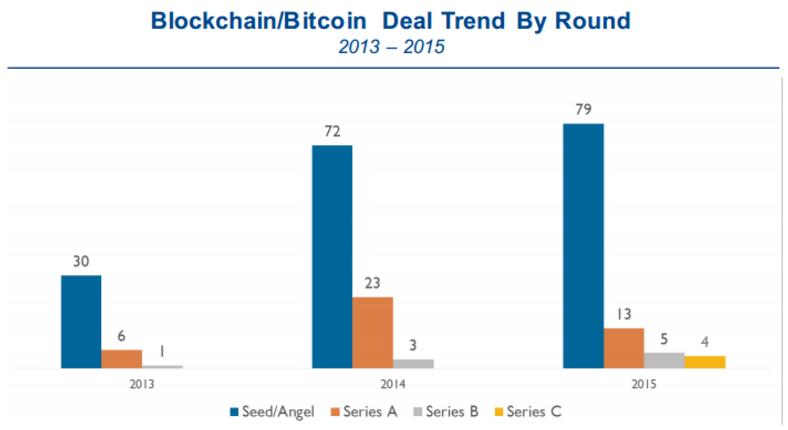 But again, we're also seeing that that crucial Series A funding hasn't been as kind to blockchain and bitcoin startups, at least in 2015. And that's because the ecosystem has evolved. So Series A deals have shifted away from a lot of the wallets, the mining companies, and the exchanges that we saw earlier, into broader applications, infrastructure for blockchain as it pertains to financial services and banks, as well as issuance compliance and in other areas.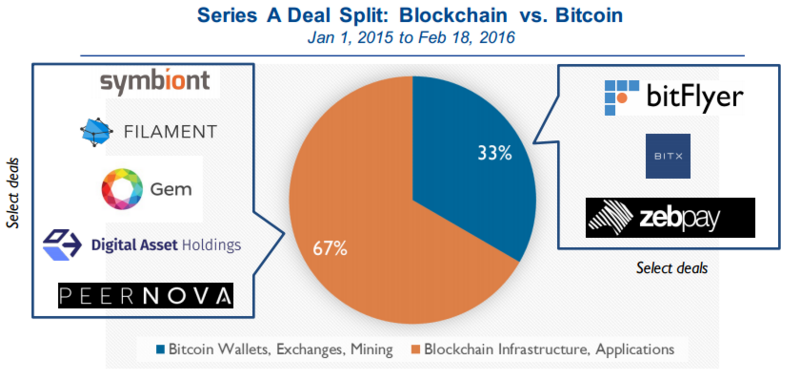 So here you see a breakdown of where are Series A investments happening in blockchain versus bitcoin since 2015. And you see that large majority going to broader blockchain applications, companies like Filament, Digital Asset Holdings, Gems, Symbian, and others. Here you see the most well-funded companies in the blockchain and bitcoin ecosystem. So 21 Inc, which released a 21 bitcoin computer earlier, Coinbase which we mentioned, the Blockstream, Circle, and Chain. When we look at the most well-funded companies, you see enterprise blockchain companies are emerging as the more well-funded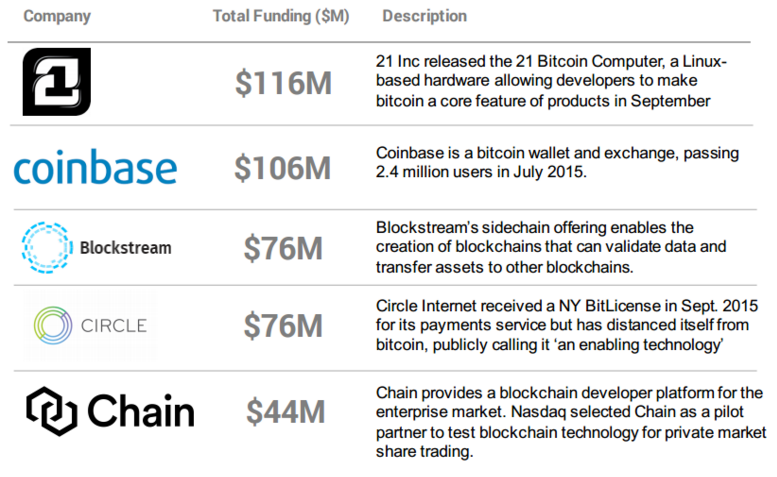 companies. We see Chain and Blockstream. Blockstream just raised a large amount earlier this year. Will these most highly capitalized companies change where we're seeing more of those companies versus the earlier bitcoin companies? That's something that we'll be watching out for.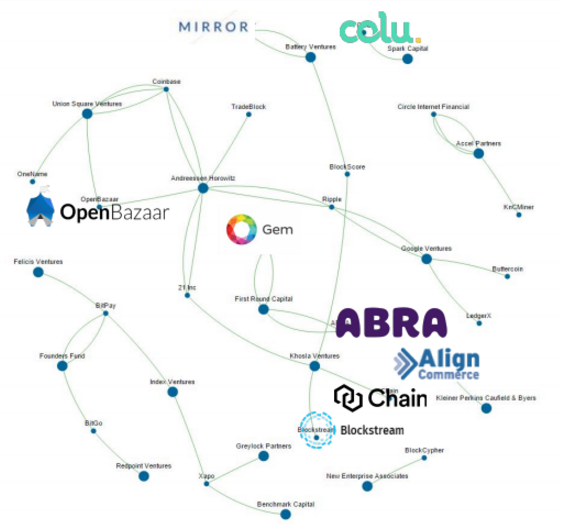 Here's the business social graph we put together of some of the big brand name investors. Where are investors like Union Square Ventures, Andreessen Horowitz, Core Capital investing within the blockchain and bitcoin universe? You see that same evolution of where those deals are going: broader blockchain applications, companies like Abran in the transfer space, Chain which was trying to work in the capital markets, Openbazaar, or the P2P decentralized marketplace. Then there are Mirror and Kalu, which we'll dive into a little later.
Here are some of the bets you see by big name investors, less so the companies in the wallet space and this evolution of deal flow in the block chain startups. Another part of the evolving landscape when we talk about the investment landscape for bitcoin and blockchain startups is the rising role of corporates. When we look at where tech giants and financial services players are placing their bets, we're seeing a lot of displacement of traditional venture capital and this influx of corporate money buoy what's happening in the bitcoin and blockchain space.
Here you see a chart of the corporate investment trend into blockchain and bitcoin startups over time. This is just looking at unique company investments. You see that spike in 2015 where we saw a lot of strategics and corporates flood into the blockchain space, this realization almost of where they can apply, where these startups can fit strategically. And that really happened in the last year in terms of materially investing in these companies.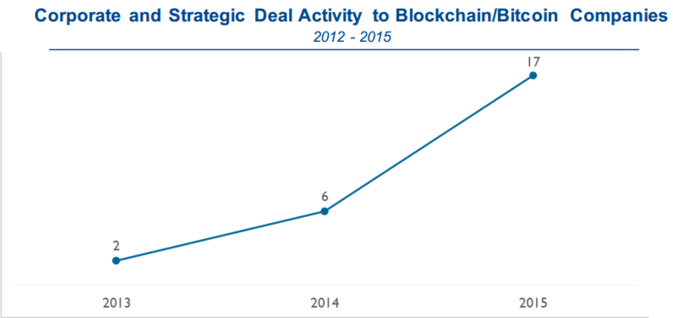 This is an earlier map of those strategic investors in the blockchain and bitcoin universe. This was actually back from May 2015 when we first put this together. And you saw fewer than 20 strategics and corporates invested in blockchain and bitcoin. Some notable names there both in tech and in financial services. Goldman Sachs had invested in Circle by then. We saw Google Ventures make a few deals. As well as names like Qualcomm, Cisco, Red Tooth, and others. But fast forward to earlier this year, and in February, you can see how much that's changed. This is the broader map of what's happened and you see the expansion into newer verticals where you see corporates in payments, Visa, Mastercard, AMEX, all with bets in blockchain now. Telecomm, you see Orange and Verizon invest in. As well as insurance where we see firms like AXA, New York Life, TransAmerica, and others invest strategically in this space.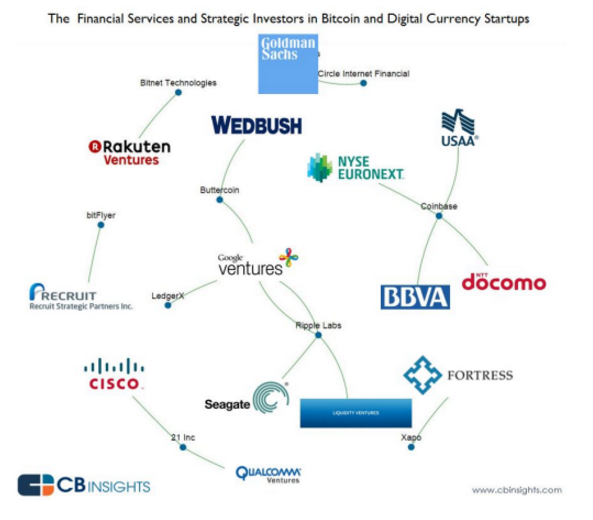 70+ STRATEGICS AND CORPORATES INVEST IN BLOCKCHAIN/BITCOIN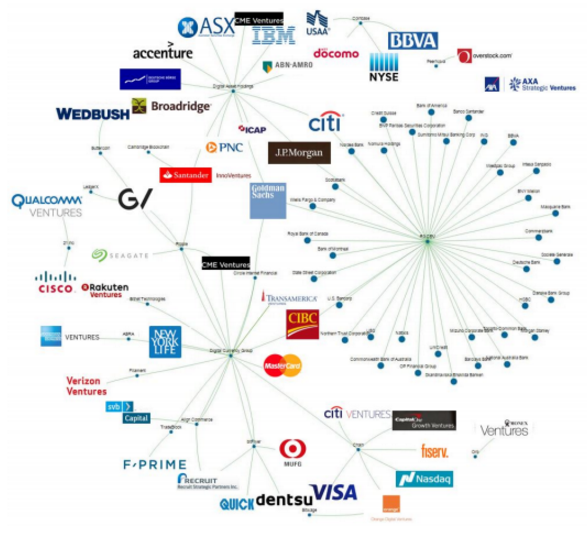 What's interesting is that with Arthur CV you have a big blockchain partnership between a number of banks who are looking for use cases that fit. All the strategics there are able to get a bird's eye view of where the landscape is going. You also see it in terms of companies who are directly trying to create offerings like Blockstream, which took a big round from AXA earlier this year, creating their own sidechain offering and seeing where else they can provide these enterprise blockchain solutions. Here you see that map.
When we look at financial services companies specifically, a lot more are making their first investment over time. We should probably update this through 2016, but here you see through the year end and that influx of companies across payments, banking, insurance, and others make their first investment or foray into the blockchain and startup landscape.

The net result of this is that growing of the fintech of the blockchain investment landscape by corporates. Here's a chart of the biggest deals in the blockchain and bitcoin space over time. If you look at those top five largest deals by year, you can see how many of them involve a corporate venture or strategic investor. In 2013 and 2014, there fewer dollars in play and also no corporates involved. By 2015, a lot more dollars and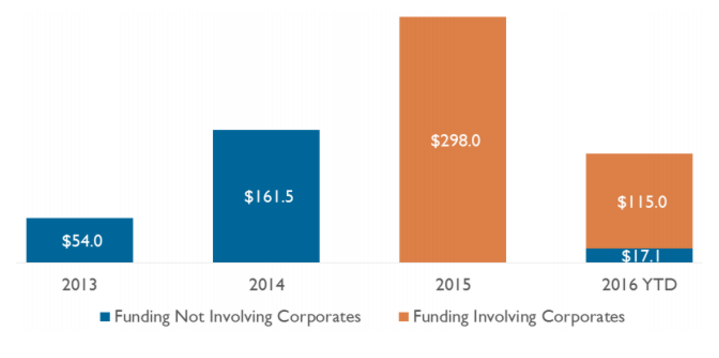 corporates were involved in every one of those rounds. 2016 turned out the same way where we see most of the investments, at least, some of the largest ones thus far involve a corporate and that's a trend that we're seeing. We're continuing to monitor how much of an impact corporates will have at least on these landscapes and what the implications are of that.
Next we'll take a quick case study look at Goldman Sachs and JP Morgan, just a broad view of fintech and also where they've invested and partnered strategically within blockchain. If you think about Jamie Dimon and his earlier comments about the space, in an earlier letter he said that Silicon Valley was coming, meaning fintech startups, and that you need to be aware of them. He also mentioned a bit about blockchain and bitcoin. He's been very vocal about dismissing bitcoin as a currency, but also making some leeway for broader applications for blockchain and where they can fit in, especially strategically for JP Morgan is trying to do.
"This is my personal opinion, there will be no real, non-controlled currency in the world. There is no government that's going to put up with it for long…there will be no currency that gets around government controls. You all have read about bitcoin, merchants, building their own networks, PayPal and PayPal look-alikes. Payments are a critical business for us – and we are quite good at it. But there is much to learn in terms of real-time systems, better encryption techniques and a reduction of costs and 'pain points' for customers."
- Jamie Dimon
Chairman & CEO, JPMorgan Chase (2014)
When we look at where JP Morgan has reacted specifically, if you think about this idea of resource allocation as your strategy, the acquisitions you make, the investments you make, the partnerships you make as the strategic areas where you're focusing on, you see here JP Morgan's made forays into a number of the emerging themes in fintech over time, payments, lending, and personal finance management. And then now despite his earlier comments on bitcoin, you see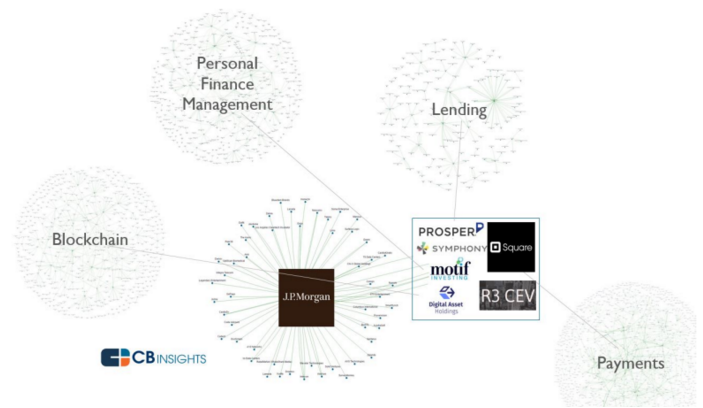 them jumping to blockchain as well. So Digital Asset Holdings, the company founded by earlier JP Morgan managing director Blythe Masters, an investment of theirs, participating actively in the R3CEV partnership.
Below you see some of those headlines bear out: JP Morgan is now taking almost a lead role in how blockchain can better integrate into financial services incumbents. This is a big change from their from the prior stance earlier. And you see here the timeline of how the events have unfolded between through all the comments they've made as well as their strategic partnerships. And the latest being that JP Morgan's quietly testing blockchain with a lot of their clients there and then contrast that to their 2014 comments.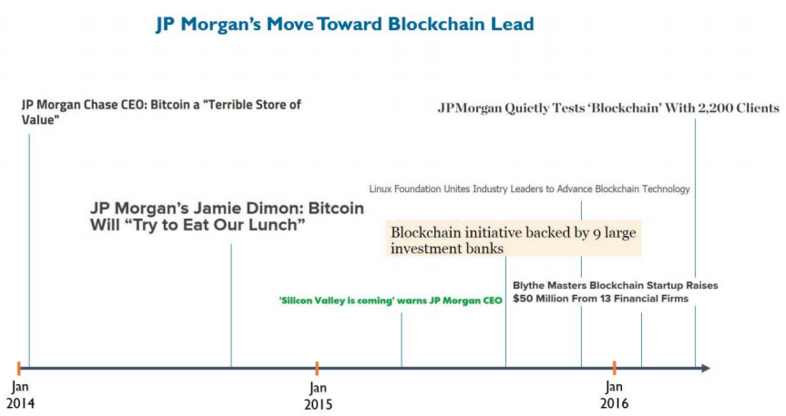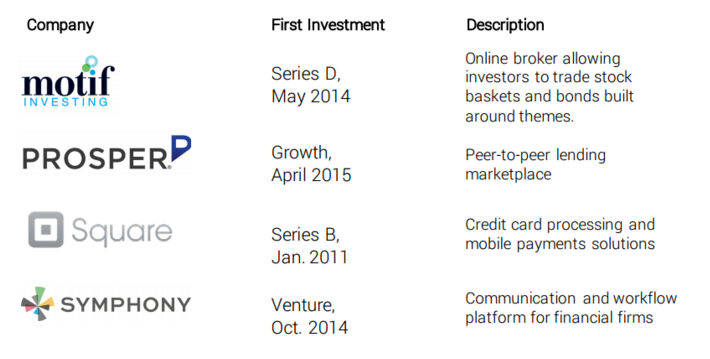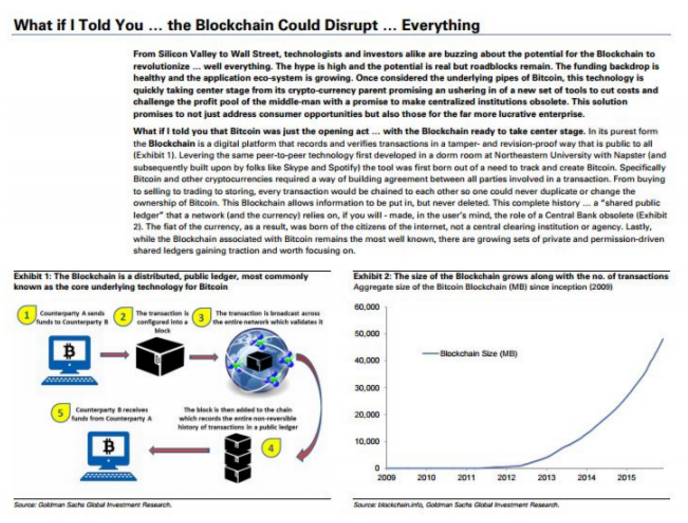 Goldman Sachs put out a paper in December 2015, "What If I Told You the Blockchain Could Disrupt...Everything?" It was interesting to see this paper by them, and when we look at their focus area, this is the same map, but just for Goldman's investments. As we mentioned, Goldman's been more active in terms of investing in fintech upstarts, especially in the big data analytics space where we see investments in companies like Context Relevant, Kenshu, and others. And Goldman made headlines when they invested in Circle, which interestingly has actually distanced themselves a little bit from being deemed a bitcoin company. But that was a notable investment for Goldman Sachs into a payments company, Circle, as that first move by them into the bitcoin, blockchain space.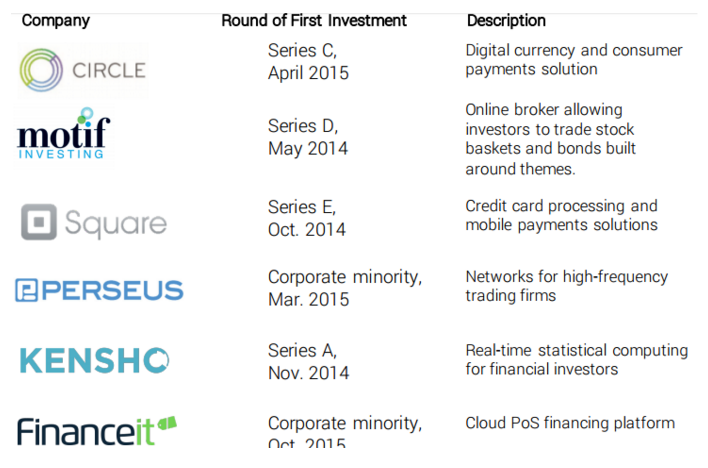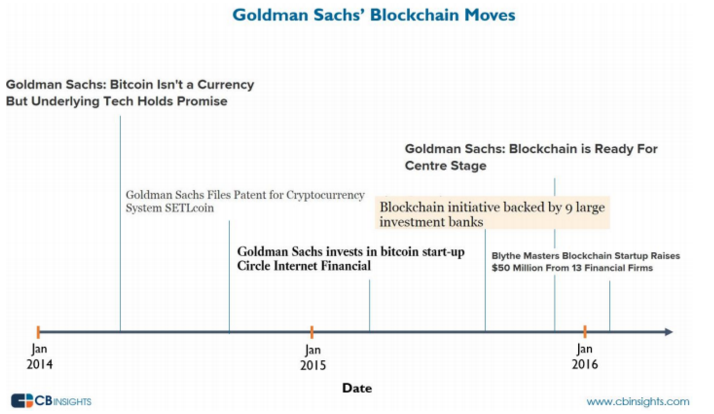 Since then, Goldman Sachs has been following JP Morgan or working with them and other banks and other 3CB as well as investing in Digital Asset Holding. So they've also been moving into this space and you see that borne out here in their blockchain moves over time. Here are some of the comments as well as the moves they've made over time. You can see this evolution. When we think about where blockchain startups are innovating, or at least where the startup formation and early stage deals are happening now, how is this landscape changing and what are startups looking towards as new opportunities?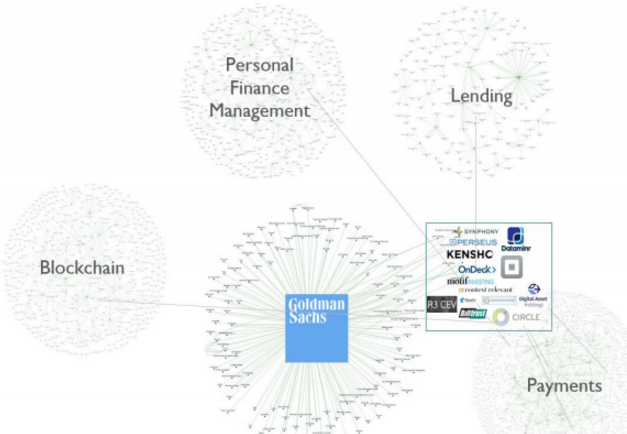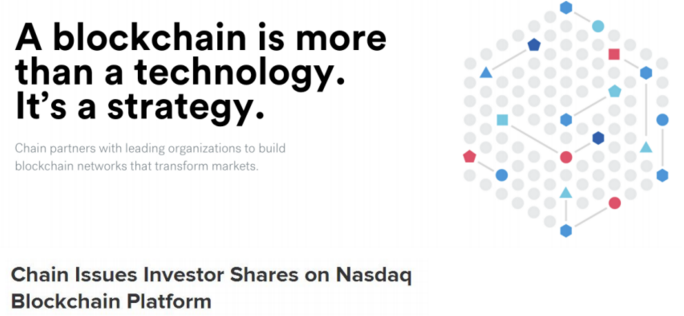 Chain is one example. We've seen a lot of companies make pivots into the capital markets, so can you disrupt the networks here? Clearly there's a lot of capital, Chain raised a big round from a lot of strategic investors among others. But how fast can these companies move, and also will the banks be able to move in fast enough with them? And how will CIO's at different firms converge or work together, especially as these companies work together strategically?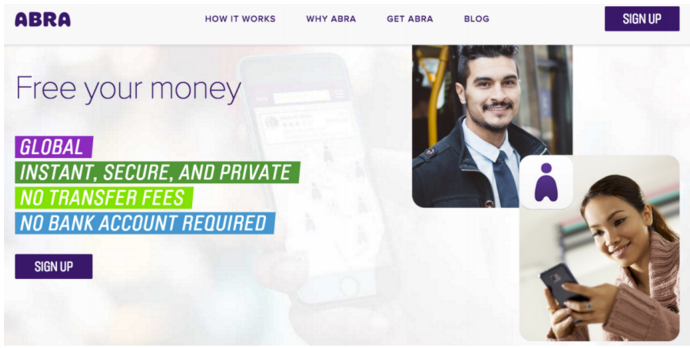 When we think about the money transfer and disrupting Western Union, another area where we're seeing a lot of launching startups. Will companies be able to make a dent here quicker in 2016 is definitely a big question and something we'll be watching for. When we think about smart contracts, obviously this is one of the big promise areas for blockchain.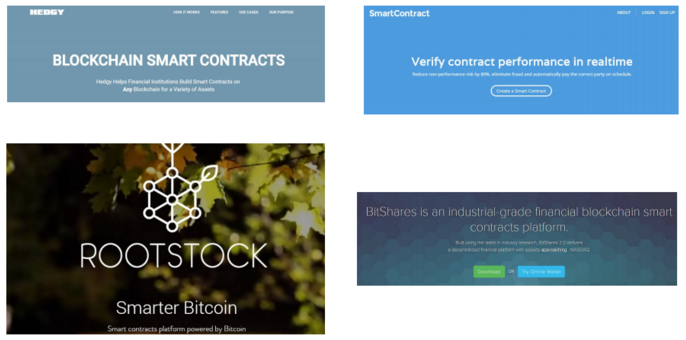 Insurance is definitely another area where we're seeing some interesting applications emerge, specifically in claims verification. So Verisart and Everledger are two startups that are interesting. So Everledger I mentioned, is drawing Alliance's accelerator earlier, providing fraud detection system for diamonds, certainly where insurance fraud, you think about some of the applications with IRD and diamonds, could be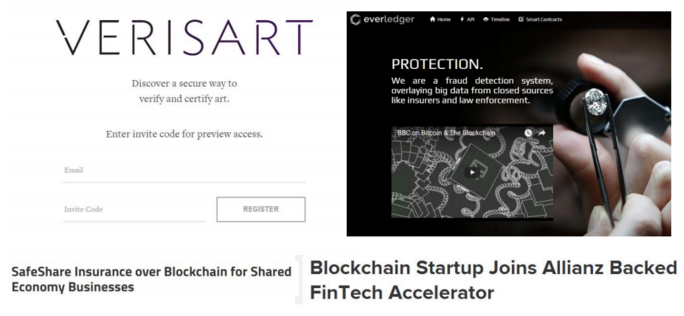 interesting. We're also seeing this emerge for also other areas. Safeshare insurance is one company which was formed by a former employees at Lloyds, and also trying to create a new insurance type for sharing economy. They're also integrating blockchain solutions into their product and announced that earlier in March.

Lastly we have specialized APIs. So Colu, one company that's partnered with Deloitte and introduced this way to manage and also keep track of the different digital assets on top of blockchain. Factom is one company that's been doing a
lot of partnerships, especially in China where they're providing a back office blockchain, notarization services on the blockchain.

So there are just a few areas that we're seeing the earlier companies and those that are still raising early stage funding emerge. And obviously, this is all changing very fast. You may have seen the profile of Ethidium in the New York Times, another exciting area where we're seeing at least a lot of developers getting excited. The landscape will change and continue to change
What do we expect from M&A?
When we think about the blockchain space we have seen partnerships between blockchain startups and incumbents, investments by corporate venture arms, and we've also seen the creation of innovation labs, as well as incubators and accelerators. We haven't really seen that marquee M&A move. I would anticipate that we will see some M&A happening strategically this year or next in the blockchain and bitcoin space by financial service incumbents. If you think about what's happening in fintech overall we've seen players like Capital One, Intuit, and Goldman Sachs, make acquisitions of early stage fintech companies across other areas. I would expect as the experiments continue among financial service incumbents in blockchain that there may be some strategic alignment to acquire some companies. I would anticipate that we will be keeping an eye out for big M&A moves, especially in some of these enterprise blockchain companies at the early stage.
What are the exciting non-standard use of blockchain on your radar?
Having monitored what's going on in the insurance tech space, I'm excited for one application there as it pertains to peer-to-peer insurance startups. A big element of what's happening in the insurance tech landscape today is this emergence of companies who are trying to create new peer-to-peer frameworks around more transparency, more alignment between users. As a part of that, blockchain may emerge as an area to create a better way of keeping track of payments into these startups as well as outflows out of them. I'd expect that there may be some interesting aspects over there. One company that I've mentioned earlier, Ethic, is interesting there in the insurance space who look like they'll be implementing blockchain.
Will we expect corporate activity, in terms of investments, to continue to buoy the blockchain space?
I think so; I think it's definitely bearing out. Paralleling this with another question we've got, "what are we seeing in Q1 so far?" I definitely haven't seen an influx of capital into the blockchain space in Q1. So I don't anticipate that trend either, we don't anticipate a big up-spike in blockchain investments in Q1. And again, we are seeing a lot of those companies raise money is in the strategic investment. I mentioned Santander's investment in Elliptic earlier. And then also blockchain specific, or bitcoin-specific funds who are investing a lot at the very early stage. So I anticipate that to continue to be the trend. The venture investors, as we saw earlier, haven't really propped up the space recently. And we've seen a pulling away by some of the bigger name investors. Or at least, they're staying quiet for now. And again, I had mentioned that blockchain and bitcoin as a space raised just over a billion dollars in capital since 2009. Once thing about fintech, in just 2015, there's over 14 billion invested. So very small portion of fintech overall.
A lot of it is just adopting a mindset that plans for disruption and really investing materially in creating the conditions you need to succeed. It goes beyond doing just a workshop or a just a passive partnership where there's no material involvement on this. I think it really involves getting in the weeds and putting the resources together so we have a whole bit on corporate innovation and a webinar and area that we've done there. I'd be happy to share that as well, but I think it really just comes down to being materially invested in the partnerships that are invested.
One thing I will plug just quickly is this fintech conference we're doing in June where we're going to be hosting Fred Wilson and others around blockchain and other areas where corporates should be looking at. We're definitely excited for that event.
Get the full recording and slides sent to your inbox.