Search company, investor...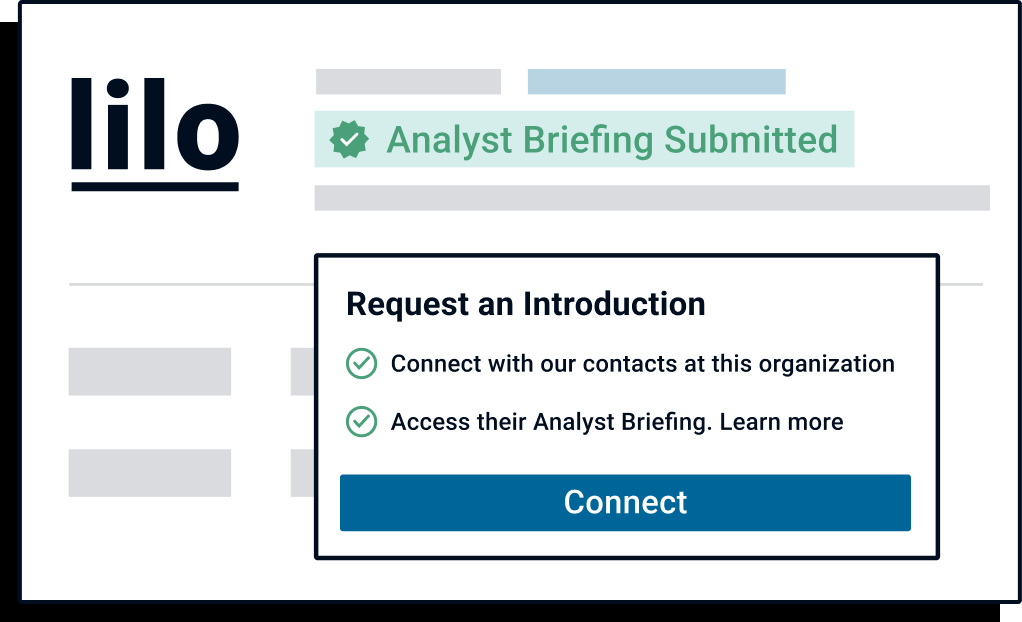 Want to inform investors similar to Barry Lawson about your company?
Submit your Analyst Briefing to get in front of investors, customers, and partners on CB Insights' platform.
Latest Barry Lawson News
Being intentional and being lucky: An interview with Barry Lawson Williams
Jan 28, 2022
January 28, 2022 Open interactive popup DOWNLOADS Barry Lawson Williams is the founder and former managing general partner of Williams Pacific Ventures, an investment and consulting company in San Francisco. Over his long career, he has also served on 16 major public-company boards. Williams recently joined a meeting of McKinsey's Black Leadership Academy for a discussion with McKinsey partners Sara Prince  and Tawanda Sibanda  about taking risks, building strong networks, learning from your mistakes, and always moving forward. Tawanda Sibanda: Could you walk us through your leadership journey and share two or three pivotal moments that have led to where you are now? Sidebar Harvard University BA, MBA, and JD degrees Management consultant at McKinsey in the United States and Latin America Managing principal at Bechtel Investments Served on 16 public-company boards Barry Lawson Williams: I spent the first seven years of my work life at McKinsey, mostly out of the San Francisco office. It was there that I honed my analytical skills and learned how to work in teams and interact with clients. But I had two other distinct experiences that many management consultants do not get. Most Popular Insights First, I got some great international experience. I raised my hand to go work in Latin America with local companies, not American companies. I did two tours in Mexico, one in Venezuela, and one in Brazil. I wound up spending a little over half my McKinsey career in Latin America at a time when there weren't many dark-skinned people in suits going into tall buildings. In Brazil people used to call me Pelé. These Latin America stints helped me learn how to work with people in different cultures without all the infrastructure and support you have when addressing issues in the US. You have to learn how to be creative and imaginative, and you have to listen. In some respects, I had the advantage of working on bigger, more impactful problems earlier in my life than most people. Second, I loved getting in the trenches with clients to implement our proposed strategy. My favorite study was in Mexico, where we helped determine what to do with the chip waste from cut-up timber. The first bright thought was that you burned it as hog fuel [fuel made from excess matter produced by commercial forestry]. But eventually it was turned into pressed particle board, so it became a construction material. I helped them conduct a study to build a plant and start producing that material over time, which was quite an experience. After seven years at McKinsey I went to Bechtel, the engineering and construction company. I focused on finance for my first couple of years, then I moved into a wonderful job as the executive assistant to the president of the investment arm of Bechtel. That gave me a view of the entire organization and how it worked. I had some wonderful mentors there, too, who guided my career. Over time I became a managing principal in the investment function. Then life got interesting because I decided I wanted to build some equity. So in 1987 I started my own firm , where I spent the next 20-something years. Speaking of pivotal moments, I remember when I purchased my first company—a nuclear maintenance company that does all the repair work during maintenance outages at nuclear plants. I was walking down the street in San Francisco when I ran into an old friend. And he said, "When you have some time, if you're interested, give me a call." It was just that offhand. And I did call because I'm a stickler for following through. And he said, "I'm in the middle of an acquisition, but there's a division of this company that my investors do not want me to be involved with because it's involved with nuclear." And I said, "Why would I want to be involved if you don't want to be involved? And why would I paysome incredible price for that?" He said, "Because I'm going to lend you all the money to put you in business." So if I hadn't followed through, that first company and everything else that happened afterward wouldn't have happened. In your career there's going to be a balance between what is intentional and what is just incidental and lucky. And I encourage you to develop your network so you can position yourself to be lucky. I tell this story because it shows that in your career there's going to be a balance between what is intentional and what is just incidental and lucky. And I encourage you to develop your network so you can position yourself to be lucky. There's an intentional part about being lucky. At my firm I started purchasing companies and investing in cable TV, real estate, and sports-stadium operations. I took a stint teaching at the Haas Business School [University of California, Berkeley] on Black entrepreneurship and started a practice in environmental mediation and arbitration. I also served as the interim CEO for the American Management Association. Tawanda Sibanda: What leadership skills helped you in the many transitions that you have made? What helped you be successful? Barry Lawson Williams: I knew from an early age that I liked leadership and that I would seek it. I always tell people that small events in your life can be pivotal. My grandfather, who was not college-educated, worked in and eventually ran the mailroom at Singer Sewing Machine. He worked for Singerfor 30 years, and they gave him a watch. And then he worked another ten years, and they gave him a retirement watch. When he got his retirement watch, he gave me his 30-year watch. And I had two brothers who were mad because I got it. But he saw something in me that made him give me the watch. From an early age I saw that people took an interest in me. As a boy I played on our neighborhood basketball team, and a local woman was our sponsor and coach. One time after playing in a tournamentin my age group, 10 to 12, she said, "Hey, why don't you also play with the 12-to-14 group?" The amazing thing is that playing with the older group I had the same points, rebounds, and assists. That was another small moment, but it taught me that I could survive in just about any environment. What I've tried to do as a leader is to be known for the support I give my team. I've developed something I think is important, which is a desire for people to want to work with me. And the second thing is, I've shown people that I'm not afraid to work. So even though I'm your boss,I'm going to roll up my sleeves and do the work. And I think people respect that I'm not grandstanding, that I'm open, and I'm supportive. I think those are some of the key aspects of becoming a leader. My Leadership Journey Sara Prince: Can you share a time when you failed, or when something didn't quite work out the way you wanted? How did you push forward? Barry Lawson Williams: In some respects, I failed at McKinsey because I didn't become a partner. In some respects, I failed at Bechtel because I wasn't selected to run the entire investment function. I failed in not being selected for five public-company boards. In some respects, I failed in not raisinglarger funds than I did. That's unimportant. It's understanding what you learned that matters. And in fact, when I knew that I wasn't going to be selected for the top job on the investment side at Bechtel, I said to myself, "All right. What do I have to learn and get out of this experience?" So my life is fraught with failure, but from those failures I learned a lot. You need to really analyze yourself critically and force yourself to think about doing things differently and take more risks. Sara Prince: Did your sponsors look like you and, if not, how did you gain them as sponsors? Barry Lawson Williams: In terms of seeking sponsorship, I have not found race to be an issue. Most of my sponsors were not Black, although I made sure I had a Black sponsor too because they understood certain things. I use the word sponsor deliberately. A friend told me there are three types of people: coaches, mentors, and sponsors. Coaches yell at you. That's your athletic coach. Mentors listen to you—and if you're lucky, they are great listeners. Sponsors are different because they are the ones who do things for you. These types of individuals want people who are going to succeed. In a way, they want you as much as you want them. My career formula was a blend of working hard, trying to be excellent at something, and identifying a person who could help me. None of my sponsors were sitting around losing sleep because they weren't doing something for me. They were delighted to take on this role, but I had to ask them first. The key is asking that person. None of my sponsors were sitting around losing sleep because they weren't doing something for me. They were delighted to take on this role, but I had to ask them first. I think the most important thing is to find somebody who can do something for you and package your request in a way that they can come through. Sara Prince: How did you start serving on corporate boards? Barry Lawson Williams: I wasn't a stranger to the boardroom because I had been corporate secretary for several businesses at Bechtel. And I'd also served on not-for-profit boards. I was on a hospital board when an investment banker with whom I worked raised my name. He said, "I don't care if he's never been on a corporate board and that he's young and he's not a CEO, he can do the work. I've observed it." That's how I got on my first public-company board. And once you've been on one board it's easierto get on a second. I have been on 16 major public-company boards, and 15 of them did not involvean executive search firm. They were referrals one way or another. So again, that comes back to building a network. Tawanda Sibanda: What have you learned from your experiences in the boardroom? What made you successful? Barry Lawson Williams: There are three key criteria for getting on a board. One, you have to havean attractive skill set. Two, you have to demonstrate leadership, as well as overall fit. You have to be a good listener, you have to speak up when you have something to say, you have to work with people,and you have to take initiative. It's a small group; they don't want somebody who doesn't fit. And three, you have to have relationships to get on a board. People go around the table and say, "Who do you know?" or "Who's on what board already?" In terms of being effective, the biggest lesson is collegiality. Because you're not going to get anything done yourself on a board. You have to get a group of people to collaborate with you. You have to be collegial; you have to know when to speak and when not to. And you need to know how to make a contribution. It comes down to how people perceive you. Much of the work I've done in the boardroom has nothing to do with being Black. At the same time, it's different being Black in the boardroom. When you walk in that room, some people may not perceive you as a peer. You have to help them understand that you are a peer, and that comes through hard work, listening, and collaboration. You have to make the case. I found early in my board career that if a White person in the boardroom didn't speak up, it was because he was thinking deeply about the issue. If a Black person didn't speak up occasionally, he waslabeled as disengaged. Tawanda Sibanda: How would you define your personal brand? Barry Lawson Williams: I am still struggling to do that. I went to Harvard College and was the "first marshal" [equivalent to president] of my class our senior year. I was the captain of the basketball team. I also went to graduate school there, receiving a combined business and law degree. So I have a Harvard pedigree. But I'll tell you a story that has to do with brand. Because of that background I got a seat in the preferred section for graduation, an area reserved for distinguished graduates and large donors. And this Caucasian girl turned around and saw that I was one of the few African Americans in that section, andshe said to her father, "Dad, who is that? What is he doing in our section?" And he said, "Oh, that's the former basketball player." I was in fact a basketball player and captain of the team at Harvard. But that wasn't my brand—this was an instance where I was letting people dictate my brand, not me doing it myself. I'll always remember that someone once said to me, 'You've done well, but don't forget to send the elevator back down.' I would like my brand to be the person who kept sending the elevator back down and getting more people to have careers like I have had. The brand I try to put forth is that I'm hard-working, committed to excellence, and community-minded, particularly when it comes to race. I'll always remember that someone once said to me, "You've done well, but don't forget to send the elevator back down." I would like my brand to be the person who kept sending the elevator back down and getting more people to have careers like I have had. Sara Prince: How did you balance your career with family expectations? What advice can you give to executives who struggle with this balance? Barry Lawson Williams: Well, let me just say that not all went well all the time. And unfortunatelyby not managing that balance well I had a failed first marriage. I'm fortunate enough to be remarried,and I hope my wife will keep me. We do spend a lot of time communicating. The most important thing is to find some fundamental happiness and be very selfish about pursuing it.You have to be happy before you can help others and manage balance. I feel the same way about exercise: if you keep yourself healthy then you can confront these conflicting issues in life. I love to read. I used to love to play tennis. So I have outlets like that. Even if I am overloaded with projects I make sure I read a book a week. Sara Prince: How have you approached speaking up based on your values when you had to go against the grain? Barry Lawson Williams: I'm 77 and largely retired. I can afford to stand up now and not worry abouta lot of that. Early in my career I think there were times I did a decent job in that regard. Right now I'm focusing on increasing minority representation in the boardroom. I started this journey eight years ago because I knew that I was going to retire from boards over the next five years. At that point, I was on five boards. And I said to myself, "What is the likelihood that I will be succeeded by a Black director?" I worked hard in all five of those situations, but a Black director succeeded me in just two. I've been putting more time into this, including studies like the Time Capsule Project , a survey of 50 Black corporate directors and their experience on corporate boards. I've taken that study and worked with other people to get more Black executives on boards. McKinsey's Black Leadership Academy is also a way to get that pipeline going to destroy this myth that there'sa lack of supply. Tawanda Sibanda: From your vantage point now, what would you tell your younger self about how to manage your career journey? Barry Lawson Williams: First, don't be afraid to ask for help. I sometimes regret that I was too proudto ask for help at certain times, but I thought it was a sign of weakness. It's not. Second, take more risks. If you fail first and fail early, you'll learn from that. That's the Silicon Valley mantra, and I subscribe to it. Also, seek a good assortment of mentors and sponsors and build a network. Have a support group that lasts beyond a particular encounter so you can continue to share experiences. Being able to rely on key institutions and networks helps you take risks, grow from your mistakes, and move forward. About the author(s) Barry Lawson Williams is the founder and former managing general partner of Williams Pacific Ventures. Sara Prince is a partner in McKinsey's Atlanta office, and Tawanda Sibanda is a partner in the Bay Area office. Comments and opinions expressed by interviewees are their own and do not represent or reflect the opinions, policies, or positions of McKinsey & Company or have its endorsement. This article was edited by Barbara Tierney, a senior editor in the New York office. Explore a career with us
Barry Lawson Acquisitions
1 Acquisition
Barry Lawson acquired 1 company. Their latest acquisition was The Fund Incubator on December 07, 2016.
Date

Investment Stage

Companies

Valuation

Valuations are submitted by companies, mined from state filings or news, provided by VentureSource, or based on a comparables valuation model.

Total Funding

Note

Sources
| | |
| --- | --- |
| Date | |
| Investment Stage | |
| Companies | |
| Valuation | |
| Total Funding | |
| Note | |
| Sources | |