Search company, investor...
Woli's Product Videos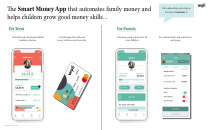 Product Demo
Woli's Products & Differentiators
Youth banking

Woli is a full-blown money management platform specifically designed for the needs of families and teens
Latest Woli News
10 super exciting Greek startups to watch in 2023 and beyond!
Jan 26, 2023
A country high on the list for those seeking sun, sea and relaxation, Greece is a dreamy destination of choice for many travellers – and increasingly, also for entrepreneurs. Greece is intrinsically linked to innovation, creativity and invention. It is, after all, where our modern notions of democracy and philosophy stemmed from, and we can look to Greece for historical and cultural inspiration. In recent years, it's also been reestablishing itself as a hub for entrepreneurship, branding itself as a resilient home for opportunity. Somewhere that can cope with crisis, overcome challenges and take key learnings from the past to cultivate future success. Greece is now positioning itself as a hub of innovation, a place from which to create successful business ideas that have a lasting impact on people, society, the environment and the global economy. Growth in the entrepreneurial ecosystem is evident. We recently chatted to Angeliki Pittarokoili from Endeavor Greece to learn more about it, where she was able to share insights on Greece's resilience, connections to higher education and ability to leverage its diaspora population to develop. Investments in Greece-based startups in 2021 totalled €1 billion, a 124% increase compared to 2020 and a 281% increase compared to 2019. Things are on the up in Greece and it is certainly a place that has a lot to offer for the year ahead. In 2021, we saw the rise of proptech platform Blueground with a €154 million Series C round and Neobank Viva Wallet with a funding amount of €66.3 million. We think 2023 could be an exciting year for this idyllic nation. So, after undertaking considerable research, here we highlight 10 exceptionally promising Greek startups, all founded from 2018 onwards: FlexCar: Traditionally, car leasing is associated with commitments, bureaucracy and banking institutions – certainly not always an easy process that lets you zoom off. FlexCar, founded in 2018, aims to change this, rethinking how car leasing works. The young startup,  based in Athens, offers the possibility to have a car without needing large deposits and guarantees, with no commitment, the ability to return the car anytime, and, the right to purchase the vehicle anytime. The company operates with flexibility at its core. Currently, it has a presence in Greece, Cyprus and Italy and raised about €210 million last year. Pop Market: Joining the growing ecommerce market is Athens-based Pop Market. Founded in 2021, this online grocery delivery provider aims to deliver thousands of products in less than 15 minutes. Pop Market is pioneering the quick commerce market in Greece, building end-to-end infrastructure, including a hyper-local network of dark stores integrated with data-driven sourcing, distribution and last-mile delivery operations. Quick commerce, providing consumers with fresh grocery delivery at the click of a button, is a trend that has completely taken over the world. Pop is offering an exciting addition to Southern Europe and is scaling quickly. The startup has now raised over €8.5 million. Finloup: Fintech startup Finloup is one of the first Buy Now Pay Later (BNPL) providers in Greece, founded in 2020 with the belief that access to fair credit should be a human right. The Athens-based firm was launched with the aim to eradicate the toxic loop of bad credit, using tech and open banking to offer fair-credit options to consumers at the checkout. BNPL solutions are one of the most popular ecommerce payment trends, but too often they can contribute to negative financial cycles. Finloup wants to disrupt this. The company also released a leasing solution, to encourage a transition to the circular economy, creating more sustainable purchasing habits. To date, the company has raised over €1 million. Woli: Greek FinTech startup Woli is introducing a smart money app for families to the market. Based in Athens, Woli streamlines family money by offering an engaging and educational money app for kids. It gives parents a tool to automate allowance and offers absolute security and control. So, not only can parents have oversight over the account, but kids can start to get some financial independence and learn how to be financially responsible. The young startup, founded in 2020, issues a colourful prepaid Mastercard tied to the child's account and enhances the child banking experience with unique modules such as financial literacy, quiz-based games, as well as a marketplace with relevant rewards and offers. It has raised a total funding amount of €700k . Kineo: Athens-based Kineo is an e-mobility provider that enables flexible options for micromobility, helping people and business jump on board this growing market. Through a monthly subscription, individuals and companies can choose the right EV for them and access the different services needed to ride it. Founded in 2021, the startup is lowering the barriers to micromobility, making it an accessible choice for all and helping foster sustainable and healthier lifestyle choices, without any stress or hassle. So far, the startup has raised about €1.7 million and is growing. Protio: Headquartered in the Greek capital, this proptech startup is shaking up Greece's real estate market. Founded in 2021, the young team operates a  'Rebuild-To-Rent' model whereby they can turn old apartments into sustainable and affordable rental homes while creating passive rental income for individual investors at the same time. Construction is an industry that has been needing to both digitise and become more sustainable – two transformations needed to pull it into the digital age – and Protio is helping make this happen. The team has been able to secure about €2 million to date and we can expect it to grow as proptech innovation continues to attract investment. BibeCoffee: BibeCoffee, founded in 2018, is an IoT real-time monitoring solution for coffee machines – aiming to make coffee even better than it already is. Designed for coffee shop owners, coffee chains, and coffee machine makers, BibeCoffee transforms professional coffee machines into smart connected terminals, guaranteeing high-quality coffee, reduced wastage and machine downtime and streamlined maintenance. The idea is to collect useful information and analytics, monitor in real-time the coffee machines' proper usage and operation, reduce maintenance costs and ultimately assess coffee production, sales projection and future consumption. The Athens-based team is growing fast and picking up popularity. The startup has begun 2023 with a €2.1 million raise. Biopix Dna Technology: Based in Crete, BIOPIX-T offers portable diagnostic devices to improve connections between healthcare providers and patients and ultimately improve healthcare outcomes. Founded in 2019, the biotech startup is on a mission to become a leader in the field of molecular diagnostics. The portable devices can be distributed to every potential end-user, regardless of financial status, geographical location and training – enhancing access to the tools needed to detect and monitor infectious diseases and health issues. For doctors, people and healthcare providers in developed and developing nations, this is a game-changing tool with the potential to leave a positive impact for the future. To date, the team has raised about €1.5 million. Useberry: Athens-based Useberry is a B2B SaaS startup that is trying to give companies the right insights and data they need in order to make the best decisions they can – helping to fuel more business success. The startup's platform makes it possible for UI/UX pioneers to access user feedback and actionable insights quickly, allowing for more informed and user-centred decisions to be made. Founded in 2018,  it has raised a total funding amount of €200k and is backed by Metavallon VC. In 2022, the startup reported an 89.2% increase of Useberry users – so 2023 is looking bright. Omgyno: The Greek medtech startup Omgyno is on a social-impact mission to facilitate access to quality women's healthcare. The startup combines telehealth with healthcare professionals, home testing gyno kits, educational content on sexual health and wellness, and an ecommerce shop with sustainable period care products. Founded in 2021, the startup is driving innovation in an underserved sector and is particularly interested in supporting the female and genderqueer community in more conservative environments, tackling misinformation around women's health and enhancing the quality of care that's available. It has raised a total funding amount of €100k and was one of the finalists of the 2022 edition of the EU-Startups Summit. By the way: If you're a corporate or investor looking for exciting startups in a specific market for a potential investment or acquisition, check out our  Startup Sourcing Service ! - Advertisement -
Woli Frequently Asked Questions (FAQ)
When was Woli founded?

Woli was founded in 2020.

Where is Woli's headquarters?

Woli's headquarters is located at 12 Neapoleos, Athens.

What is Woli's latest funding round?

Woli's latest funding round is Seed VC.

How much did Woli raise?

Woli raised a total of $780K.

Who are the investors of Woli?

Investors of Woli include Thanasis Sofianos, Christos Borisov, Eleven Ventures and Viktor Trokoudis.

Who are Woli's competitors?

Competitors of Woli include GoHenry and 2 more.

What products does Woli offer?

Woli's products include Youth banking and 2 more.
Compare Woli to Competitors