Research containing VTEX
Get data-driven expert analysis from the CB Insights Intelligence Unit.
CB Insights Intelligence Analysts have mentioned VTEX in 3 CB Insights research briefs, most recently on Mar 15, 2022.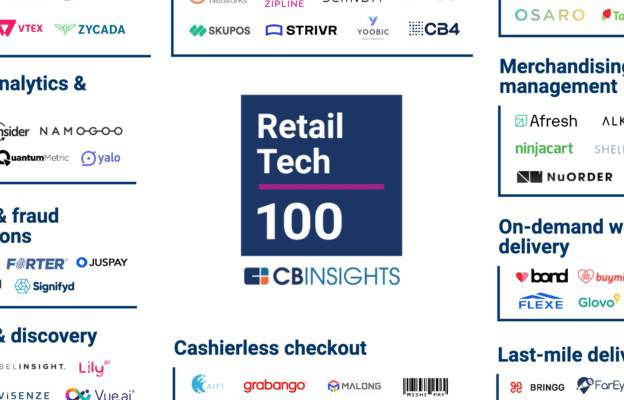 Expert Collections containing VTEX
Expert Collections are analyst-curated lists that highlight the companies you need to know in the most important technology spaces.
VTEX is included in 4 Expert Collections, including E-Commerce.
S
Store management tech (In-store retail tech)
1,421 items
Startups aiming to work with retailers to improve brick-and-mortar retail store operations.
C
Conference Exhibitors
5,302 items
R
Retail Tech 100
100 items
The winners of the 2020 CB Insights Retail Tech 100, published December 2020.
Latest VTEX News
VTEX Reports First Quarter 2022 Financial Results
May 12, 2022
GMV and total revenue YoY growth accelerates to 33.3% and 33.7%, respectively Gross profit increases 46.1% YoY, representing a margin improvement of 563 bps May 12, 2022 04:01 PM Eastern Daylight Time NEW YORK--( BUSINESS WIRE )--VTEX (NYSE: VTEX), the enterprise digital commerce platform for premier brands and retailers, the leader in accelerating the digital commerce transformation in Latin America and now expanding globally, today announced results for the first quarter of 2022 ended March 31, 2022. VTEX results have been prepared in accordance with International Accounting Standard 34, "Interim Financial Reporting." Geraldo Thomaz Jr., founder and co-CEO of VTEX, commented, "We had a strong first quarter, thanks to the resilience and focus of our teams on delivering our strategic objectives. We also improved gross margin, demonstrating our commitment to efficiency especially under tougher macro conditions." Mariano Gomide de Faria, founder and co-CEO of VTEX, added, "We are witnessing an increasing momentum in VTEX attractiveness for enterprise brands worldwide. We are committed to continue maximizing growth, while being disciplined in how we deploy capital. We are now a stronger company than ever and we are confident in the long term opportunity for VTEX." First Quarter 2022 Operational and Financial Highlights GMV reached US$2.7 billion in the first quarter of 2022, representing a YoY increase of 33.3% in USD and 27.9% on an FX neutral basis. Total revenue increased to US$34.7 million in the first quarter of 2022, from US$25.9 million in the first quarter of 2021, representing a YoY increase of 33.7% in USD and 29.7% on an FX neutral basis. Subscription revenue represented 94.0% of total revenues and increased to US$32.6 million in the first quarter of 2022, from US$24.7 million in the first quarter of 2021, a YoY increase of 32.1% in USD and 27.7% on an FX neutral basis. Non-GAAP subscription gross profit was US$22.7 million in the first quarter of 2022, compared to US$16.1 million in the first quarter of 2021, representing a year-over-year increase of 41.2% in USD and 33.5% on an FX neutral basis. Non-GAAP subscription gross margin was 69.6% in the first quarter of 2022, compared to 65.1% in the same quarter of 2021. Non-GAAP subscription gross profit margin YoY 466bps improvement reflects operational hosting cost efficiencies. Non-GAAP loss from operations was US$13.7 million during the first quarter of 2022, compared to Non-GAAP loss from operations of US$8.5 million in the first quarter of 2021, primarily due to incremental personnel-related investments in sales and marketing, and research and development, as we have been investing to capture market share and benefit from the further penetration of ecommerce. Non-GAAP negative free cash flow was US$16.1 million during the first quarter of 2022, compared to US$21.3 million in the fourth quarter of 2021 and US$8.0 million in the first quarter of 2021. Our total headcount increased to 1,765 as of March 31, 2022, representing an increase of 42.6% YoY and 2.2% QoQ. First Quarter 2022 Commercial Highlights: New customers that initiated their operations with us, among others: Angeloni in Brazil, Arcor in Argentina, Boston Medical Group in Mexico, Briggs & Stratton in the US, Colgate in Brazil, Easy in Chile, EcoWater in Canada, and Moulinex in Argentina. Existing customers expanding their operations with us by opening new online stores, among others: AB InBev added Mexico, additionally to other 8 countries in Latin America; H&M added Colombia, now totaling 4 countries in Latin America; Oster in Argentina, on top of other 6 countries in Latin America; Under Armour in Uruguay, on top of other 4 countries in Latin America; Walmart in Central America, expanding their operations from 5 to 7 countries with us in the region; Whirlpool added France, India, Poland and Singapore, currently operating with us across 15 countries around the globe; and Xiaomi in Peru, on top of other 4 countries in Latin America. First Quarter 2022 Product Innovation Highlights: We innovate aligned with our guiding principles. VTEX key innovations deployed this quarter and customer use-cases highlighted during VTEX Day were: Zero friction onboarding and collaboration: Whirlpool achieved a positive impact on business indicators such as an increase in NPS by 15% by making use of VTEX's omnichannel capabilities, such as pick-up in store and ship from store. Continued making progress on our new front-end framework called FastStore. A highlight this quarter was Avon in Brazil, adopting the new storefront allowed them to improve conversion rate by almost 40%. With FastStore, our customers also experienced an uplift on its google page speed test performance by more than 3 times, both in mobile and desktop. Our partnership with Paypal aims to strengthen our internationalization strategy and bring VTEX customers closer to excellent technological solutions for local and cross-border trade in the 38 markets where we operate. In line with our payments strategy, this partnership will contribute to the further monetization of our ecosystem. Subsequent to the first quarter 2022, we've launched our partnerships with EBANX which also focuses on cross-border payments collaboration in Latin America, aiming to broaden cross-border payments for Brazilian e-commerce companies in Latin America. Through this union, Brazilian companies will be able to enjoy more than 100 payment methods in 15 countries across Latin America. Single control panel for every order: Cobasi simplified processes by adopting several VTEX's solutions highlighting the relevancy of having one source of truth for centralizing the multiple channels they commercialize their products and being able to deliver in 2 hours 60% of their orders. Decathlon bet on the implementation of our endless aisle and fulfillment module in all its stores, resulting in endless aisle orders placed in-store representing 5% of total brick-and-mortar sales. Samsung shared its live shopping adoption journey, highlighting their event in Mexico where they launched the new Galaxy S22 5G. In the event they sold more than US$1 million in GMV, engaging almost 12 thousand viewers, in only 54 minutes. Along with Samsung, companies like Nestlé, Cencosud, Coca-Cola, Grupo Éxito, Fravega, among many others, have already adopted the solution. Live Shopping had more than 130 events in the first quarter of 2022, gaining momentum MoM. We started the year with 24 events in January 2022 and ended the quarter with 61 events in March 2022. Subsequent to the first quarter 2022, in April, we had our first Live Shopping event in the US with Motorola, expanding our offering to 14 countries with 150 active accounts. Subsequent to the first quarter 2022, we partnered with TikTok for business in order to offer an app that is available in the VTEX app store for all customers that integrate directly to TikTok, improving our customer's asset sharing process with the social media giant. We are happy to share that we have already early adopters that are anxious to test the app such as Carrefour, L'Oreal, Reserva, among many others. Commerce on auto-pilot and co-pilot: Michael Kors shared its experience with the adoption of our new VTEX Shipping Network feature, which resulted in improvements in delivery times, SLA's and cost efficiencies, with around 10% shipping cost savings along with traceability of their deliveries. Credit card attack protection is a new layer of security for our customers. When a high rate of credit card transaction denials is detected in a short period of time, the payment module will now automatically trigger an action to protect stores from fraudulent transactions. The development platform of choice for digital commerce: Continued attracting developers to our low-code platform, gaining momentum in the community and scaling our capabilities. Monthly active developers accessing the VTEX development portal increased to more than 24 thousand in the first quarter of 2022 from more than 20 thousand in the fourth quarter of 2021. Business Outlook Enterprise brands, retailers and consumers have changed the way they interact since 2020. Ecommerce gained significant traction worldwide and it continues to transform the way commerce is conceptualized. Nowadays, we are not talking only about physical channels and desktop online channels; but mobile channels, interactive, social and conversational commerce, among others. The incremental complexity of building a proper omnichannel strategy enables VTEX to position itself as the backbone of commerce, integrating all these apparently separate pieces together in one powerful ecosystem. In view of the aforementioned trends and VTEX's performance during the first quarter of 2022, and the current macroeconomic uncertainty for global ecommerce, we are currently targeting revenue in the US$37.5 million to US$38.5 million range for the second quarter of 2022, implying a YoY growth of 23% in USD and 20% on an FX neutral basis in the middle of the range. For the full year 2022, we expect FX neutral YoY revenue growth of 24% to 27%, implying a range of US$160 million to US$164 million, based on the first quarter average FX rates. In this environment, and looking forward to the full year 2022, we continue to expect delivering significant operating margin expansion. The business outlook provided above constitutes forward-looking information within the meaning of applicable securities laws and is based on a number of assumptions and subject to a number of risks. Actual results could vary materially as a result of numerous factors, including certain risk factors, many of which are beyond VTEX's control. See the cautionary note regarding ''Forward-Looking Statements'' below. Fluctuations in VTEX's operating results may be particularly pronounced in the current economic environment. There can not be assurance that VTEX will achieve these results. The following table summarizes certain key financial and operating metrics for the three months ended March 31, 2022 and 2021. Conference Call and Webcast The conference call may be accessed by dialing +1-844-200-6205 (Conference ID – 630556 –) and requesting inclusion in the call for VTEX. The live conference call can be accessed via audio webcast at the investor relations section of the Company's website, at https://www.investors.vtex.com/ . An archive of the webcast will be available for one week following the conclusion of the conference call. Definition of Selected Operational Metrics "ARR" means annual recurring revenue, calculated as subscription revenue in the most recent quarter multiplied by four. "Customers" means companies ranging from small and medium-sized businesses to larger enterprises that pay to use VTEX's platform. "GMV" means the total value of customer orders processed through our platform, including value-added taxes and shipping. Our GMV does not include the value of orders processed by our SMB customers or B2B transactions. "FX Neutral" or "FXN" means a way of using the average monthly exchange rates for each month during the previous year, adjusted by inflation in countries with hyper-inflation, and applying them to the corresponding months of the current year, so as to calculate what results would have been had exchange rates remained stable from one year to the next. "SSS" means same-store-sales calculated on a yearly basis by dividing the GMV of active online stores in the current period by the GMV of the same active online same stores in the prior period. "Stores" or "Active Stores" means the number of unique domains generating gross merchandise value. Each customer might have multiple stores. Special Note Regarding Non-GAAP financial metrics For the convenience of investors, this document presents certain Non-GAAP financial measures, which are not recognized under IFRS, specifically Non-GAAP subscription gross profit, Non-GAAP Income (Loss) from Operations, Non-GAAP Free Cash Flow and FX Neutral measures. We understand that Non-GAAP subscription gross profit, Non-GAAP Income (Loss) from Operations, Non-GAAP Free Cash Flow and FX Neutral measures have limitations as analytical tools, and you should not consider them in isolation or as substitutes for analysis of our results of operations presented in accordance with IFRS. Additionally, our calculations of Non-GAAP subscription gross profit, Non-GAAP Income (Loss) from Operations, Free Cash Flow and FX Neutral measures may be different from the calculation used by other companies, including our competitors, and therefore, our measures may not be comparable to those of other companies. Reconciliation of Non-GAAP measures The following table presents a reconciliation of our Non-GAAP subscription gross profit to subscription gross profit for the following periods:     This announcement does not contain sufficient information to constitute an interim financial report as defined in International Accounting Standards 34, "Interim Financial Reporting" nor a financial statement as defined by International Accounting Standards 1 "Presentation of Financial Statements". The financial information in this press release has not been audited. About VTEX VTEX provides a software-as-a-service digital commerce platform for enterprise brands and retailers. Our platform enables our customers to execute their commerce strategy, including building online stores, integrating and managing orders across channels, and creating marketplaces to sell products from third-party vendors. Founded in Brazil, we have been a leader in accelerating the digital commerce transformation in Latin America and are expanding globally. Our platform is engineered to enterprise-level standards and functionality. As of December 31, 2021, we were trusted by more than 2,400 customers with over 3,200 active online stores across 38 countries to connect with their consumers in a meaningful way. Forward-looking Statements This announcement contains "forward-looking statements" within the meaning of Section 27A of the Securities Act of 1993, as amended, and Section 21E of the Securities Exchange of 1934, as amended. Statements contained herein that are not clearly historical in nature, including statements about the VTEX strategies and business plans, are forward-looking, and the words "anticipate," "believe," "continues," "expect," "estimate," "intend," "strategy," "project," "target" and similar expressions and future or conditional verbs such as "will," "would," "should," "could," "might," "can," "may," or similar expressions are generally intended to identify forward-looking statements. VTEX may also make forward-looking statements in its periodic reports filed with the U.S. Securities and Exchange Commission, or the SEC, in press releases and other written materials and in oral statements made by its officers and directors. These forward-looking statements speak only as of the date they are made and are based on the VTEX's current plans and expectations and are subject to a number of known and unknown uncertainties and risks, many of which are beyond VTEX's control. A number of factors and risks could cause actual results to differ materially from those contained in any forward-looking statement. Further information regarding these and other risks is included in VTEX filings with the SEC. As a consequence, current plans, anticipated actions and future financial position and results of operations may differ significantly from those expressed in any forward-looking statements in this announcement. You are cautioned not to unduly rely on such forward-looking statements when evaluating the information presented as there is no guarantee that expected events, trends or results will actually occur. We undertake no obligation to update or revise any forward-looking statements, whether as a result of new information or future events or for any other reason. This announcement may also contain estimates and other information concerning our industry that are based on industry publications, surveys and forecasts. This information involves a number of assumptions and limitations, and we have not independently verified the accuracy or completeness of the information.
VTEX Web Traffic
Page Views per User (PVPU)
Page Views per Million (PVPM)
VTEX Rank
When was VTEX founded?

VTEX was founded in 1999.

Where is VTEX's headquarters?

VTEX's headquarters is located at 4440 Brigadeiro Faria Lima Ave, 15th Floor, Sao Paulo.

What is VTEX's latest funding round?

VTEX's latest funding round is IPO.

How much did VTEX raise?

VTEX raised a total of $365M.

Who are the investors of VTEX?

Investors of VTEX include SoftBank Latin America Fund, Constellation, Lone Pine Capital, Tiger Global Management, Endeavor and 5 more.

Who are VTEX's competitors?

Competitors of VTEX include Marketplacer and 5 more.
Discover the right solution for your team
The CB Insights tech market intelligence platform analyzes millions of data points on vendors, products, partnerships, and patents to help your team find their next technology solution.
Request a demo