Search company, investor...
Stage
Option/Warrant
| Alive
Last Raised
$1.31M
| 1 yr ago
About Vitls
Vitls manufactures wearable health trackers. It allows medical teams to remotely monitor a patient's vital signs. Its devices offer continuous monitoring through its technology paired with cloud-based data analysis. It improves patient outcomes by enabling decision-making and eliminating delays once a patient's vitals begin to deteriorate. The company was founded in 2016 and is based in Houston, Texas.
Loading...
Vitls's Product Videos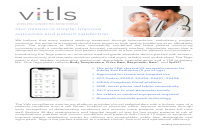 Vitls spec sheet
Vitls's Products & Differentiators
Tégo

FDA-cleared wearable, packed with sensors, that continuously and remotely monitors a patient's vital signs, reliably and undisturbed. Think of it as an incredibly clever band-aid that monitors SpO2, body temperature, respiration rate and heart rate. The data can be sent via the cloud to any 3rd party software or connected device. Our data provides a complete picture of a patient's status. The Tégo wearable is the only device that measures this combination of vital signs in such a small, unobtrusive form factor. We're also the only wearable, continuous monitoring platform for pediatric patients. Tégo brings clinical-grade monitoring from the hospital all the way to the comfort of your home in an easy to use, easy to integrate wearable patch.
Loading...
Expert Collections containing Vitls
Expert Collections are analyst-curated lists that highlight the companies you need to know in the most important technology spaces.
Vitls is included in 3 Expert Collections, including Conference Exhibitors.
C
Conference Exhibitors
5,302 items
D
Digital Health
10,595 items
The digital health collection includes vendors developing software, platforms, sensor & robotic hardware, health data infrastructure, and tech-enabled services in healthcare. The list excludes pureplay pharma/biopharma, sequencing instruments, gene editing, and assistive tech.
T
Telehealth
2,856 items
Companies developing, offering, or using electronic and telecommunication technologies to facilitate the delivery of health & wellness services from a distance. *Columns updated as regularly as possible; priority given to companies with the most and/or most recent funding.
Vitls Patents
Vitls has filed 2 patents.
The 3 most popular patent topics include:
embedded systems
mechanical power control
microcontrollers | Application Date | Grant Date | Title | Related Topics | Status |
| --- | --- | --- | --- | --- |
| | | | Microcontrollers, Wearable devices, Photovoltaics, Mechanical power control, Embedded systems | |
| | |
| --- | --- |
| Application Date | |
| Grant Date | |
| Title | |
| Related Topics | Microcontrollers, Wearable devices, Photovoltaics, Mechanical power control, Embedded systems |
| Status | |
Latest Vitls News
11 Remote Patient Monitoring Companies You Should Know About - Plug and Play Tech Center
Mar 29, 2023
11 Remote Patient Monitoring Companies You Should Know About By Linly Ku Published on Oct. 06, 2021 Traditional healthcare is one of the final industries to feel the worldwide impact of digital transformation. However, emerging technologies, such as remote patient monitoring, are enabling improved outcomes and reduced costs across the board in healthcare. Remote patient monitoring allows physicians and hospitals to monitor patients outside of the conventional clinic setting, where the technology can provide 24/7 data between patients and physicians. Over 88 percent of hospitals and health systems are investing in remote patient monitoring technologies to better connect hospitals with patients. We've compiled 11 remote patient monitoring companies paving the way for value-based care. 1. GYANT GYANT's chat-based products use AI to collect and analyze patients' medical history and to help patients navigate today's increasingly complex healthcare offerings. In only minutes, a user receives a disposition, selfcare advice, or referral to the appropriate care setting. For the provider, GYANT's AI populates the patient chart, bringing the efficiency of e-visits to a telehealth or in-person encounter and alleviating the charting workload. Post-encounter, GYANT automates proactive outreach to the patient with diagnosis-specific follow-up protocols, promoting treatment plan adherence and improving outcomes. This proactive outreach software also serves perioperative settings to ensure patients properly prepare for surgeries and procedures. What's Unique? GYANT brings a user experience that is unrivaled, resulting in a surprisingly delightful healthcare encounter for the patient. GYANT's average patient rating is 4.9 stars; 85% of patients indicate that they would use the service again; and re-engagement rates are at 70%. 94% of patients that begin an encounter with GYANT follow it through to completion. 2. Medopad Medopad couples patient reported information with clinical and genomics data: providing actionable insight to improve treatment and health-economic outcomes, and inform AI initiative. Medopad is CE marked and MHRA registered. What's Unique? Medopad's competitive advantage stems from partnerships with leading hospitals in the most complicated diseases. They have deployed solutions for over 30 indications and developed over 100 different modules - allowing them to deploy and customise our solution to any degree with unprecedented ease. 3. Chronisense Medical Do you want to meet a curated selection of startups in Remote patient monitoring? Get in touch with us ChroniSense Medical develops wearable medical-grade devices that monitor vital signs and other health factors, allowing patients and healthcare professionals to manage chronic disease without interfering with the patient's everyday activity – in or outside the home. Our advanced sensors measure medical data from blood oxygen and ECG to blood pressure, cardiac output and vascular resistance, and communicate that data to caregivers in real time. By placing our proprietary sensor on the radial artery, ChroniSense is able to provide highly robust data source essential for chronic monitoring. What's Unique? Radial Artery Sensor = Robust and accurate vital signs data. Any serious disease management and monitoring program relies on access to robust, consistent and accurate data. ChroniSense Polso is a patient friendly (wrist watch) device with the proprietary Radial Artery sensing technology that provides the most robust data stream of accurate vital signs. By placing a sensor on the wrist Radial Artery - ChroniSense have access to the blood rich data source which enables robust and accurate estimation of blood oxygen, blood pressure and more. The wrist watch form factor ensure patient adherence and consistent use. 4. Ejenta Ejenta is building an intelligent personal assistant platform, applied to several industry verticals, including space, government and healthcare. Ejenta's personal agent technology uses artificial intelligence to understand users' daily activities, to monitor adherence to mission plans, and to offer personalized advice, coaching and support. Our agent technology is currently running 24/7 in NASA's Mission Control for the International Space Station. What's Unique? Ejenta's platform is based on exclusively licensed NASA technology and 20 years of research in human activity modeling, human-robot interaction, multi-agent systems and security. The platform integrates wearable and ambient sensors that gather real time behavior data, with a team of intelligent agents running in the cloud. 5. Cardiomo, Inc. Cardiomo monitors vital signs (ECG, breath, skin temp) using bio sensors and AI Engine that can detect up to 100+ CVDs to provide life-saving alerts even before the event. Cardiomo is medical grade device with consumer friendly interface and price, it also doubles up as a wellness device too for out-patients and for geriatric wellness monitoring, as it also detects fall, inactivity, and more. What's Unique? Cardiomo provides medical grade accuracy with consumer pricing. They offer continuous monitoring with a consumer-friendly interface that needs no paramedical support. An AI Engine predicts heart events up to 2 hours before and send life-saving alerts to the patient, relatives, PCP, and Cardiologist. 6. 100 Plus Headquartered in the heart of San Francisco, 100Plus empowers clinicians to provide remote patient monitoring devices to manage their chronic patients while earning $720 per patient per year in additional revenue. 100Plus handles: Daily adherence to ensure patients are testing Population Health Management Alerting for at-risk patients Practitioner dashboard and templates to review patient data Full practice and patient support based in the US What's Unique? 100Plus is the fastest-growing Remote Patient Monitoring provider because they are the only vendor who does all of the heavy lifting to get a practice's remote patient monitoring program up and keep it on track. They handle implementation and ongoing patient adherence – practitioners just chart. 7. Vitls Vitls has developed an innovative way to enable earlier detection of deterioration in hospital patients. 75% of all adverse events and preventable deaths in hospitals occur outside the ICU in unmonitored beds. They've developed a revolutionary platform that enables healthcare providers to continuously and remotely monitor a patient's vital signs, reliably and undisturbed. Real-time monitoring leads to early detection of patient deterioration which in turn reduces length of stay, treatment costs and re-admissions. It also improves patient outcomes and patient satisfaction scores. Do you want to meet a curated selection of startups in Remote patient monitoring? Get in touch with us Vitls captures multi-parameter vital sign data with an innovative device that monitors body temperature, heart rate, RR interval, respiration rate, pulse ox (SpO2), movement (including fall detection) and sleep cycles. The wearables are thin, unobtrusive, flexible, waterproof, has a 6-day battery life and is disposable. What's Unique? Vitls's revolutionary vital signs monitor can dramatically improve detection of deterioration, shorten hospital stays, decrease treatment costs, and increase patient satisfaction scores by enabling care providers to continuously monitor a full suite of vital signs: body temperature, pulse, heart rate variability, respiration rate, pulse ox (SpO2), sleep and movement. 8. Neteera Neteera is a developer of a disruptive sensing technology designed to enhance customer engagement and care by monitoring their well-being and vital signs. The company's Terahertz technology comprises a combination of innovative CMOS based sub-THz sensor and proprietary software and algorithms for signal processing and data interpretation and helps in imaging through a variety of non-transparent and non-conductive materials and can measure micro-movements as well as molecular spectral fingerprints, enabling clients to monitor the mechanical activity of the heart (BCG) resulting in an accurate ECG equivalent data. What's Unique? Neteera's sensor system operates in the sub-THz region of the electromagnetic spectrum, a largely underutilized area given high-frequency design complexity. The companies' high-frequency sensor solution allows Neteera to deliver safe, flexible and high-resolution detection capabilities all at low-power and without infringing on privacy (no camera). Neteera's initial target application is the burgeoning contact-free sensing market, where they are disrupting classic wired and connected monitoring solutions. 9. ContinUse Biometrics (Cu-Bx™) Cu-Bx™ is bringing care everywhere with its contactless health monitoring platform. Proprietary sensors are embedded throughout the environment into electronic devices or vehicles, and seamlessly monitor vital signs of any known person who is in range. Cu-Bx™ requires no ongoing intervention, so a person's daily routines are unaffected and adherence issues are non-existent. Medical grade physiologic information, including heart rate, heart rate variability, estimated blood pressure, cardiographs and cardiac/respiratory patterns & sounds, is then tracked and streamed to its digital health cloud, where machine learning models and AI techniques identify events and trends, and offer actionable insights that enable better health, safety and wellbeing. Cu-Bx™ is engaging with leaders in healthcare, automotive and consumer electronics to bring to the market its an end-to-end preventive care solution for various applications & usages, at home, in the car, at the clinic, at work and more. What's Unique? With nano-level accuracy, Cu-Bx™ achieves highly accurate results using nano-scale measurement resolution. Remote & high compliant sensing detects physiological data remotely & untouched. There is no environment sensitivity, is agnostic to user-specific (such as subject position and clothing) and environment conditions. Cu-Bx™ also offers multi-physiological parameter detection simultaneously and continuously. 10. iHealth iHealth is dedicated to helping people lead healthier lives. The goal is to make it as easy as possible for individuals of all ages to take a more active role in managing their health. iHealth achieves this by designing and manufacturing innovative, consumer-friendly, mobile personal healthcare products that connect to the cloud. Their products are easy-to-use, making it simple for consumers to accurately measure, track and share a full range of health vitals. By automatically connecting the data through the cloud, consumers are able to see a more comprehensive view of their vitals and easily share information with healthcare professionals or loved ones. What's Unique? FDA-Approved Mobile Health Devices With a full spectrum of award-winning and FDA-approved smart medical devices, iHealth Next is an one-stop shop for your healthcare management needs, with integrated software solutions. As a global leader in digital healthcare technology, iHealth offers "iHealth Next", a comprehensive healthcare solution with a line of award-winning mobile health devices, with the goal of enabling individuals to achieve a better quality of life, and connecting healthcare professionals and patients. 11. Binah.ai Binah.ai is shaping the future of Artificial Intelligence (AI) by simplifying and accelerating AI adoption with our world-leading expertise in machine and deep learning, signal processing and AI, addressing high-value problems in multiple Industries. Binah.ai has released a series of non-invasive, video-based health and wellness monitoring solutions. Binah.ai gives an unparalleled advantage in health analytics as its technology transforms any device equipped with a simple camera into a medical-grade healthcare gadget. The video-based digital health use cases include heart rate and heart rate variability (HRV) measurements, providing the data for stress measurements. What's Unique? Binah.ai is the only company offering clearly defined, pre-built use cases and offers signal processing-integrated data science. They have a custom-built, proprietary, comprehensive, and complete mathematical back end and actionable intelligence strengthens the onsite data science team's capabilities. With end-to-end solutions focused on business results, Binh.ai solves real-world challenges with a production focus. Are you a corporate partner looking to connect with digital twin technologies? At Plug and Play, we fast-track innovation in the healthcare industry . Reach out to connect with the most disruptive startups.
Vitls Frequently Asked Questions (FAQ)
When was Vitls founded?

Vitls was founded in 2016.

Where is Vitls's headquarters?

Vitls's headquarters is located at 2450 Holcombe boulevard, Houston.

What is Vitls's latest funding round?

Vitls's latest funding round is Option/Warrant.

How much did Vitls raise?

Vitls raised a total of $5.94M.

Who are the investors of Vitls?

Investors of Vitls include Prosalus Capital, KidsX and Dreamit HealthTech.

Who are Vitls's competitors?

Competitors of Vitls include Health Hero Network.

What products does Vitls offer?

Vitls's products include Tégo.
Compare Vitls to Competitors
Halo Monitoring
Halo Monitoring aims to offer a complete system for remote, continuous, monitoring of the independently living elderly. It includes wireless wearable technology for monitoring physiological signals, a wireless gateway for encrypting and transmitting physiological data to a secure health server, and a web-based interface to facilitate continuous and remote monitoring from anywhere in the world, anytime of day. In September 2012, Halo Monitoring was acquired by MobileHelp. The valuation of Halo Monitoring was undisclosed. Other terms of the deal were not released.
Current Health
Current Health offers a remote patient monitoring platform, combining ICU-accurate wearable monitoring, precise early warning alerts, and video visits. It is based in Edinburgh, Scotland. On October 12th, 2021, Current Health was acquired by Best Buy at a valuation of $400M.
H
Health Hero Network
Health Hero Network, headquartered in Palo Alto, California, develops and sells technology solutions that allow the remote monitoring and management of patient health data. In December 2007, The Bosch Group acquired a majority shareholding in Health Hero Network. The terms of the deal were undisclosed.
Loading...