Search company, investor...
Last Raised
$19.15M
| 5 mos ago
About Verismo Therapeutics
Verismo Therapeutics develops chimeric antigen receptors (CARs) that enhance T-cell-based cellular immunotherapy for cancer, especially non-hematologic malignancies with few effective therapeutic options. The company provides several other healthcare facilities such as CAR-T, cell therapy, solid tumor, immuno-oncology, and the KIR-CAR platform. Verismo Therapeutics was founded in 2020 and is based in Philadelphia, Pennsylvania.
Loading...
Verismo Therapeutics's Product Videos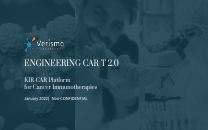 Verismo non confidential
Verismo Therapeutics's Products & Differentiators
SynKIR

A CAR T cell therapy based on the KIR-CAR platform, exclusively developed by Verismo Therapeutics.
Loading...
Latest Verismo Therapeutics News
Verismo Therapeutics Announces Upcoming Presentation at SITC 2023
Nov 5, 2023
닫기 PHILADELPHIA, Nov. 3, 2023 /PRNewswire/ --  Verismo Therapeutics , a clinical-stage CAR-T company developing novel KIR-CAR platform technology today announced that it will be presenting at the upcoming Society for Immunotherapy of Cancer 38th Annual Meeting (SITC 2023), to be held in San Diego and virtually November 1-5, 2023. Presentation Details Abstract Number: 321 Presenting Authors: Dr. Jun Xu, PhD & Dr. Laura Johnson, PhD Description: We conducted in vivo potency studies to assess the impact of the engineered T cell dose of the first mesothelin (MSLN)-specific KIR-CAR T cell therapy (SynKIRTM-110) in an NSG mouse xenograft model of human mesothelioma. Our data demonstrate for the first time that anti-tumor efficacy of SynKIRTM-110 is dose-dependent with greater potency compared with MSLN-41BBz CAR T cells previously evaluated in the clinic. This enhanced potency of SynKIRTM-110 was observed both at the primary tumor site and metastatic sites as demonstrated by histopathologic analysis. This increased potency did not impact any serum markers of toxicity, which remained the same regardless of CAR/KIR-CAR treatments. This data supports further clinical development of SynKIRTM-110 in patients with advanced solid tumors. SynKIRTM-110 is currently being investigated in a Phase I clinical trial STAR-101 (NCT05568680). About the KIR-CAR Platform The KIR-CAR platform is a dual-chain CAR T cell therapy and has been shown in preclinical animal models to be capable of maintaining antitumor T cell activity even in challenging solid tumor environments. DAP12 acts as a novel costimulatory molecule for T cells using additional T cell stimulating pathways, further sustaining chimeric receptor expression and improving KIR-CAR T cell functional persistence. This continued T cell function and persistence can lead to ongoing regression of solid tumors in preclinical models, including those resistant to traditional CAR T cell therapies. The KIR-CAR platform is being investigated in combination with additional emerging technologies. About Verismo Therapeutics Verismo Therapeutics is a pioneer in dual-chain KIR-CAR technology, with its lead asset SynKIR™-110 undergoing first-in-human clinical trial. Verismo is the only company developing the KIR-CAR platform, a modified NK-like receptor designed to improve persistence and efficacy against aggressive solid tumors. The KIR-CAR platform technology was developed specifically for advanced solid tumors, an area of high unmet medical need. For more information, visit: www.verismotherapeutics.com Media Contact:
Verismo Therapeutics Frequently Asked Questions (FAQ)
When was Verismo Therapeutics founded?

Verismo Therapeutics was founded in 2020.

Where is Verismo Therapeutics's headquarters?

Verismo Therapeutics's headquarters is located at 3675 Market Street, Philadelphia.

What is Verismo Therapeutics's latest funding round?

Verismo Therapeutics's latest funding round is Seed - III.

How much did Verismo Therapeutics raise?

Verismo Therapeutics raised a total of $52.15M.

Who are the investors of Verismo Therapeutics?

Investors of Verismo Therapeutics include HLB, Dongkoo Bio&Pharma, BRV Capital Management, Ignite Innovation Fund and University of Pennsylvania.

Who are Verismo Therapeutics's competitors?

Competitors of Verismo Therapeutics include TCR2 Therapeutics and 1 more.

What products does Verismo Therapeutics offer?

Verismo Therapeutics's products include SynKIR.
Compare Verismo Therapeutics to Competitors
T
TCR2 Therapeutics
TCR2 Therapeutics (NASDAQ: TCRR) is a discovery-stage pharmaceutical company that focuses on engineering T cells for cancer therapy. The company's expertise in T cell engagement and an understanding of T cell receptor biology helps to kill cancer cells by harnessing the entire TCR signaling complex. The company was founded in 2015 and is based in Cambridge, Massachusetts. In June 2023, TCR2 Therapeutics was acquired by Adaptimmune at a valuation of $110M.
L
Lyell
Lyell (NASDAQ: LYEL) operates as a cellular therapy company dedicated to mastering immune cell functionality. The company offers T lymphocyte cell (T-cell) reprogramming technologies designed to address major barriers to successful adoptive cell therapy (ACT) for solid tumors. It was founded in 2018 and is based in South San Francisco, California.
Loading...