Search company, investor...
Last Raised
$13.17M
| 7 mos ago
About Unity SCM
Unity SCM specializes in supply chain operations In data integration. The company offers a platform that integrates diverse data sources to streamline the flow of information across supply chain infrastructure, providing services such as container tracking, purchase order tracking, inventory, and order consolidation. It primarily serves businesses looking to enhance operational efficiency and reduce costs in their supply chain management. It was founded in 2020 and is based in San Jose, California.
Loading...
Unity SCM's Product Videos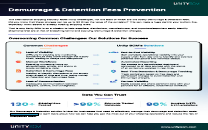 Demurrage & Detention Solution by Unity SCM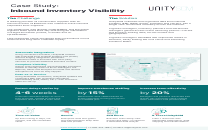 UnitySCM - Case Study - Inbound Inventory Visibility
Unity SCM's Products & Differentiators
Container Track-and-Trace

Unity SCM's Track & Trace is the perfect choice for businesses that are looking to streamline their operations and gain full visibility into their supply chain from day one. Our comprehensive solution consolidates container tracking data, enriches it with purchase orders and inventory information, and shares this single accurate view with any system across your organization. Logistics Specialists, Inventory Planners, and Warehouse Managers can now stay on top of their container shipments while being able to identify and address potential supply chain disruptions, save resources, and minimize delays.
Loading...
Latest Unity SCM News
Israel High Tech Scene May 6 – May 12
May 12, 2023
Jewish Business News By Israel High Tech Scene May 6 – May 12 New Startups / VC Funding Chunk Foods' Founder Amos Golan Wants To Make Sirloin and Ribeye Steaks without the Animals Chunk Foods is not just another alternative meat-producing startup. Sure, there are plenty of those. But Chunk, the brainchild of Israeli entrepreneur Amos Golan, is much more than a firm producing eggs, or poultry made from plants or meat developed in a lab. The company makes clean-label, plant-based whole-cut products. So, you might ask, what does that mean? Well, we're glad that you asked that because this was the question that we wanted to … Read More Here UVeye Raises $200 Million for Car Safety Systems UVeye, an Israeli startup that uses artificial intelligence AI in the development of automated vehicle inspection systems, raised $100 million in additional funding after recently completing a Series D investment round led by Hanaco VC, a venture-capital firm. The company said the new funds will be used to start production of UVeye inspection systems in North America, support further sales growth in the U.S. and fuel new-market expansion efforts. The company has now raised $200 million … Read More Here 8fig Raises $200 Million for E-Commerce Financing 8fig, an Israeli startup that offers a platform for companies to grow their online sales, raised $140 million in a Series B round of funding led by Koch Disruptive Technologies (KDT). The funding was split between $40 million in equity and $100 million in debt from Silicon Valley Bank under its new ownership. 8fig has now raised $196.5 million to date. Please help us out : Will you offer us a hand? Every gift, regardless of size, fuels our future. Your critical contribution enables us to maintain our independence from shareholders or wealthy owners, allowing us to keep up reporting without bias. It means we can continue to make Jewish Business News available to everyone. Thank you. Founded in 2020 by CEO Yaron Shapira, CTO Assaf Dagan and CRO Roei Yellin., 8fig's team consists of veteran e-Comm, finance, and supply … Read More Here Unity SCM and Firmbase Make Small Raises Firmbase, an Israeli startup that offers a financial planning and analysis (FP&A) platform, launched its platform with a $12 million raise led by S Capital with participation from Meron Capital. And Unity SCM, another Israeli startup that provides a supply chain management solution, raised $8 million in a Series A round of funding led by Vertex Ventures Israel with participation from UpWest, Vertex Ventures US, Dan Scheinman, and Ariel Maislos, bringing the company's total funding to date to $13.2 million. Founded by CEO Amir Taichman, Unity SCM says … Read More Here Vesttoo Insuretech Startup Hits $2 Billion Valuation Vesttoo, an Israeli insurtech startup and a unicorn – a startup worth at least $1 billion – that has developed technology in the field of risk management, is now worth somewhere between $1.5 to $2 billion, according to a report in Calcalist. The new valuation came with a Series D round of funding whose details have not yet been revealed. This news comes after Vesttoo first became a unicorn after it … Read More Here Google and Tel Aviv University Launch New AI and Data Science Research Program Google and Tel Aviv University said they are continuing their ongoing collaboration and launched a new three-year program for the promotion of Artificial Intelligence (AI) and data science research, through the TAD – Center for Artificial Intelligence & Data Science at TAU, headed by Prof. Meir Feder (from The Iby and Aladar Fleischman Faculty of Engineering) with financial support of $1M from Google. The program is focused mainly on AI research for Sustainability and for Education. "In this new program, we place the focus on utilizing … Read More Here Politics Benjamin Netanyahu Promises End to Judicial Reform Plan for Better S&P Rating Prime Minister of Israel Benjamin Netanyahu reportedly held discussions with the S&P ratings agency to prevent it from downgrading Israel's status. Such a move could have a traumatic effect on Israel's economy. According to Israeli media, Netanyahu promised S&P that his government's proposed controversial judicial reforms, which could end judicial review of the government's actions and new laws passed by the Knesset, would not be passed as it currently stands. Israel's S&P rating currently stands at AA-. S&P will publish … Read More Here Operation 'Sword and Arrow' Continues, More Than 500 Rockets Launched At Israel The IDF's campaign against the terrorist group Islamic Jihad in Gaza called "Operation Sword and Arrow" is now in its third day. As of Thursday morning, the IDF said that it had struck 147 targets throughout the Gaza Strip that were used by Islamic Jihad for terrorist operations, including arms manufacturing facilities and rocket launching bases. The IDF has also now killed four senior Islamic Jihad embers. Three were killed in the opening of the operation Tuesday morning. The fourth, Ali Ghali, was killed in an attack carried out early Thursday … Read More Here Mergers and Acquisitions IAI Aquires Greek Company Intracom Defense Israel Aerospace Industries (IAI), has signed a deal to acquire Greek technology defense company Intracom Defense (IDE). The terms of the deal have not yet been disclosed. And IAI should have plenty of cash on hand for its acquisition of Intracom Defense as the company reported almost $5 billion in sales for 2022. This, said IAI, made last year its best since the company's inception. IAI also reported 44% growth in net income to approx. $213 million, the highest since it was first … Read More Here Israeli Cleantech Startup Tipa Acquires European Firm Bio4Pack Tipa Compostable Packaging, an Israeli startup in the cleantech field, has acquired European compostable packaging company Bio4Pack for $8 million. Tipa has raised $130 million to date, including $70 million raised in January 2022. Meanwhile, Aligned, an Israeli startup developing a B2B buyer-seller network, completed a $5.8 million Seed round led by Hetz Ventures and NFX. Founded in 2021 by CEO Gal Aga, Aligned boasts it is pioneering the way that B2B revenue teams interact with customers in the new remote selling world. Aligned provides customer journey intelligence and AI-driven customer engagement … Read More Here Philips Acquires Israes l'DiA Imaging Analysis D iA Imaging Analysis, an Israeli startup that provides AI-driven ultrasound analysis to help clinicians with their procedures, was acquired by Philips Healthcare Imaging, a British firm that offers radiology solutions. The purchase price was not disclosed. Founded in the Ofakim technological incubator in 2009 by CEO Dr. Hila Goldman-Aslan and CTO Dr. Michal Yaacobi based on research at Ben Gurion DiA Imaging Analysis … Read More Here Qualcomm Acquiring Israeli Auto-Chip Maker Autotalks for $400 Million Autotalks, an Israeli startup which develops V2X solutions for use in smart cars, is getting bought out by Qualcomm, a San Diego based developer of communications chips. While the purchase price has not yet been revealed, Calcalist reported that it could be worth as much as $400 million. Autotalks has raised about $130 million to date. But this could be seen as a net loss for the company seeing as how a little over a year ago …. Read More Here Other Business Stories SodaStream and Anodot Both Making Cutbacks SodaStream, the Israeli home carbonated drink machine maker that became a household name around the world, has been forced to make further cutbacks and is letting go of as much as 3% of its workforce. And Anodot, an Israeli startup offering business monitoring services is set to part with 20% of its workforce. The hits keep on coming for Israel Startup Nation. Just the other day three other firms – Earnix, Selina and Karma, all revealed that they … Read More Here BlueWhale: Israel Aerospace Industries Unveils New Autonomous Underwater Vehicle Israel Aerospace Industries (IAI) has just unleashed the BlueWhale on the world – an Autonomous Underwater Vehicle, in other words, an unmanned submarine. This new submarine can be used for all manner of operations, including spy missions, without risking any personnel. And kudos to an aircraft firm like IAI for getting into the sea-based defense business. So, BlueWhale is in effect a UAV – drone – but one that Cn be used under the water. Leave it to Israel and its IAI to innovate something … Read More Here
Unity SCM Frequently Asked Questions (FAQ)
When was Unity SCM founded?

Unity SCM was founded in 2020.

Where is Unity SCM's headquarters?

Unity SCM's headquarters is located at 1648 Fairwood Avenue, San Jose.

What is Unity SCM's latest funding round?

Unity SCM's latest funding round is Series A.

How much did Unity SCM raise?

Unity SCM raised a total of $13.17M.

Who are the investors of Unity SCM?

Investors of Unity SCM include Vertex Ventures Israel, UpWest, Dan Scheinman, Ariel Maislos and Vertex Ventures US.

Who are Unity SCM's competitors?

Competitors of Unity SCM include o9 Solutions and 7 more.

What products does Unity SCM offer?

Unity SCM's products include Container Track-and-Trace and 2 more.

Who are Unity SCM's customers?

Customers of Unity SCM include ASC-ES and AmeriCo Group.
Compare Unity SCM to Competitors
Loading...