Search company, investor...
Stage
Unattributed
| Alive
Txture's Product Videos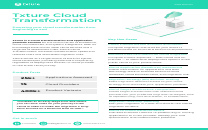 Txture Transformation-Planner Factsheet
Txture's Products & Differentiators
Cloud Transformation Planner

End-to-end cloud transformation platform for planning large-scale IT transformation projects. Txture Cloud Transformation helps the Cloud Center of Excellence and cloud consulting professionals to save costs, reduce risks and speed up complex cloud transformation projects. By automating assessment and 6R decisions, comparing cloud target architectures and facilitating migration wave planning, Txture drives your cloud transformation from beginning to end.
Latest Txture News
Txture: Millioneninvestment und US-Start für Innsbrucker Cloud-Startup
Jun 16, 2021
Txture arbeitet bereits mit Partnern wie Accenture und Deloitte und will nun mit einem Tochter-Unternehmen in Boston den US-Markt erobern. /txture-millioneninvestment-2021/ Überblick und regt zum Lesen mehrerer Artikel an. Der Artikeltext wird AI-basiert zusammengefasst mit der Unterstützung des Linzer-Startups Apollo AI. Die Entwicklung des Innsbrucker Startups Txture im Geschäftsjahr 2020/2021 lässt sich sehen: Beim Umsatz gab es ein Plus von 83 Prozent, beim Auftragsvolumen gar eine Steigerung von 191 Prozent. Es dürfte wohl auch daran liegen, dass die Wiener Investment-Gesellschaft red-stars, die bereits 2019 siebenstellig eingestiegen war, nun noch einmal Kapital nachschoss. An einer aktuellen erneut siebenstelligen Kapitalrunde – ein genauer Betrag wurde nicht genannt – ist auch die internationale Beteiligungsgesellschaft Corecam Capital Partners mit Niederlassungen in Singapur, Vietnam, der Schweiz und Österreich beteiligt. Redaktionstipps Sein Geld verdient das Tiroler Unternehmen mit Software-Produkten für Cloud-Migrations- und Modernisierungsprojekte, die durch die Plattform "Txture Cloud Transformation" nicht nur deutlich günstiger, sonder auch erheblich weniger riskant für Kunden sein sollen. Zielgruppe sind dabei Cloud-Architekten und -Berater, die an "großen und komplexen Cloud-Transformationsprojekten" arbeiten. Unter den Partnern sind globale Beratungs-Unternehmen wie Accenture, GFT und Deloitte. Txture: Neues Produkt und US-Expansion Zeitgleich mit dem aktuellen Investment wurde nun auch der Launch eines neuen Produkts und der Start einer US-Tochter-Gesellschaft in Boston verkündet. Cloud-Insider (www.cloudinsider.com) soll die "enorme Nachfrage nach Cloud-Markteinblicken zur softwaregestützten Transformationsberatung" befriedigen. Auch die neue SaaS-Plattform richtet sich an Cloud-Architekten und Cloud-Kompetenzzentren. "Diese Wissensdatenbank bezieht und analysiert kontinuierlich mehr als 200.000 Datenpunkte der größten Cloud-Anbieter und ermöglicht dadurch Analysen zu technischen, rechtlichen und wirtschaftlichen Cloud-Anforderungen für jeden Cloud-Profi", heißt es von Txture. Bei der US-Expansion rechnet sich das Innsbrucker Startup große Chancen aus: Laut Gartner hätten die USA den größten Anteil am globalen Cloud-Migrationsmarkt, der bis 2023 auf 180 Milliarden US-Dollar anwachsen werde. Diese Chancen betont auch Stefan Mairegger von Neu-Investor Corecam in einem Statement "In den letzten Jahren hat Txture beeindruckende Ergebnisse beim Aufbau einer Reihe starker Partnerschaften erzielt. Wir freuen uns, an der neuen Kapitalrunde teilzunehmen, die darauf abzielt, die Expansion von Txture in die USA, wie auch das Wachstum zu einem weltweit vertrauenswürdigen Marktführer für Cloud-Migration und -Modernisierung zu unterstützen".
Txture Frequently Asked Questions (FAQ)
When was Txture founded?

Txture was founded in 2017.

Where is Txture's headquarters?

Txture's headquarters is located at Grabenweg 68, Innsbruck.

What is Txture's latest funding round?

Txture's latest funding round is Unattributed.

How much did Txture raise?

Txture raised a total of $6.74M.

Who are the investors of Txture?

Investors of Txture include red-stars.com, Corecam Capital Partners and University of Innsbruck.

Who are Txture's competitors?

Competitors of Txture include LeanIX and 7 more.

What products does Txture offer?

Txture's products include Cloud Transformation Planner and 1 more.

Who are Txture's customers?

Customers of Txture include Accenture and A1.
Compare Txture to Competitors