Search company, investor...
Mosaic Score

The Mosaic Score is an algorithm that measures the overall financial health and market potential of private companies.
+10 points in the past 30 days
Sylius's Product Videos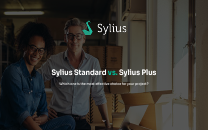 Sylius Standard vs. Plus
Latest Sylius News
Top 8 Open Source Online Shopping Platforms for 2023
Jul 3, 2023
If you want to remain competitive in today's market, you must have a strong online presence. Both small and medium-sized businesses may attest to this. However, you need a solid plan covering a wide range of company issues to begin online effectively. You may collaborate, in particular, with an eCommerce management services provider that will oversee the creation of your eCommerce solution and choose the best platform to suit your company's requirements. We will assist you in choosing an e-commerce platform now. Table of Contents Magento Popular open-source eCommerce platform Magento from Adobe Commerce has a long variety of built-in functionality. For companies needing more specialized functionality, the Magento Marketplace provides over 3,000 both free and paid extensions. Compared to other widely used open-source systems, for example, if we talk about Adobe Commerce vs Shopify Magento has a more difficult learning curve. To fully use the platform, those with little technical expertise will need to employ a web developer . PHP is the programming language used by Magento. Square Online Square Online makes it simple and affordable to start an online business. Due to Square's focus on providing fundamental functionality, you may start operating your online company after only a few easy steps. With the inclusion of third-party applications for inventory management, accounting, booking, scheduling, and more, you can also run your company fully via Square. Square Online is an excellent choice for small companies because of its fantastic free plan and necessary features. The free plan may have certain downsides, such as limited storage and unavailable services. PrestaShop Another open-source eCommerce platform that receives frequent updates and expansions with new plugins and themes is PrestaShop. If you lack technical know-how, you may use a fully managed service that offers you hosting and maintenance. This option could be more costly than a bespoke installation, but it is excellent for non-programmers who still want open-source's flexibility. Just a few of the hundreds of features that PrestaShop offers include cross-selling tools, downloadable items, and one-page checkout. Ecwid Essentially, "eCommerce widgets" is what Ecwid means. Additionally, this is not a standout eCommerce platform, as the name would imply. It's a shopping cart, though, that you can include with any website to turn it into a complete online store. But, as you may have already guessed, you need a few lines of code to make it happen. Drupal Commerce One of the most popular and reliable tools for creating powerful eCommerce systems is Drupal. The product has built-in caching, which results in very quick speed and performance that is ideal for search engines. Your e-commerce site will rank better on Google for your target keywords thanks to this SEO-friendly feature. High development standards are guaranteed by the project's vibrant community. It has a security mechanism of its own that is continuously upgraded since the technology has a vibrant development community. Joomla The second-most popular open-source CMS, Joomla was introduced in 2005. It has more than 200,000 users in its community and powers 2.5% of all websites. By implementing an extension, Joomla may be used for online shopping much like WordPress. Since Joomla is an open-source CMS, you have the freedom to customize the online shop as you see fit. Sylius An open-source, adaptable e-commerce platform called Sylius offers a headless architecture for creating online storefronts. It is constructed on top of the well-known PHP framework Symfony and offers a flexible design that enables companies to adapt the platform to their requirements. The administration panel offered by Sylius is simple to use and can be used to manage customers, orders, and items. Open Freeway For individuals who wish to offer memberships and events in addition to merchandise, Open Freeway is ideal. Use it for appointments, providing subscription packages, and time-based reservations. The solution has integrated marketing and SEO capabilities that may help you get in front of your consumer more quickly. Because of its modular nature, customizations are very simple to apply without affecting the primary source code. Conclusion You may completely customize your website to meet all of your requirements and tastes with open-source eCommerce solutions. While some platforms are easy to use for non-developers and novice developers looking for a good training tool, others may be challenging and perplexing for non-developers and are intended for seasoned teams working on comprehensive solutions. While some open-source projects are "things in themselves," others are parts of larger corporate versions and may, by necessity, be missing certain essential functionality.
Sylius Frequently Asked Questions (FAQ)
When was Sylius founded?

Sylius was founded in 2017.

Where is Sylius's headquarters?

Sylius's headquarters is located at Mieszka I 5, Lodz.

Who are Sylius's competitors?

Competitors of Sylius include Krepling, Uvodo, Shopware, Nextsale, Marketplacer and 11 more.
Compare Sylius to Competitors