Sorare's Product Videos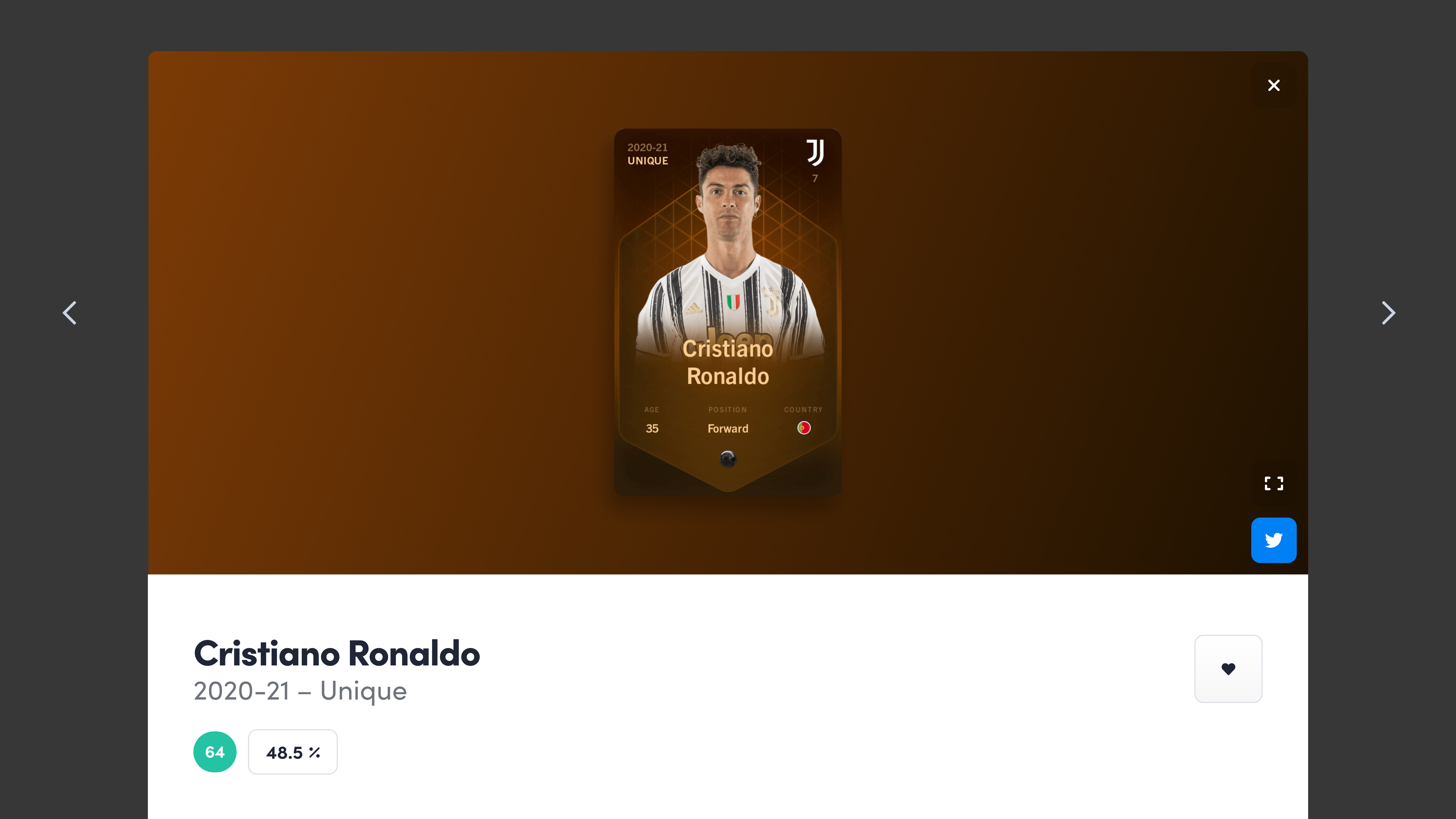 Sorare Sorare Card Visual
Sorare GamingArena Visual
Sorare's Products & Differentiation
See Sorare's products and how their products differentiate from alternatives and competitors
Sorare.com

Sorare is bringing fans closer to their favorite athletes through a first-of-its kind fantasy game, combining a robust marketplace for digital collectibles (NFTs) and a passionate community of sports fans across the globe, paving the way to a multi-billion-dollar market opportunity. The platform bridges sports and gaming and is built on the Ethereum blockchain, utilizing the network to power a revolutionary NFT fantasy sports trading card game. More broadly, the platform is empowering the world's biggest brands to create, share and protect their digital IP, while bringing fans closer to the players, teams and brands they love in new, immersive ways. In addition to delivering engaging experiences for fans, Sorare's technology is creating a new revenue stream for clubs and leagues around the globe.

Differentiation

Sorare has created NFT trading cards officially licensed with more than 240 sports clubs globally from the soccer world today. 

Users can freely collect and trade these assets that live on the most secure and decentralized blockchain, Ethereum. 

More importantly, these trading cards are gaming items in Sorare's global fantasy football game and myriads of other games built by third parties such as Ubisoft or community led initiatives such as… 

Sorare's NFTs have multiple layers of gaming utility and can unlock real-life experiences at soccer stadiums around the world such as tickets, or access to athletes. 
Expert Collections containing Sorare
Expert Collections are analyst-curated lists that highlight the companies you need to know in the most important technology spaces.
Sorare is included in 3 Expert Collections, including Unicorns- Billion Dollar Startups.
U
Unicorns- Billion Dollar Startups
1,180 items
B
Blockchain
6,738 items
Companies and startups in this collection leverage blockchain technology for crypto trading, decentralized finance (DeFi), NFTs, and more.
Latest Sorare News
NFTs Are Conquering Soccer
Aug 6, 2022
Photograph: DBenitostock/Getty Images To revist this article, visit My Profile, then View saved stories . On Friday, July 29, an auctioneer at Sotheby's in New York brought the hammer down on a piece of sporting history: a flying volley by the Barcelona icon Johann Cruyff in a game against Atletico Madrid in December 1973. Moments like these used to exist largely in collective memory, handed down in "I was there" anecdotes, maybe dredged up for a YouTube highlights reel or a talking head documentary in some graveyard slot on Sky Sports. Today, though, they're being commodified—chopped up, dressed up, and sold to the highest bidder. They are, inevitably, being turned into NFTs . Connive to Survive Will Bedingfield Soccer fell particularly hard for non-fungible tokens and, as they boomed and busted over the past 18 months, thousands of fans were sucked into dubious projects endorsed by footballers. At the same time, in an advertising market flattened by Covid-19 , blockchain companies swooped in to sponsor big teams and events. This season, superstars Lionel Messi and Neymar will walk out for Paris Saint-Germain with "Crypto.com" emblazoned on their shirts. The implication is clear: Buy in, hold on, and you could be as rich as your heroes. The truth has been quite different. The Athletic's Joey D'Urso has detailed numerous examples of player and club-endorsed crypto projects tanking in value as the cryptocurrency market has collapsed. The " Ape Kids Football Club "—endorsed by England footballer John Terry—was a particularly egregious example. It launched with a flimsy backstory ("In a magical world where apes ruled the metaverse …") and a series of 6,000 cartoon monkeys in soccer kits, which had to be quickly rolled back when it transpired that the project didn't have the rights to use any of the club trademarks. After launch, the price collapsed from an average of $656 to just $65. Players who had hyped up the NFTs quietly deleted their social media posts. Today, Ape Kids Football Club has been rebranded as "Inter Meta FC," but the project's Discord channel is a ghost town. A handful of owners pester the organizers about when they're going to see a return on their investment; recently there was an earnest discussion on how best to target the upcoming World Cup in Qatar as a way to rekindle interest and drive up the value of their NFTs. As the new club season begins, the spread of NFTs and cryptocurrency within soccer shows no signs of slowing down. Italy's Serie A and La Liga recently signed deals to sell digital collectibles of in-game action, and the English FA is looking for partners for NFT projects for its national teams. At Sotheby's, a " digital sculpture " of the Cruyff goal sold for $550,000. (He hangs in the air, frozen in time and dripping with virtual gold—no prizes for subtlety here.) It's hard not to be cynical. Soccer's global appeal, the demographics of its fan base, and the money swilling around the game have always made it a magnet for the get-rich quick scheme, from the gambling sponsorships to the FX apps that promised to make foreign currency trading so easy you could do it down the pub, to platforms like FootballIndex, where you could buy and sell shares in players and collect dividends depending on how they performed. (It collapsed spectacularly in March 2021, taking £90 million—more than $100 million—of people's money with it.) With restrictions on gambling advertising in sport being mooted in the British parliament, a tidal wave of crypto firms are ready to rush in and fill the space. Most Popular Steven Levy It all began with honest enough intentions. In 2017, before Beeple and the Bored Ape Yacht Club, back when the term NFT meant nothing to most people, French entrepreneur Nicolas Julia founded a company called Sorare. It's a digital fantasy football game: You can buy cards representing real-world players, and pit them against one another in a variety of ways to win real-world cash—part fantasy sports, part Magic the Gathering, part FIFA Ultimate Team on the blockchain. The words non-fungible token appeared nowhere in Sorare's promotional material. "I really consider this not a space or a market, but a technology," says Julia. "My aim is to build the biggest entertainment company in the world of sports, and it just happens that NFTs are the right vehicle." Julia says he put Sorare on the blockchain because he wanted to give users ownership over their digital assets: the ability to trade them and sell them, but also to port them to other games if they wanted to. Others have used the blockchain to promise unprecedented access and money-can't-buy experiences. Like, for example, Socios.com, which launched in early 2018 and allows clubs to sell "fan tokens" to their supporters. In exchange for buying in, they're usually promised a greater say in how their team is run, although in practice this has often meant a vote on trivialities like what music the team runs out to, or which soft drinks are sold at halftime. In July , Crawley Town—an English club owned by a crypto-funded American consortium—signed midfielder Jayden Davis after fans and NFT holders voted that midfield was where they wanted to see the squad strengthened (a victory for decentralized democracy cheapened slightly by the fact the club also signed a defender and a forward at the same time anyway). Because fan tokens are usually pegged to Bitcoin, their value has fluctuated wildly , and in the race for cash, clubs haven't always done a good job of educating their supporters about the risks. Arsenal—whose fan token has dropped more than 80 percent in value since launch—was censured by the UK's Advertising Standards Authority, which found that the club "trivialized investment in crypto-assets and took advantage of consumers' inexperience or credulity." Everything changed after the success of "profile picture projects" like the Bored Ape Yacht Club. "When you actually look at projects that have been launched across football, most of them are just these PFP images with nothing really behind them," says Tim Mangnall, CEO of sports-focused NFT agency Capital Block, which has worked with Turkish clubs Galatasaray and Trabzonspor, as well as AS Monaco and Legia Warsaw. "Last year is when it really started to kick off," he says. "It was just money being pumped in, and it was an unrealistic growth that we saw. Now we're back to reality and a lot of these projects are cutting budgets and firing people." Initially, soccer-based NFT projects at least pretended to be offering something tangible: meet-and-greets with players, match tickets, access to exclusive content. As the market boomed, it became a world of vaporware and rug pulls. "When you bought trading cards or baseball cards back in the day, you didn't know it was going to rise to the extent it did, but you bought it for the love of it," says Mangnall. "Too many people now are trying to build their whole campaign around the speculative price, and obviously the world doesn't really work like that." Most Popular Steven Levy When he speaks to clubs across Europe who want to launch NFTs, their primary concern is money. "The number one thing is, 'Oh, we want to make millions of pounds overnight,'" Mangnall says. "There's a real problem in the industry because there's a miseducation, and there's a misunderstanding in the market of what an NFT is. It could be membership, it can be rewards, it can be something as simple as a ticket. It's not about these big revenues." Everything is backwards. NFTs and the blockchain are infrastructure, not investments—buying an expensive digital asset because it's an NFT is like rushing to buy your team's new kit because you can pay by Visa, or because it's delivered by DHL. "I think one big misunderstanding has been to frame NFTs as a space, a market, or a category, and it's not. It's just a technology," says Julia. "When you have a booming technology like this, it attracts people who are here for the wrong reasons, who are not thinking long-term. It's bad for the fans." It's the utility that matters, and that's something that's been sadly forgotten in the scramble to speculate. "You're not getting that from the football clubs because the football clubs do not realize the level of work that goes into it," says Mangnall. "It is a product, at the end of the day, that you're selling to your fans. Treat your fans like fans. Don't treat them like consumers." Early blockchain-based sports projects like Sorare worked hard to abstract away the complexity of the crypto world: You could pay by credit card, without a care for secure wallets and gas fees. Some of the newer projects make little effort to do that—almost as if the only reason they exist is to draw the vast community of soccer fans into the crypto world, to keep the liquidity flowing, to stop the bottom falling out. Given the complexity of the crypto market—the wildly fluctuating cost of doing business on Ethereum, the risks of being scammed either by hackers or by the people who are actually selling you the NFT in the first place—you have to wonder whether it's worth the headache. Ask the founders of blockchain-based sports projects why the utility they're offering couldn't simply be served with a member's area on a website, accessed via an email address and password, and the answers are predictable. "Blockchain allows for true ownership in ways the Web2 platforms cannot," says Jorge Urrutia del Pozo, head of football at Dapper Labs, which runs hugely successful partnerships with the NBA and has signed deals with Spain's La Liga, the German Bundesliga, and Italy's Serie A to launch digital collectibles. "It allows for fans to trace and verify the authenticity and scarcity of their digital collectibles, and to unlock experiences that have previously been unattainable in other environments." Maybe we'll get there. There is a world where the blockchain empowers greater levels of "fan engagement"—where supporters happily trade digital assets that unlock authentic experiences which bring them closer to their clubs. "There was a speculative phase. We feel like it's more organic and healthy now," says Michael Bouhanna, co-head of digital art sales at Sotheby's, who helped launch the Barcelona NFT project, as well as one for Liverpool FC. Most Popular
Sorare Web Traffic
Page Views per User (PVPU)
Page Views per Million (PVPM)
Sorare Rank
When was Sorare founded?

Sorare was founded in 2019.

Where is Sorare's headquarters?

Sorare's headquarters is located at 5, avenue du Général de Gaulle, Paris.

What is Sorare's latest funding round?

Sorare's latest funding round is Angel.

How much did Sorare raise?

Sorare raised a total of $737.08M.

Who are the investors of Sorare?

Investors of Sorare include Kylian Mbappe, Benchmark, Headline, Antoine Griezmann, Rio Ferdinand and 21 more.

Who are Sorare's competitors?

Competitors of Sorare include Dapper Labs and 2 more.

What products does Sorare offer?

Sorare's products include Sorare.com.
Discover the right solution for your team
The CB Insights tech market intelligence platform analyzes millions of data points on vendors, products, partnerships, and patents to help your team find their next technology solution.
Request a demo