Stage
Incubator/Accelerator - III
| Alive
Smabbler's Product Videos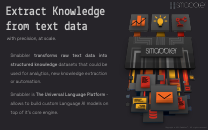 Smabbler Language Platform extended
Smabbler's Products & Differentiation
See Smabbler's products and how their products differentiate from alternatives and competitors
Smabbler Language Platform

Smabbler is The Universal Language Platform - allows to build custom Language AI models on top of it's core engine. Smabbler transforms raw text data into structured knowledge datasets that could be used for analytics, new knowledge extraction or automation.

Differentiation

To tap into this knowledge, companies need a solution that will transform unstructured text into structured data /knowledge. These companies require a solution with specific characteristics: 

At least 80%+ text data classification precision and recall /relevancy, 

Working in multiple languages, 

No training datasets required, 

Output data consistency for any use case. 

Smabbler is one of the few solutions on the market (if not the only one) that fits these requirements. 
Latest Smabbler News
Smabbler's Universal Data Automation
Mar 15, 2022
Smabbler's Universal Data Automation Smabbler's Universal Data Automation Unlike the existing solution, Smabbler is self-learning and will work for all topics and languages Next Road Ventures is fully on board and is eager to invest in Smabbler in the next round Polish data automation solution provider Smabbler was among the winners of Vestbee 's European Startup Challenge . The startup offers a solution to translate any text – regardless of its topic or language – into actionable data. Smabbler will now prepare for its next investment round. Prior to that, they were working on a different, less ambitious IT project together. Back in 2013, they were tasked with a solution that would match companies – potential partners – based on company websites. In the course of their work, they stumbled into a bigger problem: they needed an AI for written language recognition, and the existing solutions were largely flawed and unfitting. They always worked with only one topic in only one language, and each new use case demanded a new solution built from the ground up. Present-Day State of Text Recognition Łukasz Pytel, Founder and CEO at Smabbler 'If you want to have an algorithm that would analyze text and understand what is in the text, first you need to hire a team of data engineers. Then you need to manually prepare a dataset that would be used to train the algorithm. That means manual work on tens of thousands of emails/ messages or other text data. Then you need to find the best possible algorithm for your use case, so you have to do a number of experiments. Then you choose the best algorithm and train it with all the data,' Smabbler's co-founder and CEO Łukasz Pytel explains the steps. According to Mr Pytel, building this kind of conventional language AI will require 6-12 months and at least EUR 100k EUR. If the work is successful, the resulting algorithm will be able to: understand text in a very narrow topic (e.g. customer service for a bank); work in one language; understand simple questions and messages. Even though language AIs have improved significantly since 2014, these main disadvantages are still there. The development process is complicated and costly, and the outcome can rarely be replicated for other use cases. The Need for a Radically New Solution That's why Smabbler team realized that they need to build their technology from the ground up, without referring to any existing solutions. In other words, Smabbler develops brand new algorithms in-house, exploring new paths and tackling new challenges along the way. 'Enterprises are evolving and converging around data. They build new departments to handle data and automation responsibilities. Most enterprise data is text, yet there are no holistic solutions to unlock the value hidden in textual assets,' Marcin Laczynski , partner at Next Road Ventures , tells ITKeyMedia. In May 2021, Next Road Ventures led Smabbler's investment round. Mr Laczynski sees Smabbler as a horizontal language engine – an intelligent data layer – built to interpret, generalize and infer from unstructured text, making it instantly usable. A Few Scarce Details Smabbler claims that their solution's biggest decisive advantage is that it is topic- and language-agnostic. 'Imagine an expert in any topic whom you want to talk in any language. This expert will read a book or any other data repository and transform this information into sophisticated and precise hashtags. Then, you can analyze it on a massive scale,' Mr Pytel illustrates. To wrap up, Smabbler's key advantages are: better accuracy in understanding text than current solutions; self-learning; universality across languages and domains. What's Next? Marcin Laczynski, Partner at Next Door Ventures Naturally, Smabbler doesn't reveal any more details about their unique technology. The company remains equally secretive about the terms for their next round of investment. 'We are not in a rush to raise money from investors. It is very important for us that our investors understand and deeply believe in what we do. We are happy to get new investors on-board if they can help us develop our business – either with network or experience,' Mr Pytel says. However, Mr Laczynski shares that his VC intends to invest in Smabbler again 'soon': 'Having the product validated by first paying customers, Smabbler is ready to scale and soon opens a new financing round. We are absolutely planning to invest in them again.' The need for data automation grows as digital transformation of all spheres accelerates. Yet text recognition solutions that are available at hand today are, on the one hand, topic- and language-specific, and, on the other hand, time- and resource-consuming. The solution suggested by Smabbler is both universal and efficient. Hopefully, the startup can demonstrate it soon enough.
Smabbler Web Traffic
Page Views per User (PVPU)
Page Views per Million (PVPM)
Smabbler Rank
When was Smabbler founded?

Smabbler was founded in 2014.

Where is Smabbler's headquarters?

Smabbler's headquarters is located at Warsaw.

What is Smabbler's latest funding round?

Smabbler's latest funding round is Incubator/Accelerator - III.

What products does Smabbler offer?

Smabbler's products include Smabbler Language Platform.
Discover the right solution for your team
The CB Insights tech market intelligence platform analyzes millions of data points on vendors, products, partnerships, and patents to help your team find their next technology solution.
Request a demo