Search company, investor...
Last Raised
$230M
| 3 mos ago
About Skydio
Skydio manufactures autonomous drones. The company uses artificial intelligence to create intelligent flying machines that offer public safety, fire and rescue, enterprise inspection, defense, and more features. It serves a variety of industries including defense, utilities, transportation, public safety, and other sectors. Skydio was founded in 2014 and is based in San Mateo, California.
Skydio's Product Videos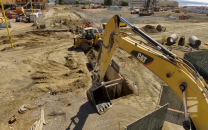 Skydio Dock Teaser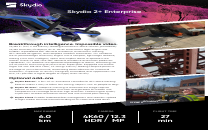 Skydio 2 Enterprise Datasheet
ESPs containing Skydio
The ESP matrix leverages data and analyst insight to identify and rank leading companies in a given technology landscape.
Industrials / Warehousing & Logistics Tech
The warehouse security robots and drones market refers to the use of autonomous or remotely-controlled robots and drones to enhance security in warehouses and other storage facilities. These robots and drones can be equipped with sensors and cameras to monitor activity within the facility, detect and deter intruders, and provide real-time alerts to security personnel. They can also be programmed t…
Skydio named as Leader among 9 other companies, including Aerodyne Group, Verity, and Cobalt Robotics.
Compete with Skydio?
Ensure that your company and products are accurately represented on our platform.
Skydio's Products & Differentiators
Skydio 2+

Skydio's flagship drone, powered by Skydio Autonomy: the autonomous flight engine behind every Skydio drone. It uses 6 navigation cameras on the body of the drone paired with advanced algorithms and 9 neural networks to create a real time 3D map of the environment around it, and uses this map for precision navigation around obstacles. Skydio 2+ has 27 minutes flight time, 6Km range, and is available to consumers and enterprise at a very friendly price point.
Expert Collections containing Skydio
Expert Collections are analyst-curated lists that highlight the companies you need to know in the most important technology spaces.
Skydio is included in 11 Expert Collections, including Construction Tech.
C
Construction Tech
923 items
Companies using technology to improve processes in the construction industry.
S
Supply Chain & Logistics Tech
3,743 items
Companies offering technology-driven solutions that serve the supply chain & logistics space (e.g. shipping, inventory mgmt, last mile, trucking).
U
Unicorns- Billion Dollar Startups
1,214 items
R
Robotics
1,974 items
This collection includes startups developing autonomous ground robots, unmanned aerial vehicles, robotic arms, and underwater drones, among other robotic systems. This collection also includes companies developing operating systems and vision modules for robots.
G
Grid and Utility
1,567 items
This collection includes companies that are working on software and hardware to improve grids, utilizing new pricing models, and developing microgrids.
T
The Edge Computing Landscape
343 items
Edge computing companies facilitate workload deployment in addition to providing data processing and storage at the farthest reaches of the network. These edge computing companies range from data centers at the edge to workload management tools designed to orchestrate edge deploy
Skydio Patents
Skydio has filed 132 patents.
The 3 most popular patent topics include:
Operating amusement attractions
Unmanned aerial vehicle manufacturers
Satellite navigation systems | Application Date | Grant Date | Title | Related Topics | Status |
| --- | --- | --- | --- | --- |
| | | | GPS navigation devices, Capacitive touchscreen mobile phones, Satellite navigation systems, Engine technology, Diagrams | |
| | |
| --- | --- |
| Application Date | |
| Grant Date | |
| Title | |
| Related Topics | GPS navigation devices, Capacitive touchscreen mobile phones, Satellite navigation systems, Engine technology, Diagrams |
| Status | |
Latest Skydio News
Top 10 Best Drones Companies In India In 2023
May 23, 2023
Top 10 Best Drones Companies In India In 2023 Top 10 Best Drones Companies In India In 2023 Share INTRODUCTION The drone industry in India has grown rapidly in the past few years and is now one of the largest markets in the world. In 2023, there are many drone companies operating in India, with a variety of different types of drones available for purchase. Some of the most popular include DJI, Parrot, Yuneec, AEE Technology, and Skydio. Related Articles May 23, 2023 These companies provide a wide range of drones for various applications, from personal use to industrial applications. For instance, DJI offers drones for aerial photography, mapping, and surveillance; Parrot is focused on providing drones for delivery and agricultural purposes. Yuneec specializes in recreational drones; AEE Technology focuses on industrial drones for construction and engineering; and Skydio provides autonomous drones for security and surveillance. All of these companies offer high-quality drones at competitive prices and often provide additional services such as maintenance and repair. As the drone industry continues to evolve, it is likely that more companies will enter the market and provide unique products and services. IMPORTANCE 2023 is set to be a huge year for the drone industry in India. With the Indian government pushing for more innovation and investment in the sector, the market is expected to grow exponentially. Companies operating in this space are already seeing significant benefits, as they are now able to access more information and data in real time. This has enabled them to provide better services and products to their customers. The use of drones in industries such as agriculture, construction and logistics has become increasingly common in India. Drones are able to provide detailed images which can be used to generate a high-quality and accurate mapping of land and structures. This allows for precise monitoring of crops, roads and other infrastructure, which can help reduce costs and increase efficiency. They also enable faster delivery of goods and materials, helping to reduce delays and improve customer satisfaction. In 2020, the Indian government introduced the Digital Sky regulations, which opened up the airspace to commercial drones. This has allowed drone operators to obtain licenses and operates legally while providing enhanced safety measures. As a result, more businesses have started to incorporate drones into their operations, leading to an increased demand for drone services. Moving forward, the drone industry in India is set to become even more developed and influential, with advances in technology allowing for improved performance, more efficient operations and even autonomous flight capabilities. As the industry grows and matures, it is likely to bring significant economic growth and opportunities to the country. Here are the top 10 best drones companies in India in 2023 Parrot – Parrot Company is a global leader in artificial intelligence and robotics, specializing in the development of innovative technologies. Founded in 2017, Parrot has quickly become one of the most recognizable names in the industry. With offices in over 20 countries, Parrot is dedicated to creating products that enable people to interact with their environment in new and meaningful ways. Parrot's products range from drones and robots to virtual and augmented reality devices. Parrot's flagship product, the Parrot Drone, is a popular choice among hobbyists and commercial users alike. It comes with several features that make it simple to set up, fly, and use. The drones can be operated from anywhere, making them ideal for long-distance communication or aerial photography. Parrot also develops voice recognition systems, which are used for navigation and home security. The company's robots and machines are designed to solve everyday tasks, such as cleaning floors or carrying items around the home. Parrot's virtual and augmented reality headsets provide immersive experiences and enable users to explore virtual worlds. In addition to its products, Parrot is actively involved in research and development related to artificial intelligence, robotics, machine learning , and more. The company also runs a number of hackathons and events to promote innovation and collaboration within the AI and robotics communities. Parrot is dedicated to providing cutting-edge technology and developing solutions to improve our lives and make the world a better place. The company has been recognized for its commitment to sustainability and helping those in need. Despite its success, the company remains focused on its roots, constantly innovating and pushing the boundaries of what is possible. DJI – DJI is one of the leading drone and aerial imaging technology companies in the world. Founded in 2006, DJI has become a market leader for consumer and enterprise drones and aerial imaging solutions. Professionals in filmmaking, energy infrastructure, land surveying and search and rescue operations use the company's products. DJI offers both consumer and enterprise-level drone solutions depending on the industry application. Their consumer-level drones are designed to be simple to use, with intuitive flight controls and auto-stabilization technology. On the enterprise side, DJI's solutions are designed for more complex applications, such as infrastructure inspection and agricultural data gathering. Additionally, DJI provides an open SDK platform to developers and researchers, which enables the creation of custom solutions tailored to their specific needs. DJI also offers professional services ranging from product customization to technology integration. AEE Technology – AEE is a leading technology company specializing in the development and manufacture of innovative products that empower people to achieve their ambitions. Their current product lineup includes drones, camera systems, sensors and more. AEE's drones are some of the most advanced available on the market and have been used in numerous commercial, industrial and military applications. The drones feature advanced aerial stability and obstacle avoidance capabilities, as well as the ability to follow a user-defined flight path autonomously. They also come with intuitive controllers, robust batteries and powerful cameras capable of capturing stunning aerial footage. The company's camera systems are designed for a variety of uses, such as wildlife observation, security monitoring, search and rescue operations and more. The cameras offer high-resolution images, long-range visibility and night vision capabilities, as well as options for remote control and motion detection. AEE's sensors are designed to monitor environmental conditions, such as temperature, soil moisture, wind speed and air quality. These sensors can be used for agricultural research, weather forecasting, natural disaster management, and more. In addition to these products, AEE offers comprehensive support services for all their products. They offer training and instruction for their customers, as well as access to technical support teams to help troubleshoot any issues. Overall, AEE is a leader in the technology industry, delivering innovative and reliable products that help people achieve their ambitions. Robotics India – Robotics India is an Indian company that operates in the field of robotics and drone technology. With a strong focus on innovation and technology-driven solutions, Robotics India offers a wide range of products and services to cater to the needs of various industries. The company specializes in the development and manufacturing of drones, which are unmanned aerial vehicles used for a variety of applications. Their drone solutions encompass sectors such as agriculture, infrastructure inspection, aerial cinematography, surveillance, and more. Robotics India's drones are known for their reliability, performance, and advanced features, making them suitable for both commercial and industrial use. In addition to drone technology, Robotics India also provides robotics solutions for different industries. Their expertise lies in designing and building robotic systems that can automate tasks and enhance productivity. These robotics solutions can be customized to meet specific requirements and have applications in sectors such as manufacturing, logistics, healthcare, and education. Furthermore, Robotics India is actively involved in research and development activities to stay at the forefront of technological advancements. They continually strive to improve their products and services by incorporating the latest innovations in robotics and drone technology. The company also focuses on promoting skill development and awareness in the field of robotics through workshops, training programs, and educational initiatives. With a commitment to quality, innovation, and customer satisfaction, Robotics India has established itself as a reputable player in the Indian robotics and drone market. Their comprehensive range of products, along with their dedication to technological advancement, positions them as a reliable partner for industries seeking cutting-edge solutions to their automation and aerial data acquisition needs. Swellpro – Swellpro is a leading manufacturer of waterproof, outdoor-ready drone systems and multi-action cameras. Founded in 2014, the company has quickly become a leader in the field of action sports photography, using its cutting-edge drones, cameras, and other devices to capture stunning videos and photos from the sky. Their products are used by athletes, filmmakers, adventurers, and everyday people around the world who want to capture their stories in new ways. Swellpro's drones have been tested in some of the toughest environments on earth, including the deep ocean, the harsh Arctic tundra, and even the highest mountains of the Himalayas. They use high-grade materials and components to ensure that their drones can withstand extreme temperatures, winds, and water. The drones also come with advanced features such as obstacle avoidance and GPS tracking, so you can be sure you're getting the most out of your experience. When it comes to capturing the perfect image or video, Swellpro offers an extensive range of devices designed for all kinds of pursuits. Whether you're shooting on land, sea, or air, Swellpro has the camera, drone, or accessories you need to get the job done. With the ability to connect with devices like GoPro and DJI, you can also easily integrate existing hardware into your setup. For those wanting to take their video editing skills to the next level, Swellpro also offers a wide array of editing tools and software, from basic video editing programs to more advanced editing suites. Whatever type of visuals you're looking for, Swellpro has the right software solution for you. Finally, Swellpro provides world-class customer support to help you get set up and answer any questions you may have. Whether you're a beginner or an experienced drone pilot, they are always there to offer advice and assistance. With innovative products, reliable performance, and excellent customer service, Swellpro is a brand that many trusts and rely upon to capture their outdoor adventures. Indrones – Indrones is an Indian drone technology company that has made significant strides in the field of unmanned aerial vehicles (UAVs) and aerial data solutions. With a focus on innovation and cutting-edge technology, Indrones offers a wide range of drone services and solutions for various industries and applications. The company provides drone-based solutions for sectors such as agriculture, mining, infrastructure inspection, environmental monitoring, and more. They leverage the power of drones to capture high-resolution imagery, collect data, and analyze it to provide actionable insights for their clients. Indrones offers a comprehensive suite of services, including aerial surveying, mapping, and 3D modelling. They use advanced imaging sensors and data processing techniques to generate accurate and detailed maps, which can be used for land surveying, urban planning, and construction site monitoring. In addition to their services, Indrones designs and manufactures custom drones tailored to specific industry needs. They combine their expertise in drone technology with a deep understanding of their client's requirements to develop specialized UAVs that can perform complex tasks with precision and efficiency. What sets Indrones apart is its commitment to quality, safety, and compliance. They adhere to strict industry standards and regulatory guidelines to ensure the safe and responsible operation of their drones. Their team of skilled professionals, including pilots, engineers, and data analysts, work closely to deliver reliable and accurate results. Indrones has established itself as a trusted partner in the drone industry, providing innovative solutions that help businesses streamline operations, improve productivity, and make informed decisions. With their focus on excellence and customer satisfaction, Indrones continues to make significant contributions to the development and advancement of drone technology in India. Dhaksha Unmanned Systems – Dhaksha Unmanned Systems is an Indian drone company that specializes in the development and manufacturing of unmanned aerial vehicles (UAVs) for defence and security applications. Founded in 2008, Dhaksha has emerged as a prominent player in the Indian drone industry. The company focuses on providing cutting-edge drone solutions for various defence and security requirements. Their UAVs are designed to enhance situational awareness, surveillance capabilities, and operational efficiency. Dhaksha's drones are capable of performing critical tasks such as border surveillance, reconnaissance, intelligence gathering, and disaster management. Dhaksha's flagship product is the Dhaksha UAV, a versatile and rugged unmanned system that can operate in challenging environments. It features advanced technologies such as autonomous flight control, real-time video streaming, and advanced payloads for data acquisition. The Dhaksha UAV has been successfully deployed by Indian defence and paramilitary forces for border security and surveillance operations. The company's expertise lies in the integration of various sensors, cameras, and communication systems into their UAVs, enabling seamless data acquisition and transmission. They also provide training and support services to ensure efficient utilization of their drone systems. Dhaksha Unmanned Systems has gained recognition for its innovation and contribution to the defence and security sector. The company has collaborated with the Indian government, defence agencies, and research organizations to develop advanced drone technologies and solutions. With a focus on reliability, performance, and customization, Dhaksha Unmanned Systems continues to play a significant role in shaping the future of drone technology in India. They strive to provide state-of-the-art UAV systems that empower defence and security forces with the tools they need to safeguard the nation's interests. Aarav Unmanned Systems – Aarav Unmanned Systems is an Indian company that specializes in the design, development, and manufacturing of unmanned aerial vehicles (UAVs), also known as drones. Founded in 2013, Aarav Unmanned Systems has established itself as a prominent player in the Indian drone industry, providing innovative solutions for various sectors. The company offers a diverse range of drones tailored to specific applications, including defence, security, agriculture, and disaster management. Their UAVs are designed to be versatile, reliable, and equipped with advanced features to meet the specific requirements of their clients. Aarav Unmanned Systems has gained recognition for its expertise in the defence sector, providing UAVs for surveillance, reconnaissance, and intelligence-gathering purposes. Their drones are capable of carrying different payloads, including high-resolution cameras, thermal sensors, and other specialized equipment, enabling efficient data collection and analysis. In addition to defence applications, Aarav Unmanned Systems has also ventured into the agricultural sector, offering drone solutions for crop monitoring, spraying, and precision agriculture. These drones assist farmers in optimizing their agricultural practices, reducing costs, and improving crop yields through data-driven insights and targeted interventions. The company places a strong emphasis on research and development, continually striving to enhance its products and stay at the forefront of drone technology. They work closely with government agencies, industry experts, and research institutions to drive innovation and address emerging challenges in the field of unmanned systems. Aarav Unmanned Systems is committed to adhering to stringent quality standards and safety regulations, ensuring that its drones operate reliably and safely in various environments. They provide comprehensive training, maintenance, and support services to their clients, enabling them to utilize and maintain drones for optimal performance effectively. With its focus on technological innovation, customized solutions, and a strong commitment to customer satisfaction, Aarav Unmanned Systems has positioned itself as a leading drone company in India, contributing to the growth and development of the Indian UAV industry. Omnipresent Robot Tech – Omnipresent Robot Tech is an Indian technology company that specializes in the development of drones and unmanned systems for surveillance, security, and industrial applications. Founded with a vision to revolutionize how industries utilize drones, Omnipresent Robot Tech has emerged as a prominent player in the Indian drone market. The company focuses on providing innovative and customized drone solutions to cater to the specific needs of its clients. With a team of skilled engineers and technologists, Omnipresent Robot Tech designs and manufactures advanced drones that are equipped with cutting-edge technology and features. One of the key areas of expertise for Omnipresent Robot Tech is surveillance and security. They develop drones that are capable of gathering real-time aerial intelligence, monitoring critical infrastructure, and providing situational awareness in various security scenarios. These drones are equipped with high-resolution cameras, thermal imaging capabilities, and advanced image processing algorithms to deliver accurate and actionable data. In addition to security applications, Omnipresent Robot Tech also offers drone solutions for industrial purposes. Their drones are used for infrastructure inspection, aerial mapping, and monitoring of large-scale projects. By leveraging the power of drones, the company helps industries optimize their operations, improve safety standards, and enhance efficiency. Omnipresent Robot Tech is committed to delivering quality products and excellent customer service. They work closely with their clients to understand their requirements and provide tailored drone solutions that meet their specific needs. The company also emphasizes continuous research and development to stay at the forefront of drone technology advancements. With their dedication to innovation and a customer-centric approach, Omnipresent Robot Tech has gained recognition and trust in the Indian drone industry. They continue to contribute to the growth and adoption of drones in various sectors, driving the transformation of industries through the use of unmanned systems. Asteria Aerospace – Asteria Aerospace is an Indian drone manufacturing and technology company headquartered in Bangalore, Karnataka. Established in 2011, Asteria Aerospace has emerged as a leading player in the Indian drone industry, offering end-to-end drone solutions for a wide range of industrial applications. The company specializes in the design, development, and manufacturing of unmanned aerial vehicles (UAVs) that cater to diverse sectors such as agriculture, mining, infrastructure inspection, and defence. Asteria Aerospace's drones are known for their advanced technology, reliability, and ability to perform in challenging environments. One of the key offerings by Asteria Aerospace is their agriculture drone solution. These drones are equipped with advanced imaging sensors and data analytics capabilities to provide farmers with valuable insights about crop health, water usage, and pest infestations. This enables farmers to make informed decisions, optimize crop yields, and reduce costs. In addition to agriculture, Asteria Aerospace provides drone solutions for infrastructure inspection, allowing for efficient monitoring and assessment of critical structures such as power lines, pipelines, and bridges. By leveraging drone technology, the company enables faster and safer inspections, reducing the need for manual labour and improving overall productivity. Asteria Aerospace also focuses on defence and security applications, developing drones for surveillance, reconnaissance, and situational awareness. These drones are designed to withstand harsh conditions and provide real-time data to assist defence and security forces in their operations. Apart from manufacturing drones, Asteria Aerospace offers training, consultancy, and data analytics services to support its clients in maximizing the benefits of drone technology. The company's team consists of experts in drone technology, aerospace engineering, data analytics, and software development, enabling them to deliver comprehensive and customized solutions. Asteria Aerospace has received several accolades and recognition for its contributions to the drone industry. The company continues to innovate and expand its product portfolio, contributing to the growth and advancement of the Indian drone ecosystem. CONCLUSION In 2023, drones have become increasingly popular in India, used in a variety of settings ranging from agricultural and industrial operations to film production and aerial photography. Private companies are now offering services related to the use of drones, including training, maintenance, repairs, and more. The government has also started to take steps to regulate their use, such as setting up drone parks and instituting safety protocols. As a result, the future of drones in India looks very promising, with many more companies investing and innovating in the field to further its growth.
Skydio Frequently Asked Questions (FAQ)
When was Skydio founded?

Skydio was founded in 2014.

Where is Skydio's headquarters?

Skydio's headquarters is located at 3000 Clearview Way, San Mateo.

What is Skydio's latest funding round?

Skydio's latest funding round is Series E.

How much did Skydio raise?

Skydio raised a total of $574M.

Who are the investors of Skydio?

Investors of Skydio include Andreessen Horowitz, next47, NVIDIA GPU Ventures, NTT DoCoMo Ventures, Linse Capital and 14 more.

Who are Skydio's competitors?

Competitors of Skydio include Rizse, Droneify, SkySpecs, American Robotics, Percepto and 12 more.

What products does Skydio offer?

Skydio's products include Skydio 2+ and 4 more.

Who are Skydio's customers?

Customers of Skydio include BNSF, Sundt Construction, California Department of Transportation and Oklahoma City Police Department.
Compare Skydio to Competitors
Discover the right solution for your team
The CB Insights tech market intelligence platform analyzes millions of data points on vendors, products, partnerships, and patents to help your team find their next technology solution.
Request a demo