Search company, investor...
Last Raised
$1.5M
| 3 yrs ago
Mosaic Score

The Mosaic Score is an algorithm that measures the overall financial health and market potential of private companies.
+40 points in the past 30 days
About Sensory
Sensory is focused on improving the user experience through embedded machine learning technologies such as voice, vision, and natural language processing. Sensory's TrulyHandsfree voice control technology removes the need to hit buttons to activate speech recognition. Variations include fixed phase triggers and command sets, user defined triggers, predefined fixed phrase voice passwords, user defined passwords, and small vocabulary speech recognition command sets.
Sensory's Product Videos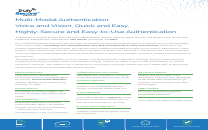 Sensory TrulySecureFace FactSheet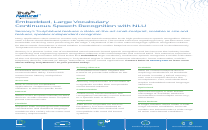 Sensory TrulyNatural FactSheet
Compete with Sensory?
Ensure that your company and products are accurately represented on our platform.
Sensory's Products & Differentiators
TrulyHandsfree

Accurate, widely deployed, wake word & multiple phrase technology that recognizes, analyzes and responds to dozens of keywords and phrases.
Expert Collections containing Sensory
Expert Collections are analyst-curated lists that highlight the companies you need to know in the most important technology spaces.
Sensory is included in 2 Expert Collections, including Conference Exhibitors.
C
Conference Exhibitors
5,302 items
A
Artificial Intelligence
10,627 items
This collection includes startups selling AI SaaS, using AI algorithms to develop their core products, and those developing hardware to support AI workloads.
Sensory Patents
Sensory has filed 87 patents.
The 3 most popular patent topics include:
Coatings
Dosage forms
Drug delivery devices | Application Date | Grant Date | Title | Related Topics | Status |
| --- | --- | --- | --- | --- |
| | | | Spectroscopy, Coatings, Nonlinear optics, Optical devices, Microscopy | |
| | |
| --- | --- |
| Application Date | |
| Grant Date | |
| Title | |
| Related Topics | Spectroscopy, Coatings, Nonlinear optics, Optical devices, Microscopy |
| Status | |
Latest Sensory News
Sensory Overload Anxiety 2023: Symptoms, Causes & Treatments
Apr 29, 2023
Updated on Sensory overload anxiety in the workplace Sensory overload anxiety is an overwhelming and often traumatic experience. When you experience anxiety sensory overload, it feels like sensory input is bombarding your five senses. Sensory overload anxiety affects roughly 5% – 16.5% [1] of the general population. However, these figures are typically significantly higher for people with certain comorbid conditions like autism spectrum disorder ( 90% )[2] and sensory processing disorders ( 46% – 69% ). [3] Continue reading to find out what sensory overload anxiety is, the symptoms and causes of the condition, and the treatment options available. Key Takeaways Sensory overload anxiety is a condition whereby one experiences anxiety and stress due to overwhelming sensory inputs. Sensory overload anxiety affects between 5% to 16.5% [1] of the general population. It can be triggered by busy, crowded, or loud environments, but little is known about the condition's underlying cause. Genetic and environmental factors both play a role in anxiety sensory overload. The condition has a 47% heritability, and up to 52% of preterm babies have the condition. What Is Sensory Overload Anxiety? To understand sensory overload anxiety, we first need to split the term into two parts—sensory overload and anxiety. Sensory overload occurs when you become overwhelmed by too much sensory input, such as noise, touch, or light. It can happen in any situation, particularly when too much happens at once or when you already feel on edge in an environment with many sensory stimuli. When you experience sensory overload anxiety, you may feel anxious or overwhelmed. It is definitely not your ordinary anxiety. Additionally, you may feel physically unwell . [4] In moments of sensory overload, you might struggle to concentrate [5] and have difficulty focusing, reasoning, communicating with others, and making choices. On the other hand, anxiety, or anxiety disorder, is a persistent feeling of worry and fear. Anxiety disorders differ from ordinary anxiety in their prevalence and significant impact on everyday life. According to the American Psychological Association ,[6] the term "anxiety disorder" means: "Any group of disorders that have as their central organizing theme the emotional state of fear, worry, or excessive apprehension. This category includes, for example, panic disorder, various phobias (e.g., specific phobia, social phobia), and generalized anxiety disorder." Those with an anxiety disorder may be more vulnerable to experiencing sensory overload ,[7] as their stress response system can be triggered more easily and can remain active for longer periods. Similarly, people who often become overwhelmed by sensory stimulation often feel anxious ,[8] potentially due to the unpredictability of sensory overload. Therefore, sensory overload and anxiety commonly co-occur—hence the term "sensory overload anxiety." But what are the symptoms of sensory overload anxiety? Symptoms Of Sensory Overload Anxiety It's important to state that adults' symptoms of sensory overload anxiety differ between individuals. One person may experience sensory overload anxiety frequently and in high severity. At the same time, another might experience mild sensory overload symptoms on rare occasions. Therefore, anxiety sensory overload symptoms vary between people. However, those with anxiety sensory overload typically experience symptoms relating to stress response activation ,[4] including Rapid heart rate. Quick changes in sound, light, or temperature. Social situations that feel tense or anxiety-provoking. Sudden, unexpected physical contact. However, these aren't the underlying cause of sensory overload anxiety. For some people, sensory overload stems from a sensory processing disorder. People with sensory processing disorders [9] typically struggle to process and respond to sensory input from their environment. This can cause over-responsivity (leading to sensory overload) or under-responsivity to sensory information. Evidence shows that genetics plays a significant role in sensory processing dysfunction, with an estimated heritability of 47% . [10] However, environmental factors may also cause sensory processing disorder. These environmental factors include: Maternal stress :[11] Children exposed to high-stress levels in utero may be at a greater risk of experiencing sensory processing issues. Maternal smoking :[13] Smoking during pregnancy has increased the risk of sensory processing challenges in children. Other conditions can also make people more susceptible to sensory issues. These conditions include the following: Anxiety disorder. Sensory Overload Anxiety Treatments Unfortunately, mental health treatments for sensory overload anxiety are currently few and far between. Ultimately, the treatment options available involve preventative lifestyle choices. One lifestyle change is to avoid triggers and sensory stimuli that may cause sensory overload. You can also maintain a healthy lifestyle and use self-care techniques like deep breathing to reduce stress. However, two treatment options may effectively reduce sensory overload anxiety symptoms: sensory integration therapy [18] and online therapy . Sensory Integration Therapy For Sensory Overload Anxiety Sensory integration therapy is usually performed by an occupational therapist and is based on the idea that sensory overload occurs due to disruptions in the neural processes for integrating sensory information. The treatment method is designed to give people sensory experiences in a controlled environment. With the help of the occupational therapist, the person experiencing sensory overload learns how to regulate their autonomic nervous system using helpful coping strategies. This experience allows them to cope with sensory overload outside the therapy room. Online Therapy For Sensory Overload Anxiety Evidence shows that online therapy can effectively reduce anxiety and depression. This, in turn, reduces the symptoms associated with a sensory processing disorder. Online therapy [19] can also provide an excellent alternative to sensory integration therapy for people with sensory overload anxiety. Why? Because it allows people to stay in the comfort of their own homes without the risk of sensory processing issues. When You Need To See A Doctor Sensory overload anxiety can be highly anxiety-provoking for those who experience it, especially if the symptoms are extreme and frequent. As the symptoms of sensory overload anxiety aren't typically dangerous, they don't generally require immediate medical intervention. Nevertheless, seeking medical attention is important if you feel that sensory overload anxiety significantly impacts your daily life. A doctor may ask you to take a sensory overload anxiety test to decipher whether you have sensory anxiety. They will also be able to discuss appropriate lifestyle adaptations you can make and any available support. It's also important to note that sensory overload anxiety can significantly influence one's mental health . [20] If your sensory perceptual experiences negatively affect your mental health, consulting a doctor for support is vital. The Bottom Line Sensory overload anxiety affects a significant portion of the general population. Some people, like those with attention hyperactivity disorder and autism spectrum disorders, tend to be particularly vulnerable to sensory overload anxiety. Crowded, loud, or busy spaces can trigger sensory overload and sudden changes in sensory information, such as sight, touch, or sound. Few mental health treatments are available for this common disorder. General guidance is to avoid sensory stimuli and uses self-care techniques like deep breathing to reduce that sensory overload. However, sensory integration therapy may be effective in helping people regulate their nervous system in triggering situations. And be sure to see a doctor for support if your sensory processing difficulties begin to impact your daily life severely. + 20 sources Health Canal avoids using tertiary references. We have strict sourcing guidelines and rely on peer-reviewed studies, academic researches from medical associations and institutions. To ensure the accuracy of articles in Health Canal, you can read more about the editorial process  here Lucy Jane Miller, Schoen, S.A., Mulligan, S. and Sullivan, J. (2017). Identification of Sensory Processing and Integration Symptom Clusters: A Preliminary Study. Occupational Therapy International, [online] 2017, pp.1–10. doi:https://doi.org/10.1155/2017/2876080. Balasco, L., Provenzano, G. and Bozzi, Y. (2020). Sensory Abnormalities in Autism Spectrum Disorders: A Focus on the Tactile Domain, From Genetic Mouse Models to the Clinic. Frontiers in Psychiatry, [online] 10. doi:https://doi.org/10.3389/fpsyt.2019.01016. Anguera, J.A., Brandes-Aitken, A., Antovich, A.D., Rolle, C.E., Desai, S. and Marco, E.J. (2017). A pilot study to determine the feasibility of enhancing cognitive abilities in children with sensory processing dysfunction. PLOS ONE, [online] 12(4), pp.e0172616–e0172616. doi:https://doi.org/10.1371/journal.pone.0172616. Qld.gov.au. (2022). Sensory overload is real and can affect any combination of the body's five senses: learn ways to deal with it. [online] Available at: https://www.health.qld.gov.au/news-events/news/sensory-overload-is-real-and-can-affect-any-combination-of-the-bodys-five-senses-learn-ways-to-deal-with-it. Scheydt, S., Staub, M., Frauenfelder, F., Gunnar Lauge Nielsen, Behrens, J. and Needham, I. (2017). Sensory overload: A concept analysis. International Journal of Mental Health Nursing, [online] 26(2), pp.110–120. doi:https://doi.org/10.1111/inm.12303. APA (2023). APA Dictionary of Psychology. [online] Apa.org. Available at: https://dictionary.apa.org/anxiety-disorderhttps. Lane, S.J., Reynolds, S. and Levent Dumenci (2012). Sensory Overresponsivity and Anxiety in Typically Developing Children and Children With Autism and Attention Deficit Hyperactivity Disorder: Cause or Coexistence? American Journal of Occupational Therapy, [online] 66(5), pp.595–603. doi:https://doi.org/10.5014/ajot.2012.004523. MacLennan, K., Roach, L. and Tavassoli, T. (2020). The Relationship Between Sensory Reactivity Differences and Anxiety Subtypes in Autistic Children. Autism Research, [online] 13(5), pp.785–795. doi:https://doi.org/10.1002/aur.2259. Lang, M. and Emmerentia du Plessis (2019). Sensory processing disorder: Perceptions on the clinical role of advanced psychiatric nurses. Health Sa Gesondheid, [online] 24. doi:https://doi.org/10.4102/hsag.v24i0.1197. Acevedo, B.P., Aron, E.N., Aron, A., Matthew Donald Sangster, Collins, N.L. and Brown, L.L. (2014). The highly sensitive brain: an fMRI study of sensory processing sensitivity and response to others' emotions. Brain and behavior, [online] 4(4), pp.580–594. doi:https://doi.org/10.1002/brb3.242. Rezaei, Z., Jafari, Z., Navvab Afrashteh, Torabi, R., Singh, S., Kolb, B., Davidsen, J. and Mohajerani, M.H. (2021). Prenatal stress dysregulates resting-state functional connectivity and sensory motifs. Neurobiology of Stress, [online] 15, pp.100345–100345. doi:https://doi.org/10.1016/j.ynstr.2021.100345. Ryckman, J., Hilton, C., Rogers, C.E. and Pineda, R. (2017). Sensory processing disorder in preterm infants during early childhood and relationships to early neurobehavior. Early Human Development, [online] 113, pp.18–22. doi:https://doi.org/10.1016/j.earlhumdev.2017.07.012. King, E.M., Campbell, A., Belger, A. and Grewen, K.M. (2018). Prenatal Nicotine Exposure Disrupts Infant Neural Markers of Orienting. Nicotine & Tobacco Research, [online] 20(7), pp.897–902. doi:https://doi.org/10.1093/ntr/ntx177. Gupta, N., Brown, C.R., Deneke, J., Maha, J. and Kong, M. (2019). Utilization of a Novel Pathway in a Tertiary Pediatric Hospital to Meet the Sensory Needs of Acutely Ill Pediatric Patients. Frontiers in Pediatrics, [online] 7. doi:https://doi.org/10.3389/fped.2019.00367. Harricharan, S., McKinnon, M.C. and Lanius, R.A. (2021). How Processing of Sensory Information From the Internal and External Worlds Shape the Perception and Engagement With the World in the Aftermath of Trauma: Implications for PTSD. Frontiers in Neuroscience, [online] 15. doi:https://doi.org/10.3389/fnins.2021.625490. Mross, K., Jankowska, M.M., Meller, A., Karolina Machowska-Sempruch, Nowacki, P., Masztalewicz, M. and Nowacki, P. (2022). Sensory Integration Disorders in Patients with Multiple Sclerosis. Journal of Clinical Medicine, [online] 11(17), pp.5183–5183. doi:https://doi.org/10.3390/jcm11175183. David Patrick Houghton, Capriotti, M.R., Conelea, C.A. and Woods, D.W. (2014). Sensory Phenomena in Tourette Syndrome: Their Role in Symptom Formation and Treatment. Current Developmental Disorders Reports, [online] 1(4), pp.245–251. doi:https://doi.org/10.1007/s40474-014-0026-2. Schaaf, R.C., Dumont, R.A., Arbesman, M. and May-Benson, T.A. (2017). Efficacy of Occupational Therapy Using Ayres Sensory Integration®: A Systematic Review. American Journal of Occupational Therapy, [online] 72(1), p.7201190010p1-7201190010p10. doi:https://doi.org/10.5014/ajot.2018.028431. Mitchell, E. (2020). 'Much more than second best': Therapists' experiences of videoconferencing psychotherapy. [online] Available at: https://www.semanticscholar.org/paper/%E2%80%9CMuch-more-than-second-best%E2%80%9D%3A-Therapists%E2%80%99-of-Mitchell/ad5fdb1cdeb558812a5306f9dc05c7cad7e8f949. Harrison, L., Kats, A., Williams, M.E. and Aziz-Zadeh, L. (2019). The Importance of Sensory Processing in Mental Health: A Proposed Addition to the Research Domain Criteria (RDoC) and Suggestions for RDoC 2.0. Frontiers in Psychology, [online] 10. doi:https://doi.org/10.3389/fpsyg.2019.00103. Written by:
Sensory Frequently Asked Questions (FAQ)
When was Sensory founded?

Sensory was founded in 1994.

Where is Sensory's headquarters?

Sensory's headquarters is located at 4701 Patrick Henry Drive, Santa Clara.

What is Sensory's latest funding round?

Sensory's latest funding round is Loan.

How much did Sensory raise?

Sensory raised a total of $1.5M.

Who are the investors of Sensory?

Investors of Sensory include Paycheck Protection Program, Norwest Venture Partners and InveStar Capital.

Who are Sensory's competitors?

Competitors of Sensory include Deepgram and 5 more.

What products does Sensory offer?

Sensory's products include TrulyHandsfree and 4 more.

Who are Sensory's customers?

Customers of Sensory include Fujitsu.
Compare Sensory to Competitors
Discover the right solution for your team
The CB Insights tech market intelligence platform analyzes millions of data points on vendors, products, partnerships, and patents to help your team find their next technology solution.
Request a demo