Search company, investor...
Stage
Unattributed VC
| Alive
About QuintoAndar
Quinto Andar operates as a real estate technology company. It provides an online marketplace for residential rentals. It helps users to buy and sell properties through its website. The company was founded in 2012 and is based in Sao Paulo, Brazil.
QuintoAndar's Product Videos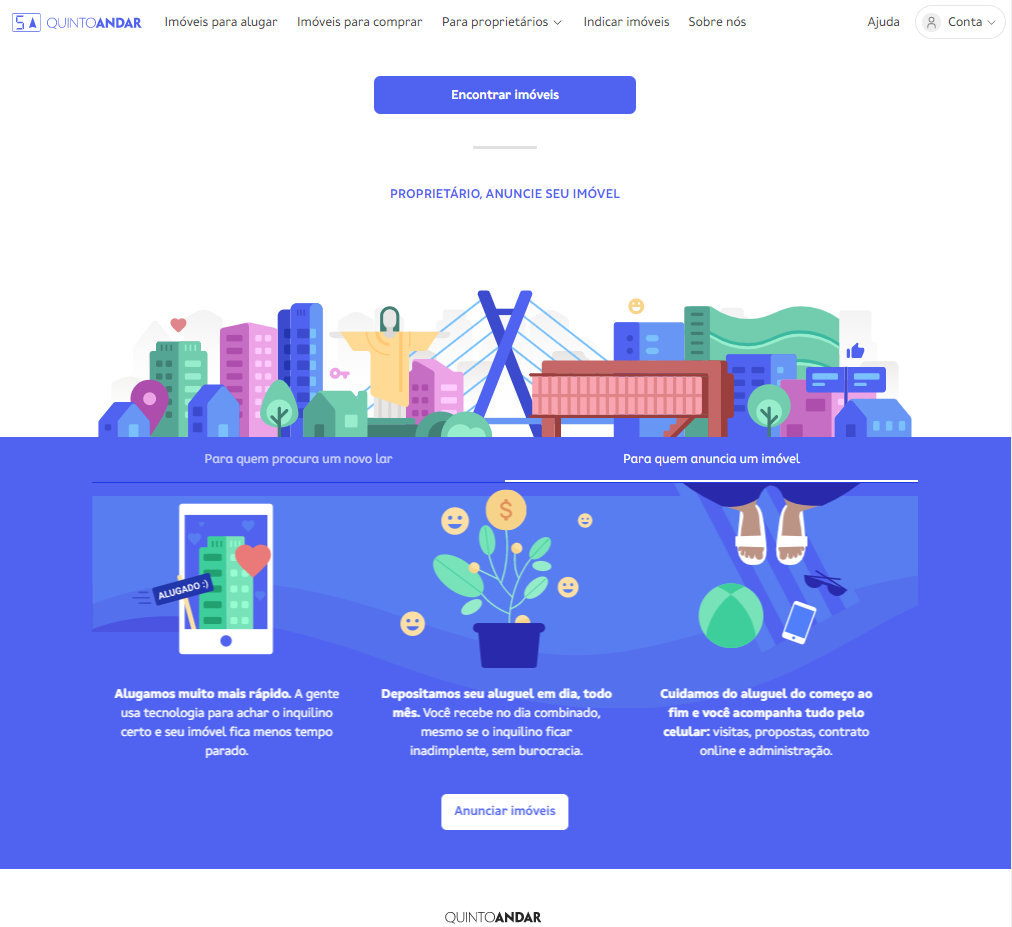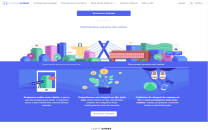 Rental Landlord
QuintoAndar's Products & Differentiators
Home rental for tenants

Services to tenants looking for a home to live in.
Expert Collections containing QuintoAndar
Expert Collections are analyst-curated lists that highlight the companies you need to know in the most important technology spaces.
QuintoAndar is included in 6 Expert Collections, including Real Estate Tech.
R
Real Estate Tech
2,484 items
Startups in the space cover the residential and commercial real estate space. Categories include buying, selling and investing in real estate (iBuyers, marketplaces, investment/crowdfunding platforms), and property management, insurance, mortgage, construction, and more.
U
Unicorns- Billion Dollar Startups
1,227 items
F
Future Unicorns 2019
50 items
F
Fintech
12,418 items
Excludes US-based companies
F
Fintech 250
749 items
250 of the most promising private companies applying a mix of software and technology to transform the financial services industry.
Latest QuintoAndar News
9 Developing Real Estate Portal Stories Worth Keeping an Eye On
Aug 10, 2023
Share this Post: Have you just got back from the beach and need a refresher on what's going on in the world of real estate marketplaces? We've summarized nine of the most interesting stories and situations in our industry from around the world. Some have the potential to completely re-shape markets and some involve businesses that are leading the way for others around the world to follow. All are worth paying attention to as they develop... CoStar vs Zillow (USA) What has happened so far: Commercial real estate and data giant CoStar has started its march towards Zillow's residential real estate kingdom buying several assets including the Homes.com portal. CoStar hasn't yet turned on the marketing taps but has taken every opportunity to have a pop at Zillow's business model and the portal's user experience. CEO Andy Florance has also been bigging up the marked traffic gains of Homes.com, claiming CoStar's network is now in second position in the U.S. residential portal market. CoStar's 'Residential' revenue has big plans for its 'Residential' business segment. What could happen: CoStar has a market cap of $33 billion and is no stranger to buying its way into an industry. If and when it chooses to really lean into the marketing of Homes.com that could mean trouble for Zillow but would perhaps be more likely to take market share away from other players such as Realtor.com. Competition Commission vs portals (South Africa) What has happened so far: The South African Competition Commission has released a report which found that Property24 and Private Property impede competition in South Africa's online property classifieds sector. The authority has imposed several new conditions on the two leading portals that seriously change how both do business. These include data interoperability for agents to feed listings to other portals, ending multi-year contracts with big agencies and a price reduction for smaller agencies. What could happen: The two leading portals may well mount a legal challenge to the ruling, so we may see a big legal struggle before a lot of the changes come into effect. Property24 told us they were still reviewing the report when we contacted them for comment. We asked Adriaan Grové, CEO of Entegral, a company that offers listings syndication software as well as running one of the smaller portals mentioned in the report (MyProperty), what the new conditions might mean for competition in the South African market: "The ruling is historical for the online real estate space in South Africa as it will empower independent proptech companies like Entegral and others to access all property listing feeds within the next 12 months. This is not only important from a portal perspective but also to build 3rd party apps that rely on listing data." "Up until now, we were the only listing syndication service provider in South Africa that new portals could approach and know that they could get a feed. We try to support local businesses and currently have two new portals that are looking to launch on top of our feeds." "Our aim now is to see how we can increase the listing counts with the feeds that will open up. Our other challenge is to convince agents to support more portals and start spreading their marketing spend. While it would be difficult to compete with the established portals, the tech landscape is evolving fast and it is easier today compared to 10 years ago to run a sustainable portal with a smaller team." Zillow's business model evolution (USA) What has happened so far: iBuying didn't work, mortgages are a struggle and the macro environment is putting a dampener on its main business. Zillow needs to find where its next phase of growth is going to come from. There has been a lot of talk from the company about a one-stop-shop 'housing super app' and CEO Rich Barton is on record saying he expects the company to reach $5 billion annual revenue and a 45% EBITDA margin by 2025. Zillow's so-called 'enhanced markets' are the ones to keep an eye on here. In these U.S. cities, the portal company is doing certain things differently: Only working with select agents (kicking many agents off its Premier Agent product to do this) Only working with a 'post pay' model where agents pay Zillow a percentage (typically between 25-35%) of the commission they earn on a sale. Offering enhanced listings for a price via its ShowingTime+ 'Listing Showcase' product. Going the extra mile to truly integrate its own mortgage business into the Zillow UX. What could happen: Getting into the transaction and making consistent money from mortgages are two things that have historically been excruciatingly difficult for portal companies. If Zillow pulls either of them off or makes significant money from charging agents to list, it will be a big deal that wouldn't be ignored by rivals like CoStar and Realtor.com. All eyes will be on the Seattle-based company's quarterly reporting . Scout24's consumer subscription product (Germany) What has happened so far: After changing its company paradigm , the leading German real estate portal company has developed a suite of consumer subscription products, and they're doing great. Between them the products for ordinary German renters, landlords and sellers have almost 350,000 subscribers and are generating quarterly revenues of over €50 million at a very attractive profit margin. What could happen: There are many roads that real estate marketplace companies are going down away from the traditional online classifieds business model. It may be that with Scout24 guiding the way, other portal companies choose to go down a similar road and build user subscription services. Agents vs QuintoAndar (Mexico) The complaint alleges that QuintoAndar has been using its market dominance to impose conditions on agents as it owns the two leading real estate portal websites in the country (Inmuebles24 and Vivanuncios). One brokerage firm (EasyBroker) has gone as far as to stop paying the portal and has reportedly had its ads removed. Online Marketplaces has also heard that third-party CRM providers have been denied access to Quinto Andar's APIs. What could happen: We have seen this same story play out in several markets around the world. It rarely ends well for the agents. QuintoAndar has achieved a dominant position and any brokerage or agent that doesn't want to pay the portals will have to explain to vendors why their listing isn't on the most popular real estate websites. When contacted, QuintoAndar turned to the tried and true PR line of emphasizing the value of what it does for agents rather than talk about the price of its services. The Moehrl class-action antitrust suit (USA) What has happened so far: A class action lawsuit was brought by home sellers against the National Association of Realtors as well as the so-called 'big four' real estate brokerages in the United States. Basically, the complaint is against the NAR rules that require all brokers to offer buyer-broker compensation when listing a property on an MLS. The suit claims this has driven up costs to the seller and stifled competition. What could happen: The case, which looks to be heading to trial despite efforts from the NAR and brokerages to overturn it, could potentially mean that home sellers in 20 MLS markets are entitled to an estimated $13.7 billion in damages. It might also mean that buyer agent commissions come under threat which would in turn threaten Zillow's main business model. Who comes out of the hard times on top and what do they look like? (China) What has happened so far: Most real estate markets around the world have suffered recently but none more so than than China's. The Evergrande crisis, a mortgage meltdown, stringent government COVID-19 policy and a range of other factors have left the country's real estate marketplaces struggling. Yan Jinbo, chairman, founder, and CEO of 58.com (the operator of leading portal Anjuke) reportedly told employees that business units will be "cut off" if they don't turn a profit in the next 12 months. Fang.com (not to be confused with its competitor FangDD) was kicked off the NYSE after failing to meet minimum bid requirements. Below, Chinese market expert Brett Hartley Wilson explains the Chinese real estate market. What could happen: Apart from the possibility of some market consolidation occurring, the one to watch in China is KE Holdings. The company that started in Beijing as a pure full-service brokerage offering guaranteed sales is now a fully-fledged do-it-all, end-to-end behemoth and is pioneering the 'transaction platform' model that Zillow and others are jealous of. KE Holdings (aka Beike) already has some huge numbers and they may get even bigger. KE Holdings' renovations business has taken off recently and is definitely one to watch. Can Hemnet ride the vendor's wallet to REA Group level profitability? (Sweden) What has happened so far: The leading Swedish real estate portal Hemnet floated on the stock market in 2021 with ambitions to become one of the world's leading, reference point real estate portals. It has been churning out great quarterly numbers pretty much ever since. Sweden is one of the very few markets where the person selling their house is the party responsible for paying the marketing costs rather than the agent. The other big market where this happens is Australia where the dominant portal company REA Group generated $763 million in revenue in its last financial year. What could happen: Sweden has about 40% of the population of Australia but Hemnet only made about 11% of REA Group's revenue over the same period. Even though it has been cranking out gains in its unit economics and shifting customers to ever more expensive marketing packages, it looks like there is still a long way to go for Hemnet. REX vs Zillow / NAR (USA) What has happened so far: The discount brokerage REX has brought a case against the NAR and Zillow. The allegation is that since Zillow started displaying listings from non-MLS sources on a tab marked 'other listings' on its results pages, this has unfairly impacted discount brokerages such as REX who did not wish to pay the NAR fees or be on MLSs. There has been a lot of back and forth with neither side able to get the judge to settle the matter before the trial date which is set for September 18th. What could happen: If REX wins it could mean that Zillow has to display listings from non-MLS sources (including FSBO listings) on its main results page tab. This would be a big boost for discount brokerages and potentially for for-sale-by-owner sellers as well. Confusingly, Zillow is actually in favour of doing things this way but isn't able to because, as a nominal brokerage, it has to abide by the NAR's rules. Read more August 10, 2023 Edmund got to know the world of portals and marketplaces working at Mitula Group (which became Lifull Connect after the buyout in 2018). He worked directly with hundreds of portals across the world in his role in the content department for three and a half years before transferring to the SEO department to understand the inner workings of listings sites. He joined Online Marketplaces as Head of Content in March 2020. Subscribe to our mailing list to get the famous, free Friday newsletter! News and analysis to help build better online marketplace businesses, in your inbox, every Friday Email address*
QuintoAndar Frequently Asked Questions (FAQ)
When was QuintoAndar founded?

QuintoAndar was founded in 2012.

Where is QuintoAndar's headquarters?

QuintoAndar's headquarters is located at Rua Girassol, n.555, Sao Paulo.

What is QuintoAndar's latest funding round?

QuintoAndar's latest funding round is Unattributed VC.

How much did QuintoAndar raise?

QuintoAndar raised a total of $755.74M.

Who are the investors of QuintoAndar?

Investors of QuintoAndar include 4Equity Media Ventures, Globo Ventures, Tencent, Greenoaks Capital Management, Kaszek Ventures and 15 more.

Who are QuintoAndar's competitors?

Competitors of QuintoAndar include Loft, Habi, Capitalizarme, La Haus, Aptuno and 11 more.

What products does QuintoAndar offer?

QuintoAndar's products include Home rental for tenants and 3 more.
Compare QuintoAndar to Competitors