Search company, investor...
Last Raised
$12M
| 2 yrs ago
About Nodar
NODAR provides three-dimensional (3D) vision systems for autonomous vehicles using untethered camera arrays. It offers technology to accelerate the path to higher autonomy. It was founded in 2018 and is based in Boston, Massachusetts.
Loading...
Nodar's Product Videos NODAR Hammerhead Demo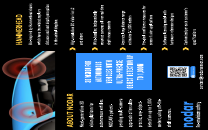 Final brochure
ESPs containing Nodar
The ESP matrix leverages data and analyst insight to identify and rank leading companies in a given technology landscape.
Industrials / Automotive Tech
Cameras are a core feature of autonomous vehicles and advanced driver assistance systems (ADAS). Unlike radar and lidar, cameras can identify colors and fonts to help detect road signs, traffic lights, and street markings. This category also includes thermal sensors, which don't require light to detect or classify objects, making them more reliable at night or in adverse weather conditions. Comput…
Nodar named as Challenger among 9 other companies, including Prophesee, StradVision, and Kogniz.
Nodar's Products & Differentiators
Hammerhead

NODAR builds 3D vision technology that provides the performance and reliability required for all self-driving vehicles
Loading...
Expert Collections containing Nodar
Expert Collections are analyst-curated lists that highlight the companies you need to know in the most important technology spaces.
Nodar is included in 3 Expert Collections, including Auto Tech.
A
Auto Tech
2,476 items
Companies working on automotive technology, which includes vehicle connectivity, autonomous driving technology, and electric vehicle technology. This includes EV manufacturers, autonomous driving developers, and companies supporting the rise of the software-defined vehicles.
S
Semiconductors, Chips, and Advanced Electronics
6,544 items
Companies in the semiconductors & HPC space, including integrated device manufacturers (IDMs), fabless firms, semiconductor production equipment manufacturers, electronic design automation (EDA), advanced semiconductor material companies, and more
Nodar Patents
Nodar has filed 10 patents.
The 3 most popular patent topics include:
3d imaging
computer vision
stereoscopy | Application Date | Grant Date | Title | Related Topics | Status |
| --- | --- | --- | --- | --- |
| | | | | |
| | |
| --- | --- |
| Application Date | |
| Grant Date | |
| Title | |
| Related Topics | |
| Status | |
Latest Nodar News
Ag Autonomy Kicks Up Dust As Acquisition Deals Accelerate
Nov 25, 2023
I first rode in a self-driving vehicle in 1991. Haven't looked back. You'll be asked to sign into your Forbes account. Nov 25, 2023, Got it! AGCO On modern farms these days, its getting to where you cant throw a dirt clod without hitting a robot. The agriculture sector is exceptionally active in applying technology across the tasks necessary to raise crops. A myriad of farming tasks are ripe for automation – where the task is shared between the human and machine – and autonomy, where the machine is doing 100% of a specific job with no human involvement. What are the business drivers of AgTech innovation? Lack of human drivers of farm machinery. As is common across society, workers are choosing more attractive ways to make money. For the labor force that is in place, it is essential to apply human intelligence to more complex tasks. These factors intersect with the need for ever greater precision to lower costs and improve productivity in a high-risk low margin business. Contrasting with the challenges in bringing autonomous driving to the public roads, agriculture is a relatively safe space for autonomy to sink its roots deep. Add to this the ability to retrofit existing farm vehicles with autonomy – not a viable option in on-road vehicles — means the market opportunity is significant. While deployment is talked about in future tense for long haul autonomous trucks, ag autonomy is in the hands of farmers already. With my longtime involvement in on-road automated driving, I look at AgTech through at particular lens. What are the commonalities? What are fundamental differences? Are there overlaps? Synergy? To explore these questions, here's a look at recent moves from key players, large and small. AGCO The big move of recent weeks comes from AGCO, one of the largest companies in the space with 2023 annual revenue projected to be over $14B. AGCO took a majority stake in Trimble's agriculture technology business, acquiring an 85% interest in Trimble's portfolio of Ag assets for cash consideration of $2.0 billion and the contribution of JCA Technologies . Trimble is active across a wide range of verticals, including construction, geospatial, natural resources, and infrastructure, in addition to agriculture. Trimble's AgTech group offers self-steering, precision spraying, data management and equipment monitoring, which AGCO will add to their bolt-on retrofit offerings. Specifically, AGCO will pair Trimble's technology products with Precision Planting seed planter products, which AGCO acquired in 2017. AGCO said they expect Precision Planting sales, which includes their Precision Planting retrofit business and their FUSE OEM business, to reach about $850 million this year. This is more than double the total in 2020, and AGCO is forecasting $1 billion in sales by 2025. They add that Precision Planting's software and components can be added to most brands of planters, expanding their addressable market to farmers looking to upgrade older models. With the combination of AGCO's precision ag revenues and Trimble Ag joint venture revenues, AGCO now expects to deliver over $2 billion in combined precision ag revenues by 2028. During the summer I had a fascinating visit to AGCO's technology event at their research farm in southern Kentucky. Across vast expanses of land, some very interesting machines were operating. An automated planter was placing seeds with precision and providing just the right amount of fertilizer for each seed. Here, the autonomy smarts were focused on the planter completing a complex task at a brisk pace, while being pulled by an automated tractor running on a fixed trajectory. As plants sprout and grow, they compete with weeds. Using banks of cameras and applying stereo vision techniques, I watched AGCO's Precision Planting pre-commercial automated sprayer detect individual weeds and zap them with herbicide. What a difference compared to the traditional brute force approach of spraying the chemicals across the entire field, creating toxic runoff and wasting money. For harvesting, I observed an unmanned tractor pulling an autonomous hay baler. This rig drove over rows of cut hay, with the baler scooping up the hay and dropping a tidy hay bale out the back end. But what really wow'd me was the autonomous grain cart operation, superb in its simplicity and utility. This video shows a combine harvester plucking wheat kernels from the plant, creating a fountain of kernels which flow in an elegant arc to a grain cart running alongside the harvester. When the grain cart reaches capacity, it pulls away and another empty grain cart shows up to keep the process going. These weren't "smart grain carts." They were pulled by a driverless tractor maneuvering adroitly to ensure that the cart's open bin was placed perfectly beneath the combine's spout gushing grain, moving in parallel with the harvester. When the cart was full, the tractor pulled away to make way for an empty cart pulled by another driverless tractor to keep the process going efficiently. While autonomous tractors may run on a planned route when planting, as noted above, the job of the tractor pulling the grain cart requires more intelligence because its route is not fixed. When dispatched, it must find the combine and sidle up at the appropriate offset for the grain cart to receive the grain. When full, it must find its own route across the field and onward to the dumping station. In low-tech farming operations, wrangling grain carts is one of the least skilled tasks for workers and yet highly labor intensive. Looking at the larger picture, the chart below provides AGCO's take on the range of applications and bottom-line impacts on Net Farm Income. Attractive ROI numbers are powering investments in AgTech across the industry. Here are ... [+] representative estimates from AGCO. AGCO AGCO says they will offer retrofits for targeted spraying in 2024, with a factory-built offering coming in 2026. Retrofit autonomy for their "operator-independent grain cart" and precision planting will come in 2025, with "fully autonomous integrated solutions across the crop cycle" by 2030. CNH CNH , makers of Case IH and New Holland equipment, has also been kicking up dust in precision ag. In 2021, they acquired Raven Industries for $2.1B. CNH customers can order Raven's guidance systems, crop-spraying machines, and autonomous driving systems on a new purchase or as a retrofit on existing equipment. Getting the best yields requires a level of precision that has not previously been practical with the machines of yesteryear. Typically, farmers set their tillage machinery once and the entire field is worked with this single setting. But CNH's smart machines can adjust to variances in depth and quality of dirt throughout the field. CNH notes that their tillage automation technology allows the operator to set tilling depth to an accuracy of one tenth of an inch as their sensor monitors and maintains the depth throughout the planting process, at an average speed of 10 miles per hour. The result? CNH says farmers can save 17% on fuel and yield nearly 3 more bushels of soy per acre because of these automatic adjustments. In dollar terms, the farmer earns $36 more per acre. When it comes to crop protection, CNH has added the Raven Vision Guidance System to their automated sprayers. These are massive machines with over one hundred precision nozzles on a 135-foot boom, steering the equipment along the rows with sub-inch accuracy. Running at over 20 mph, CNH claims benefits of 15% less idle time, 10% product savings, and the ability to cover 20% more acres per day. For applying fertilizer, the company introduced the Case IH Trident 5550 driverless applicator with "Raven autonomy inside" in 2022. CNH is particularly bullish on their Harvest Automation System, noting that farmers have saved $30,000 per year per machine, reducing fuel costs and allowing them to cover more acres per hour. Machine intelligence has reduced the number of functions that operators need to manage from twelve down to three, generating productivity benefits for both semi-skilled and fully skilled operators. The harvest automation system includes a multi-spectral camera with artificial intelligence to optimize performance. CNH says use of this system has generated 33% less grain loss and 25% increased throughput. In harvesting hay in particular, adapting to changes in field conditions are key. CNH's system fires a lidar pulse at the surface just ahead of the tractor to assess the position and the shape of the row. This information is used to optimize the tractor's position and speed. The company reports up to a 15% increase in productivity. What about permanent crops like vineyards and orchards? There are unique challenges here. While harvesting, the plants must not be damaged so that they can stay healthy and produce during the following season. CNH's automated system scans the harvesting job ahead over 30 times per second while monitoring the plants and terrain ten meters ahead of the machine. With this information, the machine steers itself on the optimum trajectory. The system is also equipped with infrared technology to work at night since the characteristics of the fruit, specifically the sugar content, can be at their peak overnight. CNH says that customers have experienced 10% savings in herbicide, 35% fuel savings per acre, and a 35% reduction in CO2. The company has stated that semi-autonomous tillage solutions and driver-assisted harvest solutions have been under test by customers since last year. In CNH's full autonomy offerings, the Raven autonomous grain cart solution allows a combine operator the ability to call a grain cart directly to the harvester to offload product without a second operator in the tractor pulling the grain cart. This function is similar to AGCO's approach described above. The John Deere Company As I covered in detail in my article earlier this year, Deere also has a robotic spraying system, as well as a product which optimizes fertilizer usage by registering when individual seeds are planted and spraying the precise amount of starter fertilizer directly onto the seed as it goes into the soil. The company introduced retrofit systems early this year. Like the other OEMs, autonomy is a high priority. In January 2022, Deere revealed its fully autonomous tractor. The company says they started with tillage because harvest is the busiest time of year for farmers. This is because the farmer must get the current crop out of the ground and at the same time prepare the soil for the next season before the ground freezes. Autonomy essentially allows one farmer to do both jobs at once. Deere's goal is to create a fully autonomous farm for corn and soybean farmers by 2030, in which plants can be planted, sprayed, and harvested with autonomous farming machines. For now, Deere​ is offering an Autonomy Prep package for 8 and 9 Series Tractors that ensures these machines have the known components needed to operate autonomously in the future. Such components include the right transmission, ethernet, and a higher amperage alternator. Startups Are a Key Part of the Ecosystem Given the moves by AGCO, CNH, and Deere, AgTech is a very acquisitive space. This sector has significant independent startup activity as well. Compared to on-road automated driving, AgTech is a promising arena for startups since the safety requirements of the Operational Design Domain are less challenging (although still complex). And from what I can tell, the acquisition process appears to be more streamlined. The approach of startup Monarch Tractors was discussed in a recent interview with Founder and CEO Praveen Penmetsa. He said that Monarch seeks to compete in an open way with closed platforms like Deere. His goal for Monarch is to become "the Android of Ag." Monarch's revenue approach is direct sales, digital subscriptions, and licensing. For direct sales, Monarch's first delivery of their MK-V tractor was provided to Constellation Brands late last year. On the licensing side, CNH announced their T4 Electric Power smart tractor "powered by Monarch" in the same timeframe. In particular, Mr. Penmetsa highlighted their "supervised autonomy" approach, in which up to six tractors can operate under the supervision of one operator. Startup Carbon Robotics , based in Seattle, offers a "laser blasting" approach to weed management. Camera data is used to identify weeds, which are then precisely zapped with 150-watt thermal bursts. Running driverlessly, they say the system can kill over 100,000 weeds per hour. NODAR , founded in 2020, applied stereo vision technical to accomplish long range perception that they contend rivals lidar capability. NODAR is highly active in on-road sensing and recently announced AgriView, their 3D vision solution for agriculture robotics. According to the company, capabilities include small object detection and real-time calibration on natural scenes, with exceptional performance in dust, low light, glare, and inclement weather. System outputs provide high-resolution point clouds, disparity maps, object tracking, and velocity. Their software-defined solution allows for hardware flexibility. Deere has been a busy acquirer. In 2021, they acquired Bear Flag Robotics, which develops autonomous driving technology compatible with existing machines: another piece of the retrofit puzzle. In 2022, Deere acquired LIGHT, whose camera vision technology is applied across many of Deere's autonomy systems. An eco-system is developing between the Big Guys and the startup world. The most prominent is Deere's Startup Collaborator program, which has been running for four years. The company says this "gives us the opportunity to work with innovative startups from around the world and test new technologies without a formal business relationship." At CES early this year, Deere announced eight companies for its 2023 Startup Collaborator program . Will they announce a new crop of Startup Collaborator companies at CES 2024? Early in 2023, CNH Industrial announced a minority investment in EarthOptics through its Ventures arm. Per the announcement, "EarthOptics leverages proprietary sensor technology to precisely measure the health and structure of soil through a combination of ground-based sensors, satellites, physical soil samples, machine learning models and agronomic expertise." Their treasure trove of soil data can enable farmers to better manage their land, resulting in increases in crop yield, reductions in fertilizer application, and data key to management of the farm's carbon impact. CNH Industrial began a pilot testing phase of EarthOptics' technology via their Case IH brand earlier this year. Intersections Back to the issues raised at the top of the article: from a stance in the on-road automated driving world, what are the commonalities, differences, overlaps, and potential synergies with Ag autonomy? The most obvious commonality: customer demand is motivated by – you guessed it – a lack of truck drivers and ag equipment drivers. Another common theme is remote supervision and support. At planting time and harvest time, when conditions are right, time is money. The autonomous field equipment must run at high utilization, notifying the farmer if anything is amiss. In the on-road world, an automated vehicle could be very distant from any support staff, such that the remote link is equally vital for operational efficiency. With the sugar content of some fruits peaking during the night, farmers are compelled to operate overnight to get the best prices for the harvest. Highway traffic is at a nadir overnight. In both cases, this is an optimum time of day to operate if you can find willing drivers. Otherwise, get a robot. Trucking ops unfettered by driving time restrictions, powered by automated driving, open a whole new world of logistics operations. Farmers have never had to deal with regulatory drive-time restrictions but getting labor to match the need has been challenging. Around the clock operations are now becoming more available to farmers with their autonomous robots. A key difference: on road trucks don't have to "do" anything as they haul, whereas in Ag the prime mover is only a bit player as it hauls robots working what's under the wheels. Retrofits are a hot item in AgTech. As one example, in 2022 North American industry volume of new combine sales was 9000 units, while the addressable market of existing equipment was 93,000 units. Say no more! AGCO, CNH, and Deere are all-in on retrofits. This is a no-go space for on-road trucking due to the need to deeply integrate redundancy of critical systems to fulfill the safety case. Nevertheless, sensing and perception suppliers have the luxury of selling their products to both sectors. The Modern Day Farmer Every AgTech company has customer testimonial videos on their websites. Doug Nimz is a 4th generation farmer raising corn and soybean on 2000 acres of farmland in southern Minnesota and is a fan of Deere products. In this compelling video , he noted that his autonomous tractor can do tillage "as well I can do myself." He can use his phone to check all aspects of an operation in the field, including how much of the field has been tilled, fuel level, and any alerts. The tractor notifies him if it encounters a situation it doesn't know how to handle. Otherwise, he's pleased to be doing anything other than driving that tractor. Mr. Nimz stresses that the ability to run the tractor around the clock is vital, because "we can run hard when soil condition is best." He bottom lines his testimonial by saying "We need labor for lots and lots of hours for short periods of time. The AutoSteer technology has helped reduce our labor load, which makes my life a lot easier." Farming and logistics may look like vastly different domains, but I can easily imagine a testimonial from the manager of a freight logistics center making many of these same points. Productivity Drives Everything The competition is fierce in AgTech as autonomy extends to more and more types of operations to offer greater precision with less human input. Due to the ability to retrofit existing vehicles, Ag Autonomy will penetrate the farming sector at a much faster pace than autonomy in over-the-road trucks. In both domains, productivity is poised to increase to a level never even imagined only a few years ago. Meanwhile, let's hope the robots never master throwing dirt clods back at us…. Disclosure: I am an Advisor to and shareholder in NODAR. Follow me on  LinkedIn .
Nodar Frequently Asked Questions (FAQ)
When was Nodar founded?

Nodar was founded in 2018.

Where is Nodar's headquarters?

Nodar's headquarters is located at 177 Huntington Avenue, Boston.

What is Nodar's latest funding round?

Nodar's latest funding round is Series A.

How much did Nodar raise?

Nodar raised a total of $14.26M.

Who are the investors of Nodar?

Investors of Nodar include Rhapsody Venture Partners, New Enterprise Associates, Plug and Play Accelerator, Plug and Play Ventures and MassChallenge.

Who are Nodar's competitors?

Competitors of Nodar include Bosch and 7 more.

What products does Nodar offer?

Nodar's products include Hammerhead.
Compare Nodar to Competitors
Loading...