Search company, investor...
About Neosec
Neosec develops an application programming interface (API) detection and response platform based on data and behavioral analytics. The company's software uses artificial intelligence to manage the observability of application and user behavior and undertakes anomaly detection and response. Neosec was formerly known as Apiseq. It was founded in 2021 and is based in Milpitas, California. In April 2023, Neosec was acquired by Akamai.
Loading...
Neosec's Product Videos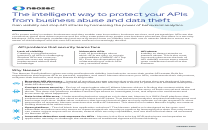 Neosec Overview Datasheet
Loading...
Expert Collections containing Neosec
Expert Collections are analyst-curated lists that highlight the companies you need to know in the most important technology spaces.
Neosec is included in 1 Expert Collection, including Artificial Intelligence.
A
Artificial Intelligence
10,988 items
Companies developing artificial intelligence solutions, including cross-industry applications, industry-specific products, and AI infrastructure solutions.
Latest Neosec News
The Global Application Programming Interface (API) Security Market size is expected to reach $4.9 billion by 2030, rising at a market growth of 32.0% CAGR during the forecast period
Aug 30, 2023
Lyon, FRANCE New York, Aug. 30, 2023 (GLOBE NEWSWIRE) -- Reportlinker.com announces the release of the report "Global Application Programming Interface Security Market Size, Share & Industry Trends Analysis Report By Offering, By Vertical, By Organization Size, By Deployment Mode, By Regional Outlook and Forecast, 2023 - 2030" - https://www.reportlinker.com/p06487629/?utm_source=GNW Organizations like APCERT, ACSC, NCCS, and Japan's Cybersecurity Strategy Council support research, enable coordinated responses and give resources. These initiatives further align with global organizations, including OWASP, ISO, and CSA. Over the past few years, cloud computing has become popular as companies and organizations seek to shift away from on-premises IT infrastructure and toward more adaptable, scalable, and affordable cloud-based solutions. The major strategies followed by the market participants are Partnerships as the key developmental strategy to keep pace with the changing demands of end users. For instance, In June, 2023, Traceable partnered with Wiz. Organizations are better protected against API attacks in the cloud because of this integration. With the ability to correlate and prioritize threats across architectural levels, IT and security teams may now significantly lower their risk without sacrificing efficiency or productivity. Additionally, In April, 2023, Imperva announced a partnership and resale agreement with Kong. Kong Enterprise clients will be able to use the Imperva API Security plugin. This enables developers to completely encrypt their APIs and safeguard sensitive data and business applications from illegal access. Based on the Analysis presented in the Cardinal matrix, Google LLC is the major forerunner in the Market. Companies such as Noname Security, Salt Security, Inc., and Fortinet, Inc. are some of the key innovators in the Market. In June, 2023, Salt Security signed a partnership and bi-directional platform integration with Wiz, to offer a comprehensive and robust understanding of API threats and vulnerabilities covering both cloud environments and applications, to Salt and Wiz customers. Market Growth Factors Threat actors make APIs one of their primary targets Due to their extensive use and easy access to crucial data, APIs have become desirable targets for hackers. Injection attacks, cross-site scripting, and authentication bypass are frequent attacks on APIs. However, the significance of the authentication process is frequently ignored in the focus on protecting APIs. Long-lived credentials and static API keys might create problems when employees leave a company. Hackers use an API call to submit the script to the application server to access the software. In addition, API ends are a target of DDoS attack vectors. Attackers attack an API using a bot to issue a series of quick, frequent requests at an endpoint. Authorized users cannot access the target because there are more requests than they can manage. The market will grow as a result of these causes. Increased spending across API security vendors over time Rising investments in API security solutions result from the growing need for effective protection against data breaches and the realization that API security presents a significant problem for CIOs. Traditional fragmented solutions are being replaced by more comprehensive and efficient options as provided by businesses. These financial resources assist cutting-edge teams and technology that solve the expanding API security gap. They enable API security businesses to improve services, create cutting-edge technology, and expand globally. Any security flaws in these APIs could have serious repercussions. However, organizations frequently rely on security tools designed for web apps to identify and protect against API risks, which will drive market growth over the coming years. Market Restraining Factors Lack of qualified personnel to implement API security solutions To implement API security solutions into an organization's current infrastructure, evaluating the API's reliability, adaptability, and stability is necessary. Finding a qualified developer knowledgeable about software development and current API security trends is essential, but hiring and training may be time-consuming and expensive. Additionally, knowledge and an adequate framework are required for integrating API security solutions across many platforms. These security experts can recognize, stop, and address security issues in APIs. They know the value of secure coding procedures, threat modeling, and API design guidelines. The gap of demand and the availability of qualified individuals with proper knowledge of API security solutions may cause the market to grow slowly. Offering Outlook On the basis of offering, the market is segmented into platform & solutions, and services. The services segment acquired a substantial revenue share in the market in 2022. The integrity, confidentiality, and availability of Application Programming Interfaces (APIs), which enable communication and interaction between various software systems, are the main concerns of API security services. The API security services ensure that data and transactions passing through APIs remain secure. These services work to reduce the risks and vulnerabilities related to their use. Vertical Outlook On the basis of vertical, the market is categorised into BFSI, IT & telecom, government, manufacturing, healthcare, retail & eCommerce, media & entertainment, energy & utilities, and other verticals. In 2022, the BFSI segment registered the highest revenue share in the application programming interface (API) security market. One of the sectors with many regulations worldwide is the BFSI. Therefore, businesses in this industry are constantly under pressure to safeguard their sensitive data against attacks. Every BFSI organization's cybersecurity plan must include API security. Organization Size Outlook By organization size, the market is classified into SMEs, and large enterprises. The SMEs segment projected a prominent revenue share in the market in 2022. SMEs have been able to increase connectivity and facilitate data sharing owing to the widespread adoption of APIs, all while keeping an intense eye on security. However, the increase in API assaults puts SMEs at significant financial and operational risk, forcing them to prioritize putting strong API security measures into practice. Deployment Mode Outlook Based on deployment mode, the market is fragmented into on-premises, cloud, and hybrid. The hybrid segment recorded a remarkable revenue share in the market in 2022. They are providing companies with an extensive response to their API security requirements. With the help of hybrid mode, sensitive data, and applications are protected, and security is improved while the attack surface is decreased. Putting gateways closer to API customers improves performance and reduces delay, improving user experience. Regional Outlook Region wise, the market is analysed across North America, Europe, Asia Pacific, and LAMEA. In 2022, the North America region led the market by generating highest revenue share. Due to several important aspects, including strict regulatory compliance, strong cybersecurity availability, collaborative market participant initiatives, rising cyber threats, and economic & technological improvements, the North American region accounts significant growth. These aspects influence the adoption of API solutions & services in this region to safeguard corporate and consumer data and improve overall cybersecurity. This region's key developments include cloud-based testing, mobile app security testing, and IoT security solutions. Governments actively attempt to improve application security through partnerships with industry standards and training programs. The market research report covers the analysis of key stake holders of the market. Key companies profiled in the report include Google LLC (Alphabet Inc.), Salt Security Inc., Noname Security, Akamai Technologies, Inc., Data Theorem, Inc., Axway Software SA, Imperva, Inc., Traceable Inc., Palo Alto Networks, Inc. and Fortinet, Inc. Strategies deployed in Application Programming Interface (API) Security Market Jun-2023: Salt Security signed a partnership and bi-directional platform integration with Wiz, the company engaged in cloud security. The partnership is part of their Wiz Integration (WIN) platform and aims to offer a comprehensive and robust understanding of API threats and vulnerabilities covering both cloud environments and applications, to Salt and Wiz customers. Following this partnership, the customers of Wiz and Salt Security would get access to the following advantages: Automatic correlation of security posture gaps and vulnerabilities between API and infrastructure in a single interface, providing development teams with a unified list of required solutions would help them save significant time and resources, Prioritizing vulnerabilities more quickly, including those in cloud infrastructure and applications, and accelerated threat mitigation and posture correction timeframes and simplified incident response. Jun-2023: Traceable partnered with Wiz, a provider of cloud security, as the company launched Wiz Integration (WIN). Customers can easily include Wiz in their current workflows with Traceable, which was carefully chosen as WIN's launch partner. Organizations are better protected against API attacks in the cloud because of this integration, which combines the Wiz Cloud Native Application Protection Platform (CNAPP) with Traceable's API Security Platform. With the ability to correlate and prioritize threats across architectural levels, IT and security teams may now significantly lower their risk without sacrificing efficiency or productivity. Apr-2023: Google's Cloud Division introduced an API abuse detection dashboard powered by ML algorithms. The new features extended the company's Apigee Advanced API Security dashboard and focus on business logic attacks that are often difficult to identify and fight against. The new ML models are trained and utilized by the internal teams of Google for protecting some of their public-facing APIs. Apr-2023: Noname Security has been approved by Accelerated by Intel, a pioneer in world-changing technology. The Accelerated by Intel Solutions provides great experiences with Intel technologies. The Noname Security software utilizes Intel's NetSec Accelerator Reference Design and 4th Gen Intel® Xeon® Scalable processors, combining an embedded system on a chip (SoC) with Intel Ethernet E810 network interface to speed up API response times for low latency use cases and the performance of near-real-time machine learning for runtime API Security at the edge of the network. Apr-2023: Noname Security collaborated with IBM to assist in better shielding consumers from weaknesses in design, configuration, and vulnerabilities. Customers will be able to use the new Noname Advanced API Security for IBM to offer an extra layer of safety for IBM API Connect by combining Noname Security's API security solution with the steadfast enterprise security capabilities of IBM DataPower. Additionally, the customers will be able to utilize sophisticated API management capabilities, instantly find APIs (both managed and unmanaged), provide insights into API activity, and meet compliance needs by utilizing Noname Security technology with IBM API Connect and IBM DataPower. Apr-2023: Noname Security announced the launch of Noname Public Sector's Hardened Virtual Appliance for making the API Security Platform available to the U.S. Federal Government, FedRAMP-authorized vendors, and highly regulated industry customers. The appliance, which is the first of its type in the field of comprehensive API security, is developed to provide users with a simple, safe, and scalable method of finding, keeping track of, and guarding mission-critical APIs and data. The Noname API Security Platform allows federal agencies to safeguard their APIs in real-time and find vulnerabilities before they are exploited. For isolated and regulated settings, Noname Security's Hardened Virtual Appliance makes the API security platform offline and independent of internet access. Apr-2023: Akamai Technologies signed an agreement to acquire Neosec, an API detection and response platform based on behavioral and data analytics. Neosec's API security solution would complement the former company's market-leading API security and application portfolio by extending Akamai's visibility in the continuously growing API threat landscape. Apr-2023: Imperva announced a partnership and resale agreement with Kong, a company that focuses on integrating microservices and APIs. Kong Enterprise, the quickest, most feature-rich, and secure API management solution, is now easily licensable by Imperva clients. Additionally, Kong Enterprise clients will be able to use the Imperva API Security plugin. This enables developers to completely encrypt their APIs and safeguard sensitive data and business applications from illegal access. The Kong Plugin Hub hosts the Imperva API Security plugin. Customers may now easily incorporate sophisticated API security features into the process of developing their APIs. Through the Kong Enterprise gateway, the Imperva service gives security teams access to each API request, allowing them to determine their exposure to risk and take precautions against prospective threats. Dec-2022: Palo Alto Networks came into partnership with Google LLC which integrates BeyondCorp Enterprise from Google Cloud and Prisma Access from Palo Alto for offering secure access to applications to hybrid users. The cloud delivered Zero Trust Network Access 2.0 solution, which is based on the Google Cloud network, lets users operate safely from any location and on any type of device. The partnership uses low-latency connections on Google Cloud to integrate security intelligence and machine learning that automatically identifies and remediates threats to people, apps, and business data. Nov-2022: Data Theorem partnered with AppOmni, the leading SaaS security company. As a consequence, businesses that create their apps, use third-party SaaS services, and incorporate first- and third-party APIs into those applications now have access to a coordinated application security posture management (ASPM) solution. With the addition of this new integration, Data Theorem, Inc. continues to be dedicated to assisting customers in better understanding their application security posture management, including how this capability fits into their overall application security orchestration and correlation (ASOC) tooling efforts. Jul-2022: Salt Security made enhancements to its next-generation Salt Security API Protection Platform, adding abilities in pre-production API testing and threat detection. The new features comprise support for attack simulation before releasing APIs into production, richer and early insights into attacker behaviors and attack patterns, and visual representations of API call sequences. With the additional features, Salt strengthens its industry-leading runtime security capabilities and offers enterprises a more thorough insight into API usage and the API attack surface, allowing them to better understand their businesses and respond to incidents faster. Jul-2022: Salt Security came into partnership with Cequence Security, Noname Security, and Software AG for enhancing its API security offering. This step would enable businesses to uncover and rectify all of their APIs from modern to legacy. With these expanded security capabilities, Software AG clients can simply and rapidly take care of their most urgent API security requirements, from securing vulnerabilities to automating the detection of API threats and responding to them. The Web Methods platform is used by Salt as a collecting point for API traffic. After applying AI and ML to establish what is "normal" among millions of users and API queries, it feeds that traffic into its cloud-scale big data engine. The platform sends an order to the Software AG platform to prevent the attacker when it detects an API assault, safeguarding the customer's critical data and services. May-2022: Noname Security announced a partnership with BlueFort Security, the provider of cybersecurity solutions based in the UK. The partnership aimed to offer the latter company's customers access to the former company's API Security platform, allowing them to secure their environments proactively from API security vulnerabilities, design flaws, and misconfigurations while delivering API attack protection with automated detection and response. Mar-2021: Axway Software signed a partnership agreement with OpenLegacy, the pioneer in composable integration for core and legacy systems. With this partnership, enterprises can access complex legacy mainframe and midrange systems easily and securely. Mar-2019: Axway Software acquired Streamdata.io, a software publisher specializing in event-driven API management. By enhancing both its API Management offer and the technological capabilities of its hybrid integration platform, AMPLIFY, the Group is speeding up the implementation of its plan even more. Two significant improvements are made to Axway's AMPLIFY by Streamdata.io. The first is event-driven API management, which enables application and integration leaders to advance beyond simply supporting request-response APIs to now support real-time and event-driven use cases. The second is a framework for the digital transformation path built around the adoption and maturity of complete lifecycle APIs. Scope of the Study
Neosec Frequently Asked Questions (FAQ)
When was Neosec founded?

Neosec was founded in 2021.

Where is Neosec's headquarters?

Neosec's headquarters is located at 691 South Milpitas Boulevard, Milpitas.

What is Neosec's latest funding round?

Neosec's latest funding round is Acquired.

How much did Neosec raise?

Neosec raised a total of $20.7M.

Who are the investors of Neosec?

Investors of Neosec include Akamai, Mark Anderson, Shailesh Rao, SixThirty, Mickey Boodaei and 7 more.

Who are Neosec's competitors?

Competitors of Neosec include Noname Security and 2 more.
Compare Neosec to Competitors
Loading...