Search company, investor...
About Inlaks
Inlaks is a leading Information Technology Solutions provider, operating in the information technology and infrastructure sectors. The company offers a range of services including core banking applications, agency banking, fraud management, cybersecurity, cloud services, data center operation, and enterprise risk management. These services primarily cater to the financial institutions across Africa. It was founded in 1982 and is based in Lagos, Nigeria.
Loading...
Inlaks's Product Videos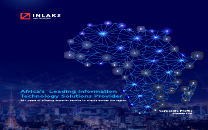 Inlaks Brochure new converted-min
Inlaks's Products & Differentiators
Loading...
Latest Inlaks News
Inlaks-Fiorano host industry players to open banking for growth in Nigeria
Jul 22, 2023
Inlaks-Fiorano host industry players to open banking for growth in Nigeria Nigeria has one of sub-Saharan Africa's most advanced banking sectors. Banking has been one of the most resilient and best-performing sectors in Nigeria. But it's far from perfect. Banking services are still out of reach for nearly 40 per cent of the population. Many people still don't have access to credit, especially SMEs, which comprise about 96% of Nigerian businesses. And many times, those who want to solve these problems don't have enough data to work with. That's where open banking comes in. It is the practice in which customers can let different financial institutions see and use their information and services through standardized Application Programming Interfaces (APIs). This way, financial institutions of all sizes can create products and services more tailored to people's needs. Customers, in turn, get a wider range of options and can transition more seamlessly from one provider to the other. Earlier this year, Nigeria became Africa's first country to have open banking regulations. But results won't happen overnight. There is still a massive knowledge gap that needs filling. That is why Inlaks, Africa's leading information technology solutions provider, has announced its partnership with Fiorano Software, a United States-based cloud and hybrid application company. The networking event themed: 'Open banking for growth in Nigeria' featured speakers from the industry, Rakiya Yusuf, Deputy Director, Central Bank of Nigeria, Joseph Agyeman Badu, Head, Business Development Africa Operations Inlaks, Biju Suresh Babu, Managing Director, Banking and Financial Services, Fiorano and Olufemi Moraino, Executive Director, Inlaks. The Deputy Director, CBN, represented by Chika Ogueze commended the partnership between Inlaks and Fiorano. He continued that this had helped to create an inclusive financial ecosystem where players in the industry can collaborate and propel the country's economy to new heights whilst ensuring and nurturing robust data security, customer protection, and cyber security in the face of emerging technologies. The project, implemented in partnership with Fiorano Software, seeks to explore and highlight the opportunities offered to players by open banking and practical monetization techniques. In his address, the Managing Director, Banking and Financial Services, Fiorano, Biju Suresh Babu, delved into the critical aspects of open banking compliance, and essential strategies for banks to monetize their open banking APIs. He underpinned that while compliance with open banking regulations is necessary, banks must determine methods to generate revenue from their APIs. He also highlighted various monetization approaches, including banking-as-a-service, offering financial products through third-party channels, among others. "Through the promotion of open banking, Inlaks/Fiorano leads a critical conversation on the journey to creating an inclusive financial system in the industry. The event had in attendance CEOs and Cos from major banks, microfinance players and strategic players and stakeholders of Inlaks. Speaking about the project's significance, Olufemi Moraino, remarked saying, "We are pleased to have hosted Fiorano, the renowned API management platform, along with our esteemed clients and invaluable guests from the finance industry to deliberate on the vast opportunities for growth in Open Banking. We take pride in collaborating with strategic partners and stakeholders to amplify our impact and efficacy." He continued, "Inlaks has proudly served as of IT solutions for 40 years in Nigeria and across Africa. Our unwavering commitment has always been to empower banks and financial institutions in their journey towards innovation and delivering unparalleled value to their customers." As part of his closing address, the Chief Executive Officer of Inlaks Africa Operations, Mr. Kyari Bukar also reaffirmed the readiness of the Inlaks-Fiorano partnership to drive growth through open banking. He said, "As we look ahead, we remain steadfast in our resolve to be a trusted partner, dedicated to empowering our clients and contributing to the advancement of Africa's financial industry."
Inlaks Frequently Asked Questions (FAQ)
When was Inlaks founded?

Inlaks was founded in 1982.

Where is Inlaks's headquarters?

Inlaks's headquarters is located at 1611 Adeola Hopewell Street, Lagos.

Who are Inlaks's competitors?

Competitors of Inlaks include Pngme and 2 more.

What products does Inlaks offer?

Inlaks's products include ATM .
Compare Inlaks to Competitors
Loading...