Search company, investor...
About Global Data Consortium
Global Data Consortium (GDC) provides access to identity verification data and business verification through one application programming interface (API). Its data as a service platform facilitates the relationship between local and global markets by pairing businesses with locally sourced data from around the world. The company was founded in 2010 and is based in Raleigh, North Carolina. On April 5th, 2022, Global Data Consortium was acquired by London Stock Exchange.
Loading...
Global Data Consortium's Product Videos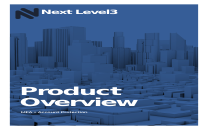 NextLevel3 AccountProtection Factsheet
Global Data Consortium's Products & Differentiators
Account Protection Services

Next Level3 MFA+ Account Protection provides phishing/smishing resistant MFA services which improve upon existing 2FA authentication solutions.
Loading...
Expert Collections containing Global Data Consortium
Expert Collections are analyst-curated lists that highlight the companies you need to know in the most important technology spaces.
Global Data Consortium is included in 2 Expert Collections, including Cybersecurity.
C
Cybersecurity
7,289 items
These companies protect organizations from digital threats.
D
Digital ID In Fintech
268 items
For this analysis, we looked at digital ID companies working in or with near-term potential to work in fintech applications. Startups here are enabling fintech companies to verify government documents, authenticate with biometrics, and combat fraudulent logins.
Global Data Consortium Patents
Global Data Consortium has filed 2 patents.
The 3 most popular patent topics include:
data laws
data security
identity documents | Application Date | Grant Date | Title | Related Topics | Status |
| --- | --- | --- | --- | --- |
| | | | Privacy, Information privacy, Identity documents, Data laws, Data security | |
| | |
| --- | --- |
| Application Date | |
| Grant Date | |
| Title | |
| Related Topics | Privacy, Information privacy, Identity documents, Data laws, Data security |
| Status | |
Latest Global Data Consortium News
Business Information Industry Association Global Data Consortium Raised US$3.5 million from Refinitiv and Village Capital
May 5, 2023
Global Data Consortium  (GDC) – the Raleigh-based global identity verification platform that Bill Spruill co-founded and runs as CEO – is fresh off a $3.5 million raise led by big names like data provider Refinitiv and Village Capital. Recently he also confirmed  a new partnership with the Ireland-based multinational credit bureau Experian , one of the world's largest credit bureaus. The deal will see GDC integrate its platform within Experian's digital identification platform, bolstering customer onboarding to big banks and fintech companies across 45 countries. WRAL TechWire's Chantal Allam recently had the chance to chat with Bill Spruill via Zoom to get the scoop. Here's what he had to say: Q: You recently raised $3.5 million. On your SEC filing, it lists James Mirfin, the Global Head of Digital Identity and Financial Crime Propositions at Refinitiv, as a new director. What can you tell us about this new development? A: Yes, this fund raise marks the beginning of exciting growth opportunity for GDC. Refinitiv is a fantastic strategic partner as GDC expands in the Global Compliance, Identity Verification and Anti-Money Laundering (AML) space. We look forward to having James as a new director on the board at GDC. His experience in the space should prove valuable as we expand our global customer footprint. Q: What else can you tell us about this raise? A: Along with Refinitiv, another investor is a venture firm named Village Capital which is both Washington DC & San Francisco based. The seeds for this investment were planted with Village Capital when we participated in their fintech accelerator program two years ago. The interesting thing about their program is the peer-review & peer-selection process. Each accelerator session consists of a cohort of 12 companies which review, assess and vote on whom Village Capital should chose for the investment. The peer review sessions and selections are tabulated four times over the term of the program with sessions occurring in different locations around the country – Washington, DC, New York (twice), and San Francisco. Q: That sounds like fun. A: Yeah, it was great to work with the cohort, learn from each other and we receive feedback which formed the core of the GDC we have today. The core focus was on picking a cohort winner for Village Capital that could be a "Billion Dollar Opportunity."  At the end of every session, there was a stack rank vote which took place, so you could gain an understanding of where you stood as far as your rankings within the cohort of companies. In the last session of the program, there is one final vote to select 1st and 2nd choices for the Village Capital investment. GDC was fortunate enough to be voted 1st choice – considered to be most fundable, viable business capable of hitting the billion-dollar goal. This was great initial win for GDC and led directly to Village Capital participating in this current round. It was also important because it has been our experience that securing venture funding is not always easy, especially so, for us. We did not seem to attract venture capital. It was very interesting to see that the rest of our cohort could understand the potential in a great business, but we could not necessarily attract venture capital dollars at that point in time. You have also just announced a new partnership with Experian. How did this come about? And why is this such a big deal for your company? The opportunity with Experian is really exciting. It is the result of a multi-year partnering effort by both organizations. Our platform is integrated within the Experian Cross Core Digital ID platform. While our relationship is not exclusive, it is a tight collaboration that has already produced results in the form a set of top tier customers using our services. Experian is a trusted provider of global data services to the world's biggest banks and fintech community. Selecting GDC to be part of their product stack offerings to those global institutions is a big stamp of approval. We are already selling with Experian in Spain, The Netherlands, The UK and the U.S. That's why it's such a big deal for us. Q: So, you said it was hard to find VC funding. Why do you think that is? A: I will say I had my part to play in this, as I may offer a little too much reality in pitching the business. I have the vision and can see the heights GDC can achieve; but apparently telling people that story is just not my forte. I am grounded in running a growth oriented, profitable business not necessarily spinning tales of what could be – when we started talking to people about raising capital, we did not paint a big enough picture. We would always speak about the company in terms of being worth, $100 million or $200 million along the way. We did not really come at it from the perspective of a unicorn billion-dollar company until the exercises with Village Capital. We were too pragmatic in the way we were presenting the business. A VC friend of mine also gave me a very realistic view on why we were having trouble raising capital. He said, 'You are a savvy a business leader, running a profitable company, with a strong team. Many VC's who talks to you will realizes that they're not going to be able to buy enough of your business to gain control which may be a goal in the exercise.' Frankly, it should not have been surprising we could not raise capital given the systemic and environmental considerations. How many African Americans, in the south, could raise capital in this environment? I wonder if two 20-year-old white kids, in the Silicon Valley, perhaps graduating from Stanford or MIT, presented the same idea in the venture community what the outcome would have been? I imagine their business would have been funded in a heartbeat. But the fact of the matter is – we consider it a good thing that we did not get outside funding until this point. Why? Because we were able to bootstrap GDC and figure out what were the really, revenue driving, key customer issues to resolve. As a result, I believe we delivered a far better solution in the marketplace than frankly most of our competition and this is definitely reflected in our growth trajectory. Q: Take me to the beginning of the company. A: We formed the business in 2011. It was Charles Gaddy and myself as co-founders. We had the idea GDC sitting off to the side as we started doing consulting work in the market. Charles and I both have found that consulting often turns over the next venture. That venture, GDC hatched from a prior exit from a company called AddressDoctor. AddressDoctor was sold to Informatica. To be clear, we were not the founders of AddressDoctor. I was the COO; and Charles was head of North American partnerships before the acquisition. When I started at AddressDoctor, they were doing about $1 million in revenue, and then six years later, we facilitated the sale of the business at that time close to $12 million in revenue to Informatica. A great six year growth run based on a channels business development playbook. GDC has always been about Charles and I going out and doing our thing. As I mentioned earlier, consulting often turns over the next venture. We originally thought we were going to focus on geospatial and geolocation data along with address verification, but we ended up in the digital identity & compliance space. Like many businesses that pivot occurred about five years into the effort. Embracing digital identity and compliance was when the business really started to take off. Even with the pivot we were able to bootstrap the business up until this fundraise. Q: So, let's talk about your growth. You said it started to really take off about five years ago. Where are you now? A: First and foremost, we remain profitable. Without giving away too many details, we are in the double-digit millions of revenue threshold. We have run at about 120 percent annual growth for the last five years. Q: What do you think is driving this growth now? A: Digital identity and compliance have really become a high growth area with the proliferation of FINTECHs and challenger banks. Five years ago, it was much less so. In today's world it is digital enrollment and mobile on-boarding. Gone are the days of going into a bank and present two forms of physical ID so that branch manager or teller can verify "you are who you say you are – this was a strong but gradual growth rate, but now it's going mostly by wayside, especially considering remote life, social distancing and the pandemic. Signing up for more digital platforms is the way forward, and our solution is the first step in a customer verification process. Doing ID verification here in the US, it is a relatively easy process. You appear in various databases — like electoral databases, credit databases and so forth. But we offer a global solution focused on doing the "hard things" in our space. Being able to do a verification accurately for Brazil, France, Germany, Japan, Australia, all through a single API is a much more challenging exercise. Ultimately, we have all of the backend pipes threaded into identity providers around the world, and we've built an intelligent engine to provide scoring and deep understanding around the results that are generated for the identity checks in each market. We currently cover 60+ markets. Q: So, who are your clients? A: Without naming too many names, some of the largest credit card processors are customers of ours. Three of the largest peer-to-peer payment processors are customers, and other customers include logistics providers like DHL ecommerce. Then, there is the online gaming space. Three of the top ten gaming companies are using our platform. Q: What are you going to do with the funds? A: We have always had a bigger vision, and now that we have gotten the company to a certain level, we intend to fund our next phase of our growth. We will be using this capital to build out new product offerings on top of our current platform. These new offerings are very much customer driven, focusing on business verification, "Know Your Business" and Business Beneficial Ownership verification. We also plan to expand our overall country coverage. We currently service approximately 68 countries globally, and we are looking to expand coverage to 75-80 countries inside of the 12-18 months. Q: What does that mean for hiring? Will you be adding to your staff? A: We are expanding. We are now at 22 people full time, and we are constantly hiring. We are opening new offices; plus, we have recently brought in resources based in Canada – also in Ireland. We are focused on hiring globally now more than ever. We used to think in terms of hiring for Raleigh only, but now we are globalizing that effort because it does not matter where you are located as we are all working somewhat virtually anyway. We probably will not expand our office footprint in downtown Raleigh, but we are expanding our people footprint here and worldwide. We expect to be at 30 people by the end of the year. That is not a big huge number when you compare to other companies, but we try to look at hiring through the prism of measuring revenue per employee. That is very important for us, and we are looking to get full optimization of our team. Q: Do you think you've benefited from the pandemic? A: As the pandemic has progressed, we have definitely seen an increase in business. The pandemic has forced people to accelerate their adoption of digital / online transactions, as opposed to in person transactions. Opening an online bank account, transacting with a payment processor, these digital activities require a company like a GDC for verification. The byproduct of the increasing of everyone's "digital life" has been an increase in the use of our platform amongst our customer base, driving more transactions on our platform, and revenue for the company. Q: So where to from here? A: We are continuing to accelerate our growth within certain boundaries. We expect to grow this year again by 120 percent. Further, in 2021 we expect grow to even faster. With our new product offering reaching velocity in the market in 2021, as well as new partners, we expect to see a continuous increase in our overall top line revenue growth. Going digital and growing should be exciting this year and next. Source:  WRAL Techwire     Global Data Consortium is a member of BIIA Share:
Global Data Consortium Frequently Asked Questions (FAQ)
When was Global Data Consortium founded?

Global Data Consortium was founded in 2010.

Where is Global Data Consortium's headquarters?

Global Data Consortium's headquarters is located at 1101 Haynes Street, Raleigh.

What is Global Data Consortium's latest funding round?

Global Data Consortium's latest funding round is Acquired.

How much did Global Data Consortium raise?

Global Data Consortium raised a total of $3.6M.

Who are the investors of Global Data Consortium?

Investors of Global Data Consortium include London Stock Exchange Group, FinRise and Village Capital.

Who are Global Data Consortium's competitors?

Competitors of Global Data Consortium include Nexla and 3 more.

What products does Global Data Consortium offer?

Global Data Consortium's products include Account Protection Services.
Compare Global Data Consortium to Competitors
Loading...