Search company, investor...
About Epsy Health
Epsy Health is a leading digital health platform for the management of epilepsy that empowers patients, caregivers, and healthcare professionals. Epsy provides patients and physicians with actionable insights that can help to accelerate the pathway towards better outcomes.
Epsy Health's Product Videos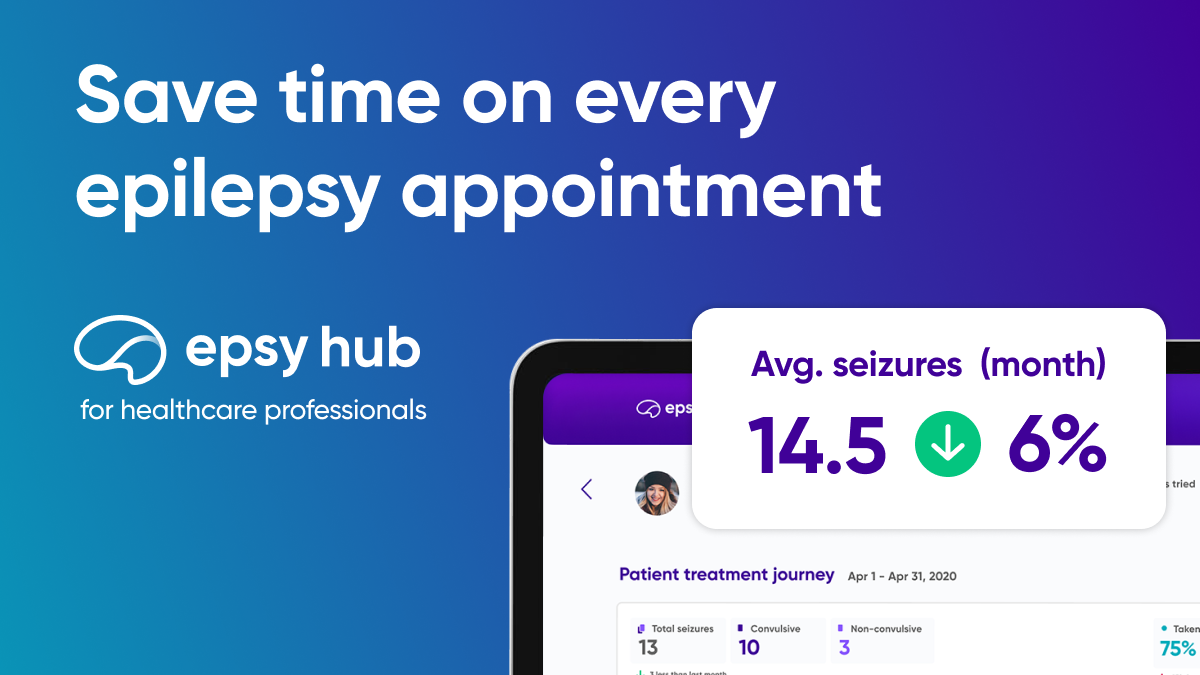 Epsy Hub General 1 1200 675 CTA
Compete with Epsy Health?
Ensure that your company and products are accurately represented on our platform.
Epsy Health's Products & Differentiators
Epsy App

For patients and family caregivers, Epsy App is the daily companion to help track the things that matter
Latest Epsy Health News
For patients with HFpEF, medical therapy options now abound
Oct 20, 2021
Source: Anker SD, et al. 2021;doi:10.1056/NEJMoa2107038. Disclosures: Disclosures: Butler reports consulting for Abbott, American Regent, AstraZeneca, Bayer, Boehringer Ingelheim, Eli Lilly, Impulse Dynamics, Innolife, Janssen Global Services, LivaNova USA, Luitpold, Medtronic, Merck, Novartis, Novo Nordisk, Occlutech, Relypsa, Roche Diagnostics, Sequana, Stealth Peptide and Vifor, holding equity in G3 Pharma and serving on committees for trials sponsored by Amgen, Array BioPharma and CVRx. Fonarow reports consulting for Abbott, Amgen, AstraZeneca, Bayer, Cytokinetics, Janssen, Medtronic, Merck and Novartis. Lala, O'Connor, Santos-Gallego, Patel, Walsh and Yancy report no relevant financial disclosures. ADD TOPIC TO EMAIL ALERTS Receive an email when new articles are posted on Please provide your email address to receive an email when new articles are posted on . Subscribe ADDED TO EMAIL ALERTS Back to Healio We were unable to process your request. Please try again later. If you continue to have this issue please contact customerservice@slackinc.com . Back to Healio Compared with just a few years ago, medical treatment options for HF with preserved ejection fraction have expanded greatly, culminating in the first useful new agent for the HFpEF population. The EMPEROR-Preserved trial of the SGLT2 inhibitor empagliflozin (Jardiance, Boehringer Ingelheim/Eli Lilly) presented at the European Society of Cardiology Congress and published in The New England Journal of Medicine showed that the drug reduced CV death/HF hospitalization in patients HF with an EF above 40% with or without diabetes by 21%, driven by HF hospitalization. Javed Butler, MD, MPH, MBA, FACC, FAHA, FESC, discusses the expanding medical therapy options for patients with HFpEF. Source: Melanie Thortis/University of Mississippi Medical Center. Reprinted with permission. "We have all been waiting for a therapy to show efficacy in HFpEF," Anu Lala, MD, assistant professor of medicine (cardiology) at Icahn School of Medicine at Mount Sinai, told Cardiology Today. "Even though many of us interpret the results of the TOPCAT trial of spironolactone and the PARAGON-HF trial of sacubitril/valsartan as applicable to certain subgroups of patients with HFpEF, the fact that the overall trials failed to meet significance for their primary endpoint caused different interpretations of the results, leading to variable implementation in clinical practice. To have a study that is positive in achieving its primary endpoint makes the conversation cleaner. I am excited about this new frontier in the treatment of HFpEF." Anu Lala Amid the excitement of the results of and the progress made in other research, cardiologists now have much to consider when determining which therapies to start a patient with HFpEF on and when. "This is a big difference from 5 years ago, when there were no specific therapies for HFpEF, and we focused on the comorbidities such as hypertension, atrial fibrillation and ischemic heart disease," Christopher M. O'Connor, MD, MACC, FESC, FHFSA, FHFA, president of Inova Heart and Vascular Institute in Falls Church, Virginia, and editor-in-chief of JACC: Heart Failure, told Cardiology Today. "Now we have two classes of therapies that may be used in patients with HFpEF, so we can begin to make a real impact on the course and burden of the disease." Challenges in managing HFpEF The heterogeneity of the etiology of HFpEF make for a difficult decision-making process on how to best treat these patients. Unlike with patients with HF with reduced EF, there was no single characteristic to target to improve outcomes. "HFpEF is such a heterogenous, multi-organ-involvement disease that you don't necessarily have a common pathophysiology. You have heart structure and function, vascular structure and function, renal structure and function, and then systemic issues like visceral adiposity and inflammation and oxidative stress. All of these things are working in concert," Cardiology Today Editorial Board Member Javed Butler, MD, MPH, MBA, FACC, FAHA, FESC, the Patrick H. Lehan Chair in Cardiovascular Research and professor and chairman of the department of medicine at the University of Mississippi Medical Center and co-principal investigator of EMPEROR-Preserved, said. "In the HFrEF route, we have treatments that target the fundamental pathophysiology of progressive pump failure and related neurohormonal activation, regardless of whatever else is happening. Whereas in HFpEF, due to the complexity of pathophysiologic mechanisms, therapies need to have a broad pharmacodynamic property that could simultaneously have an impact on multiple mechanisms that impact the heart, the kidney, the vasculature, adiposity, inflammation, etc." Clyde W. Yancy Until recently, finding the right therapies for patients with HFpEF was often an exercise in frustration, Clyde W. Yancy, MD, MSc, MACC, FAHA, MACP, FHFSA, vice dean for diversity and inclusion, chief of cardiology, Magerstadt Professor and professor of medicine and medical social sciences at Northwestern University Feinberg School of Medicine and past president of the American Heart Association, told Cardiology Today. "We overtly acknowledge we don't know how to treat the condition. So rather than treat the condition, treat the concomitant other circumstances that are present in that setting and hope that treating the hypertension, atrial fibrillation, diabetes and chronic kidney disease will make the clinical syndrome of heart failure better," he said. "It was reasonably appropriate and indeed there were some evidence-based therapies that seemingly worked. But it conveyed a sense of futility to default to treatment of the comorbidities that come with the syndrome and hope it gets better indirectly. We should be better than that. I am delighted especially at this point in a more than 30-year career studying heart failure to witness an opportunity to say, yes, treat the comorbidity like you would for any patient, but now for that specific HFpEF syndrome, we have therapies that work." Mary Norine Walsh Another barrier to optimal management of patients with HFpEF was lack of clinical trial data, as many patients with HFpEF did not fit the typical profile of patients enrolled in trials, Cardiology Today Editorial Board Member Mary Norine Walsh, MD, MACC, medical director of heart failure and cardiac transplantation at Ascension St. Vincent Heart Center in Indianapolis and past president of the American College of Cardiology, said. "Many fewer trials have been done examining therapies for HFpEF compared with HFrEF," she said. "The patient population with HFpEF is generally older and more likely to be women. These populations have been underserved in clinical investigations." In EMPEROR-Preserved, the mean age of patients was 72 years and 45% were women. Another obstacle, she said, was that "a firm definition of HFpEF has been more difficult to agree on until fairly recently." Those factors combined to produce a piecemeal strategy until recently. Gregg C. Fonarow "Guideline recommendations for patients with HFpEF focused on use of loop diuretics to manage congestion, blood pressure control and treatment of comorbid conditions," Gregg C. Fonarow, MD, FACC, FAHA, FHFSA, Eliot Corday Professor of Cardiovascular Medicine and Science at the University of California, Los Angeles, director of the Ahmanson-UCLA Cardiomyopathy Center, and clinical co-chief of cardiology in UCLA's division of cardiology, said. "There was no specific therapy demonstrated to reduce mortality. Guidelines suggested at a IIb class of recommendation consideration of angiotensin receptor antagonists and mineralocorticoid antagonists." EMPEROR-Preserved The results of EMPEROR-Preserved (Table) have brought more certainty to the discussion of how to manage patients with HFpEF. In the cohort of 5,988 patients (49% with diabetes), at a median of 26.2 months, in addition to the reduction of the primary outcome associated with empagliflozin, those assigned the drug also had 29% lower risk for first HF hospitalization, 27% lower risk for total (first and recurrent) HF hospitalizations, 29% lower risk for HF hospitalizations requiring intensive care and 23% lower risk for CV death/HF hospitalization/emergent or urgent HF visit requiring IV therapy compared with those assigned placebo. The outcome of slope of decline in glomerular filtration rate over time also favored empagliflozin. The results were consistent regardless of diabetes status and tertile of ejection fraction. Manesh R. Patel "I am impressed by the consistency of the benefit of empagliflozin across the EMPEROR-Preserved and EMPEROR-Reduced trials. [The] reduction in CV death and HF hospitalization ... seems to be present early," Manesh R. Patel, MD, FACC, FAHA, FSCAI, chief of the divisions of cardiology and clinical pharmacology and Richard Sean Stack, MD Distinguished Professor at Duke University School of Medicine, said. "This consistency is powerful. Also important is the consistency across LVEF, sex and diabetes status, which are questions that have been raised about other therapeutics." The results suggest empagliflozin — and any other SGLT2 inhibitor showing similar effectiveness — will likely be adopted rapidly as part of HFpEF management strategies, Yancy said. "I think clinical uptake may be substantial; clinical enthusiasm is already there," he said. "What will really drive the uptake is a very modest side-effect profile. Genital infections are a hygiene issue. The worries we had before about distal digit amputation are almost trivial. It's a small occurrence now. Diabetic ketoacidosis doesn't occur if the patient has type 2 diabetes or no diabetes. This is a once-a-day therapy with no titration. The big challenge is paying for it. We have to face that challenge head on; we can't have a therapeutic this beneficial not offered to everyone at risk." Mechanistic questions Of note, Yancy said, the exact mechanism as to why SGLT2 inhibition is an effective strategy in HFpEF has not been pinpointed, but the results of EMPEROR-Preserved confirm research done in animal models. "What we do recognize is that there appears to be a shift in the myocardial fuel substrate, so perhaps the answer resides in myocardial metabolism. But, that's theoretical. A number of other candidate mechanisms have been explored," he said. "Data have come forward to suggest that the SGLT2 inhibitors increase the fraction of excretion of sodium. That's the same thing that loop diuretics do, but with those, there is a concomitant observation of upregulation of the neurohormonal axis, the very axis that that we try to inhibit in heart failure. With SGLT2 inhibitors, that axis is not upregulated. So, there is a bit of a dialogue to say, is this a smarter diuretic?" The way SGLT2 inhibitors act on adipose tissue could also play a role, Carlos G. Santos-Gallego, MD, instructor of medicine (cardiology) at Icahn School of Medicine at Mount Sinai, who has conducted research suggesting the drug class could be effective in HFpEF, told Cardiology Today. Carlos G. Santos-Gallego "SGLT2 inhibitors were always considered very promising for HFpEF, as they target all comorbidities related to HFpEF: hypertension, diabetes, obesity, chronic kidney disease and sodium retention," he said. "Importantly, SGLT2 inhibitors target obesity and reduce body weight. Our porcine study (2019) and our subanalysis of the EMPA-TROPISM clinical trial (2021) demonstrated that empagliflozin in HFrEF reduces visceral adipose tissue and epicardial adiposity, while also inducing a mild decrease in subcutaneous adipose tissue. We know that this visceral and epicardial adipose tissue is related to HFpEF given that they worsen insulin resistance and produce pro-inflammatory cytokines that directly impair the adjacent organs. So, we knew that SGLT2 inhibitors could be beneficial for HFpEF. Everything in the mechanisms of action of SGLT2 inhibitors clearly pointed to an improvement in HFpEF, but had to be demonstrated." Sacubitril/valsartan uptake Sacubitril/valsartan (Entresto, Novartis), an angiotensin receptor/neprilysin inhibitor, has also become part of the HFpEF management strategy, as a result of analyses of the PARAGON-HF trial and a subsequent expanded indication. While PARAGON-HF was not a positive trial for the overall cohort, among those with EF below the median of 57%, those assigned sacubitril/valsartan had reduced risk for CV death/HF hospitalization compared with those assigned valsartan. In addition, the treatment effect of sacubitril/valsartan was greater in women than in men. The FDA in February expanded its indication for sacubitril/valsartan to eliminate the distinction between HFpEF and HFrEF. The new indication states the drug is approved for patients with chronic HF and appears to provide the most benefit in patients with an EF less than normal. "We know that trials in HFrEF are in patients with less than 40% EF, but we know that between 40% and 50% or so is not normal, it's just that it was not studied before," Butler said. "I think the distinction the FDA is trying to make is that if you truly have normal EF, you may not see any benefit, but if it is less than normal, depending on gender, age, etc, you may. Looking at the data from PARAGON-HF, and looking at the indication, I would say that EF is covered from 40% to 55%." Spironolactone usage Spironolactone, a mineralcorticoid receptor antagonist, also became a consideration for patients with HFpEF after the TOPCAT trial. While the overall trial was negative, patients from the Americas benefited from spironolactone compared with placebo while patients from Eastern Europe did not, leading to questions about whether appropriate enrollment protocols were followed in Eastern Europe. Based on the Americas data from TOPCAT, an application for an expanded indication for spironolactone in patients with HFpEF has been filed to the FDA. "For the 2020 U.S. guidelines, the best recommendation we could give was a class of recommendation, IIb, which is a very weak recommendation," Yancy said. "In the absence of stronger clinical data, we simply could not create a strong guideline statement. As well, and with the ever-present concern about risk for hyperkalemia and the difficulty of dosing the therapy in patients with existing renal disease, we are where we are. There just hasn't been very much uptake for HFpEF." Strategic approaches Cardiologists once had the problem of having too few options to treat HFpEF, but now may have the opposite issue of choosing from many. The questions of which therapies to administer and in what order, and of how to properly consider costs, are now at the forefront. The first step, Walsh said, is "making sure that adequate evaluation for ischemic heart disease and amyloidosis has been done. Then, control blood pressure, enable decongestion of volume overload, achieve rate or rhythm control if there is concomitant atrial fibrillation, and consider treatment with spironolactone, sacubitril/valsartan and an SGLT2 inhibitor. Individual patient factors such as renal function, LVEF and comorbid diseases will dictate which of these might be most effective and indicated." Secondary analyses from EMPEROR-Preserved and guideline recommendations will play crucial roles in developing management strategies, Butler said, "but my opinion today is that all the basic things in the guidelines today still apply: Treat the comorbidities like ischemia and atrial fibrillation, instruct patients to take a low-salt diet and control their blood pressure. On top of that, if your EF is less than 50% to 55%, my bias would be to give both sacubitril/valsartan and empagliflozin. Regardless of ejection fraction, I would give all three medications — sacubitril/valsartan, empagliflozin and an MRA —if your glomerular filtration rate is greater than 30 mL/min/1.73 m2. Regardless of ejection fraction, including those with EF > 55%, I would give empagliflozin to all HFpEF patients." Cardiologists need to rethink how they approach the newer medications, Lala told Cardiology Today. "The questions clinicians should be asking is why is this patient not on an SGLT2 inhibitor, why is this patient not on spironolactone, why is this patient not on sacubitril/valsartan, as opposed to is this patient a candidate for these medications," she said. "Taking this approach will help in the implementation of these drugs. What remains to be seen is how expensive and accessible these medicines are to our patients in a real-world setting." Further research, implementation Some of the remaining knowledge gaps are expected to be filled soon. The DELIVER outcomes trial of the SGLT2 inhibitor dapagliflozin (Farxiga, AstraZeneca) in patients with HFpEF is expected to be completed in 2022. Christopher M. O'Connor In addition, Butler said, "there are three MRA trials going on in HFpEF, so the question about the legitimacy of the TOPCAT subanalysis will be answered." The majority of the benefit of the newer HFpEF therapies derives from effects on HF hospitalization, which could open up other avenues to explore. "We still do not have a signal on mortality, so there is some open space for additional therapeutics," O'Connor said. What is clear is that implementation of new therapies has to be done correctly and with as little cost burden as possible. "If we can figure out the right ways to spur the kind of prescription adherence to therapies necessary, and if we can develop novel means to make these drugs accessible, then the potential for changing the naturalistic heart failure is incredible; the benefit for public health cannot be overlooked," Yancy said. "There are still 6 million people in this country with HF. Imagine what happens if we are able to put a dent in the incidence through prevention and then extend healthy lifespans and survival for patients with HF. There is a public health benefit there that can't be denied." References:
Epsy Health Web Traffic
Page Views per User (PVPU)
Page Views per Million (PVPM)
Epsy Health Rank
Epsy Health Frequently Asked Questions (FAQ)
Where is Epsy Health's headquarters?

Epsy Health's headquarters is located at 100 Cyberonics Boulevard, Houston.

Who are Epsy Health's competitors?

Competitors of Epsy Health include Nile AI.

What products does Epsy Health offer?

Epsy Health's products include Epsy App and 1 more.
Compare Epsy Health to Competitors
Discover the right solution for your team
The CB Insights tech market intelligence platform analyzes millions of data points on vendors, products, partnerships, and patents to help your team find their next technology solution.
Request a demo