Search company, investor...
Last Raised
$100M
| 2 yrs ago
Mosaic Score

The Mosaic Score is an algorithm that measures the overall financial health and market potential of private companies.
+50 points in the past 30 days
About Culture Amp
Culture Amp operates as an analytics and survey-building platform. The company provides a comprehensive platform to collect, analyze, and act upon employees based on feedback in order to improve employee engagement. It empowers companies of all sizes and industries to transform employee engagement, develop high performing teams, and retain talent via research, powerful technology, and the employee's dataset. The company was founded in 2010 and is based in Richmond, Australia.
Culture Amp's Product Videos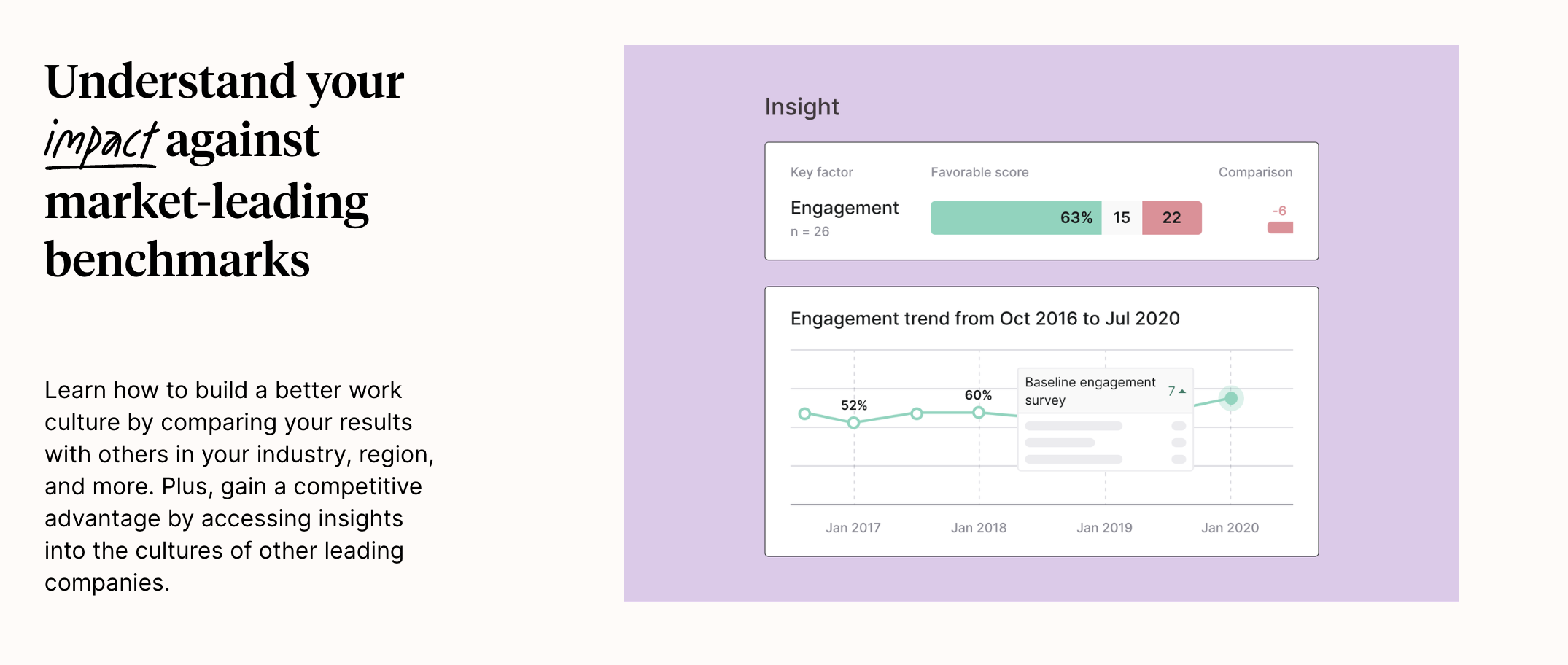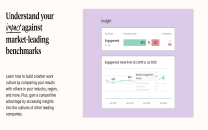 CultureAmp-Engagement-Overview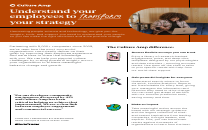 Engage OnePager
ESPs containing Culture Amp
The ESP matrix leverages data and analyst insight to identify and rank leading companies in a given technology landscape.
Enterprise Tech / Enterprise Applications
The employee engagement market is focused on improving employee retention and ensuring companies have the talent to fulfill their business strategy. This market also addresses labor-management tasks such as tax adjustment, social insurance, distribution of payslips, and employment contracts. Additionally, the market offers talent management functions to support more strategic HR tasks. Frontline w…
Culture Amp named as Outperformer among 15 other companies, including Workjam, Aisera, and Beekeeper.
Culture Amp's Products & Differentiators
Engage

Ask the right questions and get the visibility you need to make strategic decisions With Engage, you can: Equip leaders to engage and retain their people with powerful analytics and effective action plans. Prioritise the right programs with accurate data across the employee experience, and demonstrate improvements against robust benchmarks. Save time, drive better outcomes, and do more with less - HRIS Integrations make data management easy, and flow of work integrations increase participation and adoption.
Expert Collections containing Culture Amp
Expert Collections are analyst-curated lists that highlight the companies you need to know in the most important technology spaces.
Culture Amp is included in 3 Expert Collections, including HR Tech.
H
HR Tech
4,158 items
The HR tech collection includes software vendors that enable companies to develop, hire, manage, and pay their workforces. Focus areas include benefits, compensation, engagement, EORs & PEOs, HRIS & HRMS, learning & development, payroll, talent acquisition, and talent management.
U
Unicorns- Billion Dollar Startups
1,227 items
F
Future Unicorns 2019
50 items
Latest Culture Amp News
Culture Amp boosts employee voices with Google AI; selects GCP for ethical commitment
Sep 17, 2023
iTWire Sunday, 17 September 2023 15:34 Culture Amp boosts employee voices with Google AI; selects GCP for ethical commitment Featured 0 Australian-born, globally-used, employee engagement platform Culture Amp has set its mission as amplifying the experience and impact of more than 100m workers around the world. It's taken on Google's Vertex AI to help HR professionals get to the crux of what workers are saying - and says it chose Google for its ethical commitment. Culture Amp was founded in Australia, but enjoyed early success with fast-growth tech companies in the San Francisco Bay Area, expanding from there to all kinds of industries and geographies. "We're used by the who's who of Silicon Valley," said Culture Amp founder and CTO Doug English (pictured). The company's mission is to help organisations build category-defining cultures by giving a voice to employees at all levels, and ensuring that voice is heard by management. Culture Amp started life with employee engagement surveys and expanded to include coaching, development plans, employee performance, and other modules that all interconnect to help a business draw out insights, and identify recurring patterns whether good or bad, all with the goal of helping that business continually improve its employee relations and thus its internal culture. Today, there are more than 6,500 customers using Culture Amp across the world, and while the business is based in Melbourne, it's an Aussie success story with 60% of its customers in the USA. Culture Amp itself employs 1000 people, with 50% in the ANZ region, and the other half across the US, London, and Berlin. With 6,500 customers that have a combined 100,000,000 employees using the platform, you'd be right to think that's a lot of data. And data is the cornerstone of artificial intelligence. AI is, today, as the cloud once was and, decades before, the Web. Now the web is mainstream, the cloud is the new way of working, and it's AI that's taken centre stage as the next big revolution in computing. Yet, for many it's a no-brainer you need an AI strategy but figuring out exactly what to do with AI is the challenge. If you find AI is a solution in search of a problem it's possible you're thinking too hard. "Start small and think big," English says. And that's exactly what his approach to embracing AI was. "The most common, and therefore underrated, use case for generative AI is summarisation. Start there, and then look at more adventurous ideas." From here, English says, you can build your capability internally. "I have been so impressed by how hands-on the team has been at Culture Amp in working with Google to help us jointly develop a robust capability for generative AI," he said. "As much as there are lots of people out there talking about generative AI, there are very few with actual practical experience on building a product that uses it." Why Google, though? The answer is simple. For English, it was essential not to sacrifice responsible AI and ethics. "As keen as the Culture Amp team was to launch the product to market, we took intense care in making sure what we released met customer's high standards," he said. Specifically, standards that ensured trustworthy, unbiased, and secure generative AI. It was non-negotiable for English and his team that any AI applications they created did not leak data, did not make things up - and could trace any results back to source data, and did not embed or propagate bias. "You can't take short-term opportunistic approaches to this technology. You need a rigorous operating model and ethical principles to create value in a way that doesn't endanger your customers or their employees' wellbeing," English said. "It was GCP's commitment to responsible AI that gave us the confidence to use their platform." Google has much to say about responsible AI , and the deep responsibility incumbent on those leveraging this technology. On stage at Google Cloud Next in San Francisco last month, Google CEO Sundar Pichai emphasised this while speaking about GCP's cloud innovations. "As exciting as the AI opportunity is, we have to be clear of production challenges. Hence Google Cloud is committed to responsible AI with safety, security, and privacy at the core," he said. With both a suitable problem and a cloud provider identified, Culture Amp set to work using Google Cloud's Vertex AI as the foundation of their generative AI solution. By summarising tens of thousands of employee survey comments into topics and actionable insights, HR professionals globally could save hundreds of hours ordinarily spent analysing employee feedback. An important part of the solution was that the HR administrators could trace feedback back to summarised insights and also correct the results for potential bias and organisation context while ensuring the employee's anonymity is maintained. It's not Culture Amp's first foray into AI; English explains the product has been using some aspects of AI already, particularly around analysing comments and looking for themes. However, this was from the team's own internal work and hand-rolled models. Their ability to apply generative AI accelerated dramatically with the partnership with Google Cloud, which brought with it a raft of large language models. The Vertex AI capabilities and models meant that within only four months of commencing the partnership, Culture Amp had explored the approach, developed and tested it, and was ready to preview it. "With tens of thousands of employees, even if they only put in one comment, there will still be a vast amount of comments," English explains. "So HR admins are used to skim reading quickly, or to spending days and days reading comments and categorising them. The ability to bring actionable comments and synthesise themes up-front means admins can take action much faster than they otherwise could." From the Google side, Culture Amp was one of only three companies selected in Australia for early generative AI access, according to Google Cloud ANZ director and CTO Matt Zwolenski. Before Google Cloud made its own generative AI work generally available, "we'd done months of testing with Culture Amp," he said. "They were willing to work with us as we rolled out the product, and we tested and worked together. It was collaborative and their feedback helped us test our product." Going forward, Culture Amp has more plans. "The way we decide where and how to leverage AI in our platform focuses on three points," English explained. "Building trust, keeping control, and expanding value." "Building trust means we make sure to keep data safe and secure. We must build confidence in the results we present to the user and be able to show the workings of how we got to the generative result. Ultimately, the output of generative AI is no one right answer - you can summarise in many ways, but if the end-user can see how you got to the outcome, it will build trust." "Summarisation of comments is a great example of an AI use-case; it will save hundreds and hundreds of hours by presenting employee feedback in a well-structured way." If you're wondering how to apply AI to your business, English has a tip for you. Partner with Google - or the right provider - especially when it comes to LLMs or large-language models. "The amount of data required to build good, strong models means we will see a few very large organisations able to provide the platforms and models to drive solutions that work. For organisations like Culture Amp, partnering is a wise thing to do. Work with experts, and have experts internally able to work with the Google experts," he says. "Organisations making shifts prior to Vertex AI were building their own generative AI strategy, using their own engineering resources," English says. "Now the build is an API call inside Vertex and it takes off a heavy load not having to build the tooling. We can focus on where we add value to customers." The Culture Amp generative AI component to summarise feedback will be released later this year. The partnership began only in April, working through evaluations, discussions, security architecture, exploring Google's secure approach to protecting data, and then an internal pilot and engineering effort. It will be provided at no extra cost to customers using the management engagement survey module. "We will then look to bring AI capabilities into more parts of the platform. We definitely see AI as one of the tools in the toolkit," English says. "When looking at product capabilities, I'd expect AI to end up in all of them." Read 5 times It's all about Webinars. Marketing budgets are now focused on Webinars combined with Lead Generation. If you wish to promote a Webinar we recommend at least a 3 to 4 week campaign prior to your event. The iTWire campaign will include extensive adverts on our News Site itwire.com and prominent Newsletter promotion https://itwire.com/itwire-update.html and Promotional News & Editorial. Plus a video interview of the key speaker on iTWire TV https://www.youtube.com/c/iTWireTV/videos which will be used in Promotional Posts on the iTWire Home Page. Now we are coming out of Lockdown iTWire will be focussed to assisting with your webinars and campaigns and assistance via part payments and extended terms, a Webinar Business Booster Pack and other supportive programs. We can also create your adverts and written content plus coordinate your video interview. We look forward to discussing your campaign goals with you. Please click the button below. David has been computing since 1984 where he instantly gravitated to the family Commodore 64. He completed a Bachelor of Computer Science degree from 1990 to 1992, commencing full-time employment as a systems analyst at the end of that year. David subsequently worked as a UNIX Systems Manager, Asia-Pacific technical specialist for an international software company, Business Analyst, IT Manager, and other roles. David has been the Chief Information Officer for national public companies since 2007, delivering IT knowledge and business acumen, seeking to transform the industries within which he works. David is also involved in the user group community, the Australian Computer Society technical advisory boards, and education. Latest from David M Williams
Culture Amp Frequently Asked Questions (FAQ)
When was Culture Amp founded?

Culture Amp was founded in 2010.

Where is Culture Amp's headquarters?

Culture Amp's headquarters is located at 29 Stewart Street, Richmond.

What is Culture Amp's latest funding round?

Culture Amp's latest funding round is Series F.

How much did Culture Amp raise?

Culture Amp raised a total of $258.3M.

Who are the investors of Culture Amp?

Investors of Culture Amp include Index Ventures, Felicis, Blackbird Ventures, Sapphire Ventures, Grok Ventures and 9 more.

Who are Culture Amp's competitors?

Competitors of Culture Amp include Confirm, Humu, Qualtrics, WorkBuzz, The Happiness Index, Wahl+Case, ChartHop, 15Five, Nestor, Skylyte and 34 more.

What products does Culture Amp offer?

Culture Amp's products include Engage and 2 more.

Who are Culture Amp's customers?

Customers of Culture Amp include Nasdaq.
Compare Culture Amp to Competitors