Search company, investor...
About Coconuts Media
Coconuts is a network of local news and lifestyle city websites that harnesses user-generated content and social media to enhance coverage of an urban area. The company hopes to channel the intensely local journalistic spirit of an alt-weekly or the metro section of a daily newspaper, but utilize the wealth of information and media available through modern technology to its advantage.
Coconuts Media's Product Videos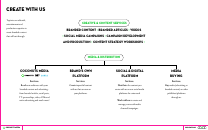 Coconuts Media Advertorial Factsheet1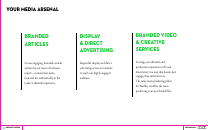 Coconuts Media Advertorial Factsheet2
Coconuts Media's Products & Differentiators
Advertorials

Reach our audiences with your branded content and advertising - from branded articles, social posts, TV sponsorships, video, eDMs and native advertising and much more!
Latest Coconuts Media News
Stagwell's (STGW) National Research Group Releases 'Exploring Indonesia,' Second Edition of its 'Capstone Series' on Emerging Markets
Apr 12, 2023
News provided by Share this article Stagwell Global Affiliate Partner Coconuts Media Supported In-Market Research NEW YORK and JAKARTA, Indonesia, April 12, 2023 /PRNewswire/ -- National Research Group (NRG), a global insights leader at the intersection of technology, content and culture, today released "Exploring Indonesia," the second research installment of its "Capstone Series," a first-of-its-kind exploration into the culture, content and technology driving leading-edge global growth markets. Conducted with Stagwell (NASDAQ: STGW ) Global Affiliate Network partner Coconuts Media , a leading alternative media company representing Southeast Asia and Hong Kong, the study examines the consumer behaviors, tech adoption, content preferences and other attitudes that are shaping Indonesia. "Indonesians consider themselves a hospitable nation: honest, respectful, and family/community-conscious, with 84% residing in a multi-generational households, and we see that reflected in the trends of our research," said NRG SVP, Content & Strategy Sushma Panchawati. "For tech and media companies that are attuned to these attributes, Indonesia's mobile-first practices and appetite for global content provide a wide platform for entering the market, predicted to be one of the top 5 largest global economies by 2050." "As Southeast Asia's largest economy with a population 270M strong, of which 60% are below 30 years of age, Indonesia's rise in urbanization and consumer spending power is a force to be noticed by the world stage," said Stagwell Managing Director, Asia-Pacific Randy Duax. "For global brands to be part of this growth story that is helmed by a tech and social media-savvy Indonesian generation – that in particular has an urban-empowered female consumer – brands must authentically mirror the trust and consumer understanding of local brands by bringing integrated online-offline experiences to earn wallet share." "Working on the Capstone Series has allowed us to really delve into the diverse nature of our audience in Indonesia; in fact, this is one of the most extensive deep dives into the country's culture, people and digital consumption habits," said Coconuts Media Managing Editor, Indonesia Andra Nasrie. "Global media, tech and entertainment companies will discover that Indonesia is a great place for investment due to its digital aptitude which permeates nearly every facet of daily life. This is a future top world economy and the opportunity to support Indonesians is here and now." Exploring Indonesia: Key Findings In mobile, they trust: Cost-effective Android products released since the mid-2010s have made smartphone ownership accessible across income levels – in 2022, 75.4% of respondents owned a smartphone, with 92% on Android. Super-apps: Apps like Grab and Gojek that consolidate services (e.g. finance, messaging, ride share, food delivery) are a unique phenomenon. In the country, 96% are familiar with both. Gaming: The Indonesian gaming market is ranked 1st in Southeast Asia and 17th in the world, with the local gaming sector growing 37% annually (Indonesian Gaming Association). Of these, 88% use a smartphone to play. Cash is king, with mobile pay close behind: While cash makes up 49% of payments, mobile wallet transactions (33% of payments) are diverse, with the most popular uses including mobile recharge, fund transfers, family/friends reimbursement, and investing. Paid streaming is for the wealthy: With limited high-quality internet access, paying for streaming is a luxury that has not trickled down to lower-income or rural populations; 69% of low-income Indonesians do not subscribe to any services. Fifty-seven percent of respondents list lower cost options/tiers as the top reason to pay for a new service Sports fandom goes "all out": Indonesians express excitement and support for their favorite teams on TV and social media in sheer numbers. Sixty percent of men watch live sports on TV or streaming services weekly According to Safenet Indonesia Co-founder Damar Juniarto, "To have the highest ratings for TV in Indonesia you have to have sports channels – especially football, and second you must cover badminton. It's about national pride, they also connect with the national league." Move over, Netflix? Vidio is "really, really Indonesian," but Western services are fast learners: Investment in live sports broadcasting, including access to FIFA World Cup and the Premier League, as well as local content has made Vidio the fastest-growing streaming service in Indonesia Affordability is another plus, with plans starting at less than $2 USD – a metric not associated with Western services That said, younger streamers (under 35) demand variety in their content, with 59% saying it's "very important" a service has new, relevant content to watch, something Vidio may have trouble keeping up with compared to its Western competitors K-Dramas are critical: A variety of streamers have tapped into the "K-Wave" of growing popularity around Korean dramas ("Drakor"), which makes up 51% of Indonesians' favorite streaming genres in movies, and 48% on TV. Short-form social reigns: Ranked the no. 1 entertainment activity, Indonesians turn to social media most (30%) over music (17%), streaming movies or TV (15%), or watching an online short-form video (13%), when they have a short period of time. Instagram is the most frequently used social media app, while TikTok is quickly outpacing Twitter – 61% use TikTok multiple times a day vs. Twitter (55%). Seventy-nine percent use TikTok to view entertaining content, while 72% of Twitter users visit to keep up with news. About 8 in 10 Indonesians watch short-form content daily, consuming an average of 14.6 hours of online video content a week. YouTube: Still the fan favorite: The platform Indonesians enjoy using most – by a wide margin – YouTube is used by 84% of Indonesians weekly for their entertainment needs, primarily to watch how-to tutorials (28%), comedy content (28%), and sports (23%). YouTube also outperforms top streamers on leading attributes such as ease of use and content variety, affordability, diverse representation, and for teaching positive lessons. Boundaries and guardrails Explicit content is unwelcome: Pornography and nudity is banned in all entertainment – along with platforms such as Vimeo and Reddit – while nearly three-quarters of Indonesians would refuse to watch or be less likely to watch a new film with LGBTQ+ themes. Podcasters, such as PODKESMAS, a comedy talk show, and other online content creators are the ones who push the boundaries with controversial discussions on sexuality, drugs and religious taboos. Crypto is surging, despite being banned as a form of payment: 1 in 4 currently trade/invest in crypto; with more than 14M crypto users in the country, it surged 300% over the pandemic. Women are more open to content that pushes the boundaries of gender roles, such as not wearing hijabs on TV and playing important job roles. NRG's planned upcoming Capstone Series research markets include Argentina (Q1 2023), Saudi Arabia (Q2 2023), Thailand (Q3 2023), and Turkey (Q4 2023). Study Methodology NRG conducted an online survey in November 2022 among a nationally representative sample of 5,005 internet-enabled Indonesian consumers aged 16-64. Quantitative fieldwork was enhanced by integrating expert interviews with five in-market academic, media, and tech interviews as well as six in-depth interviews with Indonesian consumers. About National Research Group National Research Group is a leading global insights and strategy firm at the intersection of entertainment and technology. Rooted in four decades of industry expertise, the world's leading marketers turn to us for insights into growth and strategy for any content, anywhere, on any device. Working at the confluence of content, culture and technology, NRG offers insights for bold storytellers everywhere. To learn more, please visit  www.nationalresearchgroup.com , and follow us on LinkedIn and Instagram. About Coconuts Media Coconuts is Asia's leading alternative media company. Our mission is to inform and entertain by telling true stories that matter to our audience through a wide portfolio of publications and in-house studios. Each month, we reach an audience of millions across Southeast Asia and Hong Kong through digital, print, audio, and video. Our passions are simple and unwavering: journalism, the media industry, and telling the untold stories of our region. About Stagwell Stagwell is the challenger network built to transform marketing. We deliver scaled creative performance for the world's most ambitious brands, connecting culture-moving creativity with leading-edge technology to harmonize the art and science of marketing. Led by entrepreneurs, our 13,000+ specialists in 34+ countries are unified under a single purpose: to drive effectiveness and improve business results for their clients. Join us at  www.stagwellglobal.com . Media Contact:
Coconuts Media Frequently Asked Questions (FAQ)
Where is Coconuts Media's headquarters?

Coconuts Media's headquarters is located at 23/5 Soi Sailom One, Phahonyothin Ave, Bangkok.

What is Coconuts Media's latest funding round?

Coconuts Media's latest funding round is Angel.

Who are Coconuts Media's competitors?

Competitors of Coconuts Media include Vice Media and 7 more.

What products does Coconuts Media offer?

Coconuts Media's products include Advertorials and 1 more.
Compare Coconuts Media to Competitors