Search company, investor...
Stage
Series B - II
| Alive
Last Raised
$10M
| 1 yr ago
Mosaic Score

The Mosaic Score is an algorithm that measures the overall financial health and market potential of private companies.
+20 points in the past 30 days
About Bykea
Bykea provides ride-hailing and parcel-delivery services. Its services include on-demand rides on motorbikes, rickshaws, and cars; parcel delivery services; and retail delivery services with live tracking. It was founded in 2017 and is based in Karachi, Pakistan.
Loading...
Bykea's Product Videos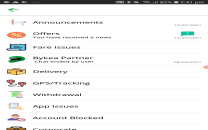 bykea customer app
Bykea's Products & Differentiators
Bykea Customer App

This allows our customers to book any of the 6 services that we offer today.
Loading...
Expert Collections containing Bykea
Expert Collections are analyst-curated lists that highlight the companies you need to know in the most important technology spaces.
Bykea is included in 2 Expert Collections, including Mobility-as-a-Service.
M
Mobility-as-a-Service
613 items
Companies developing solutions to streamline the way people move themselves. Includes companies providing on-demand access to passenger vehicles and micromobility solutions as well as companies integrating multiple modes of transport, including public transit, into one service.
Latest Bykea News
High fuel prices are changing the landscape of ride-hailing: how are the players responding
Aug 4, 2023
High fuel prices are changing the landscape of ride-hailing: how are the players responding Follow us The government, as its parting gift, increased petrol and high-speed diesel prices by nearly 8% in one go. Petrol now stands at Rs272.95 to a litre. Another price-hike could be in the offing soon enough as international rates present a cruel face to countries like Pakistan that heavily rely on import of the commodity. There could be another round of higher inflation and energy tariffs , implemented from July 1, will also most certainly play their part. With a lack of an effective public transport system – small steps in this regard are akin to a drop in the ocean – the private sector, like it mostly does, looked to fill the void and get some value. The model worked – for a number of years. There was employment opportunity for those with driving skills, and also for those who had idle vehicles parked in their driveway. In some cases, it was almost like an investment model – cars were cheap(er), and financing was feasible as well. Fast forward just a few years later, the model has seen a drastic transformation. One of the bigger players in the market is Careem, launched in 2012 as a web-based interface. Its Director Strategy and Commercial Mohammad Imran Saleem said fuel prices and inflation have affected the industry in more ways than one during the past year. "This inflation has caused a behavioral change in demand," Saleem told Business Recorder during an interview earlier. "Our female customers want a cheaper option, which happens to be two-wheelers. For this to work, the captains also need to be female. But that isn't the case. "This is a double whammy — demand- and supply-side issues." Careem has a total of 820,000 'captains' registered with its platform. This includes all those who drive four-, three-, as well as two-wheelers. The proportion of part-timers is increasing significantly. They have almost doubled. Now people are registering and picking customers on their way to work/university: Careem Director Strategy and Commercial Mohammad Imran Saleem However, out of this, only 1,500 are females. "In such a situation, the next-best option is three-wheel rickshaws, where we have seen significant growth in recent months," said Saleem. Additionally, most customers have moved down a notch in availing the kind of service they would use previously. For example, Saleem said, those who used the four-wheel rides have moved to a three-wheeler option. A major chunk (around 80%) of Careem's business comes from its full-time 'captains', while those associated with the company as 'part-timers' contribute the rest. But this ratio is changing. "The proportion of part-timers is increasing significantly. They have almost doubled. Now people are registering and picking customers on their way to work/university. "There are retirees registering with us and becoming captains. They are all mainly doing it to cover their fuel expenses and earn an extra buck." Saleem said the company reduced its commission from 25% to 15% to mitigate the impact of soaring fuel prices. "When we analysed the model, we saw that a captain's earning is affected mainly by two things – fare and demand (number of rides). "We adjusted our prices six to seven times last year, which used to be an exercise we would conduct around once a year." Saleem said when prices go up, demand immediately comes down for a week or two and discounts are then offered. "Growth may go down on a short-term basis, but it goes up again, especially on a long-term basis." It helps Careem's cause that it has a variety of rides available, and the price-difference becomes significant in a fare-sensitive market. However, Saleem is cognizant that Careem does not want to be in the low price-point segment. "Demand for low-cost products has increased. We saw this trend and worked on our two- and three-wheel products. But to be honest, our positioning in the market is not that of a low-cost player. "Even today, a majority of our business is four-wheelers. We started three-wheelers and it has shown great growth. "But we don't want growth by any means. Growth has to be backed by financial stability and sustainability. And that comes from four-wheelers." Saleem said the focus is on getting female captains on the fleet. "We are encouraging female riders to join. The company will take 0% commission." Saleem said the country's corporate sector remains a potential growth area for Careem. "We launched the Careem4Business service, and around 550 companies are using it. "C4B brought 40% cost efficiency for some companies that were previously maintaining their own fleet and drivers for transport purposes of their employees. Without giving details, Saleem said the company has not been incurring losses. "In 2020, we brought a lot of discipline — financially and operationally. We learnt our lessons, and we came out of Covid as a very financially-strong organization." Bykea's journey Inside the mobility space sits another major player. Bykea, which has expertise in the two-wheel segment, but also launched a four-wheel service in 2022, says it will be hitting breakeven this year. "The recent fuel price volatility has been challenging due to which we slashed our commissions by 7-10% in March to improve unit economics for our driver partners," Bykea Chief Operating Officer Rafiq Malik told Business Recorder. "This has allowed us to continue to grow with minimal marketing spends, albeit at a slower pace." Pakistanis will continue to zip around on motorcycles as inflationary pressures remain. We believe that in the future on-demand car hailing services will become pricier: Bykea Chief Operating Officer Rafiq Malik Bykea started with motorcycles and has become a household name, especially when it comes to the two-wheel segment. "Bike taxis, which is a relatively mature vertical for us, grew 5% month on month in 2023 alongside on-demand delivery. The newer Bykea Car introduced last year has grown at 22% per month since September 2022. Rickshaw has shown a growth of 11% since March 2022," Malik said. Malik added that Bykea has had a compound annual growth rate (CAGR) of 120% per year for the past six years. "We are on track to break even this year while maintaining a base level of marketing spending and growth every month," he said. Malik said Bykea is currently focusing on the core ride-hail and delivery services. "Pakistanis will continue to zip around on motorcycles as inflationary pressures remain. We believe that in the future on-demand car hailing services will become pricier. "We are working on aggregation technology for BykeaCar to try and app-ify the offline pick-and-drop market." Malik lamented the government's move to suspend mobile broadband services in the aftermath of the volatile political situation in the country. "Our business was completely shuttered and our driver partners lost over $100,000 of income per day. The inconvenience this caused to our over 100,000 daily active customers is not even quantifiable," he added. In comes inDrive inDrive, a newer ride-hailing tech company by comparison, however, said the impact of high fuel cost is being reduced with what it called a "slightly different model from other ride-hailing companies". "The drivers have the control to choose whether to pick a certain passenger or not," inDrive's Senior Business Development Officer Hasan Qureshi told Business Recorder at an event earlier. inDrive lets the rider and user fight it out over the price, letting the mechanics stay between the two — an online model of the haggling scenario between taxi drivers and customers. "This enables us not to depend on fuel prices and other external factors. It's not algorithms that set our prices, but people negotiating amongst themselves, making the price fair," the company said in a statement to Business Recorder. A high-ranking official from the international inDrive team also made a visit to Pakistan last year. "Pakistan is an exciting and huge market," Afanasiy Petrov, Business Development Manager, South Asian Region, who is based in Kazakhstan, said at the time. The official said that the Pakistan market is a great find and they are looking to increase the company's presence in the country. Adding Yango to the mix Yet another service is that of Yango that started testing in Lahore in May. Since then it says it expanded services to Islamabad and Rawalpindi and would be expanding into more cities soon. In a statement, the company said Pakistan remains one of the most vibrant economies in Asia. "Countries across the globe are struggling with one or more issues but that doesn't stop the country from growing," Faisal Iftekhar, country manager at Yango, told Business Recorder. On competing with the other players, the company said it has a hyper local business model that enables and empowers existing taxi companies. "We have the most user-friendly app in the market with possibilities to make multiple stops over one ride, call for more than one car at a time, share route with friends and family – even the ones that do not have the app installed. "Also, our local partners and business model differentiates us from other players and we believe in a country like Pakistan, this will fly." Yango said its costs are low, and this will help it build a sustainable and long-term business in Pakistan. Agility required A challenging environment demands a correction. Startups know this better than anyone. It remains to be seen how quickly companies adopt or continue to stay agile in the face of a very-quickly changing landscape. Entrepreneurial acumen in the midst of the challenge called Pakistan's economy, which is marred with high prices, inflation and poverty, will be severely tested. There's a chance that the industry's leaderboard will see big changes in the coming years.
Bykea Frequently Asked Questions (FAQ)
When was Bykea founded?

Bykea was founded in 2017.

Where is Bykea's headquarters?

Bykea's headquarters is located at Baloch Colony Bridge, Shahrah-e-Faisal, Karachi.

What is Bykea's latest funding round?

Bykea's latest funding round is Series B - II.

How much did Bykea raise?

Bykea raised a total of $30.7M.

Who are the investors of Bykea?

Investors of Bykea include Middle East Venture Partners, Sarmayacar, Tharros, Prosus Ventures and Ithaca Capital.

Who are Bykea's competitors?

Competitors of Bykea include PostEx, inDrive, MNT Halan, Khazna, Swvl and 7 more.

What products does Bykea offer?

Bykea's products include Bykea Customer App and 1 more.
Compare Bykea to Competitors
Loading...