Search company, investor...
Last Raised
$300M
| 2 yrs ago
About Branch
Branch provides a mobile linking and measurement platform. It enables brands to build and measure engaging and relevant end-user experiences across all platforms, devices, and channels. The company was founded in 2014 and is based in Palo Alto, California.
ESPs containing Branch
The ESP matrix leverages data and analyst insight to identify and rank leading companies in a given technology landscape.
Enterprise Tech / Marketing & Ad Tech
The marketing attribution market helps businesses understand which marketing channels are driving sales and revenue. Traditional methods of attribution, such as last-click models, are no longer effective in today's multi-channel marketing landscape. These vendors offer solutions that analyze the entire customer journey across multiple platforms to assign credit fairly and accurately. This allows f…
Branch named as Leader among 14 other companies, including AppsFlyer, Measured, and Funnel.
Research containing Branch
Get data-driven expert analysis from the CB Insights Intelligence Unit.
CB Insights Intelligence Analysts have mentioned Branch in 3 CB Insights research briefs, most recently on Aug 14, 2023.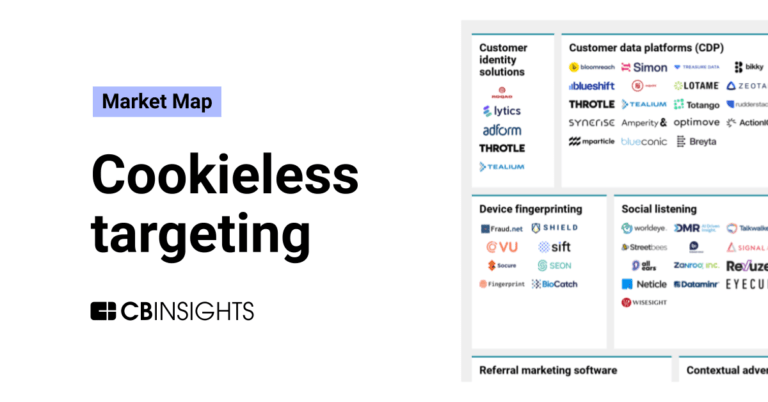 Expert Collections containing Branch
Expert Collections are analyst-curated lists that highlight the companies you need to know in the most important technology spaces.
Branch is included in 4 Expert Collections, including Unicorns- Billion Dollar Startups.
U
Unicorns- Billion Dollar Startups
1,227 items
T
Tech IPO Pipeline
568 items
T
Targeted Marketing Tech
659 items
This Collection includes companies building technology that enables marketing teams to identify, reach, and engage with consumers seamlessly across channels.
R
Retail Media Networks
463 items
Tech companies helping retailers build and operate retail media networks. Includes solutions like demand-side platforms, AI-generated content, digital shelf displays, and more.
Branch Patents
Branch has filed 107 patents.
The 3 most popular patent topics include:
Social networking services
Computer network security
Computing platforms | Application Date | Grant Date | Title | Related Topics | Status |
| --- | --- | --- | --- | --- |
| | | | Cloud platforms, Software design patterns, Java platform, Social networking services, Java virtual machine | |
| | |
| --- | --- |
| Application Date | |
| Grant Date | |
| Title | |
| Related Topics | Cloud platforms, Software design patterns, Java platform, Social networking services, Java virtual machine |
| Status | |
Latest Branch News
A queer hip-hop history lesson with He Who Walks Three Ways
Jun 14, 2023
A queer hip-hop history lesson with He Who Walks Three Ways This trailblazing group helped the Chicago scene grow into an identity of its own in the early 90s. He Who Walks Three Ways, from left to right: Ronald Clark, Juba Kalamka, Lori Branch, and Duro Wicks. This illustration is based on a photo taken by Dorothy Perry in Wicker Park in May 1993, a week before Kalamka graduated from Chicago State University. Credit: Joe Mills In 1991, rapper and promoter Duro Wicks began hosting a weekly hip-hop open mike at Lizard Lounge in Wicker Park. At that point, there hadn't yet been many recurring hip-hop parties in Chicago. In 1986, DJ and producer Parker Lee Williams, aka P-Lee Fresh , had launched what's believed to be the first such event at Stepps Entertainment & Dance Club in Rogers Park, but it was frustratingly short-lived. Then rapper-producer Kingdom Rock started hosting hip-hop events at Blue Gargoyle Youth Services in Hyde Park. But Chicago hip-hop heads in 1991 still had vanishingly few nightspots where they were welcome. At the Lizard Lounge open-mike parties, Wicks liked to play videos on the club's VCR setup—usually kung-fu movies or animation. One night he screened an experimental gay documentary called Tongues Untied. Directed by Black gay artist and activist Marlon Riggs, the 1989 film Tongues Untied depicts Black men loving Black men, which made it a lightning rod in the culture wars of the day. PBS scheduled Tongues Untied as part of its POV nonfiction series, a decision praised by Pulitzer-winning Los Angeles Times TV critic Howard Rosenberg. On the eve of the film's national TV debut in 1991, he published a piece that documented attacks on Riggs's work (and the granting agencies that had supported it) from conservative Christian leaders, including Donald Wildmon of the American Family Association and the hosts of The 700 Club, among them the late Pat Robertson. Eighteen of PBS's 50 largest stations didn't air that episode of POV, and many of those that did moved it out of its usual prime-time slot. WTTW was among them—when Tongues Untied was broadcast on July 16, 1991, the Chicago station pushed it back to 10 PM. Wicks's friend and collaborator Juba Kalamka made sure to record it. In fact, Wicks borrowed Kalamka's copy to play at Lizard Lounge. Afterward, Kalamka got lots of questions from partygoers to whom Riggs's film had been just a rumor. "They're like, 'What possessed you to tape it?'" Kalamka says. "I said, 'It just seemed like it was important.'" Kalamka is bisexual. He achieved his greatest fame in the 2000s as cofounder of openly queer Oakland hip-hop group Deep Dickollective, but in 1991 he hadn't yet come out. He remained in the closet until '95, by which time he'd largely withdrawn from Chicago's grassroots hip-hop scene. His most notable local project was Wicks's group He Who Walks Three Ways, whose best-known lineup came together in late 1991. During the early 90s, the Chicago scene grew from something small and scattered into a tight-knit community with its own distinctive sensibilities, in no small part thanks to Kalamka and Wicks. Wicks's stint at Lizard Lounge lasted just a few months. "It got canceled," he says. "It was just a little too bold and too Black for them." But by the end of 1991 he'd launched another hip-hop series, this time at Wrigleyville venue Club Lower Links. Presented by his burgeoning events company, Big Lips Productions, the $3 Sunday Hip-Hop Show was likewise short-lived and folded in July 1992. But to an even greater extent than the Lizard Lounge series, this open-mike party united aspiring rappers, DJs, producers, and heads from across Chicagoland. "I feel like there's no one who's on the hip-hop scene in Chicago that's over, let's say, 48 that didn't come to this party," says Marcel Wilks, aka rapper Mr. Greenweedz. Nearly every Lower Links hip-hop show featured He Who Walks Three Ways. "We were, I guess you would say, the house band," Wicks says. "Like the Roots on Jimmy Fallon." Wicks would continue throwing parties in Chicago for another couple years, including a series he launched at Red Dog in 1993. That's also where Wicks decided to celebrate his retirement from event production. Reader contributor Rosalind Cummings documented the occasion in a November 1994 story titled "Hip Hop Godfather: Duro Wicks's Last Party." Wicks is also the central subject of a forthcoming documentary called Catalyst by New York-based director Dave Steck, who hopes to screen an early cut in town this fall. Last summer Steck interviewed me for Catalyst, because my job at the Reader has helped me get to know Wicks. Whenever I write a story about early Chicago hip-hop, he's one of the people I make sure to contact. As often as I've enlisted Wicks as a source, I've rarely made him my subject—and I've written even less about He Who Walks Three Ways. I'd barely heard their music before summer 2020, when Kalamka uploaded a compilation of their recordings to his Bandcamp page. Juba Kalamka uploaded this compilation of two He Who Walks Three Ways EPs, recorded in the early 90s as demos for record labels, a few days after his 50th birthday. What I knew of the group was mostly about what various members had done elsewhere. Before Lori Branch worked the turntables in He Who Walks Three Ways, for instance, she'd famously become the first woman DJ in house-music history. Branch is also bisexual, and she'd come out before she joined the group. Other queer Chicagoans were involved in hip-hop during the early 90s too. West-side native Da Brat, who became the first female solo rapper to go platinum with 1994's Funkdafied, married a woman last year, but she didn't come out publicly till 2020. By then hip-hop had become much more accepting of queerness. Hip-hop celebrates its 50th anniversary this year, and the occasion is prompting a lot of reflection on the culture's legacy. I chose to write at length about He Who Walks Three Ways partly because they helped underground Chicago hip-hop cohere into a movement. I felt like I should learn more about them, and there's no way to do that without honoring the group's queer history. In the mid-1980s, Juba Kalamka had an awakening in study hall at Lane Tech. He was 15 years old, and he noticed a fellow student reading a recent Anne Rice novel. "Bless Chris, wherever he is," Kalamka says. "Bless white boys reading The Vampire Lestat." Kalamka was a horror fan, and he asked Chris about the book. Chris described Lestat de Lioncourt as bisexual—a word Kalamka hadn't heard before. "I was like, 'What's that?' He said, 'That means that he likes guys and he likes girls,'" Kalamka says. "I just went, 'Huh.' And it was like a glass inside me broke. I was like, 'Oh, that's what this is.' I covered up that distant bell." Kalamka's older sister had recently come out, and he saw the trouble she'd had with their family afterward. "I was not inclined to come out," he says, "even though her being out certainly eased the way for me." Kalamka focused on baseball and art, a combination that confused some of his classmates. He knew it would be easier to navigate being pigeonholed as an oddball—an athlete who loved comics—if he kept his sexuality hidden. "You could be a Black nerd and weirdo," he says. "I had not expressed any interest in girls or boys—or anybody, across a continuum of gender—so people just kind of left me alone." In 1987, Kalamka graduated high school. Later that year, a neighbor in Austin named Donald Sappington invited him over to listen to music. Sappington had taped songs off WNUR's hip-hop show, Streetbeat, and he wanted to share them. Kalamka remembers hearing a couple tracks by Bronx outfit Ultramagnetic MC's—"Mentally Mad" and "Funky"—that left a deep impression. "It wasn't anything like I had ever heard," he says. Listening to Kool Keith on the mike for the first time, he had another thought: "I was like, 'I can do that.'" He'd soon become a hype man for Raw Material, a hip-hop group that included Sappington. In those days, Raw Material's lineup also included Marcel Wilks, then known as Wiz. "We did everything together," Wilks says. "It would be all of us in Raw Material—I went to my first concert with Juba." Raw Material released this track on an EP in 1990, after Juba Kalamka left the group. In July 1988, Raw Material opened for Grandmaster Flash & the Furious Five at DiVinci Manor at 5609 W. North. After Kalamka left Raw Material in 1989, he focused on a group called Ultimate to the Superior, whose militant vision took inspiration from Public Enemy. Kalamka and his friends got to meet their idols, and Wilks remembers Chuck D expressing an interest in signing Ultimate to the Superior. When Kalamka was growing up, his parents immersed him in Afrocentrist education and made sure to expose him to Black art. His mother, Kemba, acted in stage shows when he was a kid, and he ended up in children's theater himself. In 1990, when Kalamka was in his late teens, he took a few friends to the University of Chicago Laboratory Schools to see a fashion show his mom was involved in. She'd been recruited via cold call because she shared a first name with the teenage organizer of the show, Kemba Wicks—sister of Duro Wicks. "We were there, being teenage assholes, basically—being obnoxious at this bougie Black fashion show," Kalamka recalls. "And in the hallway, watching us, was Duro." Wicks took a shine to this crew of west siders. He liked Kalamka in particular and started inviting him to local clubs. When Wicks offered to take Kalamka to any club he wanted, he chose a new place called Shelter at Fulton and Jefferson. Kalamka had turned 20 that summer, and even as they pulled up, he doubted Wicks could get them in. "We go up to the door and they let both of us in," Kalamka says. "I was like, 'OK, you for real, you not on some bullshit.'" Raised in Hyde Park and Chatham, Duro Wicks spent his teen years looking for an alternative to the house music that saturated Chicago in the mid-1980s. Wicks and his best friend, Ronald Clark, were originally drawn to alternative and underground rock. They'd learn about new music from Melody Maker and NME. Clark was inspired by a group of older Lab School students who made synth-driven postpunk under the name Groan Box. "I was so blown away that our classmates could have synthesizers, make music, and perform songs," he says. "That was a catalyst for me—like, at some point it'd be fun to do this as an artistic endeavor." "We were gonna start a band called Blind Vision, an alternative band," Wicks says. "[It] never materialized." Later in the 1980s, Wicks got interested in hip-hop. He lived close enough to the University of Chicago to listen to its radio station, WHPK, which had introduced the city's first hip-hop programming in 1984. In 1986, John "J.P. Chill" Schauer began his decades-long involvement in WHPK's hip-hop programming. Schauer frequently gave airtime to aspiring local rappers, and he expended a lot of energy tracking down underground hip-hop records. In a prerelease clip from Catalyst , former WHPK station manager Rick Wojcik credits Schauer with bringing records by early Philly gangsta rapper Schoolly D to the station. In 1996, Wojcik and Schauer would launch Dusty Groove as a Web mail-order business. Schoolly D's 1985 single "Gucci Time" inspired Wicks to pick up the mike. "The way he comes in, 'Lookin' at my Gucci, it's about that time,'" he says, "I'm like, 'Oh my God, this is incredible. I can do this! I should do this. I'm going to do this.'" Among his first collaborators were Clark and a mutual friend from the Lab Schools, Chris Csíkszentmihályi, who had his own sampler. "I was horrible at first," Wicks says. In 1989 or 1990, Wicks recalls, he briefly lived in Uptown. He got a job working on the street team for the Riviera (alongside Fred Armisen), which helped him get a foothold in Chicago nightlife. He also befriended another aspiring rapper named Lenard Pugh, who gave him a name for a hip-hop group that was inspired by the mythological Riddle of the Sphinx. "He neglected to tell me that it was a hand-me-down name," Wicks says. "I just thought it was a great concept." Pugh had already been in a group with his brother called He Who Walks Three Ways. When Wicks met Kalamka at that fashion show in 1990, he knew he wanted to start a hip-hop group. He had a group name and several collaborators lined up. One of his Uptown roommates, Ethan McClendon, was his first DJ, though his stint spinning for Wicks didn't last long. Wicks needed a full-time DJ, and he remembered a woman he'd befriended in the mid-80s while working at the Museum of Science and Industry: Lori Branch. "I was automatically attracted to her vibe and energy," Wicks says. "Something about her was just different. I knew she was gay, that she was out, but it didn't matter." Wicks liked the idea of being in a group of MCs backed by a female DJ, since he couldn't think of any other act with that kind of lineup. And he wanted that DJ to be Branch. "I always felt like, 'This is a person I need to spend lots and lots of time talking to,'" he says. "'She has the keys to the vault. She's gonna open the vault to me, and I'm gonna learn something.'" When Branch heard from Wicks in 1991, she'd just moved back to Chicago after living in New York and Los Angeles for a few years. She'd done some music production in NYC, but otherwise she experienced nightlife from the audience. She hadn't DJed in five years. Branch grew up with six siblings in Morgan Park on the far south side. Her mother was a teacher, her father a Christian minister. "Being part of the whole 'disco fever,' as my mom used to call it, was not in their plan," Branch says. "But I was drawn to it, partly because it was a way that I was coming out—that was the only way you could come out." In the late 1970s, while attending Lindblom Technical High School, she fell in with an informal social club called Vertigo. They frequently went to dance at the Warehouse. Vertigo cofounder Eric Bradshaw was a staff writer for monthly teen newspaper New Expression, and he noticed that teen crews were taking out ads in the paper for parties they were throwing in rented halls. The members of Vertigo took that ball and ran with it, hosting their own parties in spaces such as the Loft and Sauer's. Bradshaw made flyers, using the same graphic-design skills that sometimes came in handy at New Expression. Branch had started collecting vinyl thanks to her best friend at Lindblom, Jean-Pierre Campbell, and the Vertigo clique encouraged both of them to DJ. Branch became a regular behind the turntables in 1980. Within a couple years, she'd won an all-woman DJ battle organized by Chosen Few founder Wayne Williams. But by the middle of the decade, she'd stepped away from DJing. "It was starting to get depressing," she says. "My close friends were a lot of gay guys, and AIDS was—every day—taking people out." She turned her attention to her studies at Columbia College, then left the city in the late 80s. When Branch returned to Chicago in 1991, she wanted to start DJing again. Her old friend Duro Wicks pitched her on spinning at his open mike. She had only a passing familiarity with hip-hop, so Wicks brought her a crate of records he was sure she'd like. "There was an entry there that was very different than house," Branch says. "It was harder, and it was more reflective of my recent experiences. I had just come out of New York, where the crack epidemic was raging. I worked in foster care, and I was around a lot of kids who were from abusive homes. It was speaking to me in a way that house music—which was more love, dancing, and party—wasn't speaking to me at the time. I was feeling it in my soul." Branch began DJing events for Wicks in late 1991. Up to that point, He Who Walks Three Ways had been more of a concept than a group, but Wicks finally had the collaborators he needed, all in the same place at the same time. The classic lineup came together quickly: Clark took the name Continuity, Kalamka called himself Grandee Cootabee, Branch became DJ Rapture, and Wicks himself went by Shame Love Tempo. He Who Walks Three Ways made their live debut at the Rainbo Club on January 26, 1992. He Who Walks Three Ways (Duro Wicks, Lori Branch, and Juba Kalamka) make their live debut at the Rainbo Club on January 26, 1992. Credit: Courtesy Juba Kalamka In 1991, a friend of Wicks's named PJ Blackfist had told him about a Wrigleyville basement venue at 954 W. Newport. Leigh Jones had opened Club Lower Links beneath Links Hall in 1988, and it became a hub for experimental performers. Blackfist figured Jones would be open to Wicks hosting an open mike there. Jones booked Wicks into the space for a weekly party on Sundays, and that choice of day turned out to be a boon. As director Dave Steck points out, at the time the CTA offered unlimited rides on all lines every Sunday with a Supertransfer pass—an innovation that had already helped unite Chicago hip-hop once before. In the 1980s, graffiti writers from across the city converged at a variety of meetup spots for what they called Supertransfer Sundays. In 1996, south-side group Stony Island —who'd made the trip north to Lower Links for the open mikes—enshrined the pass's importance to Chicago hip-hop with the self-released EP Supertransfer: Good All Day Today. Wicks credits veteran graffiti writer Fere Ali-El with boosting the word-of-mouth success of the series. "He used to sell incense all across the city, on the trains and up the block," Wicks says. "He got out there and would tell people, 'You gotta go to Lower Links.' And it grew, and it grew quickly, and much larger than Lizard Lounge." The Spalaney's track "Spagetti & Biscuits" Word spread to the suburbs, where it reached rapper "Coolout Chris" Hawkins. Wicks fumbled the name of Hawkins's group, Spalaney's, at their first open-mike appearance (he pronounced it "spuh-LAG-knees"), but he wouldn't forget them. "We got up there and did our signature song, 'Spaghetti & Biscuits,' and the crowd lost their mind," Hawkins says. "After the performance was over, I remember Duro really big uppin' us. He was like, 'I want y'all to come back, I want y'all to come back.' So then we kinda became a staple." For Marcel Wilks, then performing as Mr. Greenjeans, He Who Walks Three Ways played an important role in creating the familial, welcoming atmosphere at Lower Links. "They was just throwing a party," Wilks says. "But it felt like it was all our party." Audience footage from the Club Lower Links hip-hop weekly in June 1992 At Lower Links, Wilks began hanging out with Tone B. Nimble, who'd start the duo All Natural with David "Capital D" Kelly in 1993. The two of them would form the heart of the collective Family Tree in the late 90s, collaborating with Wilks and releasing his solo Greenweedz material via their label All Natural, Inc. "Links gave me an understanding of how things could go in the best-case scenario," Kalamka says, "and understanding how that was a particular kind of lightning in a bottle." He Who Walks Three Ways played to packed houses every Sunday, which meant they got paid. Kalamka says he took home $100 or so each week, which helped him cover his basic needs as a commuter student at Chicago State. And the series helped He Who Walks Three Ways build credibility in the flourishing hip-hop scene. Kalamka says the success of Lower Links got He Who Walks Three Ways an invite from producer Dug Infinite to come to his south-side skate shop, Underground Wheels, and meet an aspiring artist he was mentoring. "That was when we met Kanye," Kalamka says. "I think he did a couple tracks for us—that didn't get recorded." Lower Links hosted the final $3 Sunday Hip-Hop Show in July 1992. But Wicks kept throwing events around town. "It seemed like he was always everywhere," says Schauer. He can't remember when or how he met Wicks. It could've been at WHPK, he thinks, or at Beat Parlor, a Wicker Park record store where Wicks worked, or at any of the long list of clubs where Wicks got onstage and name-dropped his production company by asking the crowd, "Who got big lips?" Where Wicks went, he often brought He Who Walks Three Ways. In the span of a couple years, they landed sets opening for several national acts, including the Pharcyde, A Tribe Called Quest, Del the Funky Homosapien, and Arrested Development. But Wicks wanted more for his group—he wanted a record deal so they could release albums that would get broad distribution. "I remember the first time I heard De La Soul on 'HPK. I remember the first time I heard Das EFX on Rap City," Wicks says. "I wanted somebody to have that feeling and be like, 'Yo, I remember the first time I heard He Who Walks Three Ways.'" To land a deal, He Who Walks Three Ways had to make demos. They recorded more times than Wicks can remember. Clark, the hype man, worked with producer Chris Csíkszentmihályi to help source samples. Wicks and Kalamka wrote lyrics, often bringing them to the rest of the group for feedback. Branch added turntable scratches and occasional backing vocals. "While I was dreaming and hoping to be a musician one day, they were already doing it, and their lyrics and sounds were always on point," says jazz flutist Nicole Mitchell, who was close with the group and later became the first female chair of the Association for the Advancement of Creative Musicians. "Their tenacity and self-determination as young independent artists influenced me a lot." Duro Wicks and Juba Kalamka at Howard University's Cultural Initiative Hip-Hop Conference in February 1994, selling shirts that Kalamka had illustrated for Wicks's production company Credit: April Silver In spring 1994, Wicks and Clark flew to New York with a new four-track demo called Me, IBM, & the Baby Jesus to try to drum up label interest. They left a copy at Payday Records, whose founder, Patrick Moxey, had helped launch WHPK's hip-hop programming while studying at the University of Chicago in the 80s. "We got a call back from them. The guy—not Patrick Moxey, but a young intern—was interested," Wicks says. "I guess he couldn't get it past the next level, 'cause I never heard back from them. But it was exciting to get that one call." He Who Walks Three Ways did reach people with their music, even though they never succeeded the way Wicks dreamed they would. When I spoke to "Coolout Chris" Hawkins, he rapped the hook for their song "Virus"—he couldn't remember the title, but he knew the cadence and lyrics perfectly. Other people surely still know that song, which appeared on Me, IBM, & the Baby Jesus. A few years ago, Kalamka first heard the 2000 self-titled album by Deltron 3030, whose lineup includes Del the Funky Homosapien. Kalamka couldn't help but hear similarities between his "Virus" and the Deltron song "Virus." On "Virus," Kalamka peppers his boastful raps with metaphors that jokingly compare the irresistibility of his message to the insidious workings of various viruses—including HIV, a subject that the members of He Who Walks Three Ways knew well. By day, Branch worked at the Westside Association for Community Action as its director of HIV programs, and her role in He Who Walks Three Ways helped her with her advocacy work. She launched a youth-oriented CAN TV show about HIV and hip-hop called Rap-It-Up, and she invited people she'd met in the scene to appear. "We were exposed to a lot of different things because of the work she did outside of the group," Wicks says, "which I wouldn't trade for anything, because it put me as a person in a position to be open-minded." For the most part, nobody in the hip-hop scene commented on Branch's sexuality. The rest of the group knew that she dated women, and they befriended her girlfriend at the time, Marguerite Harrold—Wicks considered her an honorary member of He Who Walks Three Ways. (Kalamka says that Harrold introduced the group to Living Colour front man Corey Glover—and that Glover wanted to get He Who Walks Three Ways a deal with Epic.) Wicks remembers that when guys in the scene learned about Branch's sexuality, they usually had the same response. "It's like, 'Oh, she's gay? So what,'" Wicks says. "'What's her telephone number?'" Lori Branch spins at the Chosen Few Picnic in 2019. "Both Lori and Marguerite clocked the shit out of me," Kalamka says. "And to their credit, they didn't press me. But it was very obvious, and very clear, that they knew." Kalamka had a more difficult experience navigating his bisexuality in the scene. "Definitely at that point, it was a super machismo thing happening," Wilks says. Hip-hop was rife with casual homophobia, and not even conscious rappers were immune. Chicago rapper Common wrote in his 2011 memoir, One Day It'll All Make Sense, that his earlier use of homophobic lyrics was a "huge blind spot on my consciousness." Kalamka wasn't the only closeted man in Chicago hip-hop, of course. The AIDS crisis was still new when Schauer enrolled at the University of Chicago in 1982, so while he knew he was gay, he kept it quiet. He focused his energy on Chicago hip-hop. Though he's white, he was put off in a way that he didn't yet understand by straight white men playing rock music—he felt better in a community built by marginalized people. "I was such an outsider, and I was so welcomed," Schauer says. "It was acceptance with no restrictions." For Kalamka, however, the scene began to feel restrictive, which affected his ability to participate. "I rarely freestyled—and I was good at it, coming off the top of the head," he says. "I was afraid I was going to out myself." Kalamka also began having misgivings about the music industry and the group's drive to sign a record deal. When he read Steve Albini's essay on major labels, "The Problem With Music," in the June 1994 issue of Maximumrocknroll, it clarified those feelings. Kalamka had another realization when he and Clark first heard Beck's "Loser." "I turned to Ron and said, 'That's what the fuck I want to do,'" Kalamka says. "'That motherfucker sounds like he's having fun.'" He Who Walks Three Ways broke up in late 1994. Kalamka came out the following year, at age 25, though by then he'd stopped making music—he wouldn't pick up the mike again till after his move to California. "I was heartbroken about the dynamics of the scene and the culture that I was navigating," Kalamka says, "being in a space where I couldn't bring all the pieces of myself to the door." Kalamka relocated to Oakland at the end of the 1990s. He met Deep Dickollective cofounder Tim'm West at a 1999 screening of Tongues Untied. As the group gained traction, Kalamka curated the first PeaceOUT World Homo Hop Festival in 2001. "There is no way that I would have navigated what I was able to be the center of—just as a curator and as a producer in the late-90s-through-mid-2000s scene—if I had not had the experience with Duro, of Chicago, in that moment," Kalamka says. "It was deeply instructional, on both what to do and what not to do." In January 2006, Urb magazine spotlit Deep Dickollective in a feature hooked to a new documentary about queer hip-hop called Pick Up the Mic. Some of Kalamka's old Chicago peers had yet to hear the news about his sexuality, and when it reached them, a few of them acted scandalized. "Everyone was running up to me," Wicks says. "Like, 'Did you read Urb?' I'm like, 'Yeah, so what? What difference does that make? He's still a dope MC.'" Commando's 2022 self-titled album Kalamka is still busy as an activist and musician. His latest project is a queer Bay Area nu-metal supergroup called Commando, where his bandmates include former Tribe 8 lead singer Lynnee Breedlove. Last summer, Steck flew out to the Bay to interview him for Catalyst. Kalamka has a sharp memory, which I discovered during my own interviews with him. He doesn't just remember that He Who Walks Three Ways shared a bill with Common, or that after the show Common pulled over a van to talk to him—he can also tell you the nearest intersection (Randolph and Wabash). And he retains a clear sense of the significance of the the Lower Links series that he and his fellow travelers nurtured. "Everybody met each other there, and we would see each other when that ended, at different places, so there's this long community," Kalamka says. "It exists to this day. But that begat all of this other stuff that happened, because there was not just the party. There was this notion that we could do this."
Branch Frequently Asked Questions (FAQ)
When was Branch founded?

Branch was founded in 2014.

Where is Branch's headquarters?

Branch's headquarters is located at 195 Page Mill Road, Palo Alto.

What is Branch's latest funding round?

Branch's latest funding round is Series F.

How much did Branch raise?

Branch raised a total of $542M.

Who are the investors of Branch?

Investors of Branch include New Enterprise Associates, Lafayette Plug and Play Accelerator, weXelerate, Pear VC, Cowboy Ventures and 16 more.

Who are Branch's competitors?

Competitors of Branch include Singular, Adjust, AppsFlyer, Tune, Rollout.io and 9 more.
Compare Branch to Competitors