Search company, investor...
About Axway
Axway is a global software company that empowers organizations around the world with proven solutions that help manage business-critical interactions through the exchange of data flowing across the enterprise, among B2B communities, cloud and mobile devices.
Axway's Product Videos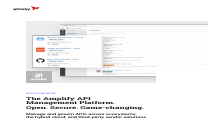 axway-sb-amplify-apim-platform-open-secure-game-changing-en-solution-brief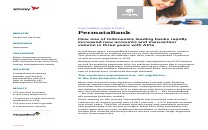 axway ss permatabank.en case study
Compete with Axway?
Ensure that your company and products are accurately represented on our platform.
Axway's Products & Differentiators
Amplify API Management Platform

Amplify API Platform provides automated, central control plane and catalog for all your APIs, events and integration assets across vendors and environments. Resulting in: • Visibility and automated governance across all your APIs, data and assets while your lines of business remain autonomous (ENGIE, SUEZ) • Having a single central catalog with all your APIs and assets, avoiding duplication and driving collaboration across your enterprise and maximizing the effectivity and productivity of your teams (HM Health) • Empowering you to automate and standardize all your APIs, processes and workflows, leading to quality, velocity and scalability of projects and company-wide initiatives (Erste Group) • Corporate security enforced across the entire enterprise (Baird)
Axway Patents
Axway has filed 24 patents. | Application Date | Grant Date | Title | Related Topics | Status |
| --- | --- | --- | --- | --- |
| | | | Email, Spamming, Spam filtering, Computer network security, Email authentication | |
| | |
| --- | --- |
| Application Date | |
| Grant Date | |
| Title | |
| Related Topics | Email, Spamming, Spam filtering, Computer network security, Email authentication |
| Status | |
Latest Axway News
Axway Software : Ranscript
Mar 16, 2023
Axway Software 21.00 Message : Axway 2022 Full-Year Results PRESENTATION Arthur Carli: Ladies and gentlemen, good evening, and welcome to Axway Software Full Year Results Presentation. My name is Arthur Carli, and I'm in charge of Investor Relations for the company. Before turning the floor to our management team, who will present Axway's excellent results in 2022, I would like to remind you that this presentation is live and is being recorded. A replay of the event will be available as of tonight. In addition, as usual, I would like to inform you that this presentation contains forward-looking estimates that are naturally subject to risks and uncertainties. All of them are described in Axway Universal Registration Document. With that, I would like to hand over to our CEO, Patrick Donovan. Patrick? Patrick Donovan: Thank you, Arthur. And thank you for joining us here tonight. I'm going to start out and make a few comments in 2022 as usual. Then I'll be handing it over to Cécile, our CFO, to make a more detailed analysis of our financials for 2022. And then Roland will come in and give us some feedback on what we've done with our customers and the market trends for 2022 and beyond. And then I'll come back and close it up with the targets and our midterm ambitions. And then we'll open up the lines for Q&A. So, let's get started. We started 2022 with setting some goals following a challenging 2021, especially a challenging Q4 of 2021. We set an organic growth target for the year of between 1% and 3%, a profit on operating activities between 12% and 14%. And we had described quite a lot of work that we're going to do to optimise our portfolio. And I'm happy to say that we've performed quite well in 2022 in meeting all these objectives or beating them. So first, let me start out with the organic growth. We finished the year at 5.5%, well above the 1% to 3% target, and that was on a very impressive Q4 by the team. Our profit on operating activity followed on with that above our guidance, finishing at 14.7% or the 15% mid target that I had set the prior year. And our portfolio has been rationalised. Everything we set out to accomplish in the year, we have done. And I'll go through a little bit more in detail on what that means. So today, we're going to cover all of those points, go into the financial detail in greater effort, and then I'll come back and set some of the future targets. So our stakeholders continue to be at the heart of our strategy that we've built. We are trying to deliver brilliant customer experiences every day with our products that we deliver to them. For our employees, we are trying to make Axway the place to be. And for our shareholders, we want a predictable, profitable company over the long term. And in 2022, we've continued to deliver value to all three of these stakeholders. For our customers, we continued improving our Net Promoter Score. We delivered on the focused portfolio that we were setting out to achieve, which puts our product GM organisation that we built this year closer to the customer and hearing their needs. And we want to be and continue to be the long-term partner that our customers can trust. 1 February 22, 2023 For our employees, we continued our communication to alignment as we're going through quite a bit of organisational and product-based changes to get our focus in the right place to deliver value to our customers over the long term. And we added 200 recruits over the year and our employee engagement score, which as a reminder, is a measure that our employees are engaged with the company's strategy and will help deliver on it. So the target of the survey we use is to be at a minimum of 60, and I'm happy to say that for the third year in a row, we're above the 60 bar that we set. For our shareholders, as I just shared with you, we're - we delivered on the growth and profitability targets, and actually, we beat them for this year. And our forecast for the next year is quite strong along the journey. And we were able to hold the dividend for most of the years through the transition, except for the year of COVID, and we're proud to be able to continue returning this value to the shareholders, even though our financials were going through the transformation that we had talked about. And we continue to use the share buyback to keep down the dilutive effect of the employee plans on the shareholder so that we can maintain a stable share base. I want to go a little deeper into our portfolio. So we want to focus this company on the core portfolio that was driving Axway. And so we focused and built a product GM organisation in '22 that brought together the product managers, product marketers and a lot of the surrounding organisation as well as aligning the R&D functions to be able to more efficiently and more empowered make the decisions closer to our customers. This was a lot of work to organise and build and we're still getting the rhythm of it. But we saw immediate benefits of this reorganisation of the teams. And we did this around our four core products, which make up a total of 90% of our revenue. We do have another 10%, which we call specialised product lines that have value with different offerings to the customers, and those are run profitability as well, but the main efforts for the customer future with Axway is around our four core product lines: managed file transfer; B2B integrations; API management, as well as Axway Financial Accounting Hub. So with the GM of the product organisation that helped us continue in what I call portfolio management. And this portfolio discipline we've been building over 2022. And what this means? What do I mean when I say portfolio discipline? Well, you have your core portfolios that you're delivering the value every day to your customers. And every day, the product organisation, the product GM organisation is looking what products or functionality they - do they need to add to their product lines to deliver even more value to the customer and meet their long-term needs. And we could do this either through acquisitions or investing in the product lines. And the product organisation is making these decisions at the front line aligned with our customers. We have to also look at what products or functionality in our products is not delivering the value either to the customer or delivering the return it should to Axway and to take action if it's not meeting that criteria, which we were able to do this year. And it is up to the product GM organisation to constantly manage our current portfolio to deliver the return expected from that product line in its maturity curve with our customers. So in 2022, we addressed all of these actions in a very strong way at a pace we haven't done before in our company. And I'm really happy with what I've seen out of this new organisation approach and what we've been able to accomplish in 2022, building a foundation for 2023 and beyond. 2 February 22, 2023 We removed three non-growingnon-profitable product lines, which we've previously communicated on. And we added a company called DXchange, which was a startup that was delivering integration capabilities that we will leverage not only standalone but with our other core product lines, and we're launching a product called Amplify integration. And we put in place the strong product GM organisation and made a few adjustments throughout the year, but now we have the organisation and the cadence that I'm really pleased on that we could build 2023 and beyond. So we have the right organisation, the right products, and we're going to continue to build the organisational financial model to deliver the returns we'd expect from our portfolio. So with all this work and with all this good progress, we were able to deliver €314 million of revenue, where organic growth, as I said, of 5.5%. Included in the €314 million of revenue is €9.3 million of disposed product revenue that won't reoccur in 2023. We were able to drive €46.3 million of profit or 47.7% of our revenue versus 11.5% in 2021, and we look forward to increasing that again in 2023. Our subscription growth that was driven by this strong Q4 customer managed was 31% for the year. And our ARR growth was 12.5%, excluding the disposed products in the calculation. So I'll come back to you after Cécile goes deeper in the financials, and Roland goes deeper into the customer experience and present our mid-term targets and go back through a better five years of progress to get us to this point. So with that, I'll turn it over to you, Cécile. Cécile Allmacher: Thank you, Patrick. So going through 2022 income statement. Total revenue is up 5.5 organic - 5.5% organic and 10% on total, higher than the guidance as announced in our January press release. Cost of sales increased around services and subscription costs in consistency with the revenue trend. Our gross profit is slightly higher at 70.9% versus the 70.8% we had back in 2021. Once adjusted from the currency impact, which is €8.4 million, we were also able to pull back some of the operating expenses as planned. In sales and marketing and G&A, this decrease is offset by the impact of the variable bonus and commission increase due to the revenue growth we experienced this year. Our R&D decrease in the continuity of the optimisation we started last year as part of our strategy to improve margin and also in consistency with our portfolio rationalisation. We were consequently able to generate a higher margin at €46.3 million or 14.7% of our revenues, up from the 11.5% in the prior year. Our operating profit is inclusive of €82.1 million of non-cash charges related to the write-off of an amortised intangible assets and goodwill stock incentive expenses as well as restructuring costs. Overall, our net profit finished at minus €40 million of minus €1.85 per share versus €9.6 million or €0.45 per share in the prior year. Let me now go into details on the revenue by activity. So license revenue dropped 4.8% organic, which is in line with our forecast and confirming the changes business model and the move to subscription we announced a while ago. Maintenance revenue decreased 11.1%, which was expected with both a decrease in license revenue and the migration to subscription, but this is still showing a very satisfactory level of renewal with a 95% rate. 3 February 22, 2023 Subscription is growing 31% organic, mainly due to a historical Q4. When added to the maintenance revenue, we reached 84% of our revenue under recurring contracts. Service revenue increased 5.4% back from last year with the impact of COVID slowing down the activity. Overall, our revenue finished at €314 million, up from the €297.6 million reported in the prior year. So to focus on the License & Maintenance activities, we experienced a 40.8% organic decrease in the license activity, as I just explained, which is now mostly based on specialised products that are not available for subscription. This trend should start stabilising from 2023 onwards, knowing that this year, we still have the part of the disposals products, including that license revenue, which we should not have next year. On the maintenance side, as forecasted and in consistency with both the license revenue decrease and the migrations to subscription, we have a 11.1% drop, which is aligned with what we expect and consistent with the maintenance drop we experienced in the past year. However, we are still seeing a good level of renewal with a 95% renewal rate for 2022. Now moving to the Subscription revenue, which is the growth driver of the company. We observed that whereas the three first quarters, we had a strong momentum on Axway Managed subscription signature, we experienced a historical growth in Q4 with the signature of €70.7 million revenue and a three-digit organic growth, mainly due to strong customer managed signatures. On an annual basis, this revenue growth is mainly due to both the customer managed on-premise subscription, which required us to book €78.7 million of upfront revenue this year versus €51.5 million in 2021, and to a strong recurring base with the existing contracts and the renewals which start layering as planned. All of this resulted in a 31% organic growth. Let's now take a look at the Services activity. The readjustment the activity level, approximately 2,000 days more delivered compared to 2021, resulted in an annual revenue of €37.2 million, which is a 5.4% organic growth. This represents 12% of Axway's total revenue. We see a real post-COVID business recovery in all the regions, and especially, in APAC and LATAM, where the services business was frozen last year with COVID. A few words on our balance sheet now. So our cash and cash equivalents finished at €18.3 million, with a net debt of €69.5 million. This increase in net debt is mainly due to the acquisition of the exchange in India and to the shares buyback to serve our free share plans. Our DSO went up to 155 days as we added more customer managed on-premise subscription contracts. If we retreat the unbilled, our DSO is down at 68 days for 2022 versus the 57 days we had in 2021. It drifted at the end of the year with the system changes we are going through. But we will get the DSOs back down in 2023. Our current deferred revenue, which is mainly made of maintenance and subscription ended at €55.6 million, which is quite stable compared to last year. Our assets decrease is mainly due to the asset disposal offset by the goodwill accounting for the acquisition of the exchange in India and by increased account receivables. Our equity includes the dividend payment for €8.5 million and the shares buyback for €10.7 million as well as the one-time goodwill write-off we mentioned earlier. Our cash flow - so our cash flow for 2022 are down €6.9 million compared to '21. And our free cash flow is slightly dropping compared to 2021, whereas the EBITDA has significantly increased in 2022 and 4
Axway Frequently Asked Questions (FAQ)
When was Axway founded?

Axway was founded in 2001.

Where is Axway's headquarters?

Axway's headquarters is located at 16220 North Scottsdale Road, Scottsdale.

What is Axway's latest funding round?

Axway's latest funding round is IPO.

Who are the investors of Axway?

Investors of Axway include Trinity Ventures.

Who are Axway's competitors?

Competitors of Axway include WSO2 and 8 more.

What products does Axway offer?

Axway's products include Amplify API Management Platform.

Who are Axway's customers?

Customers of Axway include Erste Group, Baird and Bundesagentur fur Arbeit.
Compare Axway to Competitors
Discover the right solution for your team
The CB Insights tech market intelligence platform analyzes millions of data points on vendors, products, partnerships, and patents to help your team find their next technology solution.
Request a demo