Search company, investor...
Last Raised
$540K
| 10 mos ago
About Alto Pharmacy
Alto Pharmacy provides same-day, free delivery, seven days a week for prescriptions, offering cost transparency, personalized in-app and phone support, and real-time coordination with doctors and insurance companies.
Alto Pharmacy's Product Videos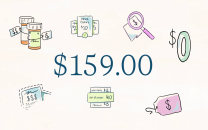 AltoPharmacy AltoPharmacy Demo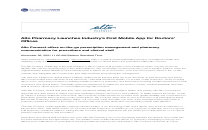 Alto Pharmacy AltoConnect Factsheet
ESPs containing Alto Pharmacy
The ESP matrix leverages data and analyst insight to identify and rank leading companies in a given technology landscape.
Life Sciences / Biopharma Tech
Digital pharmacies provide patients with on-demand prescription fulfillment, delivery, and pharmacist communication while also validating insurance claims and supporting medication adherence and refills.
Alto Pharmacy named as Leader among 10 other companies, including Ro, Capsule, and PocketPills.
Compete with Alto Pharmacy?
Ensure that your company and products are accurately represented on our platform.
Alto Pharmacy's Products & Differentiators
Alto Patient App

Through the Alto app, patients can manage everything they used to do at the pharmacy counter: chat with pharmacists, schedule free, at-home delivery of their medications, take advantage of automatic coupons or discounts, easily coordinate refills, and even buy over-the-counter items.
Expert Collections containing Alto Pharmacy
Expert Collections are analyst-curated lists that highlight the companies you need to know in the most important technology spaces.
Alto Pharmacy is included in 10 Expert Collections, including E-Commerce.
U
Unicorns- Billion Dollar Startups
1,204 items
P
Pharma Supply Chain
1,359 items
F
Future Unicorns 2019
50 items
T
Tech IPO Pipeline
282 items
Track and capture company information and workflow.
Latest Alto Pharmacy News
Q&A: Food policy expert on how providers can widen access to city's proposed grocery program
Jan 20, 2023
Plus: Columbia University's School of Nursing gets $19M in grants from NIH Soho health care innovation platform raises $16M Series A More Last week the city Department of Health and Mental Hygiene proposed rules for creating a Grocery to Go program to subsidize groceries for eligible New Yorkers, who could purchase food through an online marketplace of grocery stores. Participants could choose delivery or pickup, and the money provided to them by the city would go toward the cost of delivery and tips. According to the department, a program such as this is necessary because the pandemic heightened food insecurity issues that many New Yorkers already faced. During the height of Covid, from April to October 2020, nearly half of the people surveyed reported having less money and about 20% reported being unable to purchase groceries, the health department found. Nevin Cohen, associate professor at the City University of New York School of Public Health and director of the CUNY Urban Food Policy Institute, spoke to Crain's about what the grocery program could mean for New Yorkers with disabilities, chronic illnesses and food insecurity, and how health care providers could more actively screen patients for program eligibility. Can you tell me more about the grocery program? The city has been working for a while during the pandemic with a company called Mercato: It launches and manages e-commerce websites for supermarkets. I don't know if Mercato will be the vendor for this project and the rules don't specify the company involved. But this program is designed to address the needs of people, who for a variety of reasons, because of mobility problems or their location, would benefit from home-delivered groceries. And it's a way for the city to subsidize healthy food purchases for people with [a] diagnosis of hypertension or diabetes, and [who] participate in [New York City Health + Hospitals] care, as well as [who have] food insecurity. And so it's a niche program. It's potentially a model for thinking about the expansion of the SNAP [Supplemental Nutrition Assistance Program] online program, which is a U.S. Department of Agriculture program to allow supermarkets to redeem SNAP benefits for online purchases. It was launched in New York City. I think this is a really important program to pilot in the city. Because the potential for online grocery shopping by people who are SNAP participants is really significant and could both increase access to a wider variety of food and provide convenience for households that have mobility issues or have children and [for whom] shopping in a distant grocery store is inconvenient. It can increase competition in neighborhoods that have few supermarkets, potentially moderating prices as people are able to shop online at a wider range of stores. It's not clear what the scale of the [grocery program] is, because the rules don't specify how many people are in the program or what the budget is. But it's an important first step at thinking about online grocery as an option for improving food access in neighborhoods that would benefit from a wider variety of healthy foods. What are some barriers to access that people encounter with other grocery delivery services, such as Amazon or Getir? Prepandemic we were involved in a project at Farragut Houses, a New York City Housing Authority development in Downtown Brooklyn where we organized the residents into a food buyers' club. And they figured out ways to make it feasible to shop both at Amazon and through Instacart at Western Beef. We measured participation in the program, the experiences of the residents. … One of the key things that we found was the need for the users, the residents [and] the shoppers to co-design ways to make the program fit their needs. So, for example, they got the community center at the NYCHA development to allow them to receive packages there, and then we delivered those packages to people's apartments who had mobility issues. They got together and people helped one another figure out ways to navigate the Amazon website to buy food. They shared experiences on what kinds of products were good buys and what to do if the purchase of vegetables was not satisfactory, such as how to get their money refunded from Amazon. So what it really takes to make it work well for different communities is for communities to work together to figure out strategies to make home delivery work, to make the delivery process more efficient, and to help shoppers who may not have as much experience shopping online. Since then, have you done anything similar with a different development? We need to repeat that project postpandemic because everything has changed. Before the pandemic, this was a novelty and it was just when Amazon started participating in the USDA SNAP online program. Now there are other stores in the city, and Mercato has signed up independent grocers in the program who can now accept SNAP. This program that was just announced in the rulemaking process last week is not dependent on SNAP: This is a program where the city is actually providing people with credit to shop online. Can you speak to other food access issues New Yorkers experience and potential solutions? Having additional opportunities to buy food from grocery stores can only help customers shop for the best value. There are neighborhoods where there are public housing projects in affluent communities like Chelsea, where the prices of food tend to be higher. There's two large NYCHA developments in West Chelsea, and near the Lincoln Center area there are housing developments. [There are] NYCHA housing developments in parts of gentrified Brooklyn. Low-income shoppers often have to skip two, three or even four supermarkets before they get to the supermarket that they prefer to shop in because they feel the value is high. And what this problem will do is give people greater access to supermarkets through shopping online, and either they'll find that the prices online are comparable or are better and the convenience is worth it, or they may continue to shop at their local brick-and-mortar store. What we found at Farragut was that shoppers didn't completely shift over to online shopping. But what they did was comparison-shop and bought some items that they couldn't find in their local supermarket on Amazon, and used Amazon when they had child care obligations that made it difficult to get to the Stop & Shop or ShopRite. And so it was a mix of online and brick-and-mortar stores. And that's pretty common nationwide with the entire population. Most people shop both in brick-and-mortar stores and online for groceries now. What can providers do about this proposed program to make sure more patients are aware of it? At initial screenings, when people come into health care providers, [providers should ask] about food insecurity, flagging people who have either prehypertension, prediabetes or hypertension or diabetes diagnoses. . . . To connect them to this program would be an important step. I think that doesn't happen regularly in large health care systems. So finding a way to make it easier for providers to identify people who would qualify for a program like this would be really important. Can you elaborate on that lack of regularity? The people who visit a health provider might be coming for a completely different reason [other than food insecurity]. There isn't a system in place in most health care systems, at the emergency room or even with a primary care provider, to spend the time to investigate food security levels and to make a recommendation about programs that might be available. One of the populations that can benefit from this program is people with immigration statuses that might not either allow them to avail themselves of SNAP or make it comfortable to use SNAP. This is a city program, not a federal program, and there doesn't seem to be any eligibility requirement of citizenship, but rather just residency in New York City. So I think it's an important additional program for a large number of recent immigrants in the city. —Interview by Jacqueline Neber Hochul earmarks $38M for behavioral health teams across state  Gov. Kathy Hochul has announced she will put about $38 million toward eight Safe Options Support teams of behavioral health professionals as part of her plans to fight the challenges of mental health care and homelessness. The state's Office of Mental Health will fund the initiative, according to a release on Tuesday from the governor's office, with up to $4.7 million allocated to establish each team over five years. The amount is thought to be enough to put together each group. Each team will work outside of the city, in a part of the state where the need is highest. Specific counties or towns were not announced. In the city 10 similar teams have had more than 4,500 outreach encounters with New Yorkers experiencing homelessness. Nearly 200 people have been placed in temporary shelter settings so far, and 600 have agreed to work with the teams, the governor's office said. According to a request for proposal published last week, each team will follow the Critical Time Intervention model to work with New Yorkers with mental illnesses. Licensed clinicians, care managers and peer specialists will provide outreach, engagement and care coordination services for up to 12 months for people who are either experiencing homelessness or living in shelters. The teams will help people transition into housing. The goal is for participants to learn self-management skills, master activities of daily living, develop ties to their support systems and start the path to recovery, the RFP says. Participants will be identified through collaborations between law enforcement, community programs and outreach programs, the RFP says, and the eight teams can accept referrals from those groups, according to the governor's office. These plans are part of the governor's $1 billion plan  to bolster mental health care throughout the state, which she announced in the State of the State address last week. Other parts of the plan include expanding access to outpatient treatment, adding 3,500 residential units for New Yorkers living with mental illness and adding 150 open beds in state psychiatric centers. A virtual bidders' conference will be held for prospective Safe Options Support RFP applicants on Jan. 25. —J.N. Columbia University's School of Nursing gets $19M in grants from NIH The faculty at Columbia University's School of Nursing was awarded nearly $19 million worth of grants last year by the National Institutes of Health, more than double 2021's total and the most in the nation. The grants support a wide range of research by Columbia's 33 full-time faculty members, such as how to prevent infections at nursing homes or how patients respond after coronary bypass surgery. The school is in Washington Heights, which has more immigrants than any other part of the city. "Our mission is reducing health disparities and promoting equity," said Elizabeth Corwin, vice dean of strategic and innovative research. "This is a huge amount of money for nursing," The school's success in qualifying for federal money is a testament to its Office of Scholarship and Research. In addition to paying close attention to what NIH is interested in, it includes staff members who help professors prepare their grant applications. The office has existed for more than a decade, Corwin said, but the school stepped up in investment in it four years ago. "A financial decision was made to support research because that's how we can influence and innovate," she said. —Aaron Elstein   Soho health care innovation platform raises $16M Series A LinusBio, a Soho-based precision exposome medicine company, has raised a $16 million Series A led by GreatPoint Ventures and Bow Capital. LinusBio was born out of the Institute for Exposomic Research at Mount Sinai, which is funded by the National Institutes of Health, according to the company's co-founder and chief executive Dr. Manish Arora. The "exposome" refers to all of the factors, outside of genetics, that humans are exposed to which can influence their health. LinusBio's platform uses laser and robotics hardware and data science with the goal of establishing the human exposome sequence. The platform uses patients' blood samples to discover novel biomarkers–substances that when present indicate a patient has a disease–for diseases and disorders such as autism spectrum disorder, ALS and some cancers. LinusBio operates several programs that aim to phenotype patients, build the sequences, develop drugs and get the medications into clinical trials. "We measure thousands of molecular signatures," Arora said. "Some of these molecular signatures will help detect the disease, others will tell you the severity of the disease." Other signatures can identify the disease subtype, he added. The Series A will be used to fully onboard LinusBio employees–there are about 15, Arora said–and to rent lab space and buy equipment. LinusBio currently has space in JLABS @ NYC, a lab space and an incubator at 101 6th Ave run by Johnson & Johnson. LinusBio is revenue-generating and if a Series B needs to be raised, that could happen in about 18 months to two years, Arora said. The company was founded in 2020 and has raised about $33 million to date. —J.N. Loading… AT A GLANCE NOW COVERED: The World Trade Center Health Program has added uterine cancer to the registry of covered illnesses as of Wednesday. The program covers medical care and monitoring for first responders and people who lived and worked around the World Trade Center after 9/11 who have been diagnosed with certain illnesses. This is the first addition to the registry in nearly a decade and uterine cancer was the last major cancer to remain uncovered. MEDICATION DELIVERY: The city Department of Health and Mental Hygiene has awarded Alto Pharmacy LLC, a San Francisco-based digital pharmacy company, $3 million to deliver Covid-19 antivirals and other treatments to New Yorkers' homes. Alto was founded in 2015 and first came to the city in 2021 with at-home delivery services. DECLINING M&A: Hospital merger and acquisition volume across the country has reached a new low, Modern Healthcare  reports . Only 55 deals got to the letter of intent or definitive agreement stages in 2022, the lowest number since 2009. This could be due to fewer financially distressed hospitals now existing across America thanks to an uptick in consolidation. However, more deals are expected to happen this year. WHO'S NEWS: The "Who's News" portion of "At a Glance" is available online at  this link  and in the Health Pulse newsletter. "Who's News" is a daily update of career transitions in the local health care industry. For more information on submitting a listing, reach out to Debora Stein:  [email protected] . CONTACT US: Have a tip about news happening in the local health care industry? Want to provide feedback about our coverage? Contact the Health Pulse team at [email protected]
Alto Pharmacy Frequently Asked Questions (FAQ)
When was Alto Pharmacy founded?

Alto Pharmacy was founded in 2015.

Where is Alto Pharmacy's headquarters?

Alto Pharmacy's headquarters is located at 645 Harrison Street, #200, San Francisco.

What is Alto Pharmacy's latest funding round?

Alto Pharmacy's latest funding round is Angel.

How much did Alto Pharmacy raise?

Alto Pharmacy raised a total of $588.61M.

Who are the investors of Alto Pharmacy?

Investors of Alto Pharmacy include Gaingels, SoftBank , Jackson Square Ventures, Greenoaks Capital Management, Olive Tree Capital and 9 more.

Who are Alto Pharmacy's competitors?

Competitors of Alto Pharmacy include Truepill, Nimble Rx, NowRX, ScriptDrop, Ro, NURX, Lemonaid, Yaoshibang, Favor, phil and 23 more.

What products does Alto Pharmacy offer?

Alto Pharmacy's products include Alto Patient App and 1 more.
Compare Alto Pharmacy to Competitors
Discover the right solution for your team
The CB Insights tech market intelligence platform analyzes millions of data points on vendors, products, partnerships, and patents to help your team find their next technology solution.
Request a demo